Easy China Cabinet Display For A Vintage Christmas
How do you create an easy china cabinet display for a vintage Christmas? With an old gas can, a DIY wooden tag, and a vintage Santa print, of course!
That's a weird combination, I know. Even I'm wondering what this craziness is and I've seen how cute it is!
But, trust me! I have an easy idea to take some everyday items and create some holiday spirit.
A Gas Can Becomes Something Magical At Christmas Time
I was gifted this cutie blue antique gas can. And it fueled some creativity in the Christmas decorating department. HAHAHA see what I did there!?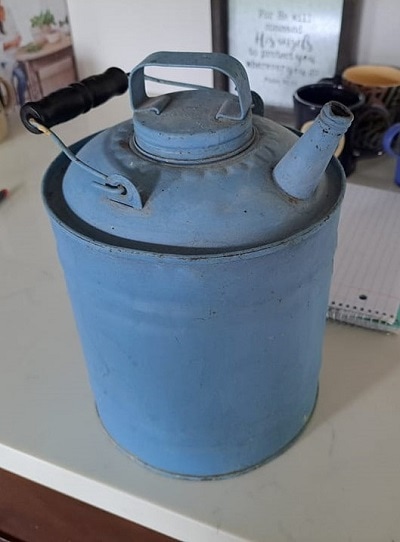 Right before I received this gas can, there were boxes of holiday decorations all over my living room where my china cabinet sits. I seriously did not have any festive cheer left and was about to haul all of them back upstairs to the closet.
Why should I decorate for the holiday season when it is only me having a merry Christmas, well and Taquito too? But he really doesn't appreciate Christmas decorating as much as a five pound grumpy chiweenie should.
Then I remembered and was thankful for all of you! I am decorating this time of year for all of us – hopefully to fuel your Christmas decor ideas, to give you some holiday cheer and celebrate the holiday season together.
Create A Santa's Magic Fuel Wooden Tag For An Easy China Cabinet Display For A Vintage Christmas
I began with this wooden box, also free to me. I think it might have been for wine? Using the lid was a great idea, if I say so myself, and it will be "fifth sparrow-d no more" into our wooden tag.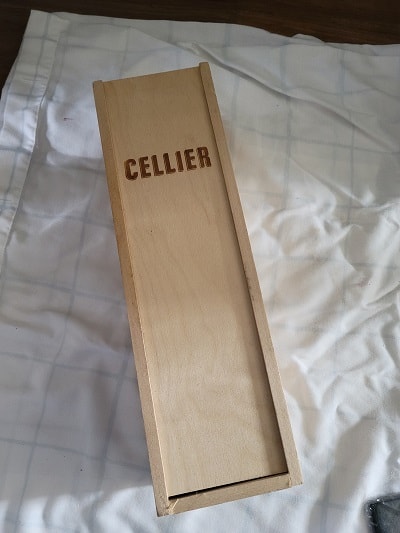 If you don't come across a wooden box like this in your thrifting adventures or was gifted one check your local craft store for balsa wood sheets.
Finished Old Gas Can For "Santa's Magic Fuel"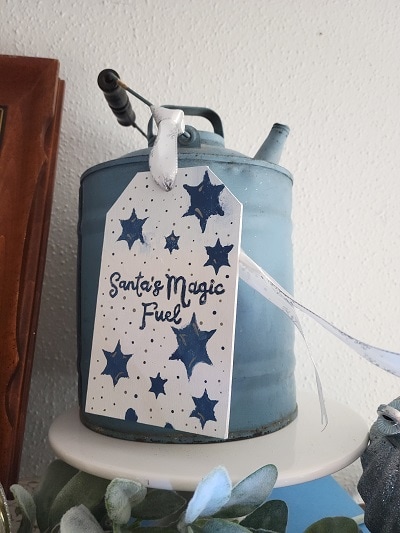 Using The Wooden Tag In An Easy China Cabinet Display For A Vintage Christmas
I hung the tag on my old blue gas can and started to gather my cabinet decorations. I use the "b method" to style the top of tall furniture. You can find more about that here. It's the best way, the easiest way to style the china cabinet so you can enjoy all the decorative items you place up there.
In this area is the "Santa's Magic Fuel" in the old gas can and a vintage Santa print that I found on Graphics Fairy.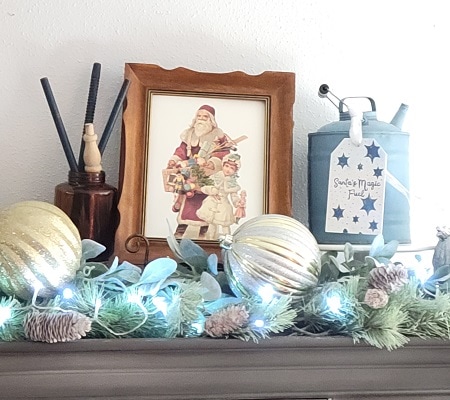 Next to the Santa print I placed an amber glass jar (I absolutely love amber glass jars and use them all the time!) of wooden spindles and toy stick music makers. This was a great place to continue the colors of blue and brown with white accents in the decorations.
On this end was the perfect place for this beautiful reindeer and a silver teapot with a bottle brush Christmas tree tucked inside.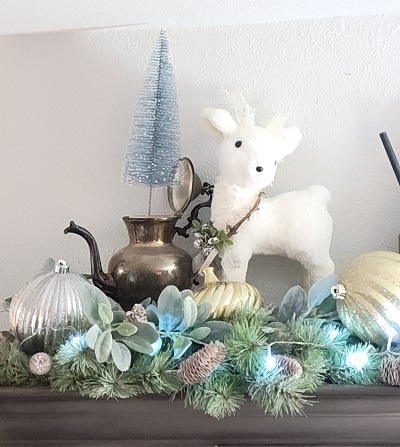 Along the front is some festive foliage with lamb's ear woven in. I tucked in pine cones and oversized ornaments. Throughout the garland I wove in fairy lights. I love when all the Christmas lights are glowing.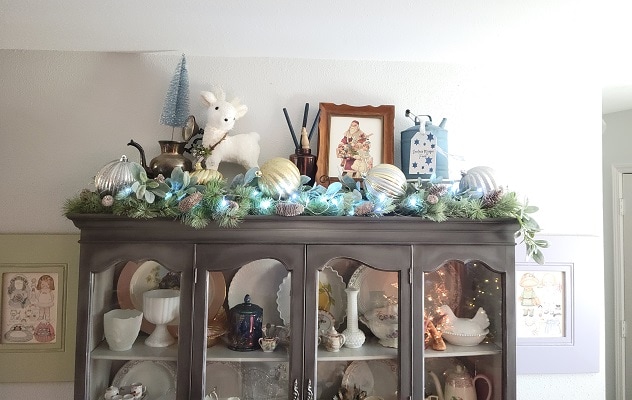 Before You Fly Away To Create An Easy China Cabinet Display For A Vintage Christmas
Pin any of the images to Pinterest so you can create Santa's Magic Fuel for your Christmas – hover over any picture to save the pin to your Pinterest account. So easy!