A New Idea For An Old Christmas Tin
How many of us have ornaments that are precious and sentimental? Those ornaments from Grandmothers, Aunts and our childhood that we don't want to risk hanging from the precarious branches of our Christmas tree. Where cat, child, dog, husband or yourself could accidentally break it. And then ask yourself how many times do you see Christmas tins or tins in Christmas colors at thrift store. I want to give you a new idea for those old Christmas tins and preserve some memories while doing it!
Collect Pieces For Your Old Tin
For my project I used vintage ornaments from a Junk Hippy Market because I simply don't have too many sentimental ornaments left. When I left my husband he threw away a lot of things Harvey didn't take so we are starting fresh and making new memories. But I am here with ideas, lots of them, to make Christmas tins of your very own! This is what I used for my Christmas tins.  I found all of these tins and a bag of vintage ornaments for $4.50 at a garage sale (read more about that here), Goodwill, and a Junk Hippy show respectively.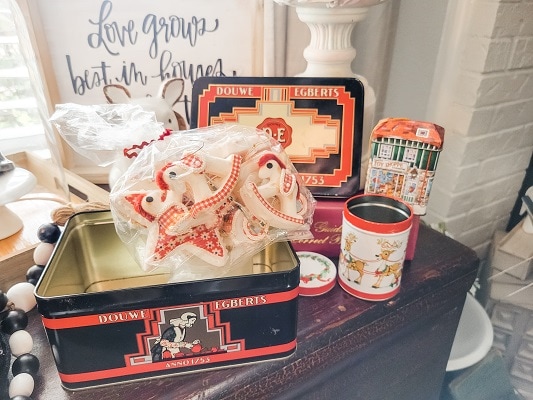 The Steps To Make Something New With Your Old Christmas Tin
Cut your foam to fit in your container – I used a steak knife like I did with this arrangement. Glue this to the bottom of your tin.
Using a skewer or a piece of floral wire insert your biggest pieces into your tin first. You can insert the skewer through your ornament if its foam or a soft material or glue to the end of it if it is not. Continue arranging your pieces largest to smallest on the foam. If you have very small pieces glue your batting down first then place those pieces so they do not get lost.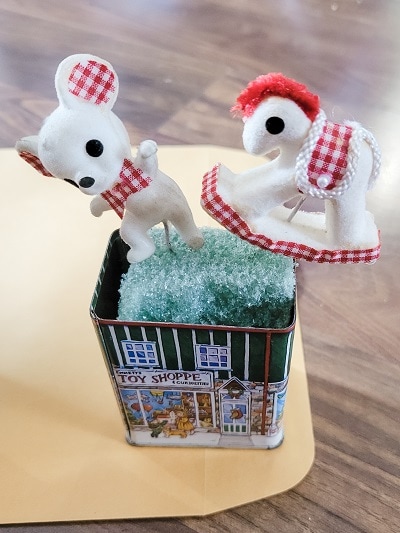 Glue batting to the top of your floral foam. I had a small deer and bottle brush tree that I glued onto my foam after the batting so they would not get lost in the "snow".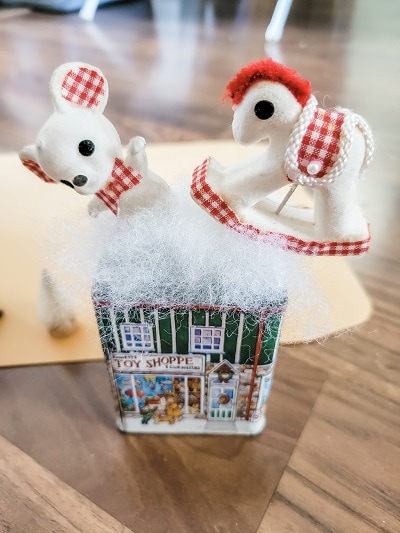 A Completed Christmas Tin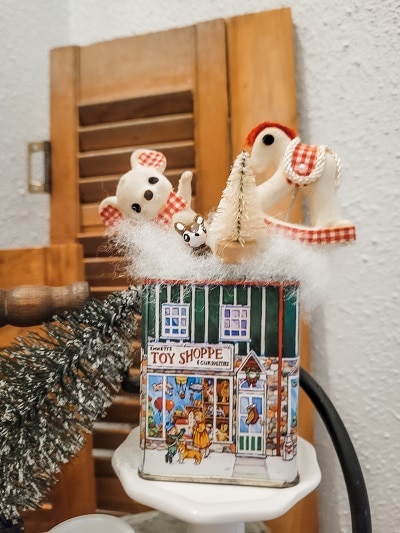 Displaying Your Christmas Tin
I displayed mine in a tiered tray on our stair landing which is my daughter's shoe corral area and an area for family photos. I loved using all the vintagey Christmas goodness in my tiered tray. An old truck and a bottle brush tree, wooden toy sticks with a Santa tag, vintage coffee mugs, vintage sheet music, a children's book in red and of course – a sign that states Christmas is my favorite!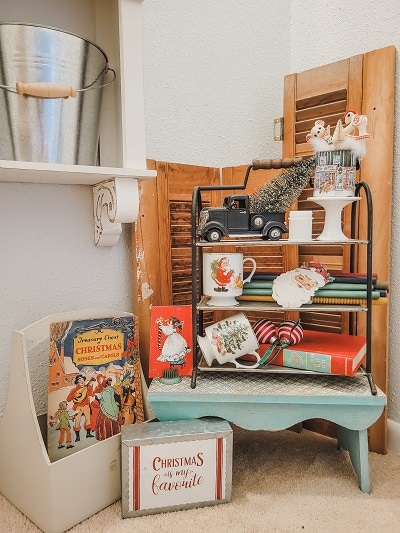 The best part will be the shutters behind will be filled with Christmas cards from loved ones far and near!
Our Favorite
Tiered Tray Posts
Make Sure To Pin This New Idea For Your Christmas Tin!
What will you put in your Christmas tin? A toy truck from your uncle, a piece of lace from your wedding dress, an ornament from your Grandmother? Or a vintage ornament from that flea market trip with your girlfriends and a tiny silver spoon from the antique store that you stopped at with your mom? What memories will your Christmas tin hold?