The Best Ideas For Fall Table Decor And Centerpieces
It is the time of year for fall gatherings, the perfect time for a fall dinner party, a special occasion like Thanksgiving or a simple fall table to enjoy this holiday season. I have the best ideas for fall table decor and centerpieces to set your dining table for your own home. These simple ideas are a great way to have a beautiful table this fall season.
So greet your guests at the front door, welcome them in and wow them with your beautiful table with a seasonal centerpiece that takes center stage and place settings at each seat that make your guests feel special.
Choose A Color Scheme For Your Fall Table
Traditional fall colors are a color palette of orange, brown, red and yellow. But I want you to feel free to use different colors to match the rest of the room or the rest of your home's decor.
Neutral Fall Table Colors
Blush, faded greens and rusts, and some cream create a more neutral version of fall. Using these colors is one of the best ways to start decorating in the early fall. These more muted and slightly toned down shades is a great transition from summer to the autumn season.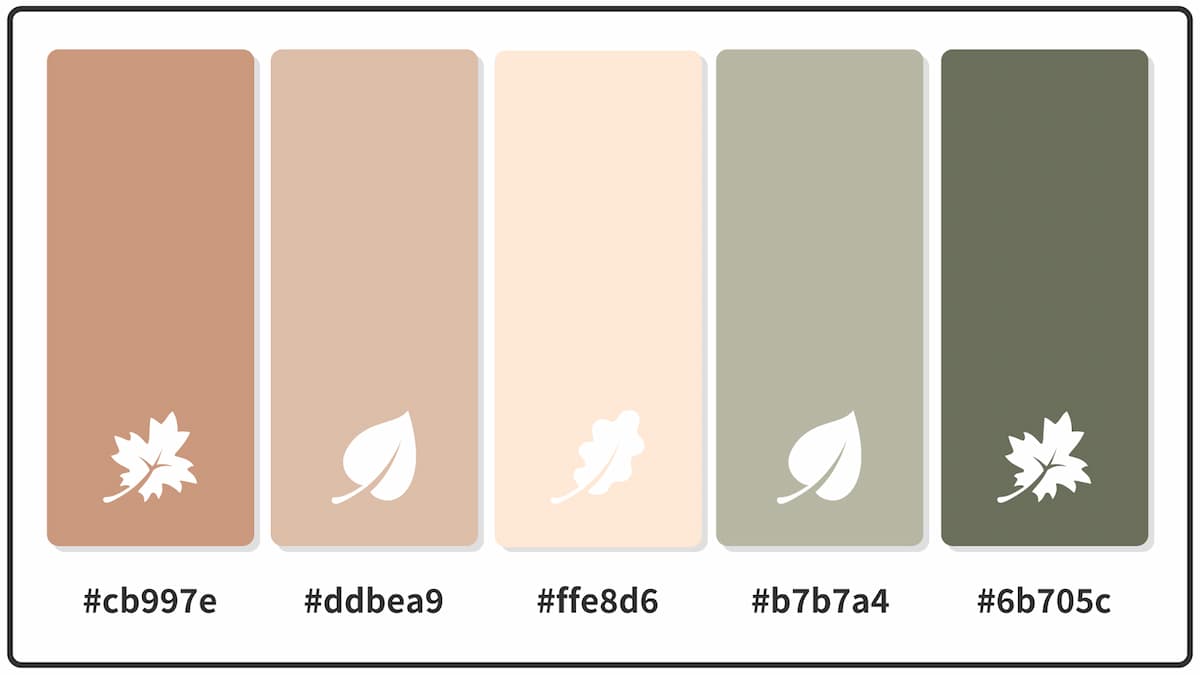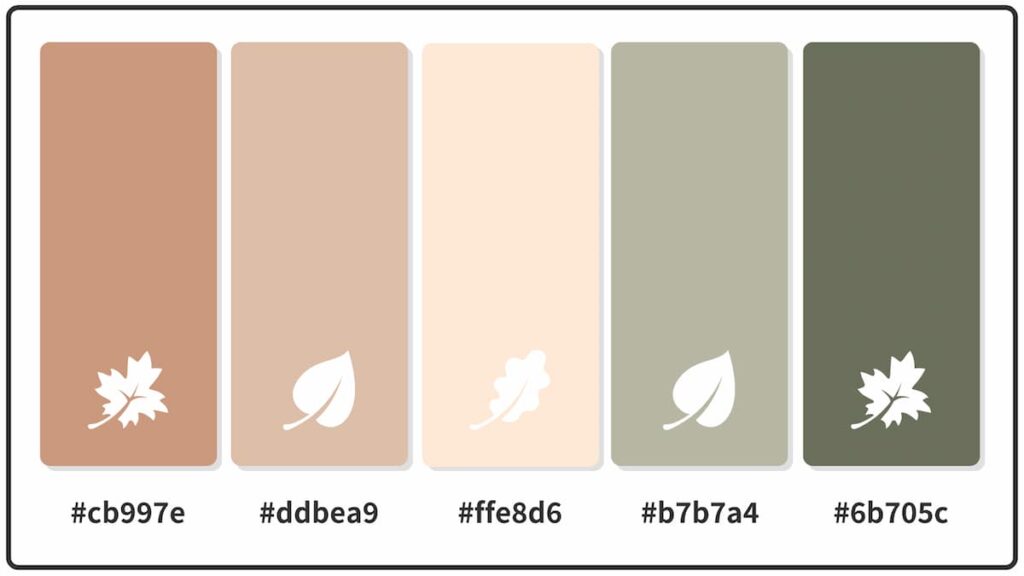 Rich Colors For Fall Tables and Centerpieces
Set your dining room table with fall inspired gem tones. These colors will help you set a stunning fall table with pumpkin spice shades, saturated teals, and deep shades of purple and maroon.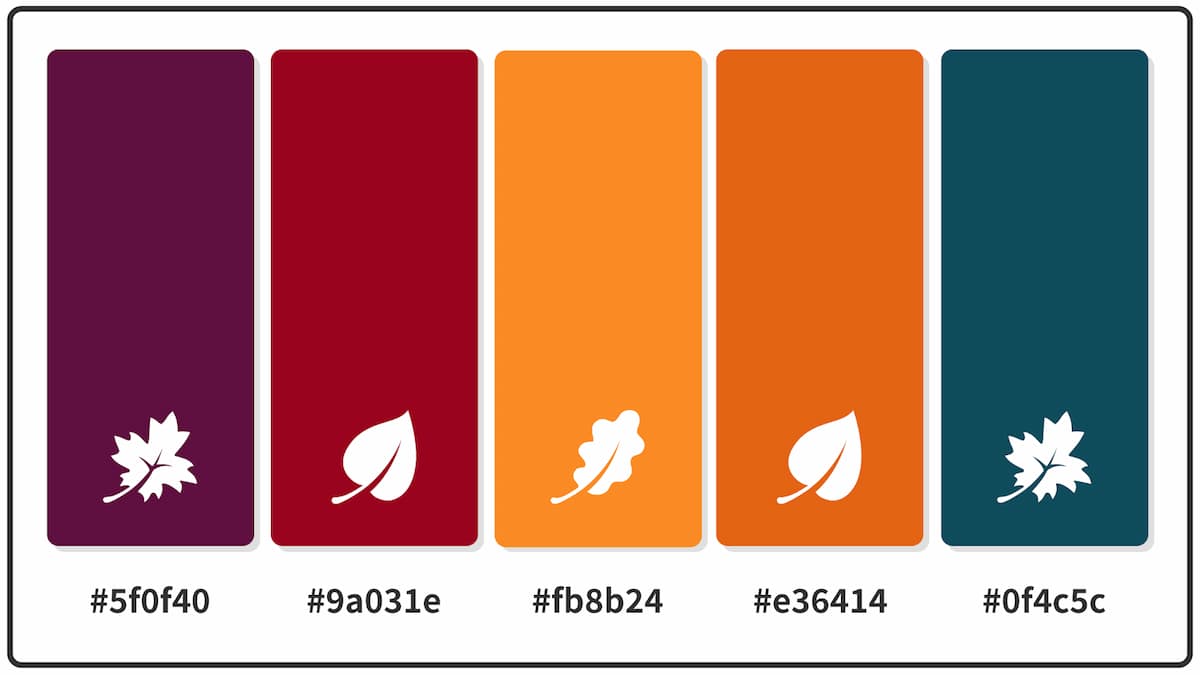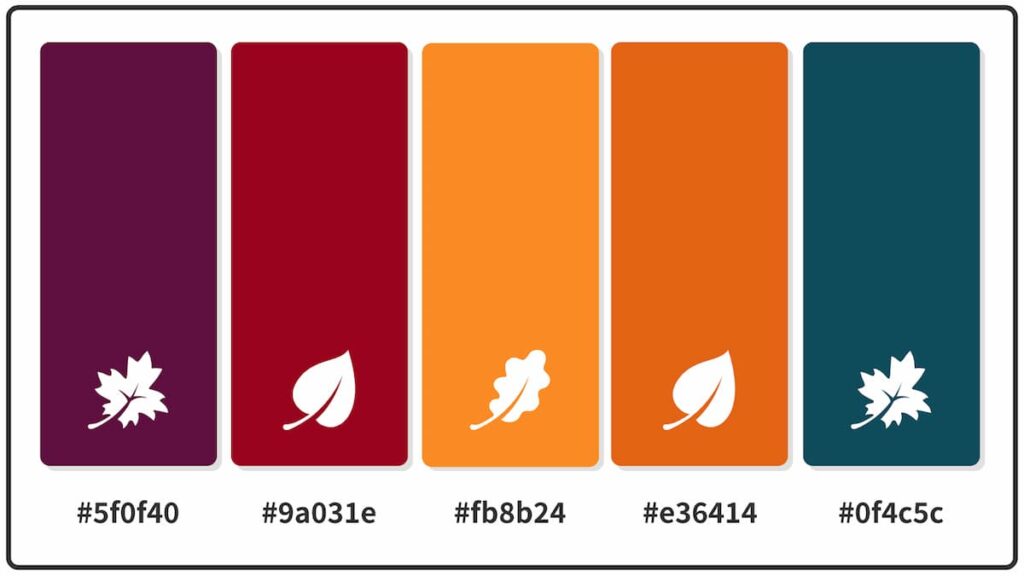 Place Settings For Fall Table Decor And Centerpieces
Set your kitchen table or dining room table with these tips –
Visit the thrift stores for good stuff to set the table like linen napkins, unique plates, and wine glasses for your fall table settings.
Shop in thrift stores and the remnant bin at your fabric store for fabric to dress up your tables.
Use the 1-2-3 Formulas to a Beautiful Table, located in our freebie library, for an easy way to set a perfect place for each guest. The formula is to elevate the plate + mate + create.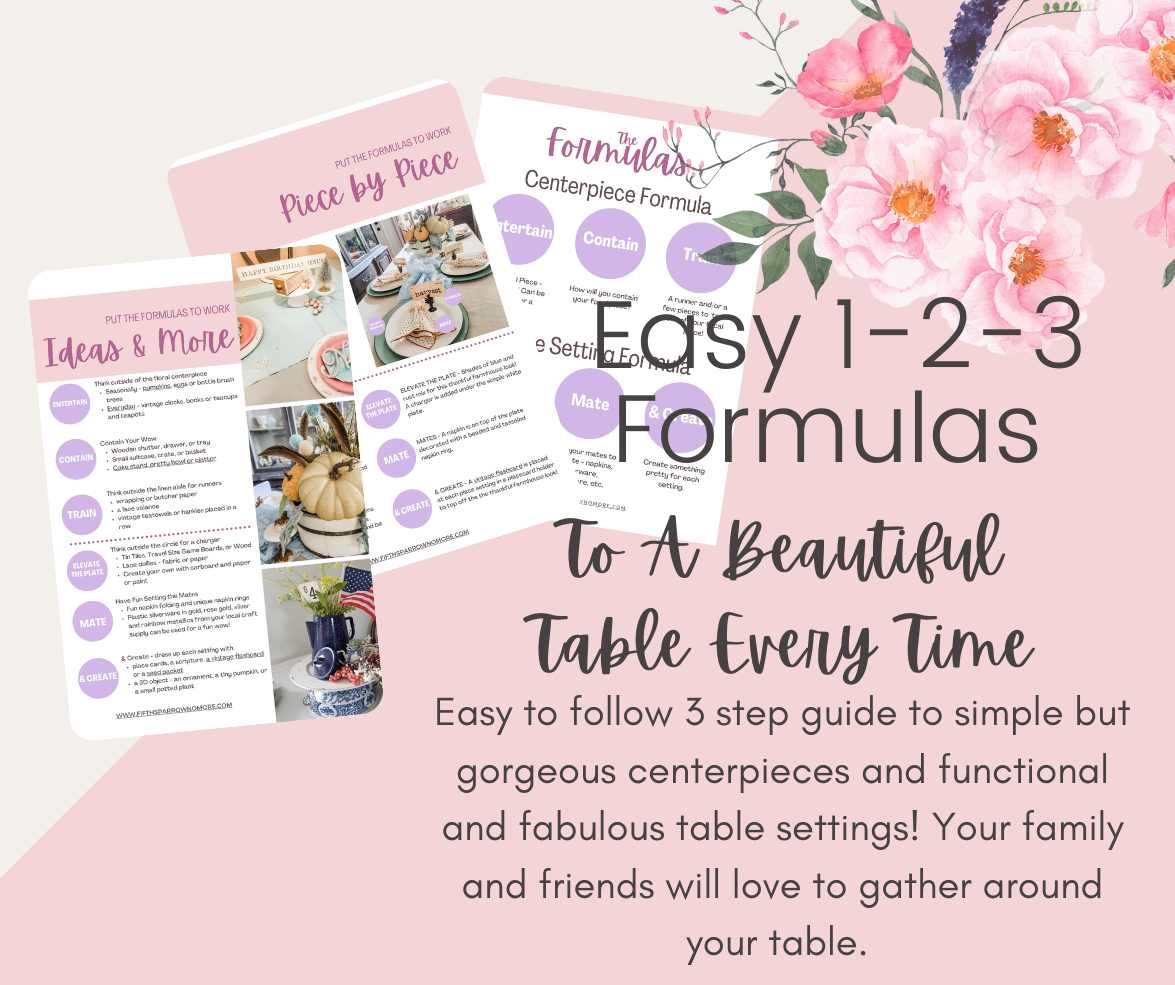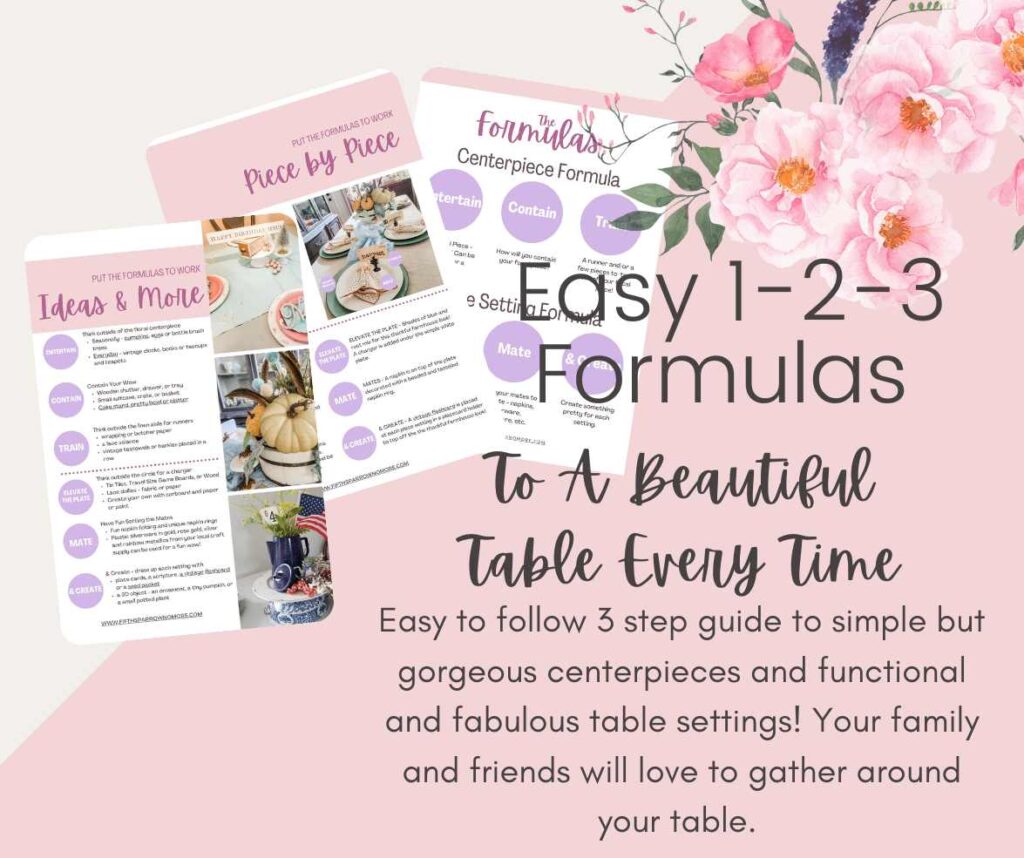 Grab my free Ebook
A 1-2-3 Formula For A Beautiful Table
Three easy steps to a beautiful centerpiece and place settings to make each guest feel special!
Place Settings For A Beautiful Fall Table
First elevate the plate which means take the plate to the next level by using a charger and/or a placemat as one the first things to set on the table.
On this table I used a green charger to elevate the plate. This green matched the tiny green leaves in the thrifted napkins.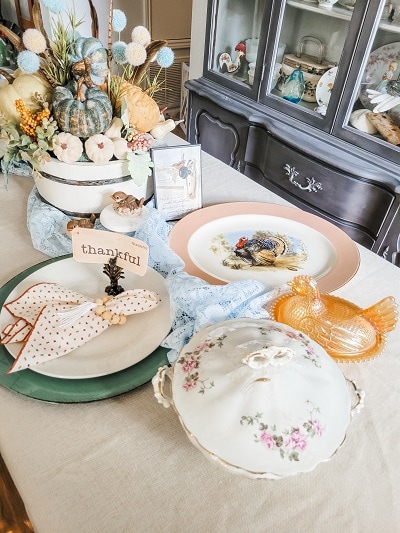 Second place your mates to the plate. These mates are napkins, silverware, glassware, etc. I used these sweet patterned small plates which might be printed with pine cones (I think that's what the yellow things are!?) and branches of pine needles. The napkins matched the plates perfectly in an imperfect way.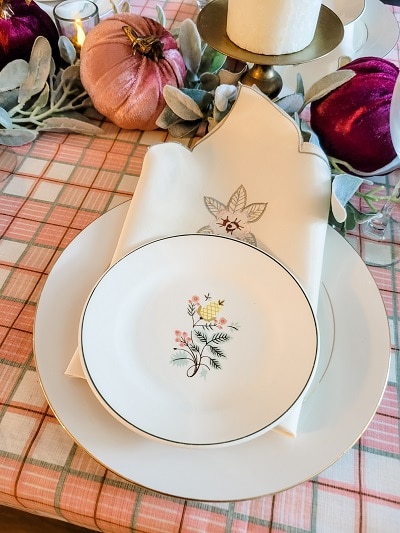 And last but not least create something pretty for each setting. Beaded napkin rings are a DIY fall decoration to make for simple table decor. I combined this beaded napkin ring with a flashcard in a place card holder.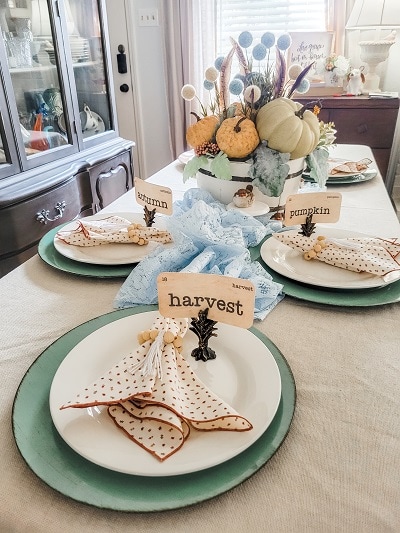 These beaded rings can also be used on candlesticks for table decorations on your living room coffee table or console table.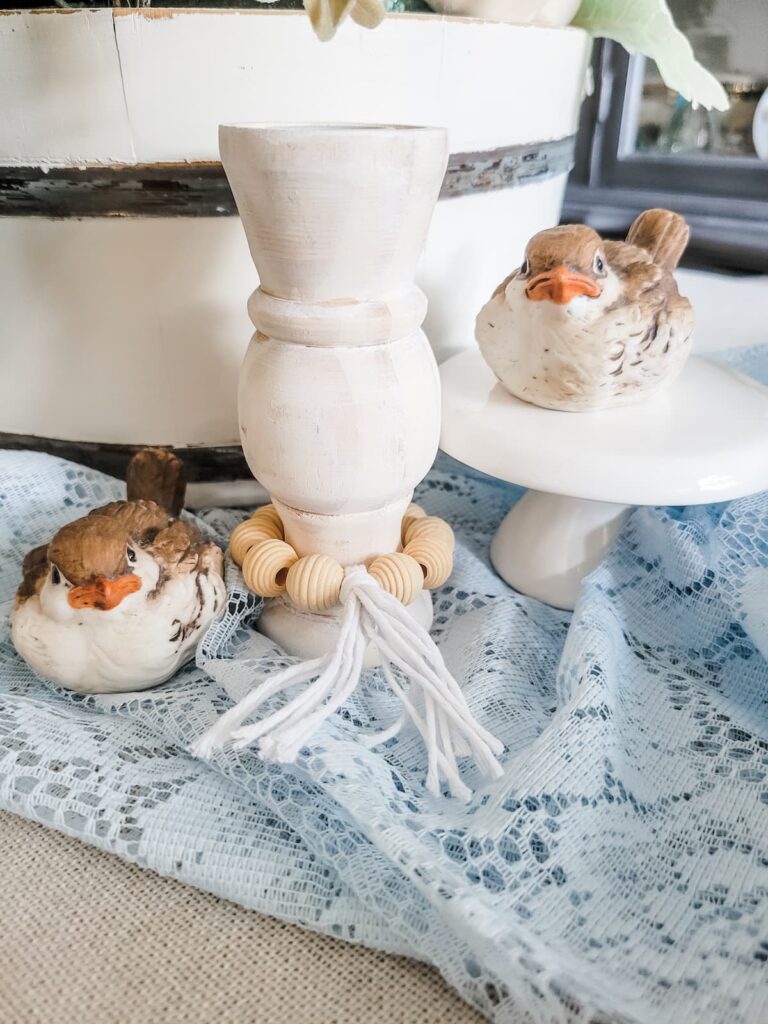 Another idea is to think outside the box when creating your napkin rings. Here I used furniture handles to place the napkin through.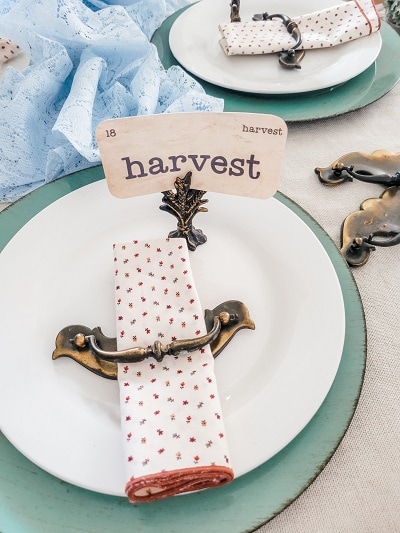 In this place setting small pumpkins were placed on each plate. As a finishing touch I painted each stem gold. As an alternative you could place real pumpkins at each guest's seat with tags that say their name, a conversation starter or one of the fall and autumn fun flashcards.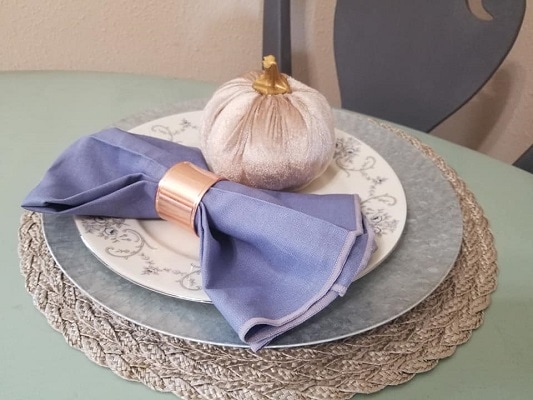 From Twigs & Fluff, Our Shop
Vintage flash cards are hard to find and especially hard to find when you need a particular word, theme, or a good price! These vintage inspired flash cards take care of that problem by offering an affordable and easy alternative to decorate a mantel, set a table, to take a tiered tray up to the next level, fill a vignette, or create a flatlay for the 'gram.
Fall Centerpiece Ideas
In this fall table centerpiece a lamb's ear garland lays down the center the table and serves as a table runner. Tucked in this fall garland are votive candles in shot glasses found at the thrift store with dried green lentils around the candle. Brass candlesticks hold pillar candles and velvet pumpkins are sprinkled down the center of the table.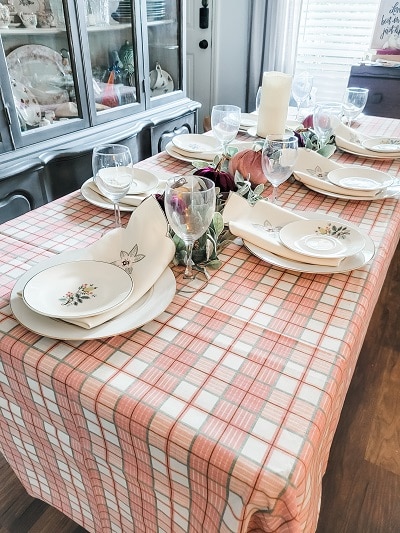 Instead of small shot glasses you can use clear glass vases or mason jars and use dried lentils, peas or beans in your color scheme as fillers. They are inexpensive and God gave them such beautiful colors for us to enjoy!
Inexpensive Filler Ideas For Vases and Candle Holders
These are affiliate links to Amazon for the items. I make a small commission at no cost to you. This supports The Fifth Sparrow No More and allows me to continue to bring you amazing content!
In this diy fall centerpiece a popcorn bowl is "fifth sparrow-d no more" into a firkin floral arrangement. Combine natural elements, faux pumpkins, fall flowers, and fall foliage to create a beautiful centerpiece as a large focal point for the center of your table.
As an alternative use a large dough bowl to create a arrangement for the center of your table. Fill this with pumpkins and fall foliage, real apples or pinecones.
This simple fall centerpiece is perfect for a farmhouse table. Stack two cake stands (or use a tiered tray) on a tray and decorate. I placed a large pumpkin on top, filled the bottom cake stand with small white pumpkins, pinecones, and succulents. On the tray I used another large pumpkin, mini pumpkins, fall leaves and continued the use of succulents as a filler.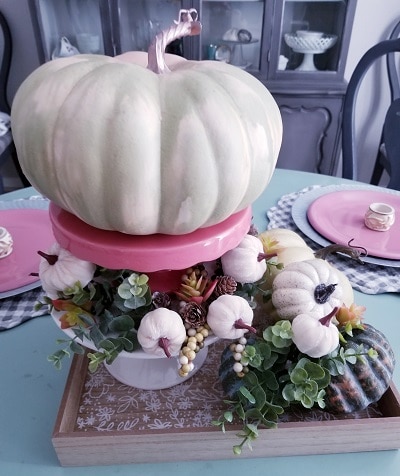 Our Favorite
Holiday Table Blog Posts
Before You Fly Away To Use These Ideas For Fall Table Decor And Centerpieces
Pin any of the images to Pinterest so you can use any of these easy fall table decor ideas to make a perfect fall centerpiece for your dining room today – hover over any picture to save the pin to your Pinterest account. So easy!