Ten Creative Ways To Organize With Vintage Finds
I want to share with you ten creative ways to organize with vintage finds that I use in my home to save space and store items beautifully. In my small home I get creative with the space I have. Using vintage pieces for storage and organization allows me to hide clutter in the open. Meaning the stack of suitcases is fun to see in my home but functional too. Or that piece of furniture is is perfect for that spot in my home but it needs to serve double duty and create storage.
Creative Way No. 1 – Storage In Vintage Suitcases
When looking for items in thrift stores, estate sales and online do not overlook the valuable storage space in a vintage suitcase. These come in wide variety of colors and shapes. When purchasing check for strange smells and whether the lining is intact!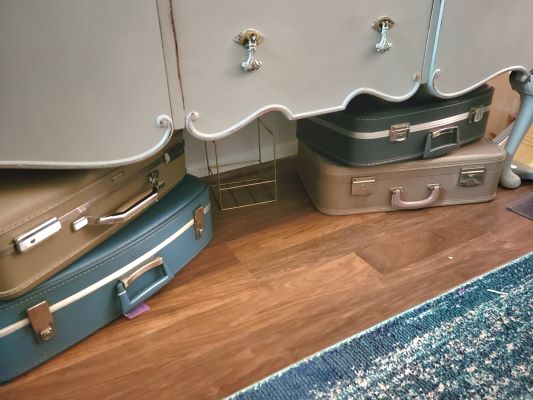 Creative Way No. 2 – Organize in Vintage China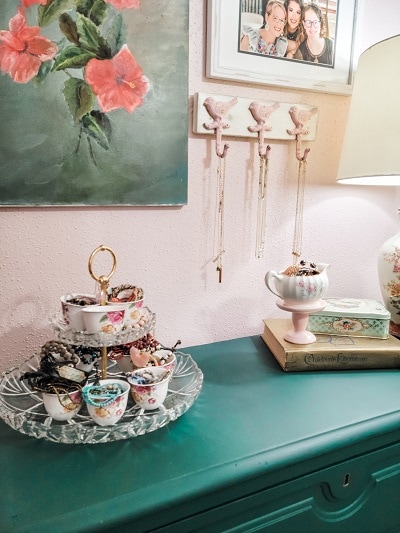 For Jewelry Organization
A crystal tiered tray with demitasse cups (French for "half cup.") This small coffee cup only holds about 2 to 3 fluid ounces! Not big enough for coffee in my opinion but is the perfect size for sorting bracelets by color, earrings by type and rings.
A gravy boat is great for cuff and bangle bracelets. They stand up straight and are easy to grab.
An old tin holds heirloom pieces and a few treasures like notes and drawings from my girls.
See more about jewelry organization here
Use vintage china in these creative ways too –
drawer organization
bathroom – hair ties, cotton balls and qtips
office supply storage – paper clips, washi tape, extra staples
Creative Way No. 3 – Vintage Storage And Organization With Crates, Baskets and More Oh My!
Wooden crates, wire baskets, and woven baskets are always serving triple duty in my house. They provide storage, organization and functionality all while being vintagey and cute!
A gym basket and wooden boxes create storage and functionality in my coffee bar.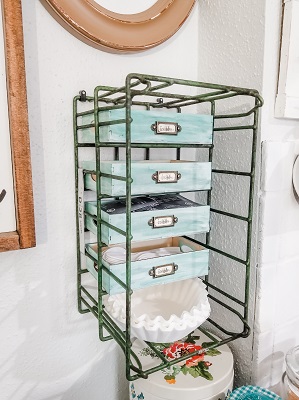 Creative Way No. 4 – Repurpose Vintage Items For Storage & Organization
In our front entry way I have hung a basket that contains all of Taquito's walking essentials – leash, collar etc. Next to this is one unexpected thing that holds an even more unexpected thing. A match holder containing his potty bags! The roll of bags fits perfectly and I can tear one or two off as we leave the house.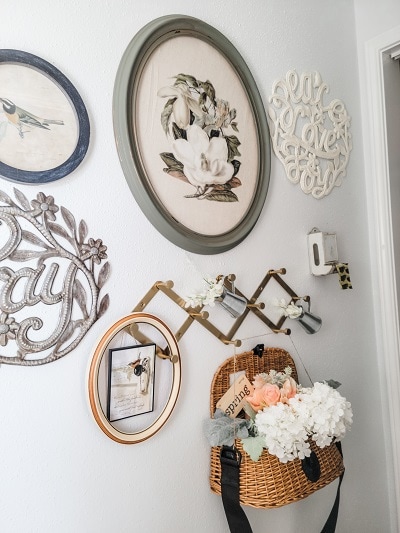 Creative Way No. 5 – Use Vintage Pieces From Barns, Farms and Garages
When I visit estate sales I head straight to the garage or outdoor buildings first! You never know what fabulous storage and organization pieces you'll find.
For instance a nesting box now serves as organization in my laundry room.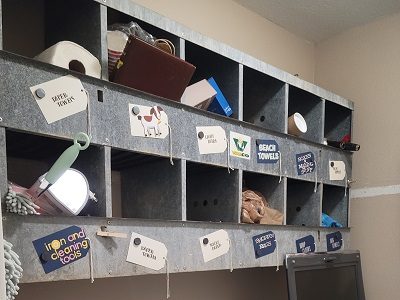 A rake head holds ribbons and awards.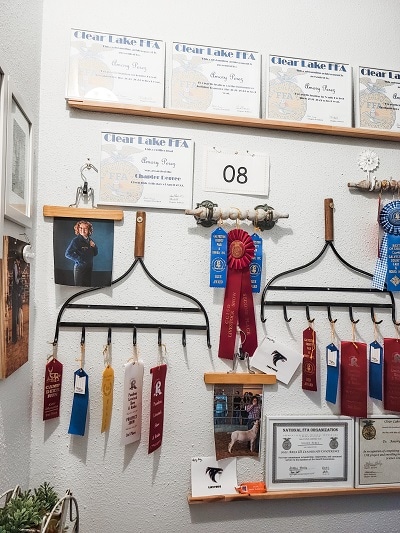 Perfect for vintage Valentine's Day vignettes, on the porch with flowers or storage in your office, craft room, or garage.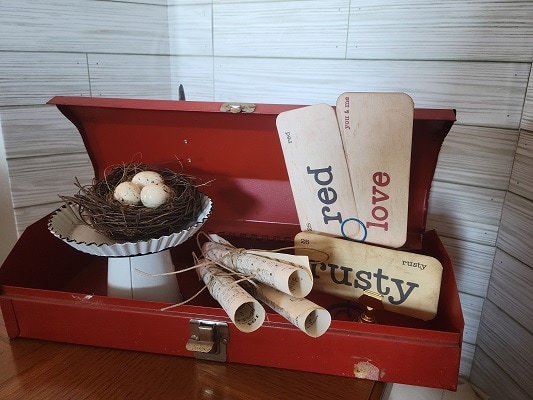 Red toolbox full of patina and chippy goodness!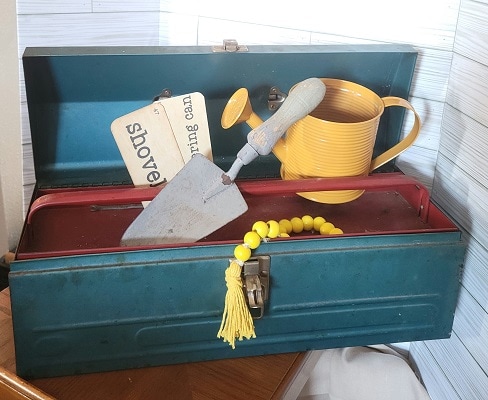 Blue chippy rusty tombstone shaped toolbox with tray inside!
A metal tool case acts as a riser – see more of about this here.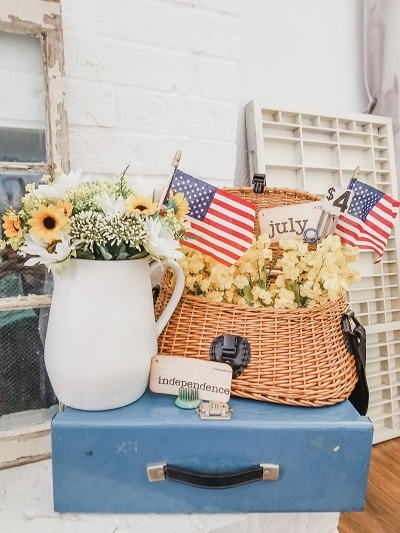 Creative Way No. 6 – Creative Ways To Organize With Flower Frogs
Oh flower frog, how I love thee …
Let me count the ways
Nope, too many ways and my poetic prowess is unable to find rhyming words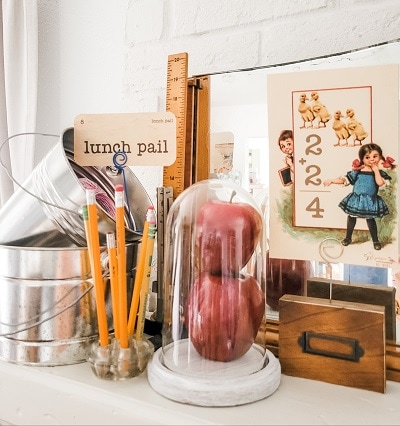 pencils, pens and markers
cooking spoons in the kitchen
cards and pictures
paintbrushes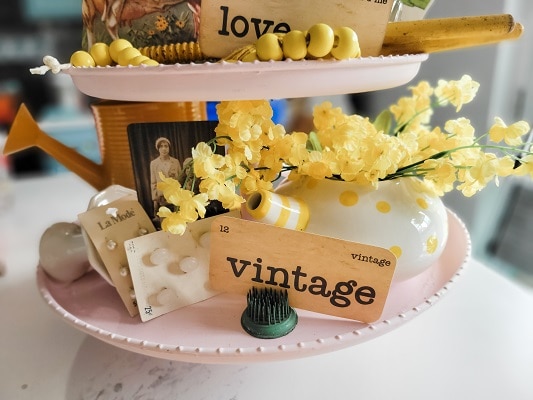 Creative Way No. 7 – Goblets, Glasses, and Cups Of All Kinds
My question, well actually two. Does anyone else have an obsession with office supplies? Pretty pens and notebooks get me every time. And do you have a place for all of those pens and books?
Don't shop in the office supply store, "fifth sparrow no more" pretty goblets, milk glass and ceramic vases into functional storage for your desk.
And a bonus idea – a vintage pretty soapdish is perfect for business cards!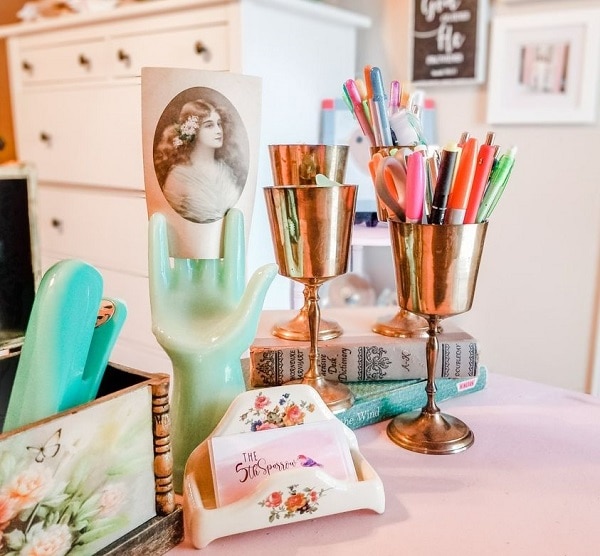 Creative Way No. 8 – Vintage Furniture Serves As Storage and Organization
Dressers are not just for clothes in your bedroom! I made over this 1940's dresser with faux apothecary drawers to sit by our front door.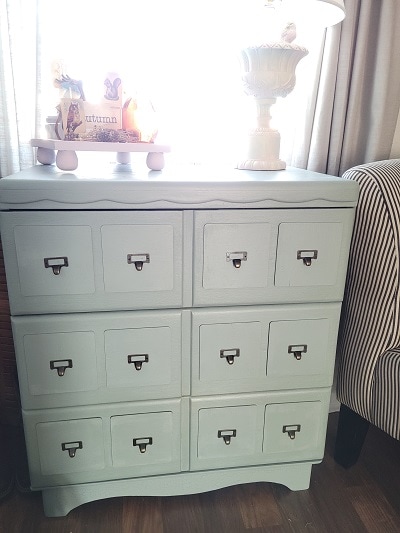 Inside each drawer are smaller baskets that contain all the small décor pieces that I put into vignettes, on tiered trays and in my tablescapes!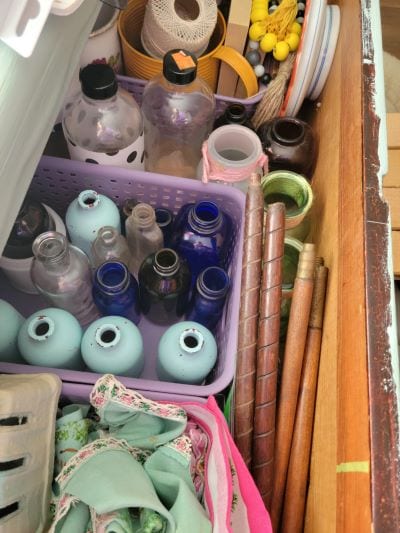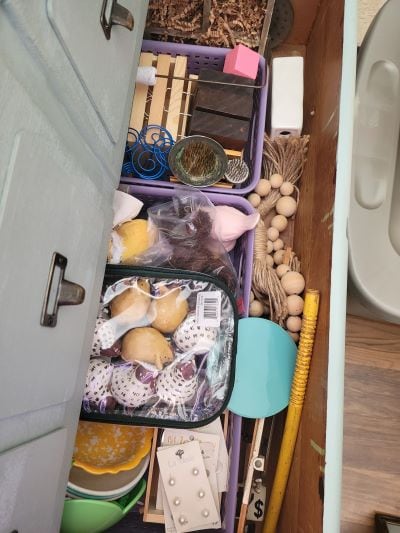 A pie safe now serves a new purpose as a pantry in our kitchen.
Creative Way No. 9 – Pantry and Kitchen Organization Using Vintage Glassware
Storage and organizing essentials in the kitchen, the bathroom or anywhere else can be pretty too!! Don't let function shine and forget how nice it is to be surrounded by vintage beauty. Pretty glass jars, crockery sets, and ceramic canisters are easily found in thrift stores, estate sales and secondhand shops that it would be a shame not to "fifth sparrow no more" them.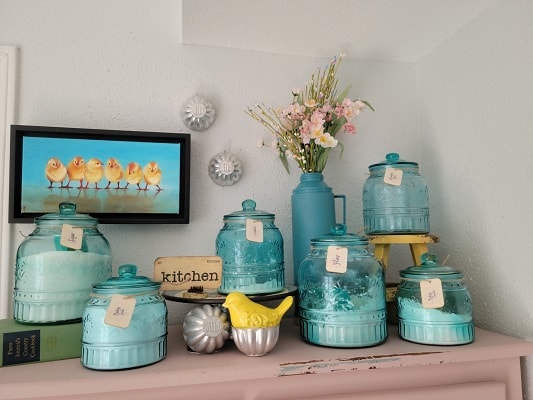 Creative Way No. 10 – Vintage Pieces For Book Organization and Storage
I absolutely adore using vintage books in all my decorating and finding new spots and ways to display them is always a fun challenge! These are a few creative ways to organize vintage books –
A Vintage Metal Toast Rack – holds books and decorative pieces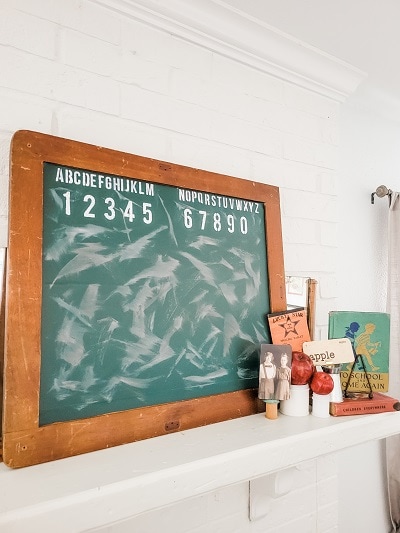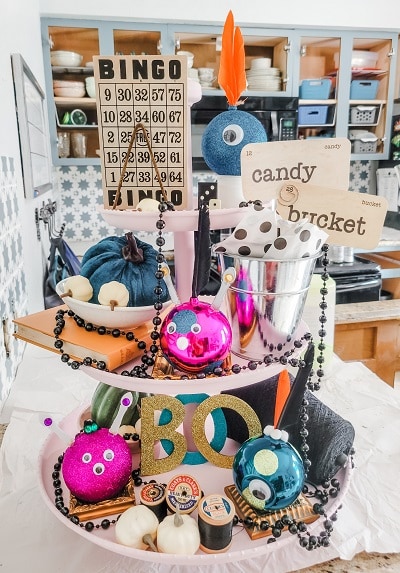 A Vintage Silver Plate or Copper Casserole Carrier is the perfect size for books – it creates book ends for your vintage books.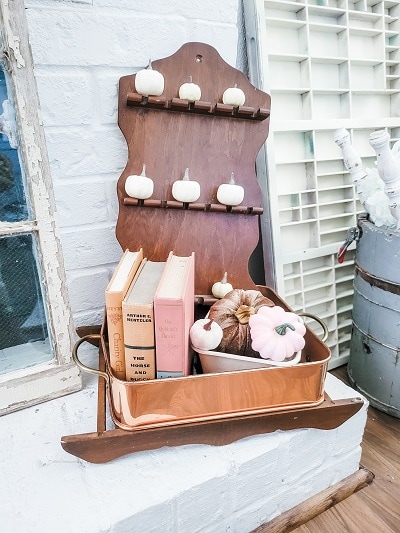 A sewing machine drawer or vintage box is perfect for one or two special books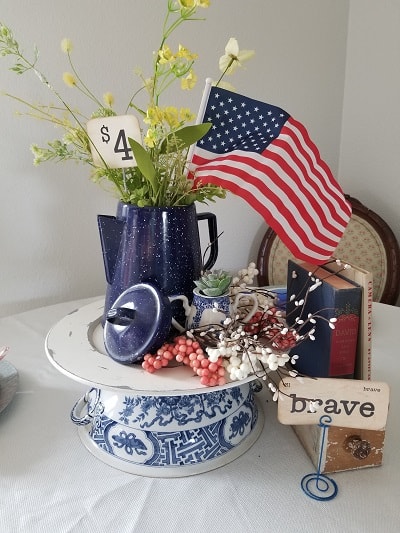 Creative Way No. 11 – A Bonus Idea To The Ten Creative Ways To Organize With Vintage Finds
You see them all the time in dusty corners of thrift shops and antique malls – the long forgotten magazine rack.
I did a makeover on this magazine rack and the post has a gazillion ideas (that's a stretch but you know what I mean) on how to repurpose them.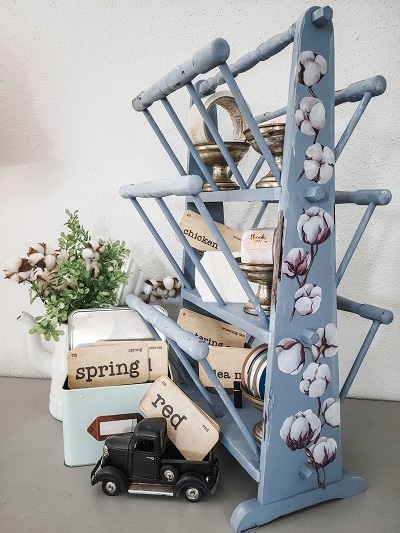 Before You Fly Away To Use These Ten Creative Ways To Organize With Vintage Finds
There are so many ways to repurpose, reuse and love vintage pieces. Storage and organization with those pieces is just one way to incorporate them into your home.
Pin any of the images to Pinterest so you can use these ideas to organize and store with your vintage finds – hover over any picture to save the pin to your Pinterest account. So easy!