Make a Stunning Ribbon Display with Thrifted Pieces
Let's create a stunning ribbon display with thrifted pieces for award ribbons, certificates, and winning trophies.
We have a good problem in our house! An overabundance of winning 🙂
Amory and her goats plus her winning competitions in baking, sewing and crafting at local county fairs and rodeos have resulted in ribbons, certificates and memories!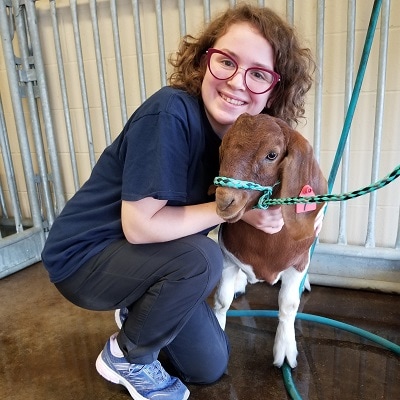 Using Thrifted Pieces To Display
I wanted to use the area in our stairwell for this award gallery wall. This is where Amory's shoes live and I have set up a family gallery wall here too.
The first order of business was finding pieces to hang her ribbons from. I have an abundance of spindles – I might have an obsession because there are so many ways to use them!
"Fifth Sparrow No More" spindles for DIY projects, décor, and more!
Thrifted Pieces like Spindles Make Stunning Ribbon Displays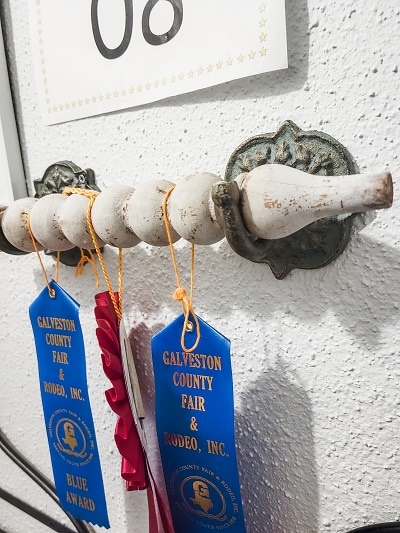 Thrifted Spindle Ribbon Display
Take your spindle to Hobby Lobby to choose your hooks. Trust the person who made multiple trips because I used the eyeball measuring method.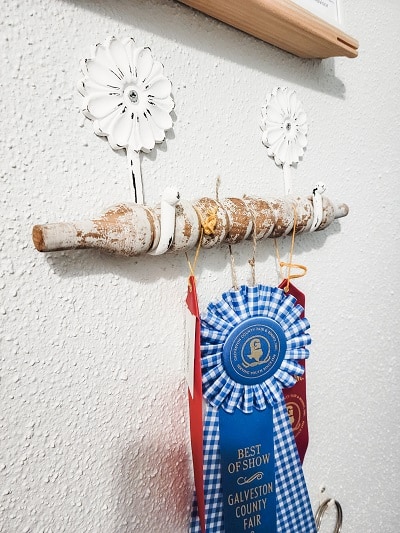 Easy To Add Ribbons
I did not paint these spindles -I loved the chippiness! I only placed these in the hooks so they are easy to remove and add ribbons and awards.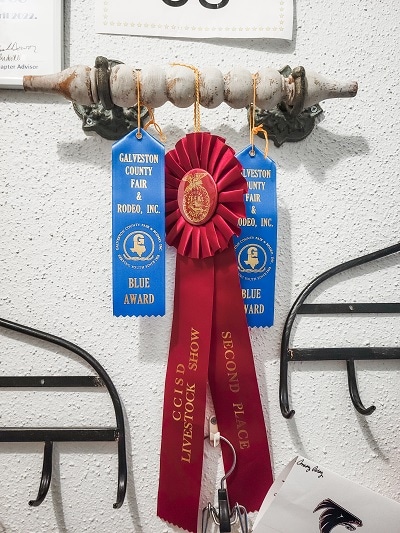 Use This Thrifted Piece in Other Ways
Use this idea for more than ribbons and awards – jewelry, belts, scarves, dog leashes or ties. The possibilities are endless!
Thrifted Coat Hangers Used For Pictures
Frames are expensive y'all! This is a unique way to display photos that is easy to change out and add to.
Think of these thrifted pieces as hanging photo albums! Several pictures are in each hanger to flip through!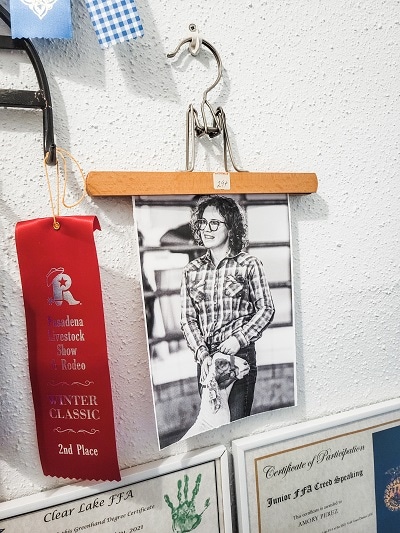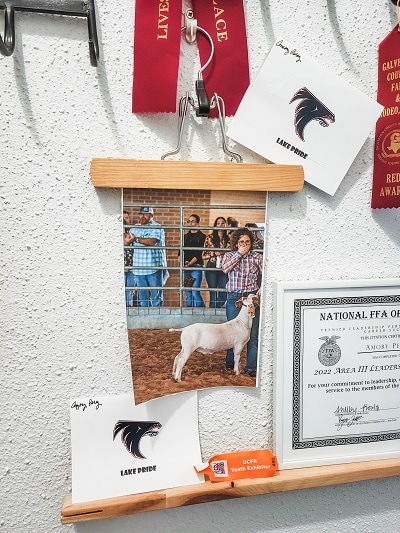 More Thrifted Pieces To Hang Ribbons
Because there are so many ribbons (and I know we need room to grow) I used rake heads as hangers!
Make sure to check the garages of estates sales – rusty and patina-d yard implements can be "fifth sparrow-d no more" into so many things!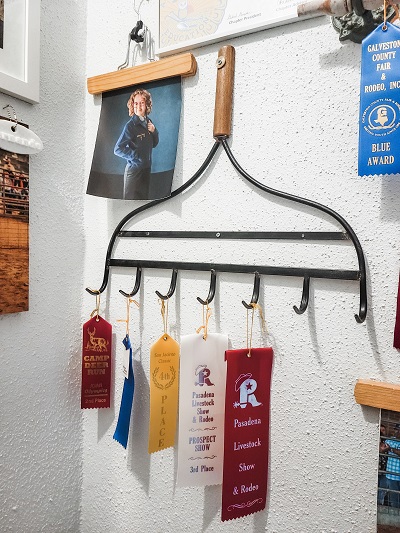 You can either unscrew the rake head from the handle or saw the handle off above the rake head!
JOIN MY NEWSLETTER TO RECEIVE…
Finish Off This Stunning Ribbon Display
by framing certificates! I used this pack of frames from Michaels for certificates – it's a great deal at $9.99 for four when they are on sale.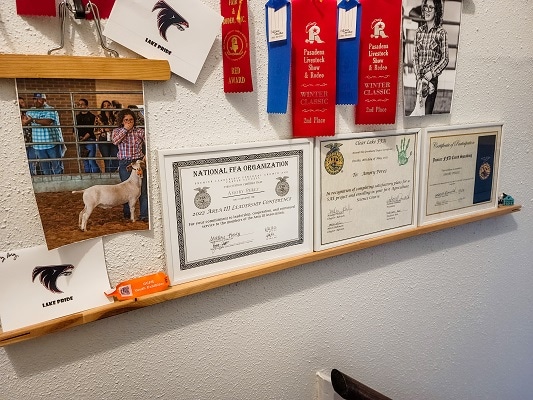 A thrifted framing kit was used to create the perfect ledge for these frames to sit on.
Small L brackets were attached in the middle and both ends to the top of the shelf to attach these frame ledges to the wall (this way frames and memory pieces would hide the brackets).
Plan Out Your Ribbon Display with Thrifted Pieces
Lay out your pieces on a floor and decide on spacing. So much easier to do the moving and rearranging on the floor!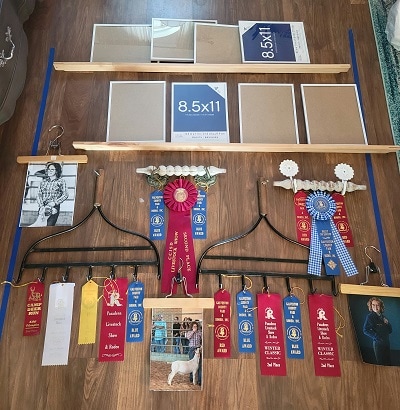 And Transfer Those Thrifted Pieces To The Wall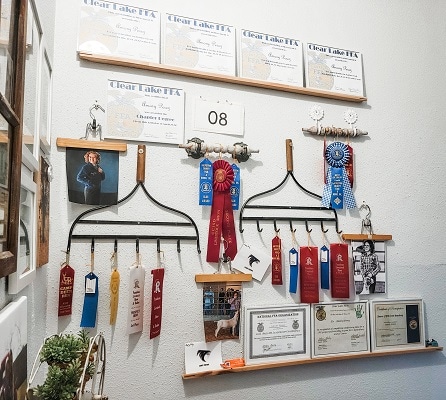 Pat yourself on the back because your child has spoken the word "EPIC" in its description!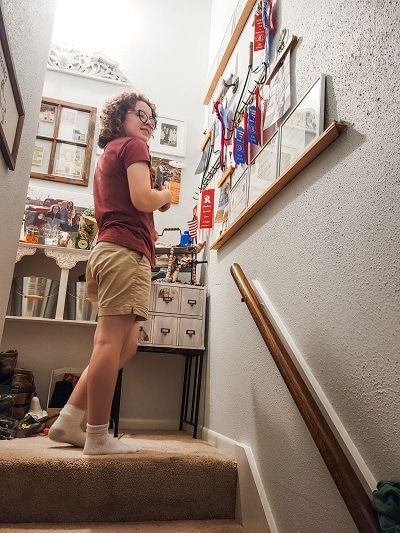 Before You Fly Away To Create Your Own Stunning Ribbon Display
Pin this post to Pinterest to help you remember the ideas for creating your own award and ribbon display – hover over any picture or the image below to save it to your account. So easy!