A New Purpose For An Old Magazine Rack
A new purpose was found for an old, sad and dusty magazine rack in the corner of a thrift store we visited. And I'm thankful the dust and dirt was free with purchase because there was so much of it!! Here she is, right off the showroom floor.
Let's make her a fifth sparrow no more!
Prep Time To Repurpose Your Magazine Rack
Tools You'll Need
You can click on the individual supplies or visit the Dixie Belle Paint site here. 
Finding and Fixing Your Magazine Rack
Finding – Find any deep gouges or spots where you would need to smooth out before painting, You can use Dixie Mud to fill these spots. If your magazine rack has a pattern you'd prefer to be gone you can also use Dixie Mud for that as well. I did not have any spots that I had to fill in but I did have some wiggly spindles and side pieces.
I removed the spindles with gentle persuasion and a good tug. After putting Titebond wood glue in the hole, I replaced the spindle and wiped away the excess glue with a wet towel.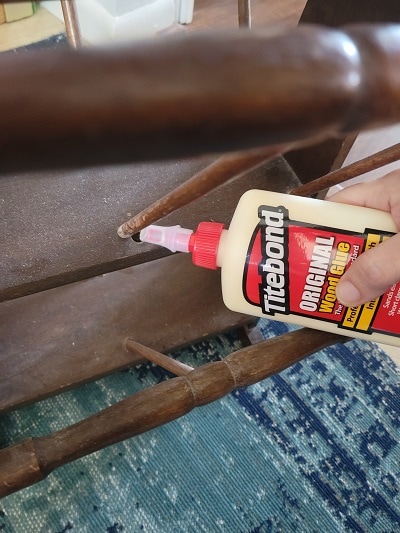 Sanding and Cleaning Your Magazine Rack
Sanding and cleaning! I used one of Dixie Belle's Rad Pads to scuff sand the magazine rack. I then used Pristine Clean to thoroughly clean the magazine rack. Mix 2 heaping tablespoons of the Pristine Clean granules in 1 gallon of hot water and mix until dissolved. Apply with a rag and then wipe off with a clean slightly damp rag. I use the mister bottle to slightly dampen my clean rag to wipe off the Pristine Clean – it works great! Don't let water puddle or sit!
Time To Paint Your Magazine Rack!
Everything is dry, the wood glue, the piece is not damp from being cleaned, so let's paint! Using the flat small brush I painted the magazine rack Quiet Cove from Dixie Belle's silk paint line.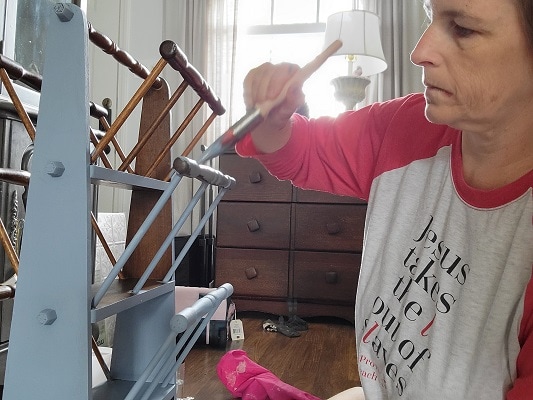 When I painted my pie safe I said WoodUBend was the best thing since Aldi's plant based mac and cheese. Y'all Dixie Belle's artist brushes have almost become my favorite thing (don't tell WoodUBend). I was able to paint all those tiny spindles, crevices, nooks and crannies of the magazine rack so darn easy! They are awesomeness!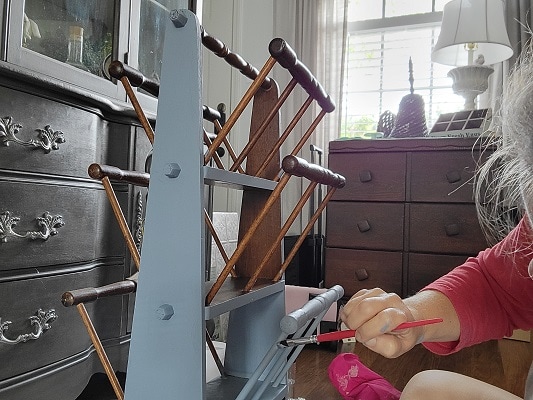 Distressing (In Other Words Messing Up A Perfectly Good Paint Job) Your Magazine Rack!
Heehee! Once the quiet cove paint had dried to the point of slightly tacky, for our humid Texas selves this was six hours, I sanded the magazine rack in a few spots to expose the brown underneath and in some spots all the way down to raw wood.
I then used the whitewash all over to further distress it. To apply the whitewash I used an old bristle brush and in small sections brushed it on heavily. Then I immediately wiped it back with a lint free cloth. This allowed some of the whitewash to get into the grooves of the paint.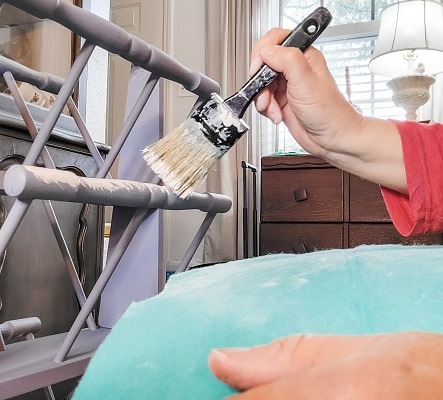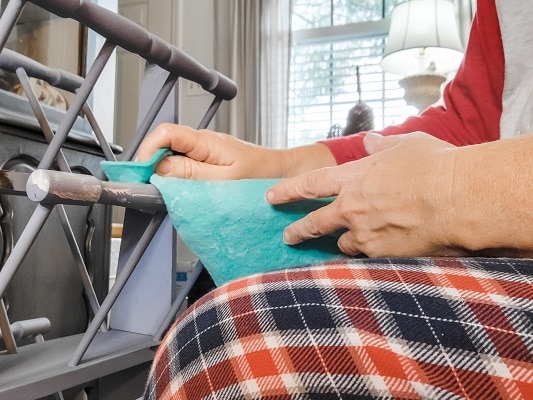 Why Stop There? One More Step To Our Magazine Rack
The sides of our tall magazine rack needed something to decorate an otherwise plain expanse. Dixie Belle transfers to the rescue! These were so easy to use –
Cut out the pattern you would like to use – leaving the backing paper on. The transfer is sticky so you'll leave the backing on until you're very sure!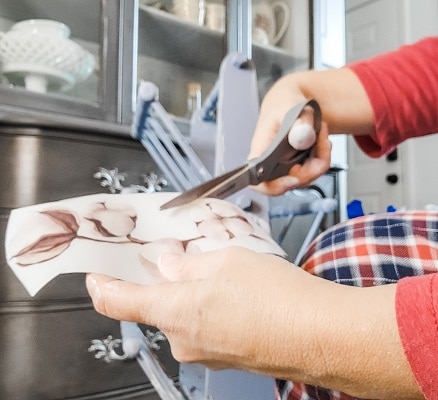 Position on your project to your liking – cutting apart if you need to. Don't be afraid to cut apart the transfer – be sure to do it where it would happen naturally. Around the edge of a flower or animal for instance.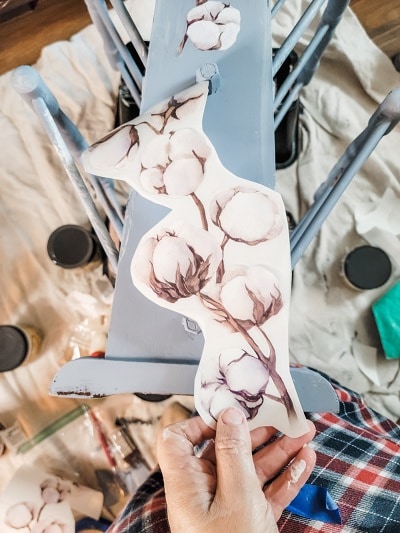 When you like the position of it on the project remove the paper backing and smooth down on your project. You can use painter's tape to hold it in place as well. Use the tool that is included to rub gently but firmly until the pattern releases onto your project.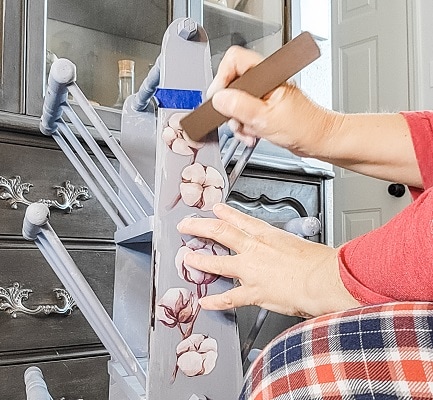 Apply a coat of clear coat on your piece after 24 hours to let everything dry properly.
Your Magazine Rack Is Done, What Will You Use It For?
My magazine tower has been upcycled into a shipping station for my vintage inspired flash cards from Twigs & Fluff! But there are so many ideas in my head for this magazine rack …
Our Favorite
Ideas For A Magazine Rack
Baby Room Sorter – Diapers, creams, all the things and it can be carried around the house
Knitter Extraordinaire? – Store All Your Yarn Here
Terrific Teacher – Sub Organizer Sort files for each class
Music Masters – Do you need a music sheet organizer?
Kitchen Clutter be gone – so many ways to use this in the kitchen. Picnic supplies, snacks holder, cookie sheets
This Magazine Rack, The Fifth Sparrow No More, It Has A New Purpose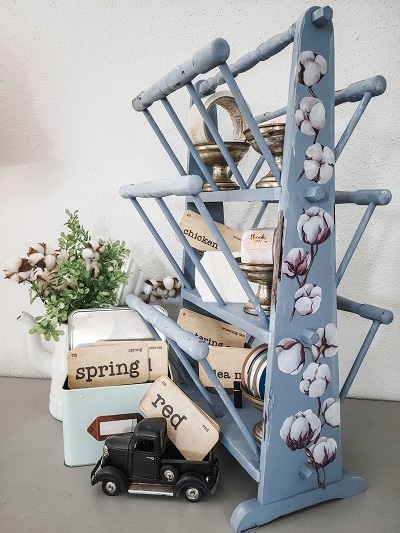 For More Magazine Rack Inspiration Visit These Dixie Belle Bloggers!