Coffee Bar In The Kitchen
You know what makes me happy? The smell of coffee drifting up the stairs in the morning from the coffee bar in my kitchen. I can almost hear the Folgers jingle …
But setting up that coffee bar in my small kitchen where countertops are prime real estate put me between a mug and a coffee bean. The coffee bar could take up valuable real estate on the countertop or I could think outside the box. And that is exactly what I did when setting it up on my kitchen counter and the walls around it.
Coffee Bar Organization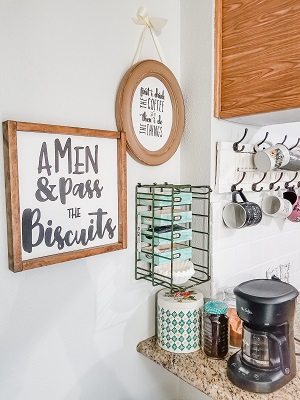 On the walls around the coffee bar I placed a shutter that I repurposed into a coffee cup rack. You can see the complete directions on that project here.
Sugar, Decaf Coffee and Regular Coffee in cute jars went on the countertop with my petite coffee maker. This five cup is perfect for Amory and I since it has automatic brew and we have two BIG cups of coffee to start our day.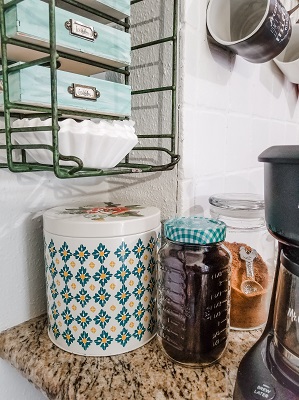 And the vintage gym basket turned into a mini drawer organizer!
Now I can say I'm going to the gym every morning! Right? No?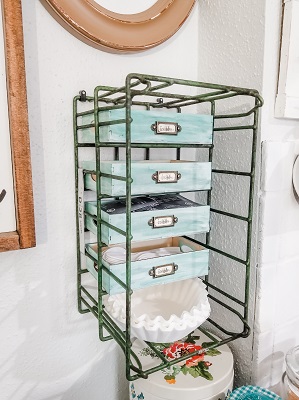 Repurposed Vintage Gym Basket For Coffee Essentials
Boxes Repurposed Into Drawers
I used these boxes and label holders that I got from Michaels.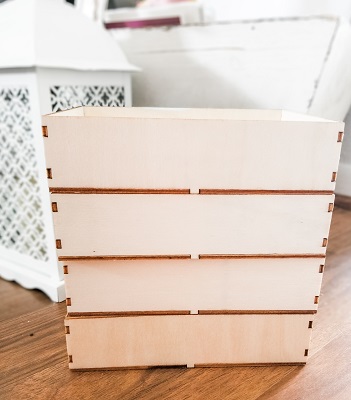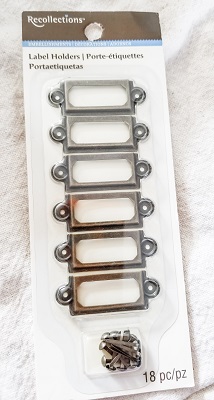 Paint The Drawers For Your Gym Basket
I used my three favorite colors to paint these boxes – two are chalk paints and one is a craft paint. I dry brushed the colors on lightly all over because I wanted the boxes to look distressed.
Click on the pictures below to see more details of these and purchase!
Tools you'll need
Click on pictures below to see more details of these and purchase!
The Fifth Sparrow No More is a participant in the Amazon Services LLC Associates Program, an affiliate advertising program designed to provide a means for sites to earn advertising fees by advertising and linking to Amazon.com.
Attach The Label Holders To Your Drawers
To attach the label holders I snipped off the legs (that just sounds awful) of the brads so they would sit flush in the label holders and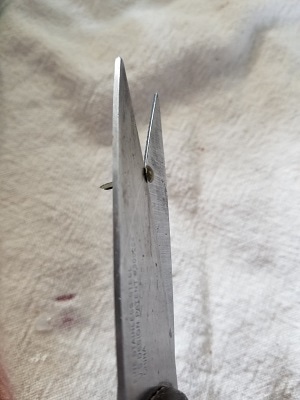 To center each label holder I measured and placed a red dot in the center of the front of the box and centered my label holder on that. I attached the label holders and brads with hot glue.
I've included the label inserts I used as a free printable at the end of this post!
If You Have A Small Kitchen, This Is Your Answer for a Coffee Bar
Perfect for small spaces
Fits neatly on a small area of countertop and takes up little wall space
And if nothing else after you repurpose a gym basket, you can say "I'm going to the gym" every time you use it!
And I'm making it easy to make it cute! Grab your free printable of the coffee print in two sizes (one is larger for framing and another that's smaller, perfect for tiered trays) and the labels for the label holders below.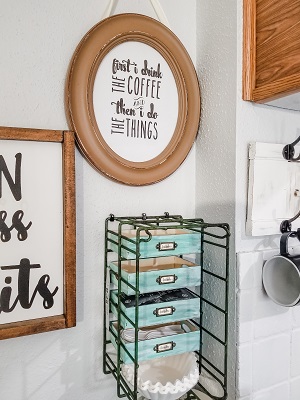 Get Your free Printable
When you join The Flock and receive our newsletter