The Best DIY Ideas For A Kitchen Coffee Bar
You know what makes me happy? The smell of my morning cup of joe wafting up the stairs in the morning from the small coffee bar on my kitchen counter. I can almost hear the Folgers jingle …
But setting up that coffee area in my small kitchen where counter space is prime real estate gave this coffee lover anxiety. To solve this I have the best DIY ideas for a kitchen coffee bar include repurposing vintage items and old shutters for organization using the vertical space surrounding my home coffee station.
So grab yourself a hot cup of coffee and let me share some home coffee bar ideas. There are plenty of ways to create a stylish coffee bar and these DIY coffee bar ideas will help!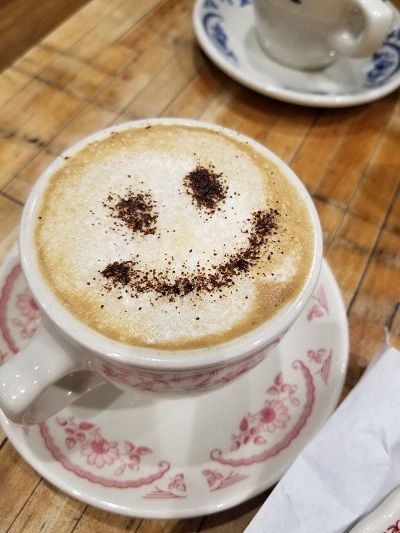 Organization With DIY Ideas For A Kitchen Coffee Bar
Because of our small space and a kitchen cabinet directly above, a mug rack made from a repurposed shutter was hung behind the coffee area on the wall. I am able to display all of my coffee mugs, and especially my favorite mug, within easy access and reach. A step by step for this great option for extra storage spaces is here.
And it's not just for coffee cups. Use in your home office, the entryway, or your living room for décor or functionality.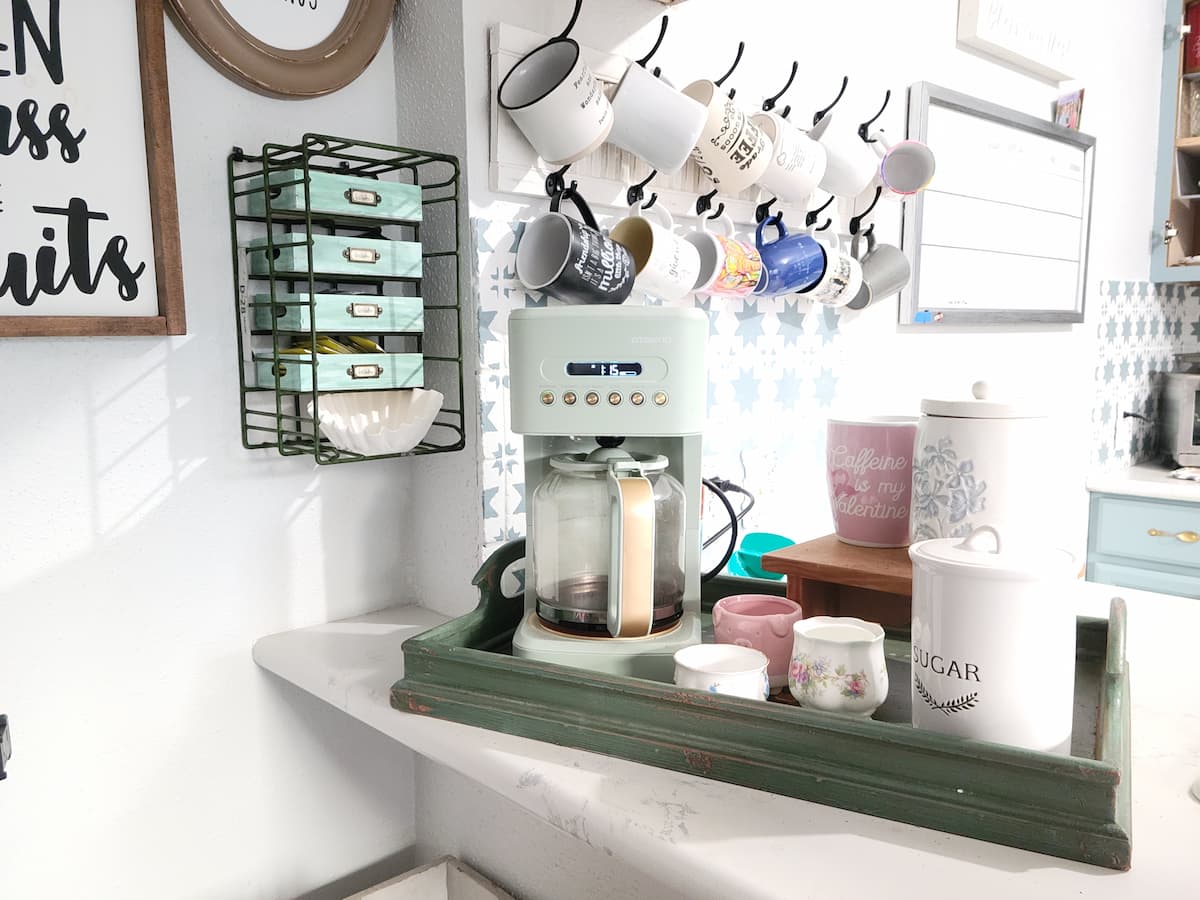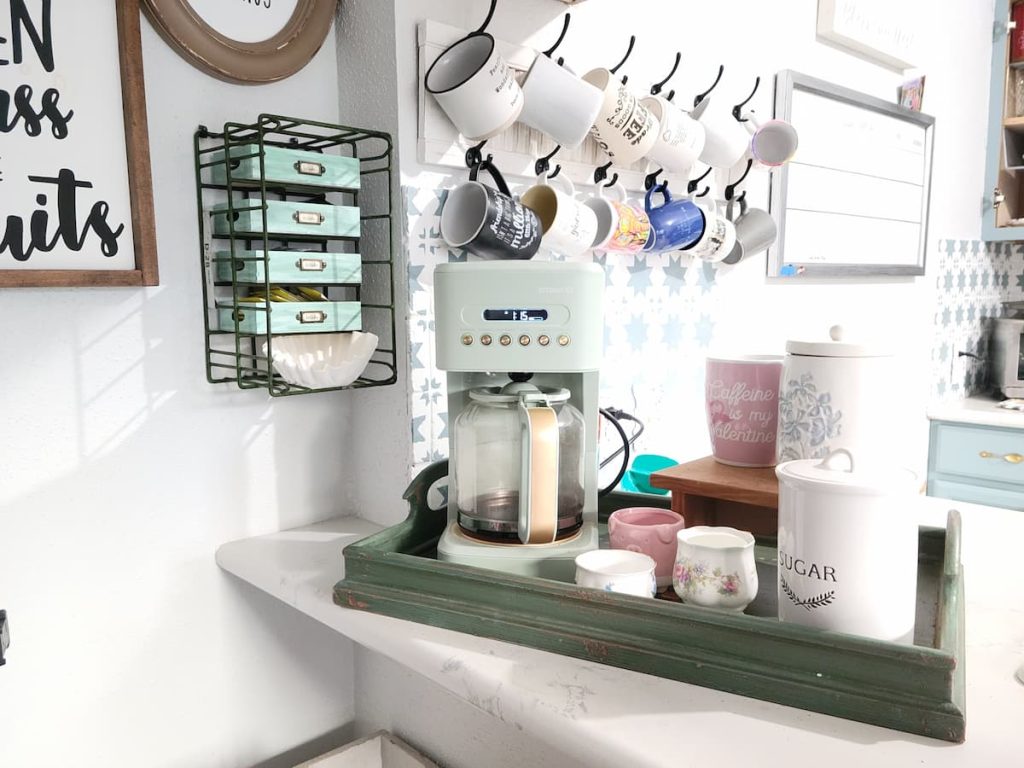 The second of my DIY projects for my in-home coffee bar is this vintage gym basket turned into a mini drawer organizer for small tea and coffee essentials. The "drawers" in this cute coffee bar cabinet are the perfect place for coffee supplies like stirrers, tea bags, and coffee pods. This gym basket I picked up from the thrift store fits neatly on a small area of countertop or, if hanging, does not take up much space on the wall above your own coffee station.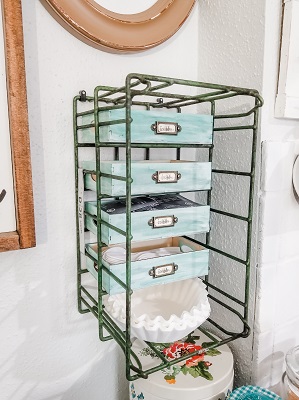 Repurposed Vintage Gym Basket For Coffee-Making Essentials
Supplies For Gym Basket Turned Coffee Cabinet
Wood Boxes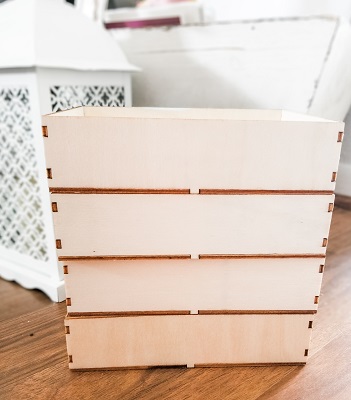 Metal Label Holders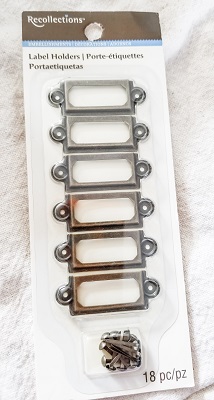 Paint of your choice – I used three light colors blended together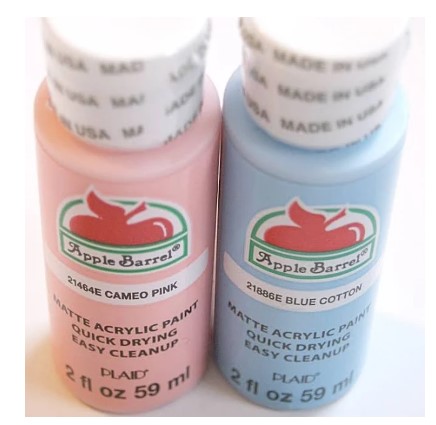 Foam Brushes, Scissors, Hot Glue Gun
Tools you'll need
Click on pictures below to see more details of these and purchase!
The Fifth Sparrow No More is a participant in the Amazon Services LLC Associates Program, an affiliate advertising program designed to provide a means for sites to earn advertising fees by advertising and linking to Amazon.com.
Paint The Drawers For Your Gym Basket
I used three of my favorite colors to paint these boxes – a shade similar to Fire King's Bonnie Blue, a jadeite green and pink. The colors were dry brushed lightly all over the drawer fronts. I used a water mister to help the paint blend together. This method helps the boxes aka drawers to look distressed.
Here is the method I used shared from another project.
Attach The Label Holders To Your Drawer Fronts
To attach the label holders I snipped off the legs (that just sounds awful) of the brads with scissors. I did this so the brads would sit flush in the label holders.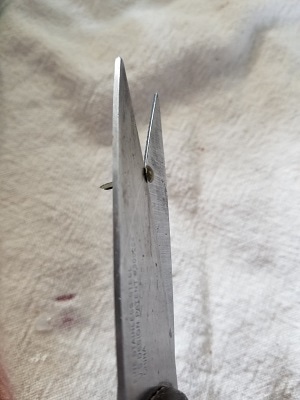 To center each label holder I used a ruler and marked the center side to side and top to bottom. Where those intersected I placed a red dot on the front of the box and centered my label holder on that. I attached the label holders and brads with hot glue.
I've included printable labels to use in your own label holders at the end of this post. Use them for the drawers holding your coffee necessities!
My Very Own Coffee Corner
My coffee nook sits on the counter facing our dining room. It's a perfect spot because it's convenient and still gives us plenty of room in the kitchen.
Pretty ceramic jars are a great place to store the essential coffee supplies – ground coffee, sweetener, and coffee beans. Small ceramic bowls hold sweetener packets and tea bags.
An old wooden stool and toile tray contains those jars, bowls, and my coffee pot to create a functional coffee bar in a small space.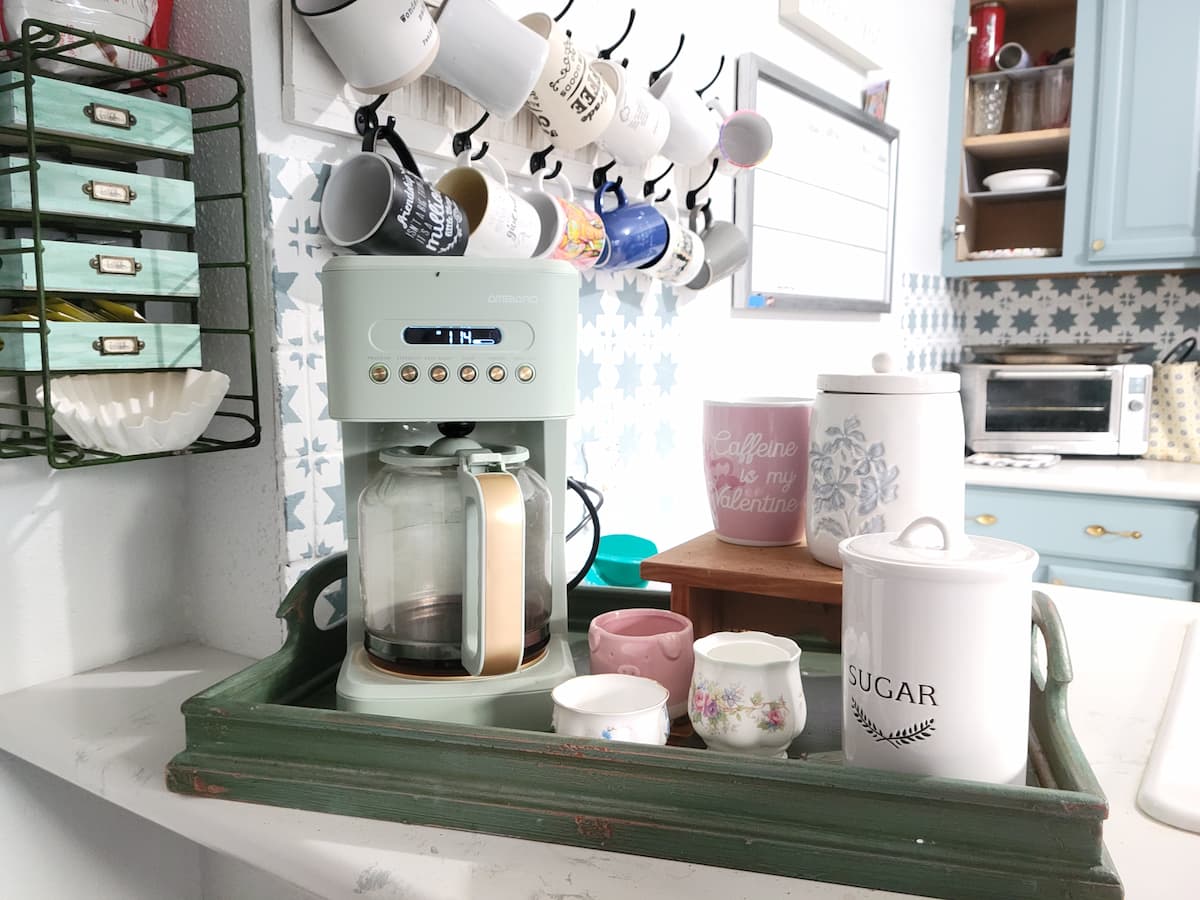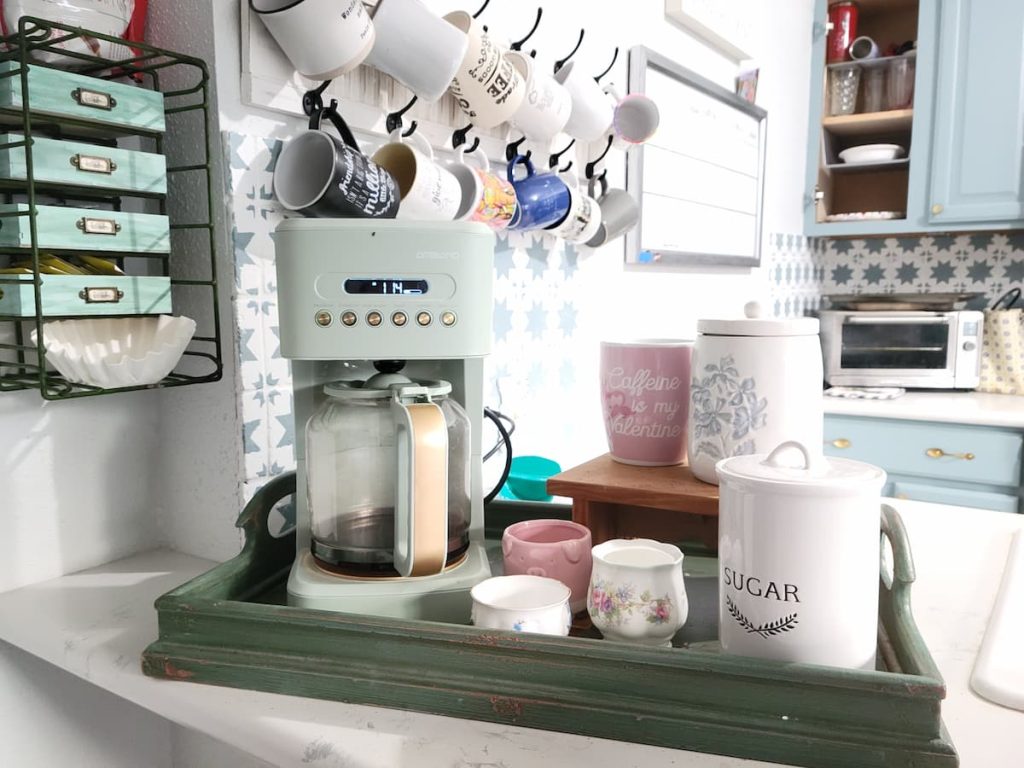 My Morning Routine Includes Coffee and A Trip To The Gym (Basket)
My morning coffee routine starts the night before by setting the timer on the coffee maker to make the perfect cup of coffee. Stumbling down the stairs to pour yourself a cup of ambition in the comfort of your own home is a whole lot better than a long line to get a morning brew at a coffee shop!
Let's Visit A Built-In Kitchen Coffee Bar
This hospitality area was small and located in an office meeting room and served as their small coffee station and kitchen area. Since meetings, podcasts and training videos were filmed and recorded in this room a coffee bar upgrade was a good idea and needed to be done.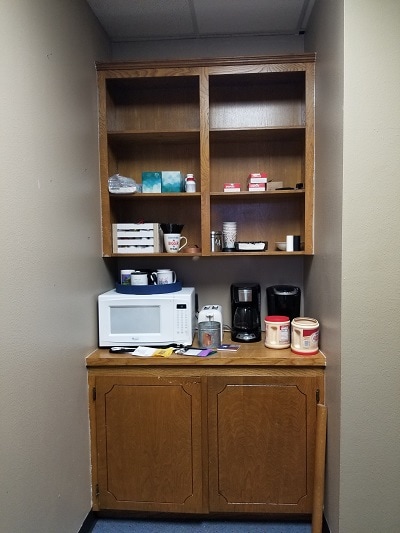 There were no doors on the upper cabinet of the built-in cabinets so the open shelving needed pretty storage options. The cabinet doors on the bottom were broken and a quick fix was needed to cover up a horrible patch job.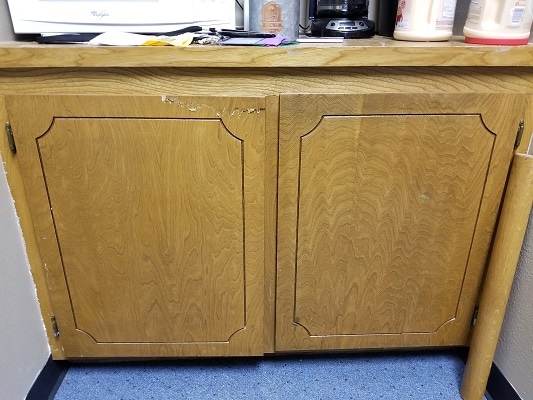 I updated the hospitality area by doing the following –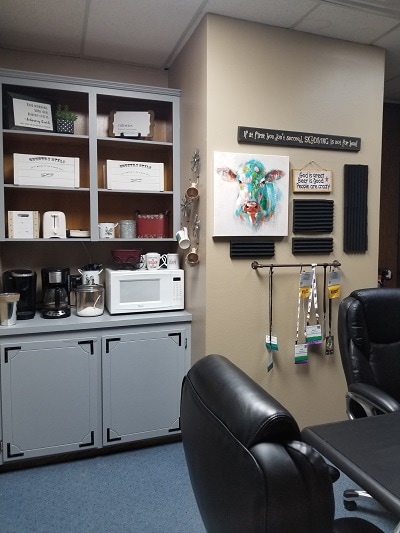 Accessories, kitchen décor and storage pieces gave this coffee bar the personality it needed in this meeting room.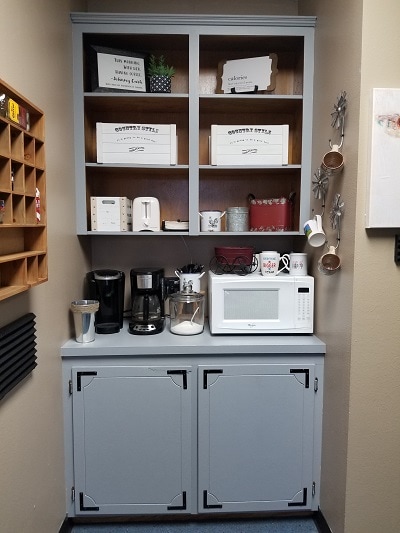 My favorite part is the windmill hooks we chose to use as mug displays!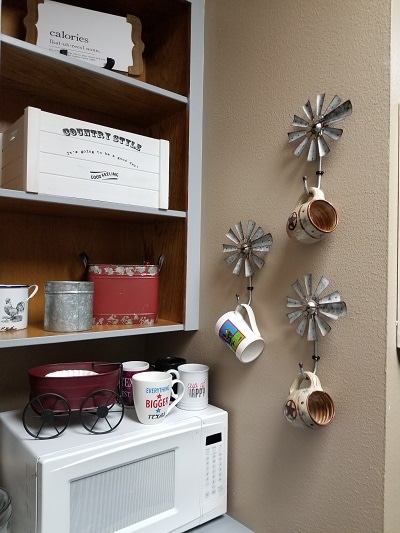 If You Have A Small Kitchen, These DIY Ideas For A Coffee Station Are The Answer
Perfect for small spaces
DIY coffee station projects allow you to have plenty of storage space without taking up valuable countertop real estate
Good news, I'm making it easy to decorate your farmhouse coffee bar! Grab your free printable of the coffee print in two sizes. One print is larger, suitable for framing and the other is smaller, perfect for a tiered tray. The labels for the label holders are included too!
And if nothing else, after you repurpose a gym basket into a coffee bar cabinet, you can say "I'm going to the gym" every morning!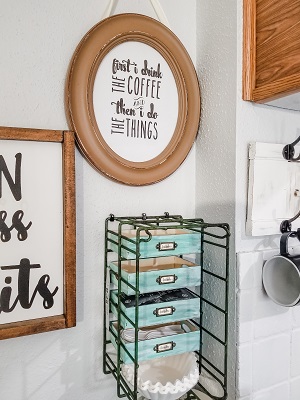 Get Your free Printable
Vintage Look Labels And
A Fun Coffee Print
Before You Fly Away To Create The Best DIY Ideas For A Kitchen Coffee Bar
Pin any of the images to Pinterest so you can use any of your favorite coffee bar ideas found in the post for your own coffee bar – hover over any picture to save the pin to your Pinterest account. So easy!