Make Glass Canisters For The Kitchen Functional and Pretty
How do you make glass canisters for the kitchen functional and pretty? With DIY wooden tags and mixing in vintage pieces into your display.
In my kitchen and dining nook in my small cottage in the city is where this pie safe lives. It serves as our pantry and the go to cooking and baking supplies are on top in these beautiful glass canisters from the Pioneer Woman line from Walmart.
And because I love all the things from the Pioneer Woman line, it inspired Amory and I's trip to Oklahoma! We went to the Merc, the lodge, and all of her favorite local spots, it was amazing! I got two sets of the glass canisters for Christmas. Canisters were filled with baking and cooking supplies and bright orange post it notes were used to identify them, which is embarrassing and not pretty at all. So I asked myself how can I make glass canisters for the kitchen functional and pretty?
DIY Wooden Tags For Glass Canisters

DIY Wooden Tags For Glass Canisters – Step By Step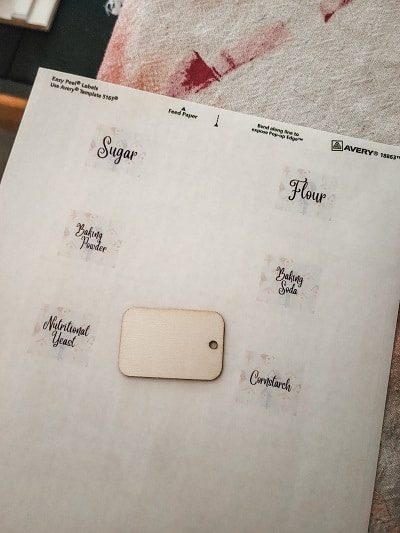 Design & Print
The names for the tags were created in Canva first by measuring my wooden tag and creating a custom size design. I saved these as a jpeg and downloaded them. Then the images were placed into my Avery labels on the Avery Design & Print website. Then the labels were printed.
Apply Labels
Place the entire label onto your wooden tag. Make sure its straight and centered. Or not!!
Trim Excess
I cut around the wooden tag removing the excess label. The hole in tag was poked through so twine could be used to attach the tags to the glass canisters.
Make Glass Canisters For The Kitchen Functional and Pretty
Functional
Tie your tags around the glass canisters at the top of the canister. Fill with your baking and cooking supplies – mine were flour, sugar, cornstarch, baking, baking powder, and nutritional yeast (a vegan necessity). Now they are functional and marked with its contents. No more orange post it notes.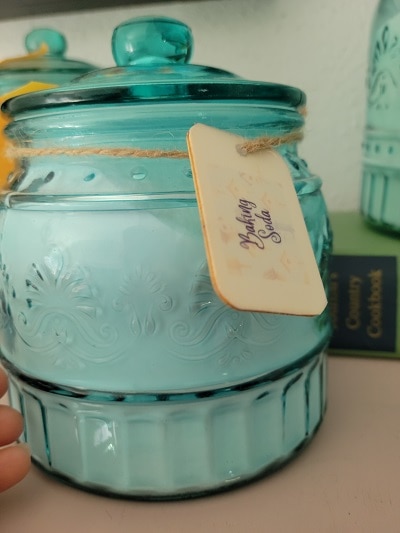 pretty
Now we can make it pretty too! By adding some vintage and thrifted pieces the glass canisters are part of the décor of the kitchen.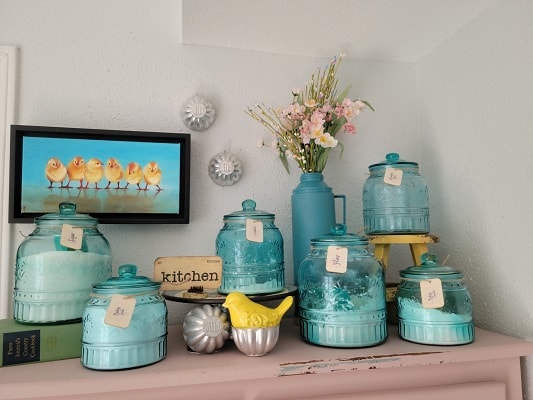 An old blue thermos with flowers, jello molds, a vintage recipe book and a vintage inspired flash card create a beautiful vignette for the glass canisters to sit in.
Visit these posts to see more ideas for your kitchen. Read more about unique ways to dress up the drawers and walls to creating the all important coffee station.
Before You Fly Away To Make Glass Canisters For Your Kitchen Functional and Pretty
Pin this post to Pinterest to help you remember all of the steps and ideas – hover over any picture or the image below to save it to your account. So easy! And to make it super easy to find all of the things to make your glass canister display pretty while thrift shopping, I created the Thrift Store Shopping Guide. It has lists of items to look for, more ideas how to use them, and printable lists to fill in and keep you organized and on track!