A Spring Centerpiece in A Dough Bowl
I used bright yellow flowers, fluffy cotton stems, small nests with adorable tiny eggs and vintage glass insulators available in Twigs and Fluff in a spring centerpiece in a dough bowl. I cannot wait to show you how to make one for yourself!
What Is A Dough Bowl?
A dough bowl, also called a kneading trough or a trencher, is a wooden vessel traditionally used for mixing, raising, and kneading yeast dough for making bread. The dough bowl is hand carved from a single piece of wood. It could be oval, round or rectangular in shape, and came in many sizes. A dough bowl was found in every kitchen and was passed down from mother to daughter.
Where Can I Purchase A Dough Bowl?
Authentic antique dough bowls, of course, can be found in antique shops, Etsy and Ebay. But if you do not have the dough (haha – see what I did there!) for an antique there are wonderful reproduction dough bowls to be had!
All the dough bowls featured below are reproductions. Click on each picture to see more details!
Click here to shop vintage dough bowls on Etsy.
Gather Supplies For Your Spring Centerpiece In A Dough Bowl
What I used in my Spring Centerpiece
The Secret Trick to Your Spring Centerpiece!
You're ready to create a beautiful centerpiece, you have your dough bowl and the glass insulators, but the insulators do not stand up on their own.
I have a way to solve that with egg cartons and hot glue!
Lay the egg carton in the bottom of your dough bowl with the bumps up (see picture)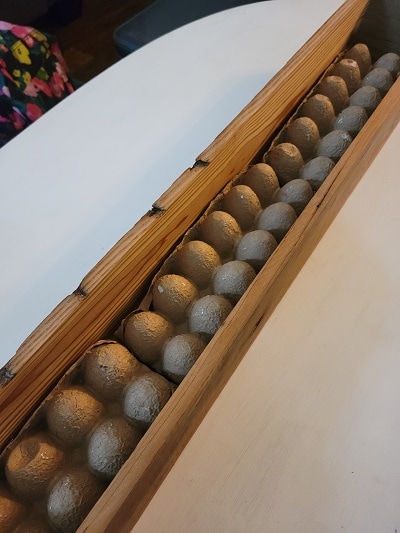 Place a small circle of hot glue on your insulator (don't worry – this will peel off after tearing it off the egg carton)
Stick onto the egg carton, wedging in between bumps (see picture)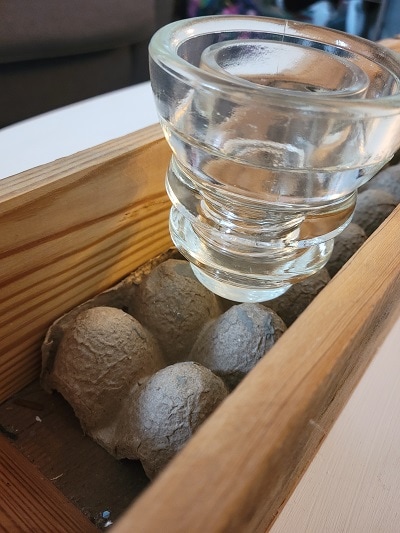 Arrange Floral Pieces in Dough Bowl's Spring Centerpiece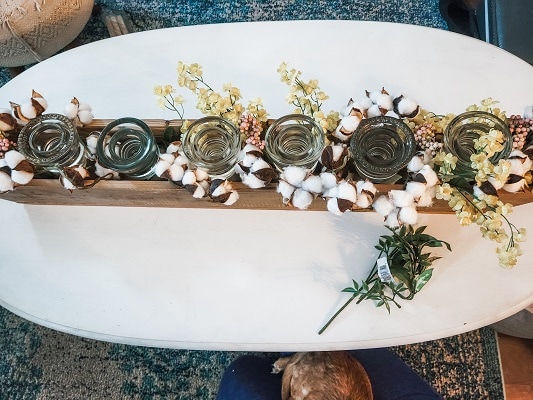 Cut your stems to fit into your dough bowl.
Twist these around your insulators and down into your dough bowl.
If you'd like more tips on creating centerpieces see this post!
Place a nest on however many insulators you would like (I did five in my dough bowl).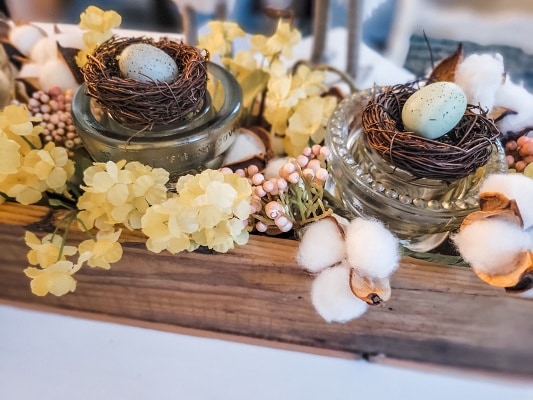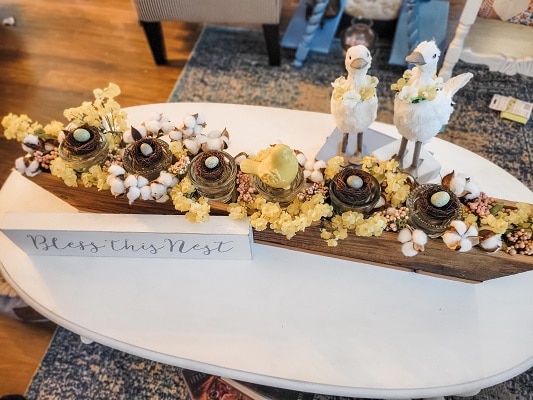 What Will You Put In Your Spring Centerpiece In A Dough Bowl?
Which color will you choose for the flowers that you will wind around the vintage insulators?
What will you add to your vintage insulators? Candles, an egg, birds, more flowers?
Now that you know the secret trick to making the insulators stand up in your dough bowl, your creativity is your only limit!