Time To Decorate The Mantel For Spring
It's time to decorate the mantel (or is it mantle – I never know!?) with all things Spring!
What All Mantels Want For Decorations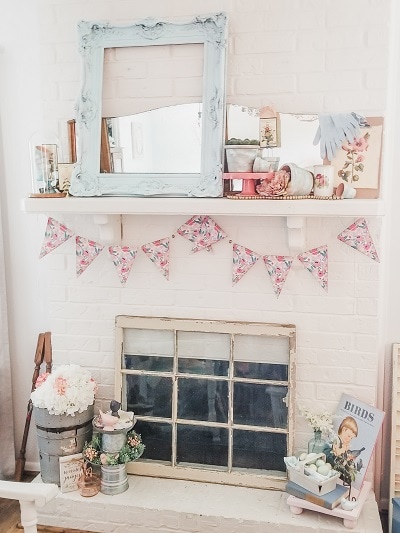 We see trends come and we see trends go but these popular items have stayed well … popular!
Pantone Colors that I'm using are Burnished Lilac (a soft purple), Granite Green (a sage green) and Lotus (a happy pink).
Other colors that are "in" for spring are ocean colors and blush. And with that finally I am in style! Haha!
Birds, rattan furniture, floral wallpaper, and indoor plants are also what's in for Spring. I guess we are bringing nature to us!
When decorating my Spring mantel, I picked a few of these trends and made them my own. I of course included birds (when do I not?!), a nod to floral wallpaper and nature, the Pantone color Lotus and the popular ocean and blush colors.
Start Your Spring Mantel With A Focal Point
The largest piece on the area you are decorating is your focal point. Everything else is centered around this and is inspired by this. In the Spring mantel's case its focal point is the large repurposed frame in that beautiful ocean blue color.
Time To Decorate The Mantel For Spring With Banners
I used the floral wallpaper trend and changed up the idea to make a banner for under the mantel. You can purchase these premade making them an easy addition to dress up your Spring mantel.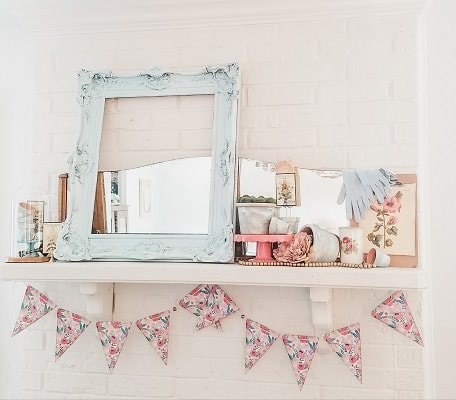 Choices I love for floral banners are-
Floral Banners I Love For Spring Mantels
Click On the The Pictures to Purchase!
Adding Nature To Your Spring Mantel
Adding natural elements to your mantel will definitely make it sing, chirp and drip drop all the Spring feels. I did this by adding
Terracotta pots that I aged with this fun and easy DIY project
Botanical prints of flowers that I printed at home and used a simple method to make them look more vintage
These printable seed packets that are available in Twigs and Fluff – The Fifth Sparrow No More's Shop! Go here to get yours!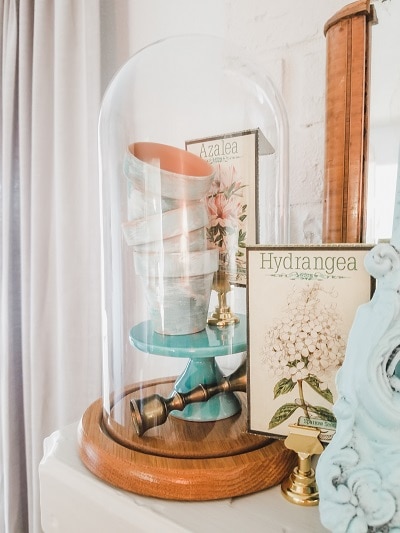 Birds Flock Together On My Mantel
Birds were added to the small vignettes that are sitting on my fireplace hearth. On one side a vintage child's Birds book, a basket of eggs and more sit on this riser (see more on how I made the riser here!).
On the other side of the hearth a vintage ice cream bucket of hydrangeas pairs up with a tiered tray I created by stacking two tin cake stands. I placed small ceramic birds throughout!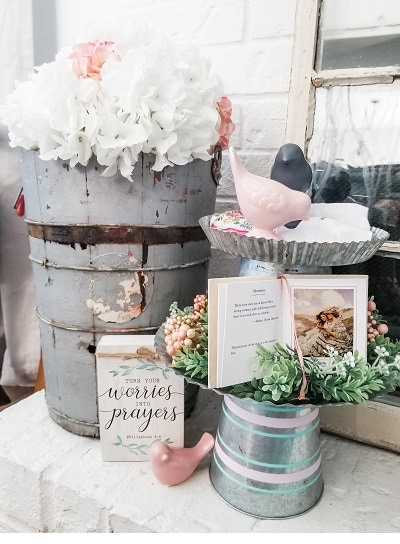 I hope this inspires you to create a Spring mantel of your own filled with whatever parts of Spring makes your heart chirp and your feet dance in April showers.
Before You Fly Away To Create Your Own Spring Mantel
Pin any of the images to Pinterest so you can save the ideas for your Spring mantel – hover over any picture to save the pin to your Pinterest account. So easy!