Recovering A Round Stool The Quick Way
Recovering a round stool the quick way in this one hour project makes it an easy to do that you can ta da! In this post we'll learn how to reupholster with no wrinkles using just fabric and staples.
The Thrifted Round Stool To Recover
I purchased this small but sturdy stool at my local Goodwill for $4.99! That was a steal but they probably priced it that way because it was so dirty. But we can "fifth sparrow no more" it!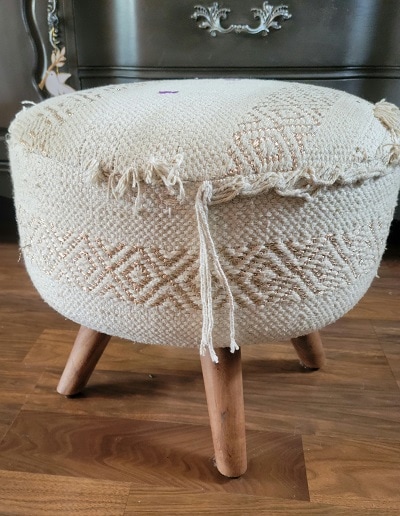 My friend Jada and I took turns carrying this two blocks to her Jeep along with our other purchases. By this point in time I was invested in this stool. It needed to be a successful recovering!
The Quick Way To Recover A Round Stool …
That you lugged home from the thrift store and the first thing your daughter says after seeing it is "why did you purchase that?"
Because it will be fabulous, that's why!
The Steps To Recovering A Round Stool The Quick Way
Remove Old Fabric
Use scissors to remove the old fabric. If necessary use pliers to pull old staples out of the bottom of your piece to make removal easier.
Position Fabric On Stool
Lay fabric on floor and place your stool on top. Pull fabric up and over bottom of stool to assure you cut the correct amount of fabric. I like to also make sure pattern is straight or the details are in the correct place. For example I wanted a big bunch of pink flowers on the top of the stool.
Staple Fabric to Stool
Recover the round stool by stapling the fabric underneath. Staple first on one side and then the opposite (at 12 o'clock and 6 o'clock for example). Pleat (or fold) the fabric as necessary to keep the fabric smooth and tight on the stool.
Finish Recovering Your Round Stool
When stapling keep the staples close together on your piece. After completely stapling your fabric to the stool trim off excess fabric.
The Finished Recovered Round Stool I Did The Quick Way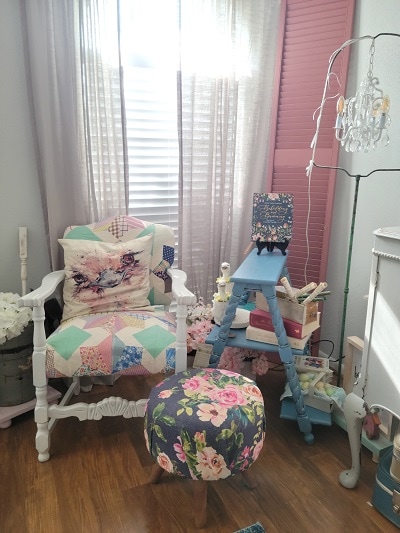 Isn't she adorable in my living room?
The shutter that was formerly in my booth …
The chandelier in the found rusty, gorgeous mint green birdcage stand …
The quilted chair …
And my blue table of all my favorite things – hymnal scrolls, a favorite devotional book, pink flowers and vintage ducks named Chrysanthemum and Magnolia …
Before You Get Started Recovering A Round Stool The Quick Way
Pin this post to Pinterest to help you remember all of the steps to recover your own stool – hover over any picture or the image below to save it to your account. So easy!