The Best Gallery Wall Ideas
I have the best gallery wall ideas to share with you. This is your guide to the easiest way to hang all the things you gather to fill a big wall space, a small space, or an empty corner. A gallery wall is a perfect way to add a personal touch to any home with art pieces, favorite photos, and unique wall decor like shelves and hangers.
What Is A Gallery Wall?
A gallery wall is loosely defined as a collection of items to fill a blank space or bare wall. The items can include wall art like a canvas print, art prints or photographs. A good gallery wall uses personal treasures, vintage or modern decor in different shapes, and shelves or hanging racks in different sizes hung in the grouping to create interest. I've seen and heard it called a photo gallery wall, a scatter wall, gathering wall, a mixed gallery wall, and a few other names. What is important to planning your gallery wall layout is that each of the pieces is perfect for your design style and makes you happy when you see it.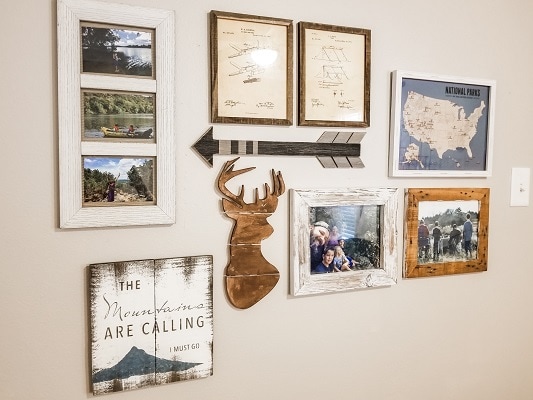 Best Gallery Wall Idea #1 – Steps To Hanging A Gallery Wall
Step One In Creating A Gallery Wall
Gather all of your pieces for your own gallery wall. Look through your home (or go shopping for new pieces!) and gather the pieces. Get creative – these can be family photos, 3D objects, shelves – the hanger (or hangers) are the limit.
Top Tips For A Beautiful Gallery Wall
Tip #1
A great way to make a decision on the pieces you'll use is by creating a color palette first. Pull colors from the room you're making the gallery wall in. Create a color scheme of three to five colors to make a cohesive look.
For this farmhouse look I used colors from the living room these pieces would be hung in. I repeated the colors brown, turquoise, white and just a bit of red through the art and objects chosen to fill the large wall in the room. The brown is found in wood tones, I used white frames, shelving and signs, and the turquoise and red is in the artwork I chose.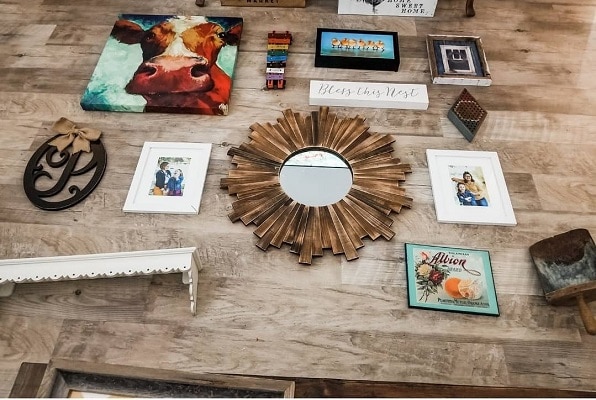 Tip #2
An easy way to create interest in your gallery wall is to use fillers of various sizes. Smaller pieces are great for filling in open spots on your blank wall in between photos in different frames and sizes and larger artwork. An anchor piece is one that you select as the focal point. You can then build and arrange your gallery wall look from it.
Tip #3
To fill a large empty wall a creative way to display photos is to use different picture frames instead of all identical frames. Combine modern frames, vintage detailed frames, and frame sizes and keep focus on the photos by painting the different frame styles to match. The easiest way is to use spray paint to unify the frame color. Use the paint to make all black frames, gold frames or another fun color to make a unique gallery wall.
Tools you'll need
The above list of items use an affiliate link to amazon for the items. When you purchase these I make a small commission at no cost to you.
Step Two In Creating A Gallery Wall
My favorite gallery wall technique is to use packing paper! The best way to start the process is to use a measuring tape to measure your blank wall. Piece together the packing paper in the dimensions of that measurement. Lay this on the floor in a big open space so you are able to move around it freely.
Lay everything, starting with your biggest piece, or your focal point out on the paper. After placing this large piece it is a good idea to figure out where the large frames will go. After this find the best layout of your small pieces.
It is a good idea to move your larger frames and small artwork around more than you think you should. It will make things so much easier in the next step if you are certain you are happy with the placement of everything. Outline each item on the paper. Mark on the paper with a large red X where the nails and hangers of each item are.
Step Three In Creating A Gallery Wall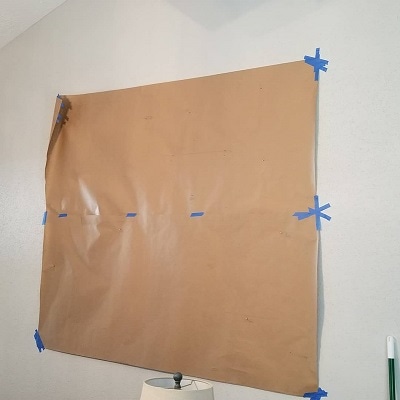 Using painters tape, tape your packing paper hanging template on the wall. Assure that the packing paper hanging template is straight by using a laser level or a spirit level. Install all your nails and hangers where you had marked them on the paper.
Tip #4
The perfect height above a piece of furniture is for the lowest piece to be 5-8" above the sofa, a sideboard in the dining room or a dresser.
Tip #5
A spirit level, bubble level, or simply a level, is an instrument designed to indicate whether a surface is horizontal (level) or vertical (plumb).
Step Four In Creating A Gallery Wall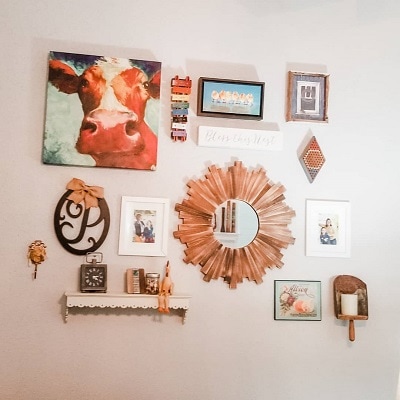 Tear packing paper down gently (you don't want a nail flying out of the wall at you!) and hang each piece of art on its appropriate hanger.
You are done putting up a gallery wall without putting unnecessary holes in the wall, without a lot of fiddling with a tape measure, and with a lot of extra time on your hands because it was quick and easy!
More Gallery Walls For Inspiration
Family Photo Wall Ideas
When we lost our first home to Harvey in 2017 pictures, although important, became precious to me after that. What I didn't know then was that insulation soaks up water and pictures that were not sitting directly in water, like those on the wall, sustained water damage too. Even now I have a hard time putting family pictures on the first floor of our new home and that is why this family gallery wall sits in our stairwell. You can read more about this space here.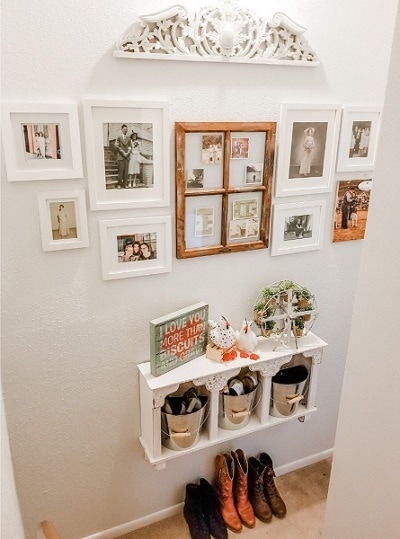 Display vintage art collections
Each of these pieces in this vintage gallery wall have a memory tied to them. A water mark from when our home flooded on an otherwise perfect crewel work rose. The largest piece is from vintage markets that I attended with my girls, the framed bird pages are from an antique store with my mom, and a small plate is a Christmas gift from my youngest. I think maybe I'll call this one a memory wall.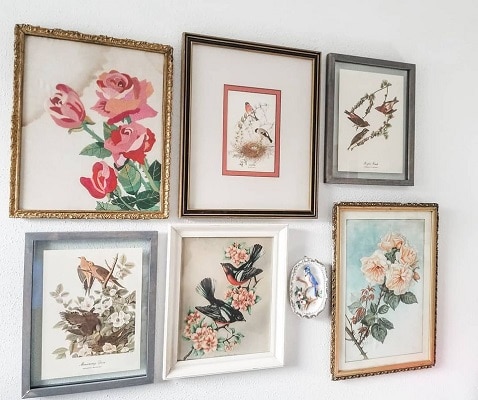 A Perfect Gallery Wall For Inspiration In My Home Office
This is the wall I see in front of me from the desk in my office space. Reminders of why I don't quit. Reminders that He is my strength and my provider. When God gave me the next steps in my life after my divorce, the vision for The Fifth Sparrow No More on a retreat weekend in May of 2019 I was excited and just a little nervous. But how God? And of course the answer is but God. Where He guides He will provide. When I returned from that weekend of receiving the vision, waiting for me in the mail was this barn quilt with one of the verses Fifth Sparrow is based on. My aunt Ann had no idea what had transpired over the weekend and God had given her the nudge to paint this weeks before. I saw it as a God wink!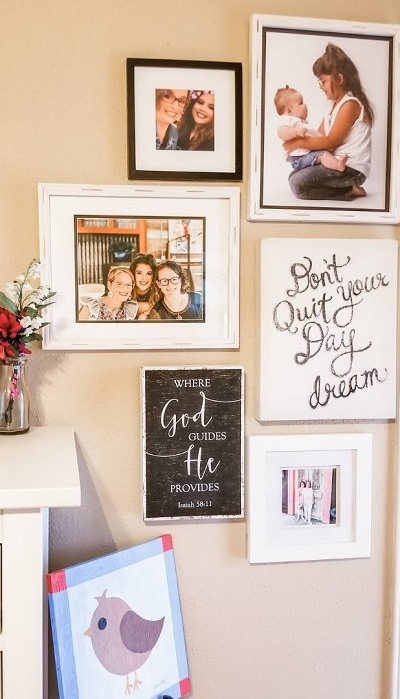 A Good Reason To Create An Eclectic Gallery Wall
We have a good problem in our house! An overabundance of winning which led to our stairwell being made into a ribbon display. The large space was perfect to display Amory's award ribbons, certificates, and winning trophies.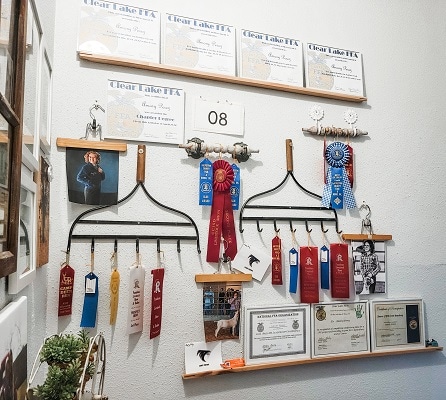 Thrifted and vintage pieces were made into ribbon and photo holders and photo ledges were used for certificates.
A Symmetrical Gallery Wall For The Birds
A symmetrical grid of bird prints creates the perfect backdrop to my dining nook.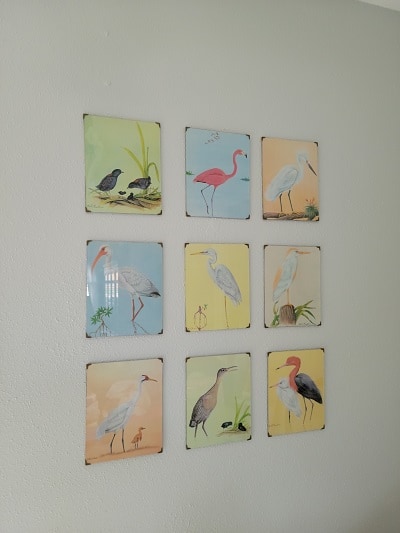 I used painter's tape and a level to make a grid gallery wall. This made it easy to place my pictures in a straight line on each row.
Tip #6
Great ideas for inexpensive art are
Book pages from thrifted books
Postcards, either vintage or new
Maps, frame special to you cities to tell a story
Record Albums
Family Photos
Before You Fly Away To Use The Best Gallery Wall Ideas In Your Home
Pin any of the images to Pinterest so you can set a beautiful shabby chic table easily with 1-2-3 formulas – hover over any picture to save the pin to your Pinterest account. So easy!