A gallery wall, all the things, gathered to fill a big wall, a small space, an empty corner. They are a great way to add vintage charm to any home. I will share how to create the perfect DIY vintage farmhouse gallery wall in your home.
What Is A Gallery Wall?
A gallery wall is loosely defined as a collection of items: framed artwork, photographs and personal treasures hung in a grouping. I've seen and heard it called a gallery wall, scatter wall, gathering wall, a mixed gallery wall, and a few other names. What is important to know that each of the pieces has a memory tied to it and makes you happy when you see it.
The Steps To A Perfect DIY Vintage Gallery Wall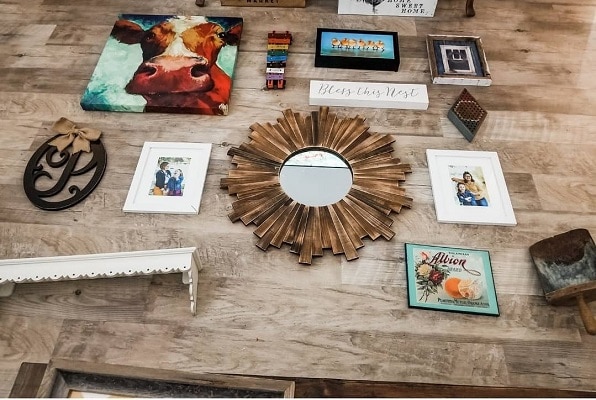 Step 1
Gather all of your pieces. Look through your home and gather those pieces that have memories attached to them and get creative. They can be pictures, 3D objects, shelves – the hanger is the limit. So to speak!
Step 2
Piece together packing paper – I get this on a roll at the Dollar Tree. Lay everything out on the paper, move it around more than you think you should. Trace and mark on the paper where the nails and hangers will go.
Step 3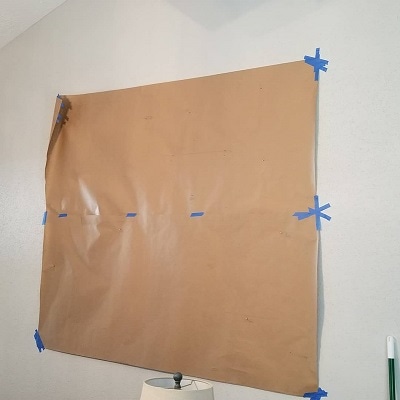 Tape paper on wall, assuring that it is straight. Put in all your nails and hangers where you had marked them.
Step 4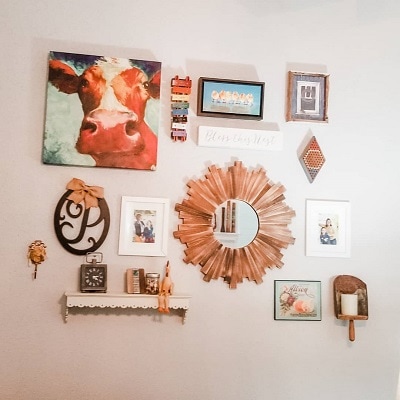 Tear packing paper down gently (you don't want a nail flying out of the wall at you!) and hang all the things. And you are done without putting unnecessary holes in the wall, without a lot of measuring, and with a lot of extra time on your hands because it was quick and easy!
More Vintage Gallery Walls For Inspiration
When we lost our first home to Harvey in 2017 pictures, although important, became precious to me after that. What I didn't know then was that insulation soaks up water and pictures that were not sitting directly in water, like those on the wall, sustained water damage too from being in a house that had standing water in it for 80 hours. Even now I have a hard time putting family pictures on the first floor of our new home and that is why this family gallery wall sits in our stairwell. You can read more about this space here.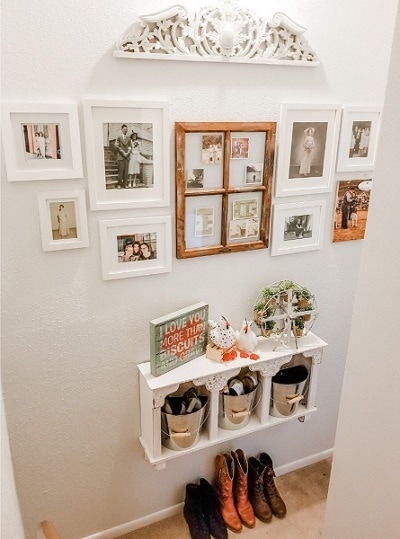 Each of these pieces in this vintage gallery wall have a memory tied to them. Water damage from when our home flooded, two from different vintage markets that I attended with my girls, framed bird pages from an antique store with my mom, and a Christmas gift from my youngest. I think maybe I'll call this one a memory wall.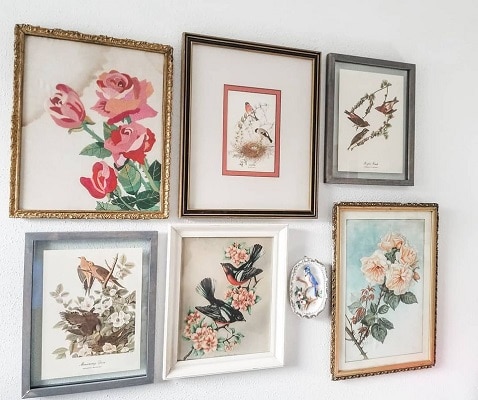 This is my wall, the wall I look up from my desk and see in front of me. Reminders of why I don't quit. Reminders that He is my strength and my provider. When God gave me the next steps in my life after my divorce, the vision for The Fifth Sparrow No More on a retreat weekend in May of 2019 I was excited and just little nervous. But how God? And of course the answer is but God. Where He guides He will provide. When I returned from that weekend, waiting for me in the mail was this barn quilt with one of the verses Fifth Sparrow is based on. My aunt Ann had no idea what had transpired over the weekend and God had given her the nudge to paint this weeks before. I saw it as a God wink!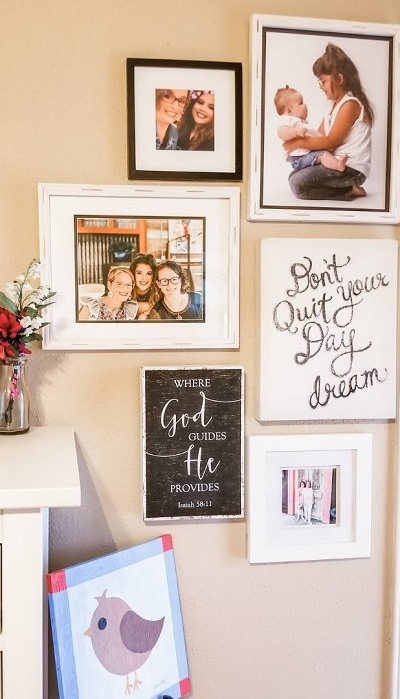 DIY Your Own Vintage Gallery Wall
I hope this inspires you to create your own gallery wall with your memories, with the pieces that make you happy and bring you joy. Using this easy and simple method will save you time and stress so you can enjoy your vintage gallery wall super quick!