The Best Ideas For Your Staircase Landing And Hallways
This post is full of the best ideas for your staircase landing and hallways because a second floor landing is usually underused or even unused in most homes. We think of these spaces as an area to quickly pass by, not one to spend time in. An upstairs landing can be an ideal spot for many different ideas to add living space to your home. Using this dead space can add valuable real estate to relieve any high-traffic area in the rest of your home or to add another functional space to your home. Whether it's a large or small staircase landing it can be utilized for a landing area for shoes, another place to gather other than a living room or family room, or a great option for a small office.
Shoe Storage And My Favorite Artwork In Our Staircase Landing
Shoe Storage
I had to create an entryway in our small landing space for my daughter's shoes because –
Our front door is my daughter's main entry but this entrance hall is a small space. Therefore this is not a great spot for shoes because this narrow space gets very crowded!
At the back door there is not enough room with our kitchen peninsula and a dining table right in that entryway.
So I located the "entryway" and shoe storage area in the second-floor landing.
Because I wanted to create the shoe storage on the stairwell landing I needed a narrow shelf or small bookcase to tuck boots on or underneath. Amory is a farm girl through and through, raising goats, chickens and now a heifer named Dolly. She owns a lot of boots and they needed a home!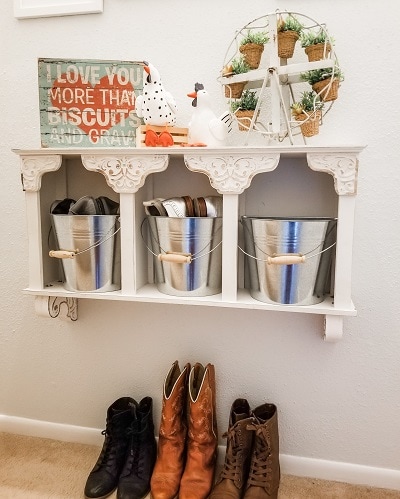 The first thing I added was this shelf from Decor Steals which was perfect for creative shoe storage because it didn't take up much space and was chippy (which I love) and had architectural details to make it interesting. I added these half round galvanized buckets from Hobby Lobby to the shelves for flats and tennis shoes. Boots fit perfectly underneath.
My Favorite Artwork Is Family Photos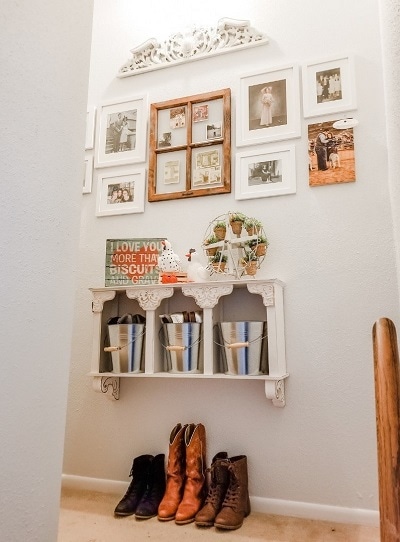 I dressed up the "entryway" at the top of the staircase with a gallery wall of family pictures from generations past and present. You can see here how I plan out and hang my picture frames in my gallery walls. I added a tiered tray tucked into the corner on this small table I repurposed into an apothecary chest.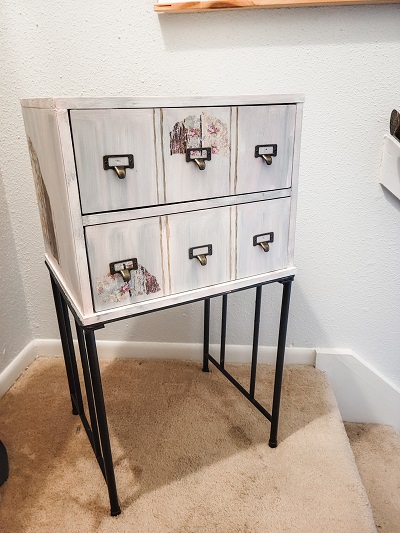 A personal touch was added on the wall space leading up to the stair landing by adding a ribbon display wall for Amory's show ribbons and memories.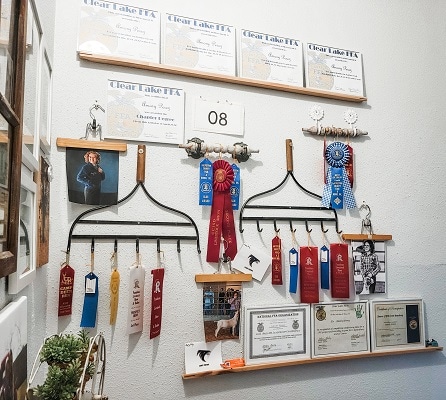 Our Staircase Landing Leads To A Narrow Upstairs Hallway
Don't let a small hallway intimidate you! Don't leave this an empty space, try these narrow hallway ideas –
it's a great place for wall decor like a large mirror, artwork, or a gallery wall
narrow shelf or a grouping of shelves
a coat hook or hanging rack
Our Favorite
DIY Hanging Rack Posts
In my home's hallway this small shelf is directly across from our travel wall – pictures of the places we have been on our travels and adventures. Like our trip to Oklahoma, Waco or our many trips to Vintage Market Days. It is narrow enough that I can decorate it but it doesn't get in the way.
This shelf is a place for a few of our favorite things. Vintage books, which I use in all of my decorating. Rain boots, in neutral colours, remind us of this quote from Dolly Parton – "If you want the rainbow, you gotta put up with the rain". Birds perched on a vintage glass flower frog and a small sign to serve as a gentle reminder to turn our worries into prayers completes the shelf. A botanical wall hanging (find out how to make wall hangings from thrifted art here) and a basket hang from the peg hooks.
More Staircase Landing Ideas
Turn Your Staircase Landing Into A Dedicated Home Office
A great way to use your landing space is by creating an office at the top of your stairs. This can go a long way in creating a dedicated space for homework, working from or an art space in a small home.
Add practical elements into your work space like a desk, storage space and good lighting.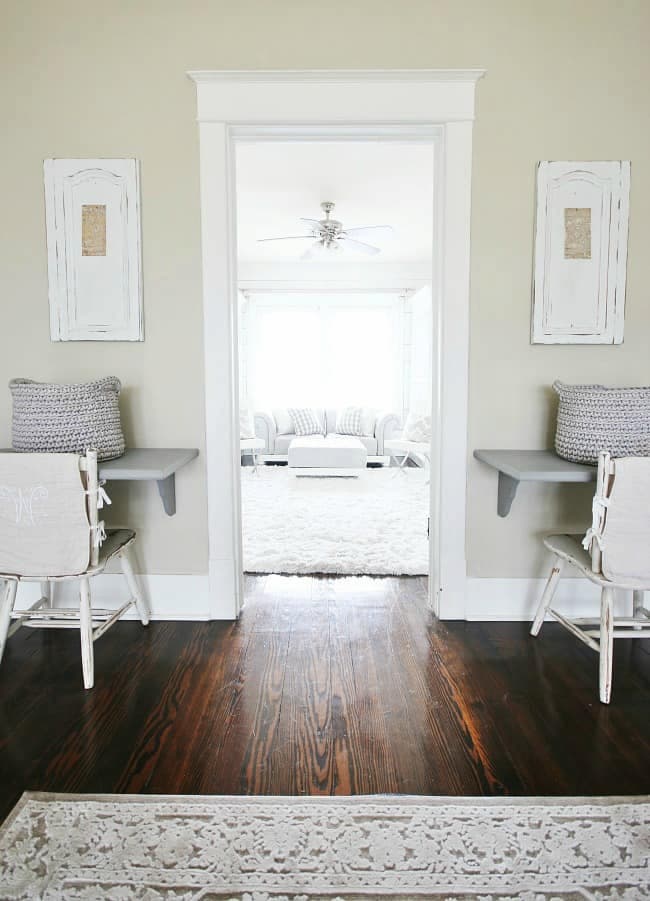 The desk –
A built-in desk would be an easy way to add a work surface to a small and narrow upstairs landing.
A Murphy Desk could be tucked away when not in use on the landing.
Small shelves could be used as a desk space, this is especially good for accommodating two work areas efficiently.
Extra Storage –
Use a cabinet that you can close the doors and hide any mess away.
Built-in shelving is an easy way to add extra space to put baskets, books and office supplies.
Make storage pretty with an antique storage piece like a waterfall bookcase or small corner hutch.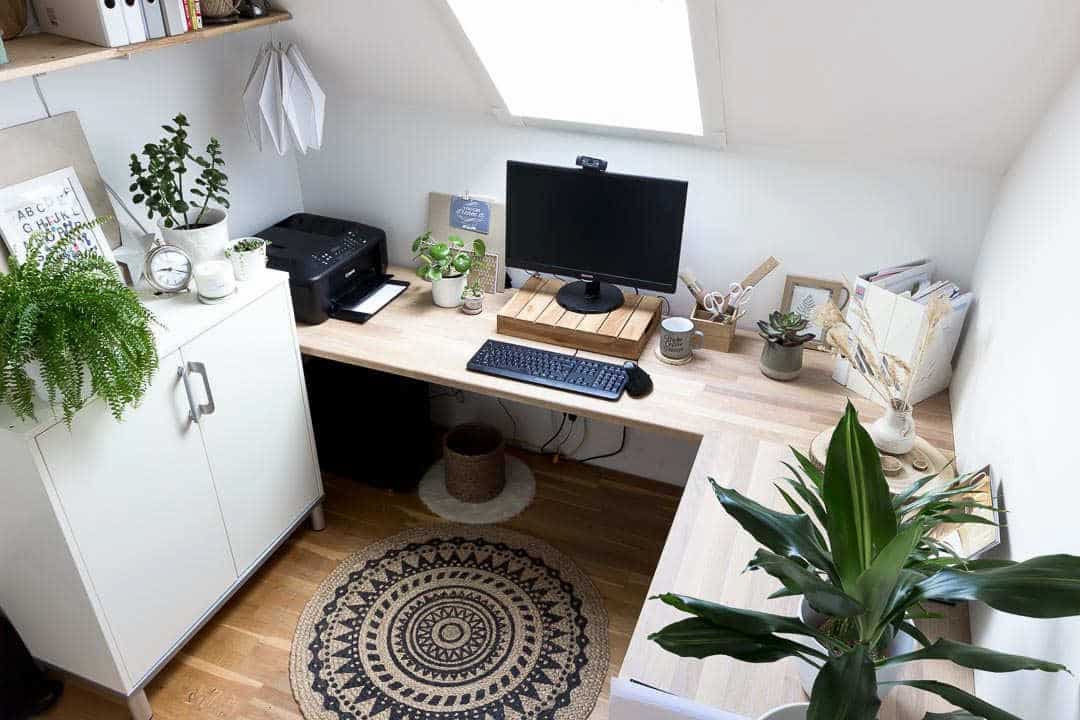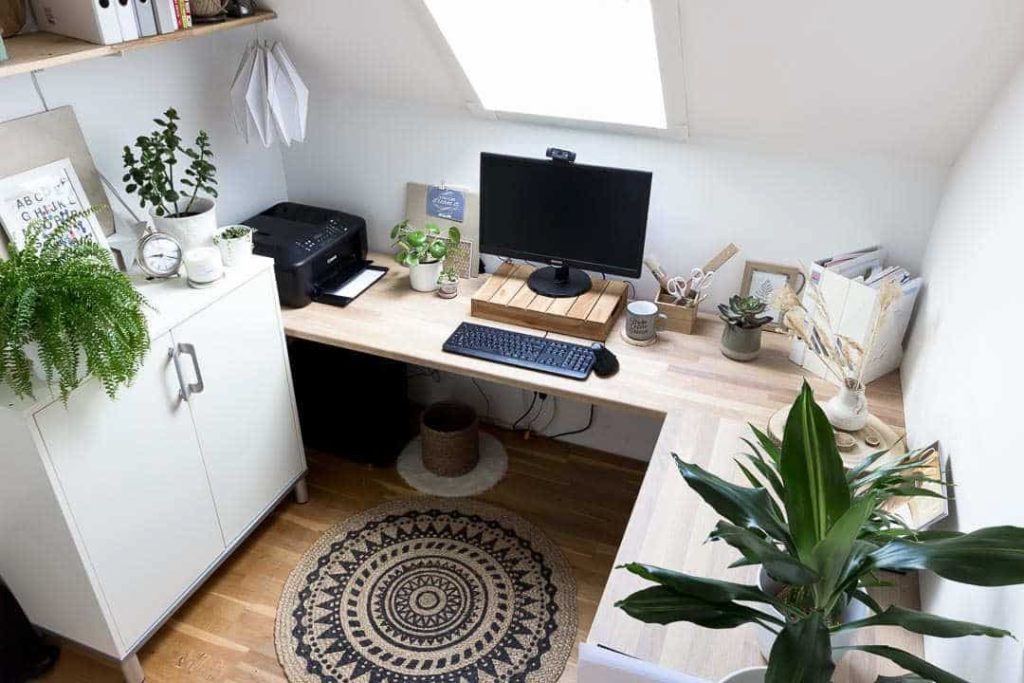 Light and Bright –
A stairwell doesn't always have a large window for natural light so creating light in an office space is important to help us work,
Use a paint color that is a soft bright color to reflect any light you add with lamps, sconces, or ceiling lights. White walls are a great backdrop for artwork and decor and will give an airy spacious feeling to your landing office area.
For task lighting add pendant lights over the desk and work area, sconces on the wall above and behind your desk, or a hanging fixture in the center of the landing area.
Create A Cozy Little Reading Nook In Your Staircase Landing
Add another living space to your home by creating a small library with a seating area. Add a comfy chair, lighting, a small console table for the cup of tea or coffee, and a bookcase.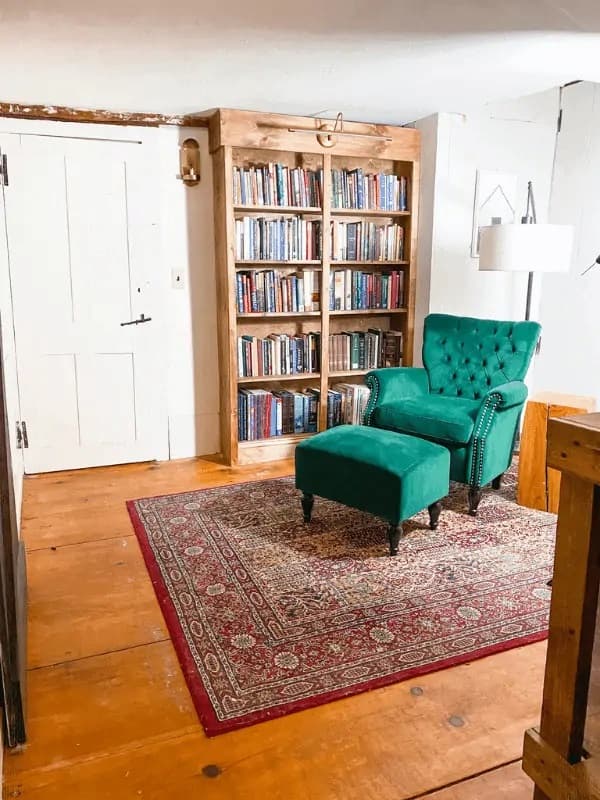 For smaller spaces create a window seat with an upholstered bench and pillows. Add in a corner hutch for books and decor and you have the perfect place away from the rest of the home to enjoy some quiet time with a good book.
Make A Sitting Area At The Top of Your Stairs
When your landing doesn't offer enough space to create an entire library create a sitting area to encourage sitting for a long time with a friend. Add a comfortable chair or two and a small side table for an easy way to utilize the open space a landing provides.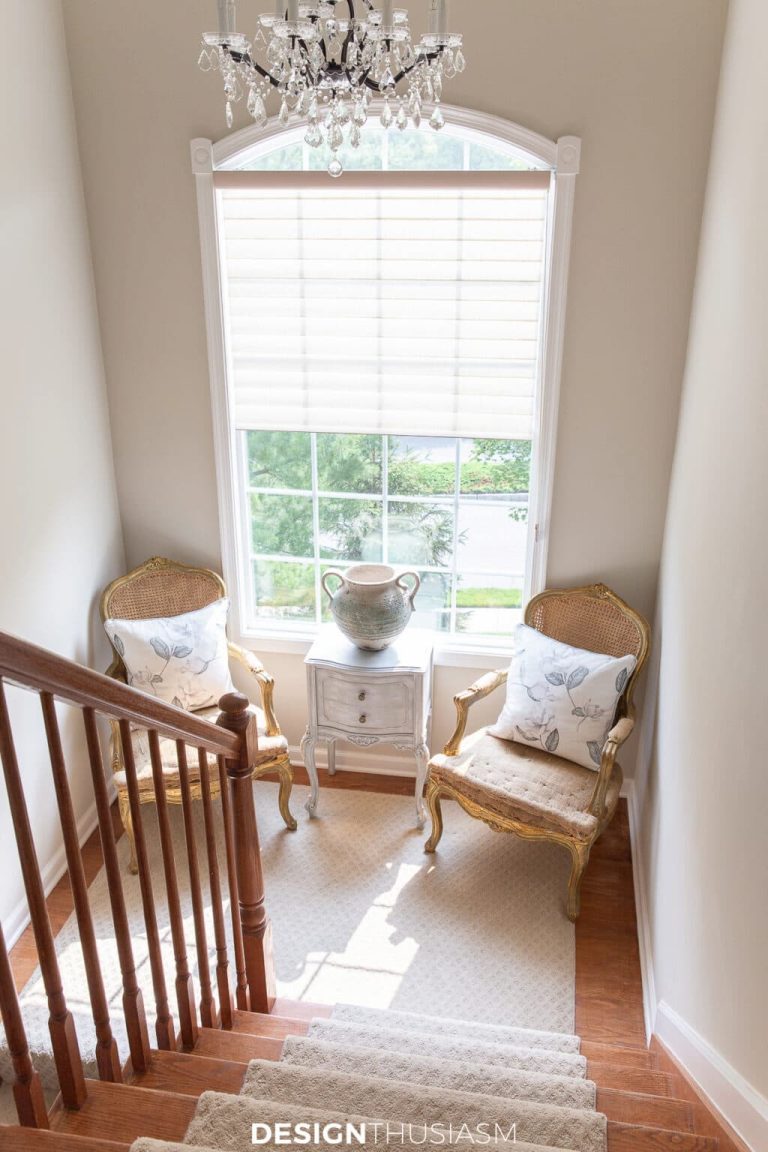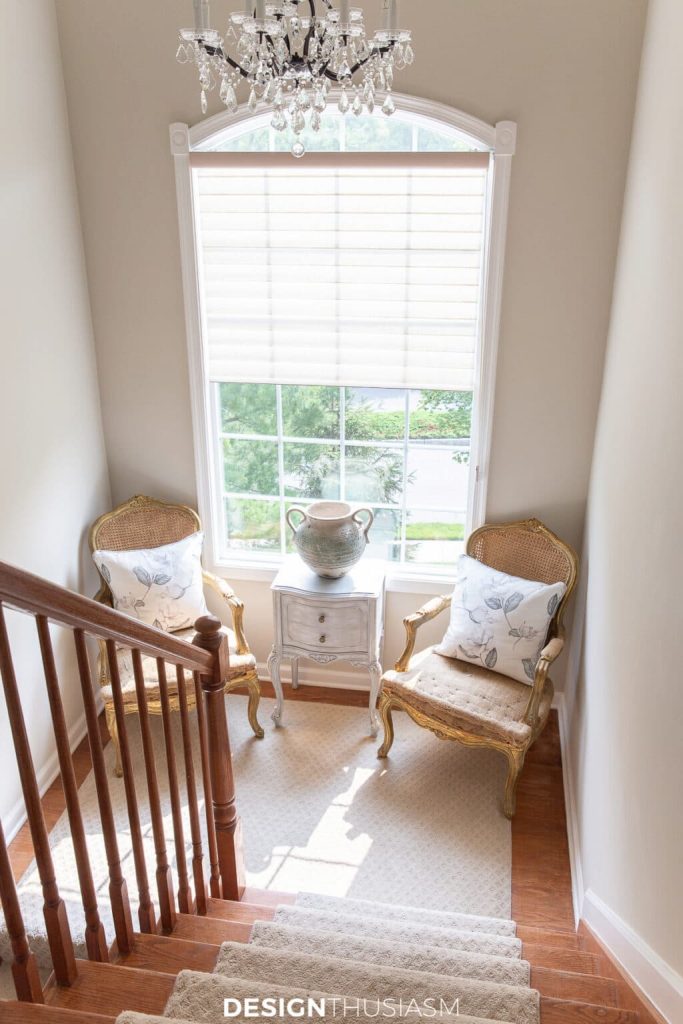 Don't Forget The Stairs Leading To Your Staircase Landing
Make the trip to the top of the stairs on a grand staircase with these staircase ideas. Add a stair runner to your stair treads that leads your guests from the ground floor to the second floor where you have extra space to show off!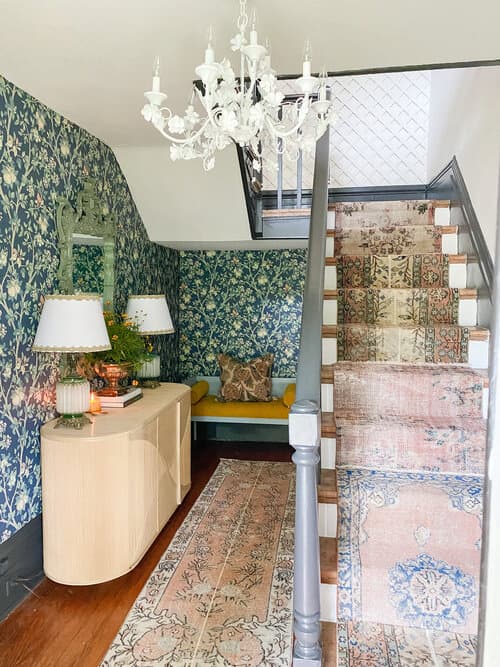 A wooden banister can be updated with a simple coat of paint. Goodbye honey oak, hello fabulous! Another way to make your banister stand out is to decorate it seasonally with greenery and decor.
Before You Fly Away To Use The Best Ideas For Your Staircase Landing and Hallways
Pin any of the images to Pinterest so you can these stair landing ideas and hallway decor ideas for the underused or not used space on your landing – hover over any picture to save the pin to your Pinterest account. So easy!