A Shutter For Hanging Coffee Mugs
I set up a coffee bar in my kitchen and needed a way to hang my coffee mugs due to countertop space being prime real estate in my kitchen. A repurposed shutter became the solution to hanging my coffee mugs from in my new kitchen coffee bar.
Fifth Sparrows and Shutters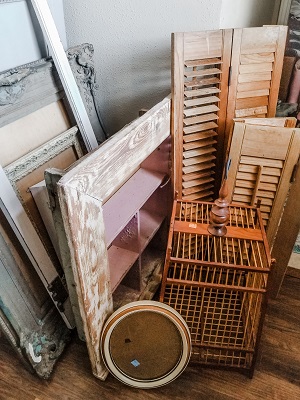 When a friend says I have this and I can't find a use for it. When A friend says come by at the end of the garage sale and see if you can take anything before we toss it. When I see a curbside treasure …
Theses are all fifth sparrows and I want them to be fifth sparrows no more. And this is how I got the shutter for this project – from my pile of fifth sparrows no more!
A Shutter Repurposed Into A Mug Rack
What I Used To Create The Mug Rack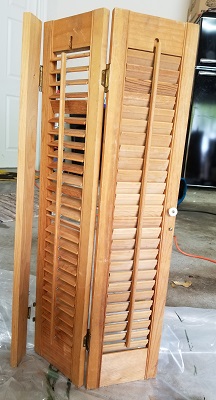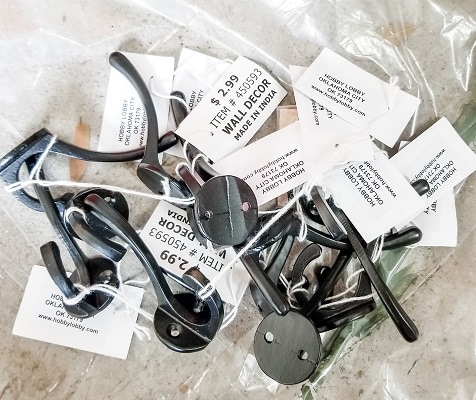 I removed one shutter from this set. I took off all of the hinges and hardware. These hooks from Hobby Lobby were 50% off when I bought them. You know what they say about Hobby Lobby – if it's not on sale wait a week! Many a project in my house are done according to the Hobby Lobby sale schedules ;)!
Measuring The Shutter for Mug Hanging Hooks
I used a large coffee cup to space my hooks out on the shutter. I wanted two rows of hooks to create my hanging rack and chose these hooks because the mugs could fit on the top hook on the top row and the bottom hook on the bottom row.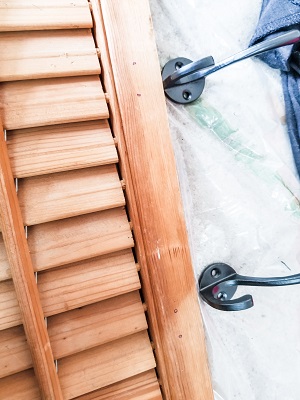 Time To Drill For Your Mug Hanging Hooks
Drill pilot holes on each of your marked dots where your hook will be attached. Pilot holes help the wood keep from splitting.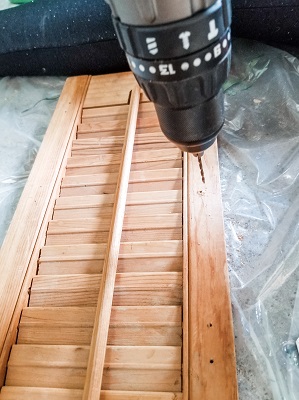 Paint and Attach Your Hooks
Paint your shutter the color of your choice. I chose Folk Art Chalk Paint in White Adirondack and then distressed by sanding heavily! I attached my hooks after the paint dried.
Create Your Own Shutter For Hanging Coffee Mugs
Have a place to hang all of your mugs within easy reach of your coffee bar with this simple DIY project. Don't forget to pin for later when you're repurposing shutters and need some inspiration!