DIY Rustic Farmhouse Shovel; A Dollar Store Project
In this post I want to show you how to make a DIY rustic farmhouse shovel; a dollar store project that uses paint, cinnamon, and Dixie Belle's patina products to make plastic rustic!
Rustic Farmhouse Shovel; A Dollar Store Project That Is So Easy
I wanted a rustic farmhouse shovel to include in my daughter's FFA Banquet photo booth. And I needed to accomplish this project inexpensively which meant a DIY shovel project was in order. I started with this plastic child's shovel from the Dollar Store.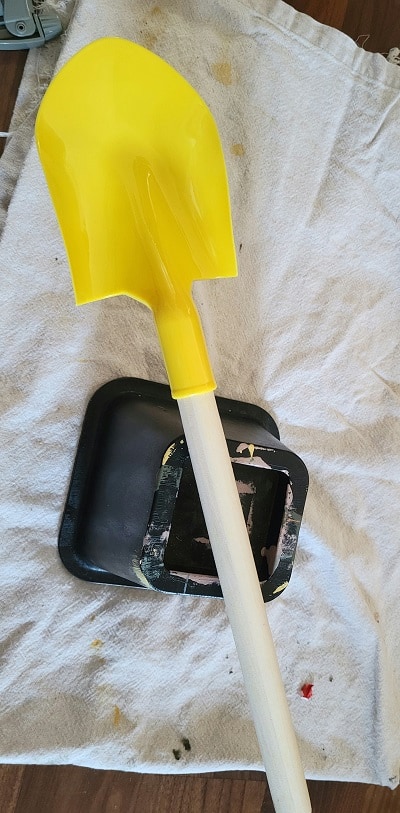 And used a variety of products to achieve a rustic, farmhouse look.
Just A Few Supplies to DIY A Rustic Farmhouse Shovel
The Fifth Sparrow No More is a participant in the Amazon Services LLC Associates Program and an affiliate for The Dollar Tree, an affiliate advertising program designed to provide a means for sites like this to earn commission at no cost to you. Thank you Dixie Belle Paint for sponsoring this post! Click on the products above to purchase.
DIY A Rustic Farmhouse Shovel From Dollar Store – The Process of Turning Plastic Into Metal
Paint The Shovel Head
Paint with two coats of Slick Stick. Let this dry.
I mixed together Anchor Point and Whitecap to make a dark grey paint the same color as the patina paint in iron.
Give the shovel two coats of grey paint
While they paint is still wet …
Add The Rust-ic
Sprinkle cinnamon into wet paint
Shake off excess cinnamon
Using a chip brush push cinnamon into paint and brush off any extra

You can stop here – this is an amazing transformation!
You can clearcoat this with flat clear coat but it's not necessarily necessary!

If you choose to do one more step sponge on one coat of the patina paint and let dry before adding another
Spray on Patina Paint Spray, let it do it's magic
Stain The Handle
Using No Pain Gel Stain and a foam brush apply stain.

A little goes a long way!
They should have called it no mess! The gel makes this easy – you can even do it with a tiny dog in your lap!

Wipe away excess with paper towel or lint free cloth.
Let dry.
Where Can I Use My Rustic Farmhouse Shovel?
I used my newly rustic shovel to celebrate this kid (and the other kids at the banquet!) … because of goats and a million other things she is accomplishing and doing. I am so thankful to have a front row seat to watch how God is using her, stretching her and making her dreams a possibility.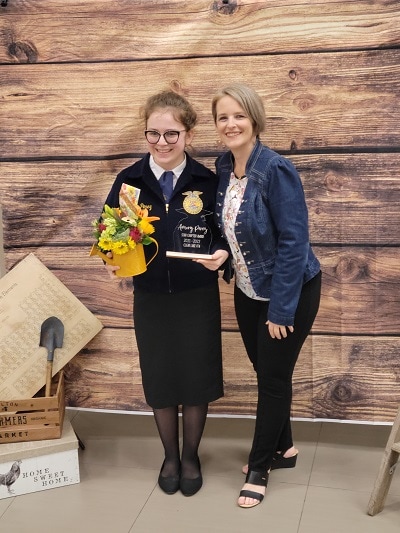 And to celebrate with her is a fan club – her big sister Priscilla and one piece of our framily. No, I didn't spell that wrong. There are friends who become family and Heather is just one of those people.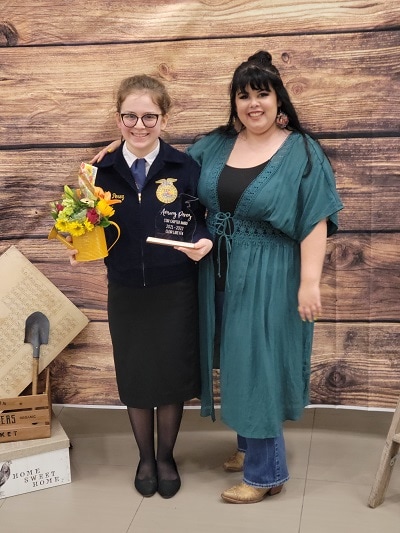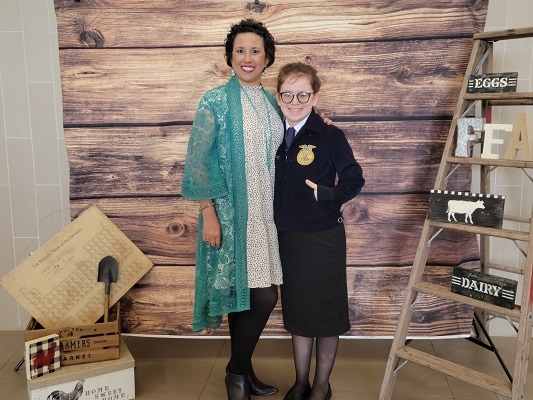 And you can see where that rustic, farmhouse shovel ended up! In the photo booth of course along with that fantastic periodic table of elements! Because …
Let's See The DIY Shovel Closer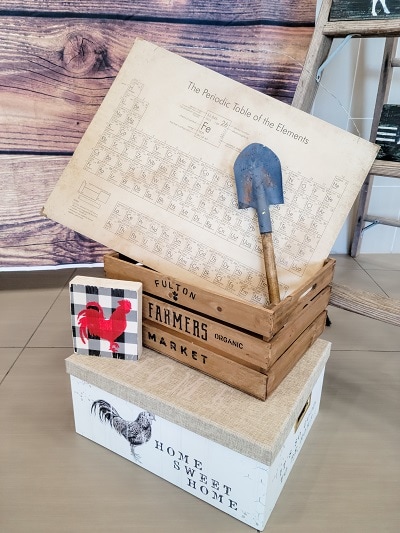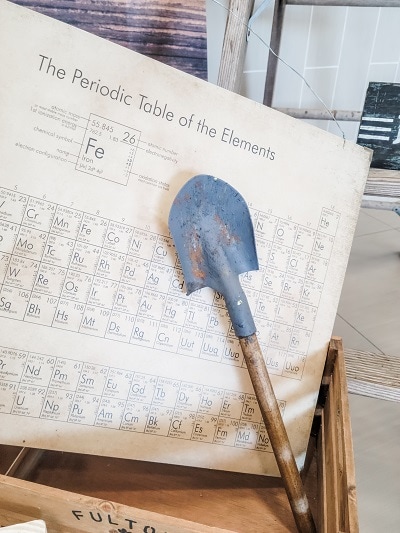 I am in love the way this turned out – give me all the things to make rustic and farmhouse.
I can see this shovel used in so many ways –
Before You Fly Away To Make Your DIY Rustic Farmhouse Shovel; A Dollar Store Project That Is So Easy
Pin any of the images to Pinterest so you can create your own inexpensive rustic shovel – hover over any picture to save the pin to your Pinterest account. So easy!