An Easy DIY To Turn A Nightstand Into A Card Catalog
This is an easy DIY to turn a nightstand into a card catalog with paint, decoupage, and vintage look pulls.
When I saw this nightstand in Goodwill it was an easy choice to purchase. I could see its potential to be "fifth sparrow-d no more"!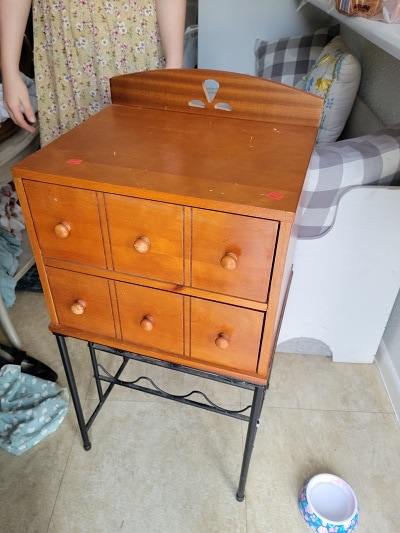 In the Thrift Store Shopping Guide you'll find a list items you want to look for in thrift stores, a shopping list for tiered trays, a holiday on a budget tips and tricks section, and pages decorating ideas for your thrifty finds!
First Steps To Turn A Nightstand Into A Card Catalog
I removed the wine holders underneath the piece.
Because libraries don't have wine …
Which makes me think is this a nightstand? Who has wine next to the bed? Or are we missing a great opportunity …
And I removed the half round decorative piece too … that was just unnecessary for this nightstand turned card catalog.
Tools You'll Need To Turn A Nightstand Into A Card Catalog
The Fifth Sparrow No More is a participant in the Amazon Services LLC Associates Program, an affiliate advertising program designed to provide a means for sites to earn advertising fees by advertising and linking to Amazon.com. The links below are affiliate links, when you purchase I make a small commission at no cost to you.

Easy DIY Steps To Turn A Nightstand Into A Card Catalog
Clean Well
I used Heirloom Traditions Surface Prep. Love that it is premixed, low odor and easy to use. Apply it with a chip brush, scrub with green scrub pad and wipe clean with dry cloth. You can see how much dirt and stain it removes from the cloth in the second picture.
Fill All The Holes
Using Dixie Mud I filled in all the holes from the decorative piece and drawer knobs I removed. I sanded off the excess when it had dried.
Paint The Nightstand
Using Dixie Belle's Whitecap as base color I added pink and green. I misted these two colors with water to help them blend together and into the piece.
The Next Easy Step To Make A Nightstand Into A Card Catalog
Have you ever used decoupage on furniture before? It was so easy to add a little bit more rustic into my nightstand turned card catalog.
I used Dixie Belle's Rice Decoupage Paper in the Pallet Wood Pattern. You can also use napkins (separate the two ply), tissue paper, or any other thin paper you love the pattern of.
Decoupage Your Nightstand You're Turning Into Card Catalog
Cut and Tear Paper
Using scissors I cut the decoupage paper into blobby shapes, rectangles and wide strips.
I tore the edges by hand.
Tip Time: I found it useful to fold and crease the paper before tearing.
Apply Mod Podge
Chose where I wanted to place my decoupage paper on the nightstand.
Applied mod podge to the back of my decoupage paper.
Placed on the furniture and smoothed out air bubbles gently.
Once you have all the pieces of decoupage paper on the furniture, apply a thin coat of mod podge on the entire piece of furniture so the sheen would not be different on painted surfaces vs decoupage paper spots.
Add These Vintage Pulls To Complete Your Card Catalog Makeover
These vintage looking pulls are what makes your nightstand into a card catalog!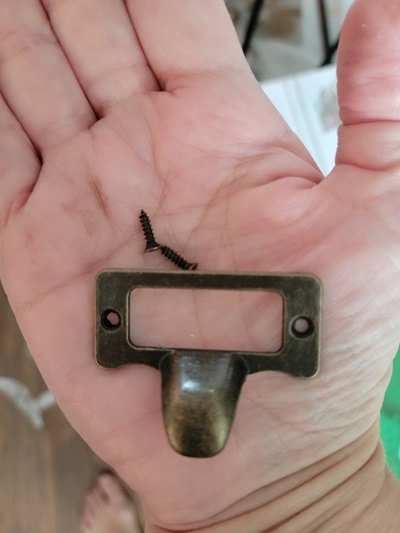 The small indentions on the drawers were painted with a brown glaze to create the illusion of smaller drawers.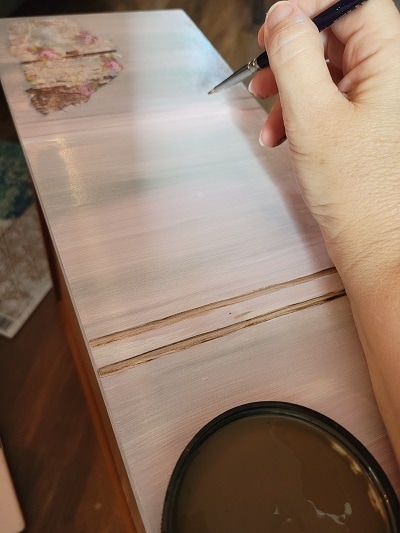 The pull was centered on the drawers where the old knobs were. I marked my holes for the screws.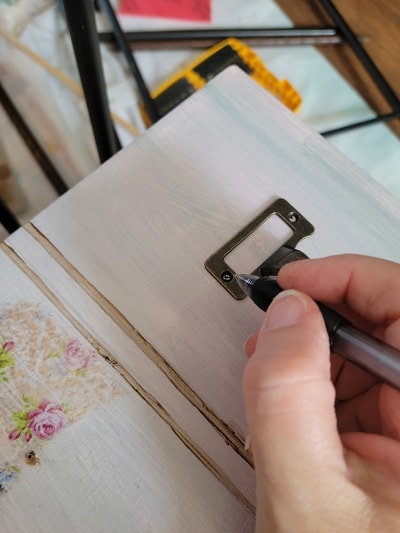 I drilled pilot holes (find out what these are and why they are important here) and attached my handles with the screws provided.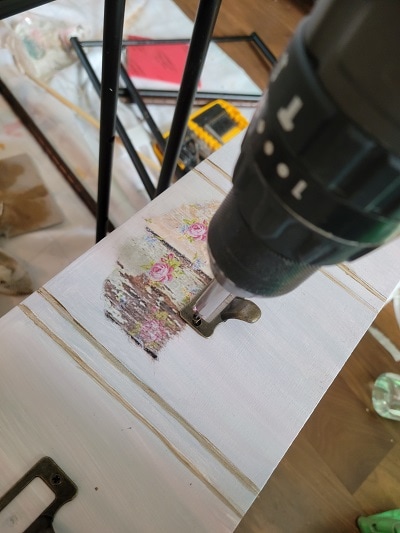 Our Favorite
"Fifth Sparrow-d No More" Furniture Makeovers
And That's An Easy DIY To Turn A Nightstand Into A Card Catalog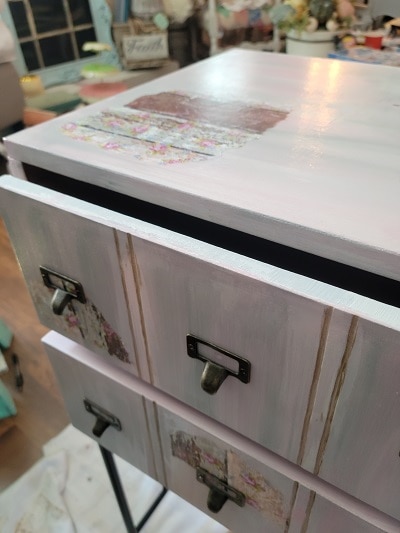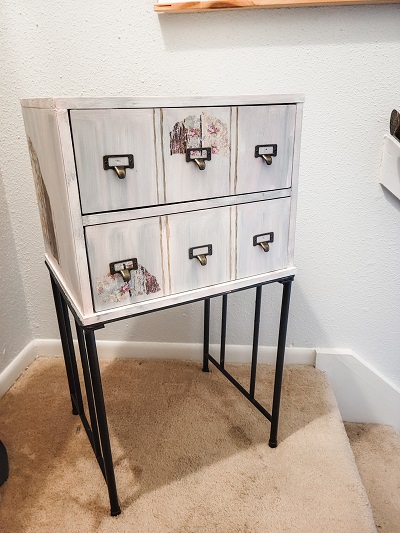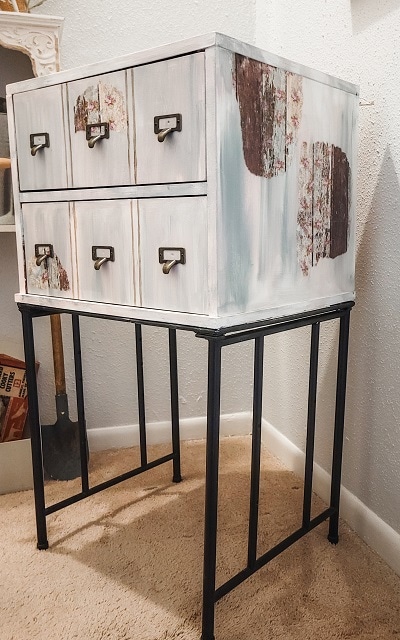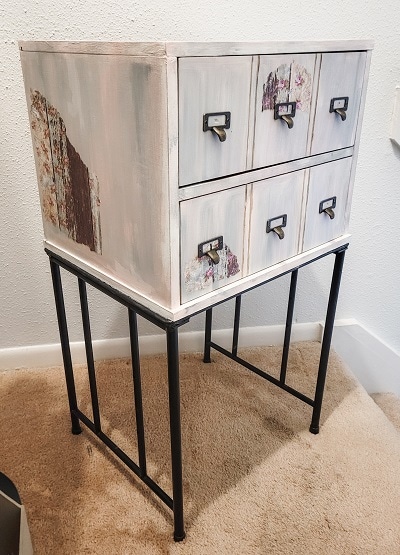 Before You Fly Away To Turn A Nightstand Into A Card Catalog
Pin this post to Pinterest to help you remember the steps for creating your own card catalog from a nightstand – hover over any picture or the image below to save it to your account. So easy!