How To Use Vintage Flashcards in Your Home
I want to share how to use vintage flashcards in your home in all of your decorating! I love to scatter them throughout vignettes (or displays), on my table, in centerpieces and more. The vintage look flashcards I carry in Twigs & Fluff are so easy to order handmade just for you or print, cut out, and round the corners yourself. You'll wonder why you didn't use them before!
When You Order The Vintage Flashcards Handmade For You
You will receive a set of flashcards from Twigs & Fluff printed and hand cut in a glassine envelope. Doesn't get much simpler than that!?
When You Order The Printable Vintage Flashcards – How To Prepare
Supplies –
Directions – Using the paper trimmer cut the flashcards out along the edges. Use the corner rounder on each corner of the flashcard. So simple!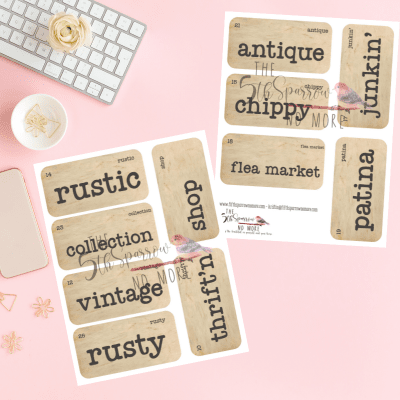 Using Vintage Flashcards in Your Home On The Table
In Centerpieces –
You "gnome" you want to check out this under $5 Halloween Gnome project! The Hocus Pocus Flashcards sit in a flower frog and a place card holder in this adorable Halloween centerpiece.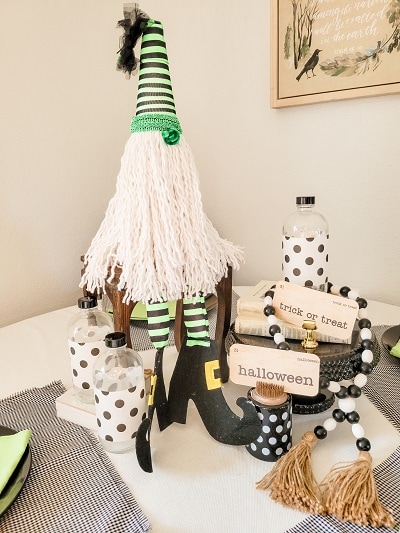 This is a double vintage printable situation. Using cash register flags I created to mimic antique ones and our Freedom Rings Vintage Flashcards this patriotic centerpiece is a perfect addition to your holiday.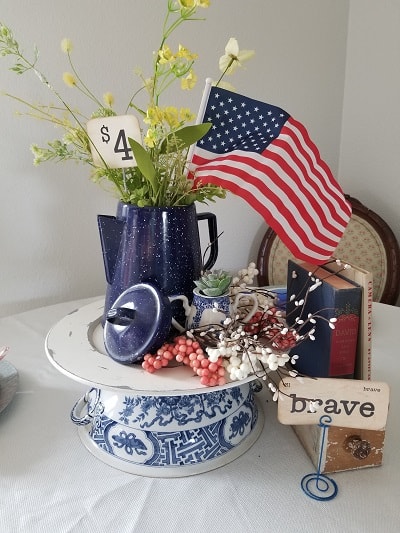 At Each Place Setting –
The Fall and Autumn Fun Flashcards are in place card holders on each plate on this fall table where I repurposed a popcorn bucket into a firkin.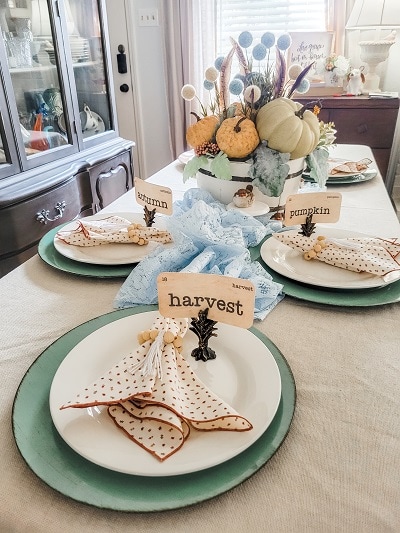 Using Vintage Flashcards in Your Home On The Mantel
Use vintage flashcards to help bring your theme to life or draw attention to certain parts of your display. These metal buckets would have just been buckets in our back to school theme mantel but with the addition of the Schoolhouse Rocks flashcards they became a lunch pail which totally fits in with our theme.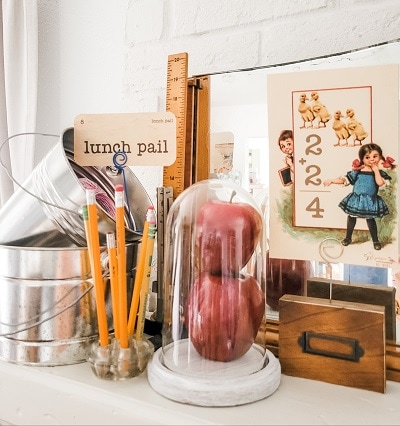 The red, white and blue flashcards from the Freedom Rings set of flashcards helps with the theme of our fireplace and setting the patriotic tone with our repurposed spindle flags.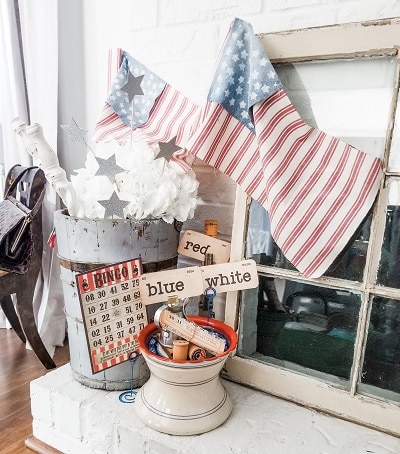 Using Vintage Flashcards in Your Home On A Tiered Tray
Combining sets of vintage flashcards to draw attention to parts of our blueberry themed tiered tray was a great way to add signage to our tiered tray. The Farmhouse Love vintage flashcards and the Summer At The Shore vintage flashcards were both used to invoke summer, the bring your own bucket memories of being in a blueberry patch.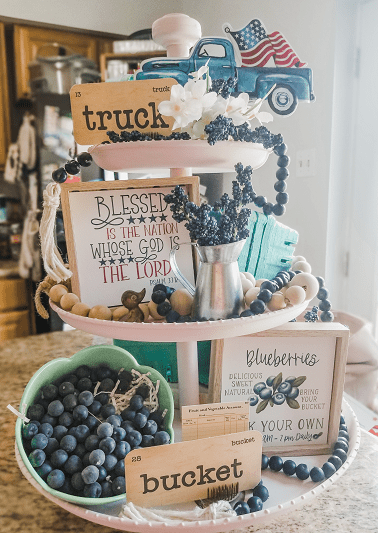 The vintage flashcards on this monster tiered tray do two things … continue the color scheme of the tiered tray and identify the little bucket as a candy bucket. I used the Hocus Pocus vintage flashcard set and the Summer at the Shore sets to combine into candy bucket.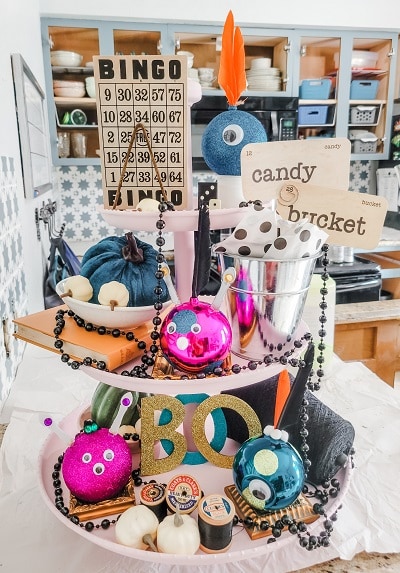 Using Vintage Flashcards in Your Home As A Banner
Using string and clothespins the Hocus Pocus vintage flashcards were hung with these DIY spiders (you won't believe what I repurposed to make these!) as part of my Halloween mantel. This idea would also be super fun for a party table!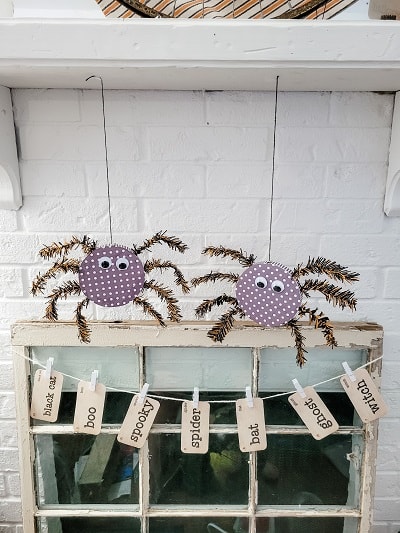 On this mantel I used the Schoolhouse Rocks set of flashcards to create a banner for celebrating back to school. You can see all those fun projects here!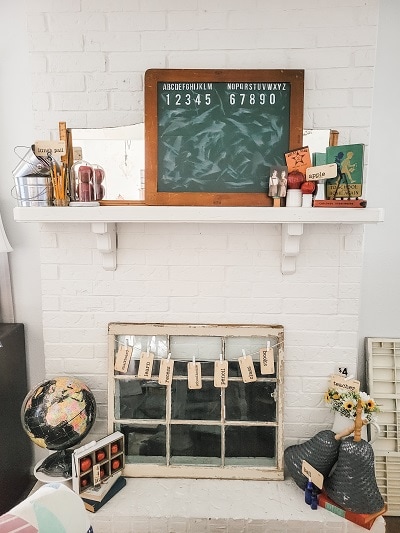 Before You Fly Away To Use Vintage Flashcard Ideas In Your Home!
Pin any of the images to Pinterest to use this simple, cute and fun décor idea for your home – hover over any picture to save the pin to your Pinterest account. So easy!