Quick And Easy Garden Border With Vintage China
Today's post takes outside to my tiny front yard. I want to show you how to put in a quick and easy garden border with vintage china. These plates were loved but not being used anymore. I thought let's "fifth sparrow no more" them to use them again and bring some beauty and vintage charm to my small front door area.
Find pretty, but inexpensive china to repurpose for garden projects at:
thrift stores
antique shops
yard sales and estate sales (find thrift shopping tips here)
Create A Quick And Easy Garden Border With Vintage China
The Easy Steps To Putting In A Vintage China Border
Step 1
Choose the area where you will use the plates as your border
Measure …. twice
Lay out plates on the edge of your area
Step 2
Dig a small trench for each plate
Make this trench deep enough for half the plate to be in the ground
I found it helpful to place the dirt on the plate so you can pack it in around the plate
Step 3
Continue around your area until you are finished
Plant flowers and plants inside, decorate with vintage finds, or fill with mulch
It is also helpful to have a neighborhood duck for a helper! Mohawk the Duck was fantastic at eating the yucky worms and bugs in the dirt.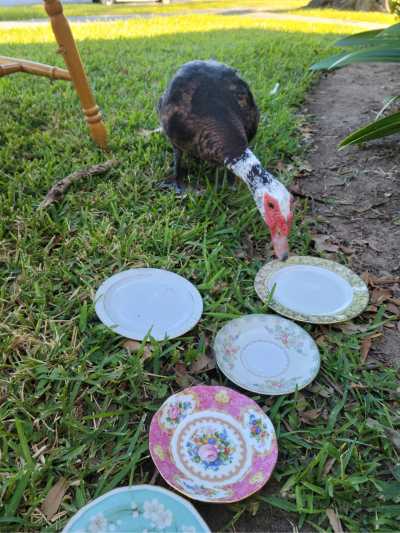 My IBC Friends And Their Projects
I have joined the International Bloggers Club (IBC)! The IBC is a group from all over the world who challenge each other every month to make something using a common theme. This month's theme is Broken Dreams.
The plates in my quick and easy garden border with vintage china with its chips, cracks and well loved spots fits this bill amazingly! My IBC friends made some neat projects too with the theme!
A Crafty Mix – Michelle saves a few broken wine glasses because usually the bowl portion shatters, leaving a perfectly good stem behind. And, since I hate throwing things out, I'll always save the broken pieces and turn them into a dreamy wine glass stem candle holder.
Unique Creations by Anita – Anita make a spa towel rack to hang on the wall until I get around to building the pergola.
Birdz Of A Feather – If you are as obsessed with air plants as Sara is, check out these air plant decor ideas! You're sure to find something that inspires you to upcycle.
Before You Fly Away To Create A Quick And Easy Garden Border With Vintage China
Pin any of the images to Pinterest so you can set a create a simple garden border with beautiful vintage china plates – hover over any picture to save the pin to your Pinterest account. So easy!