Beautiful Summer Decorating For Your Mantel
Ah, the summer season is here and with it blue skies, sun, long days and trips that are so much fun. I want to show you some great ideas for beautiful summer decorating for your mantel (or is it fireplace mantle, I never know) that are easy and simple so you can enjoy summer and the beautiful in your home.
Easy Tips To Decorate Your Mantel
Each part of the mantel gives us vignette styling ideas so you can use these summer décor ideas anywhere – the coffee table, a side table, a tiered tray, or a centerpiece.
Use common colors, three max, that belong together. Pull these colors from the room that your fireplace is from or the holiday or theme you are decorating for.
Choose textures that belong together, three max, that repeat throughout your small vignettes on the mantel and fireplace hearth.
Themes For Mantel Decoration in the Summer Months
During June, July and August a summer mantle can have many themes. Since June is the start of summer decorating this is the perfect time to give it a summer feel. Create a beautiful summer mantel in your family room – it can be a beachy mantel or a garden theme with only subtle changes to your spring mantel (like using bright colors instead of spring colors). In July a simple summer mantel can be decorated in a color scheme of red, white and blue colors for an Americana farmhouse style mantel. For August a great way to decorate a simple mantel is with a back to school theme. It can serve as a favorite spot for those all important school pictures.
Find vintage flash cards, printable guides and artwork and home decor pieces to feather your nest in Twigs and Fluff!
Beautiful Summer Decorating For Your Mantel For June
This year for June a beachy summer mantel was created. This simple mantel uses very few specifically coastal decorative items. Even though the coastal mantel decor was subtle, the feel of the beach was given by deep blues and aquas, a lot of whites, and natural elements like seashells.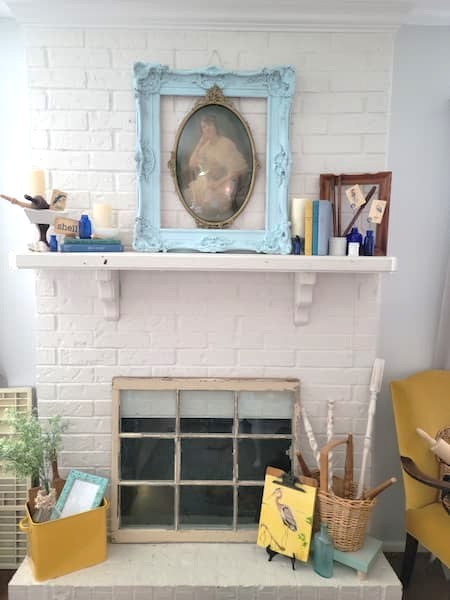 On this side of the mantel various heights were created by stacking vintage books. White candles were placed in candle holders – one is a Fire King handled soup bowl and the other is a wooden pedestal bowl. My favorite pieces are the vintage flash cards and playing cards – it's like a tiny piece of art.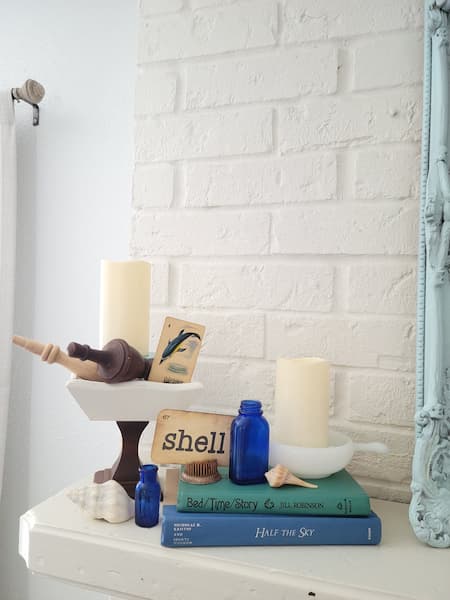 In this vignette blue bottles with place card holders from Hobby Lobby inside hold more vintage playing cards. One of my many photo frames (I love to get unique shapes when thrifting) creates a layered look. Smaller pieces like milk glass medicine jars with wooden spindles, a cupcake holder with another candle, and more vintage books complete this display.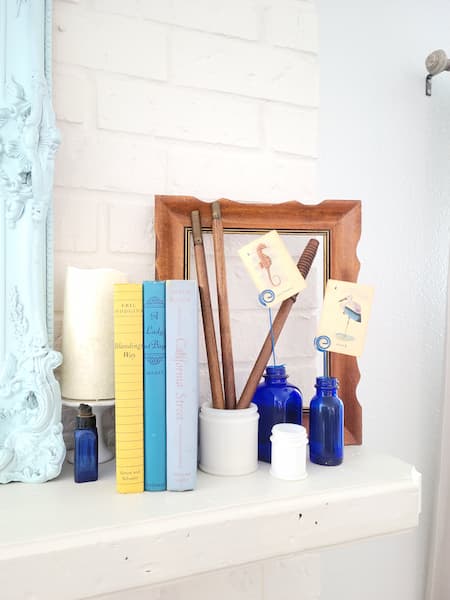 A wicker basket holds wood spindles in both white and brown continuing the wood tones and colors throughout the mantle. The different shapes of these spindles is a perfect way to create interest in this otherwise simple vignette. A riser (see how to make your own here), another blue glass bottle and a page from a bird book sits in an antique clipboard.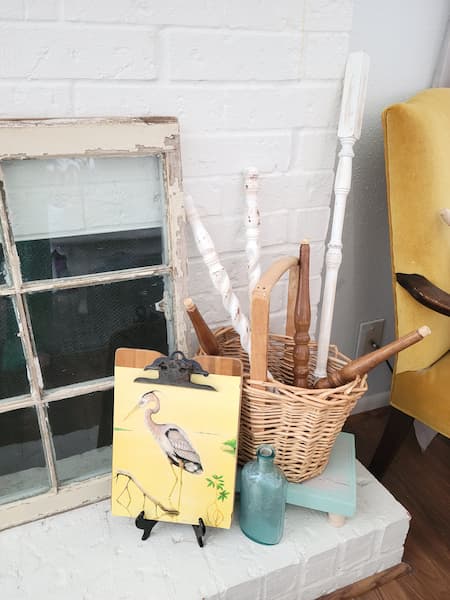 On this side of the fireplace hearth sits a bright yellow tin box. Inside is a glass demijohn bottle to which I added greenery with small white flowers. I wrapped a seashell necklace around the mouth of the bottle. A wood cutting board and an aqua vase inside the box are easy ways to continue the colors and textures used throughout the mantel.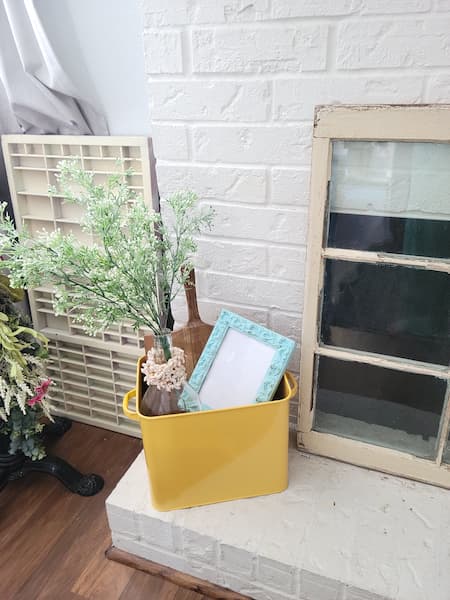 Beautiful Summer Decorating For Your Mantel For July
Last summer I gave my living room mantel a look that was American as apple pie. This vintage mantel used a framed print of an apple pie recipe as its focal point.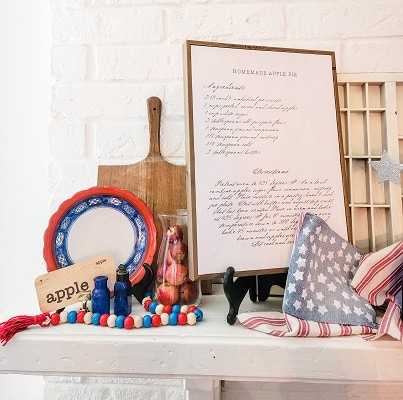 See More Details Of This American As Apple Pie Mantel
In past years I repurposed spindles to make American flags, vintage items and a color palette of red, white and blue to create a summer fireplace full of simple ideas and DIYs for the fourth of July.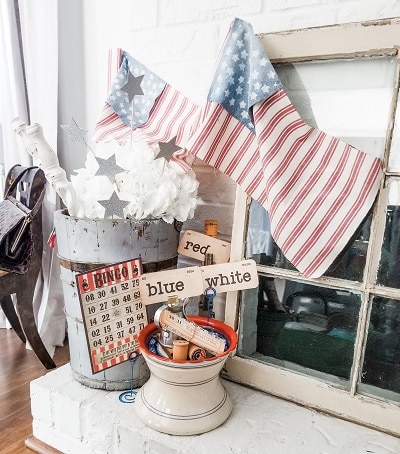 See More Details of This Patriotic Mantel Of Repurposed Finds
Beautiful Summer Decorating For Your Mantel For August
A rustic mantel in August celebrated school and used décor pieces that screamed vintage schoolhouse. Vintage flash cards created a fun summer garland on the old window I use as a fireplace screen. Flower frogs full of pencils, old photos, and a DIY chalkboard and school bells filled my white mantel and gave my living space some colorful design style.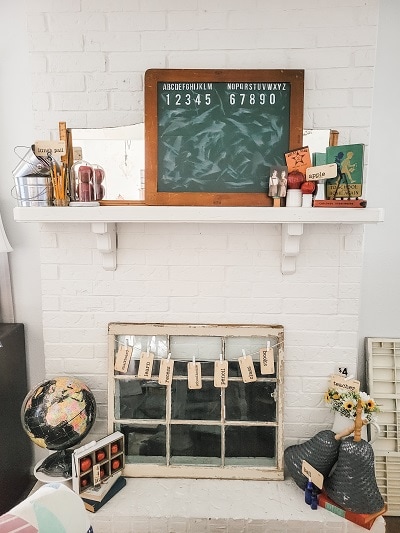 See More Details Of This Vintage Schoolhouse Theme Mantel
I Can't Wait To See The Beautiful Summer Decorating On Your Mantel!
I hope this wasn't too much inspiration! 😉
Just joking! I want these summer mantel decor ideas to give you new ways, simple ways to decorate the mantel in your own home.
A few tips for your gorgeous summer mantel ideas:
When picking your summer decor for your mantel or vignettes choose a single color that you love and two complimentary colors, this keeps everything cohesive.
Shop your home first. At no extra cost, you could find everything you need to put together your favorite mantel.
Start with a clean slate. Clear everything away and give your mantel and fireplace a good wipe down. Then gather all of the items you want to use on your mantel. This is my favorite way to start a mantel refresh.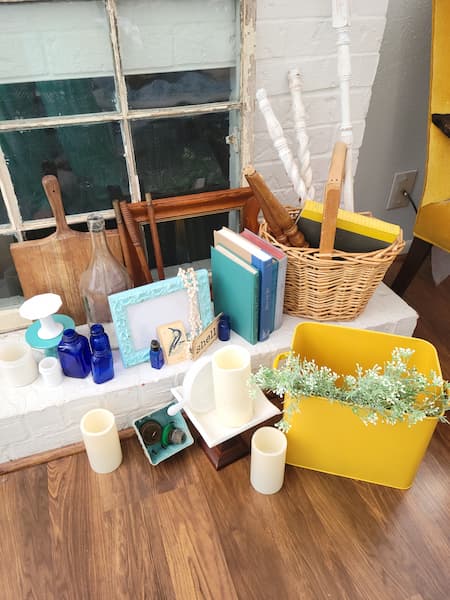 The only thing left is this. This is your design style, your personal style! If you are happy with the finished product there is a 100% chance that everyone will love it too!
Before You Fly Away To Decorate Your Summer Mantel
Pin any of the images to Pinterest so you can use these ideas for some beautiful summer decorating for your mantel – hover over any picture to save the pin to your Pinterest account. So easy!