A DIY Circus Centerpiece Is Coming To Town
A circus centerpiece is coming to town and it's bringing a simple train car project, a flower arrangement in the ringmaster's hat and a fun napkin ring idea, oh my!
A Train Car For The Circus Centerpiece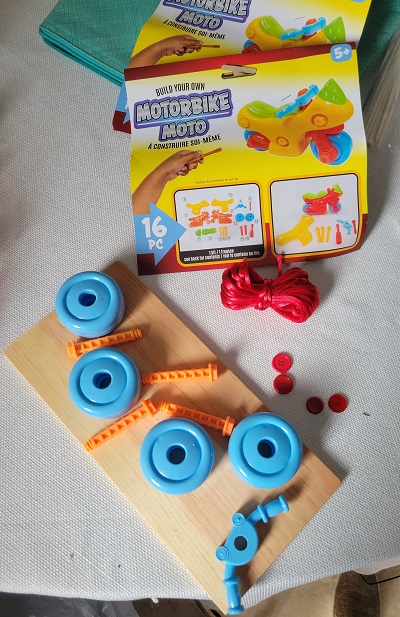 Supplies I Used For The Train In My Circus Centerpiece
I purchased these motorcycle kits, I only used the wheels, handlebar and screws or bolts in the kits
Buttons
Cording
The Step By Step To Create The Train Car
Insert the orange screws / bolts into your wheels and glue the orange screws on the four corners of your wood base.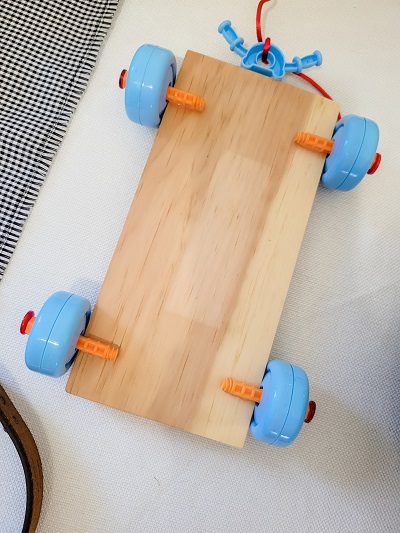 Glue the handlebar to the front of your wood piece to act as a connector. Tie your cording through the hole.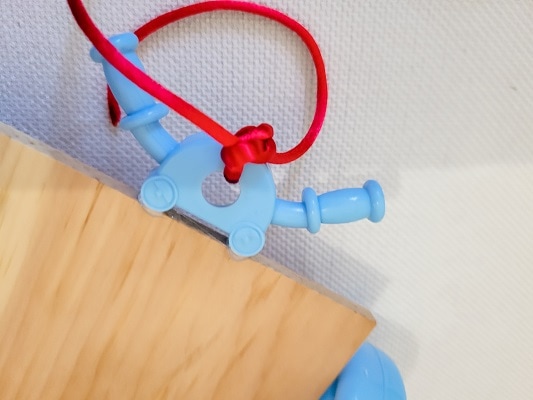 Glue buttons on the middle of your wheels
I made a video walking you through the project in more detail on my YouTube channel. You can go here to watch it! Or hang out on the blog and watch it!
The Ringmaster and His Top Hat Centerpiece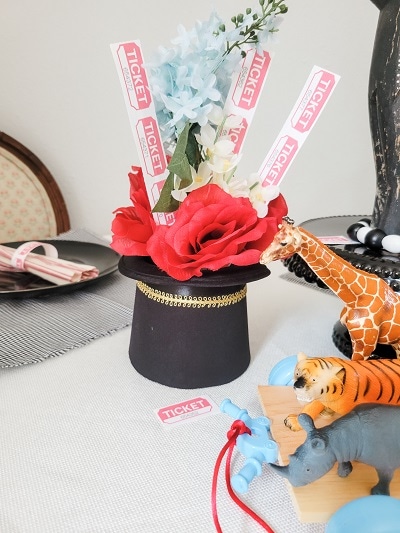 I glued a candy stick to a length of tickets for the centerpiece. It helps them stand up in the centerpiece and not flop over.
I placed floral foam in the top hat, which I got in the costume section at a thrift store. I use this top hat for so many things, one of which is a snowman hat during Christmas and winter. This is why I shop all year for holiday decorations, you never know what you will find!
I added gold trim to the top hat because it seem appropriate and necessary that the ringmaster top hat be a little blingy.
Circus Themed Table Settings
I chose red and white striped napkins to remind us of a circus tent. This was fabric left over from this patriotic spindle project and I used them for this table as well. I think I can use them for a farmhouse country Christmas place setting too!
I used tickets wrapped in a circle and taped together to create a fun and unique napkin ring. The rest of the table is simple black and white so it won't be too busy!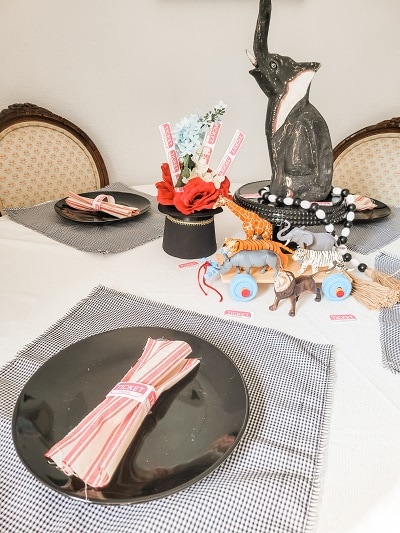 It's Not Just For A Circus Centerpiece – Ideas You Can Use
The Train Car Can Be Used For –
A train theme party. How fun would it be to create a car for each serving dish of a "conduct" your own track snack?
For Christmas. Create train cars for your mantel and place blocks on them to spell out Merry Christmas or Santa's Coming To Town.
Child's Bedroom Decoration. How fun would these be on a shelf to hold keepsakes, framed pictures or special memories?
The Top Hat Can Be Used For –
At Christmas time or for winter displays. Use for a snowman hat and create a centerpiece of festive florals
For a Magician themed party. Place a rabbit and gold tulle inside, it would be centerpiece magic!
Planning a tea? What is more "Downton Abbey" than a top hat with gloves inside set to the side?
I hope this inspires you to create your own whimsical table setting! My e-book Easy Formulas To A Beautiful Table Every Time has three formulas to follow that gives you the secret to creating a wow table every time simply!