Ombre Furniture For A Floral, Fashion and Fauna Bedroom
I am ever so thankful to the friends who helped by gifting us pieces to create ombre furniture for a floral fashion and fauna bedroom for Amory
A floral fashion and fauna bedroom was created for a special young woman, a teenager with interests as unique as she is. Her hobbies include sewing, vintage fashion and raising goats. Her loves are fashion (it's not unusual to find her in sequins on a random Tuesday just because the world needed some sparkle), animals of all kinds, reading, and Dolly Parton. She is an amazing kid and she deserves to have a new room as beautiful as she is.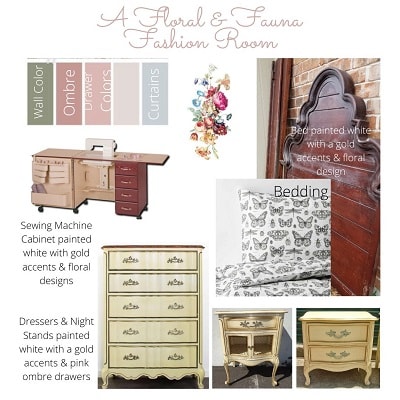 How Do I Paint Ombre Furniture?
Ombre, in French, means shade or shadow. In our house it means
– Please don't move that drawer it needs to stay with the Number 5 drawers
– Taquito don't walk thru there, you just knocked over all the Number 2 drawers
– Who was in charge of numbering, I cannot read your handwriting?!
But all that being said (and a few other words I'll leave off) let me share how all the drawers were painted at Amory's request of ombre furniture.
The Furniture For A Floral Fashion and Fauna Bedroom
In true fifth sparrow fashion we acquired several pieces in the same style that friends were getting rid of. And set out to "fifth sparrow no more" it to create ombre furniture for this floral, fashion and fauna room.
Ombre Furniture – Mixing Colors and Method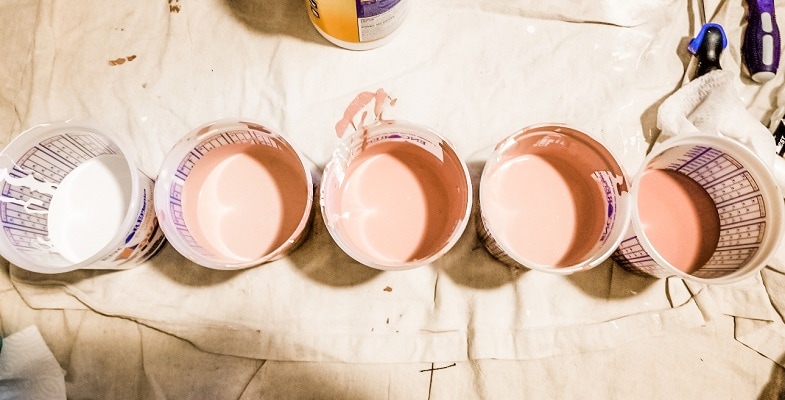 Mix Your Ombre Shades
Since I had five drawers on my largest piece I created five shades of paint ranging from the original color to a nearly white. These are my mixes –
1st drawer – 6 ounces of White Cap and a drop of Desert Rose
2nd drawer – 2 ounces (1/4 cup) of Desert Rose and 6 ounces (3/4 cup) of White Cap
3rd drawer – 6 ounces (3/4 cup) of Drawer 4 color and 2 ounces (1/4 cup) of White Cap
4th drawer – 6 ounces (3/4 cup) of Desert Rose and 6 ounces (3/4 cup) of White Cap
5th drawer – 6 ounces (3/4 cup) of Desert Rose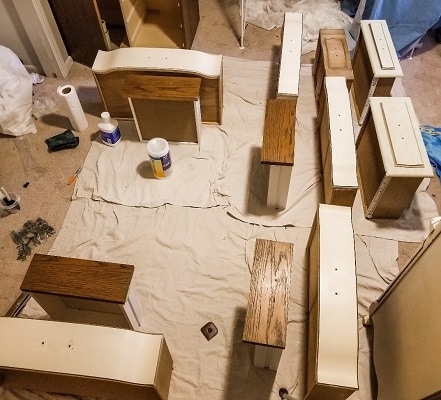 Group Drawers
I grouped the drawers of all the furniture into what needed to be painted the same color. For example the 5th drawer color group had the bottom drawer of the dresser and sewing machine table in it.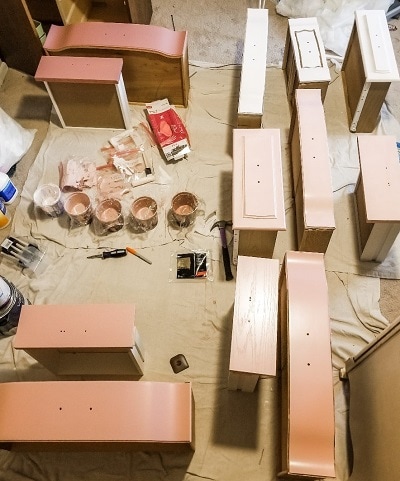 Paint Drawers
I not only grouped the drawers but marked them on the bottom with a crayon so I would know exactly shade of paint and where it needed to go back into the furniture piece.
Ombre Furniture For A Floral Fashion and Fauna Bedroom
This is the nearly finished painted dresser so you're able to see the ombre effect in full effect!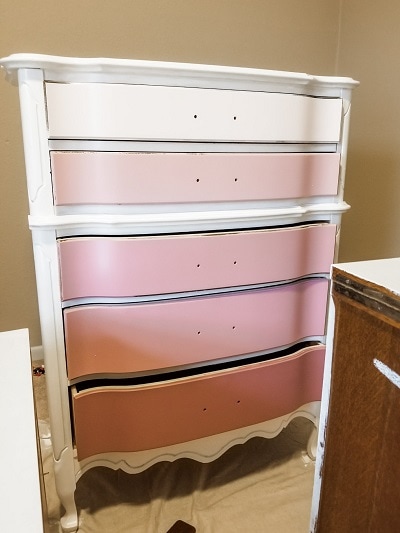 Details of the Floral Fauna and Fashion Bedroom
The bed for this floral fashion and fauna bedroom was a bed fit for a queen! With a very tall headboard and its "ruffle" edge it was the perfect bed for this room.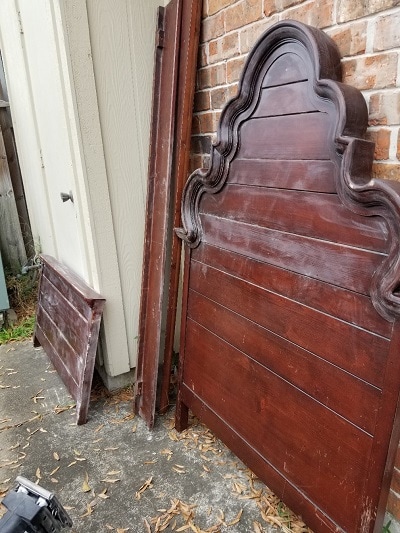 The bed was cleaned, prepped and painted with Dixie Belle's Silk Mineral paint in White Cap. I mixed together Dixie Belle's Moonshine Metallics – Wedding Belle and Dixie Belle Gemstone Mousse in Golden Gem to paint the "ruffle" along the edge of the headboard.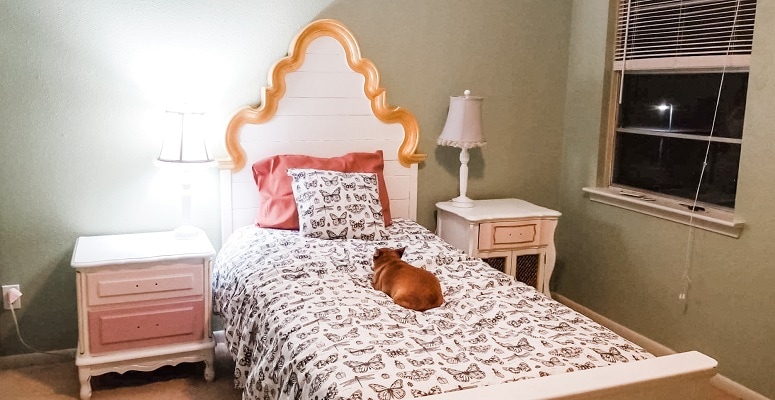 I created a gallery wall of vintage vogue covers and paper dolls cut out and framed in shadow boxes. The pictures were laid out on the floor (you can see more of method here) and I decided how they would hang. Then I hung them on the wall.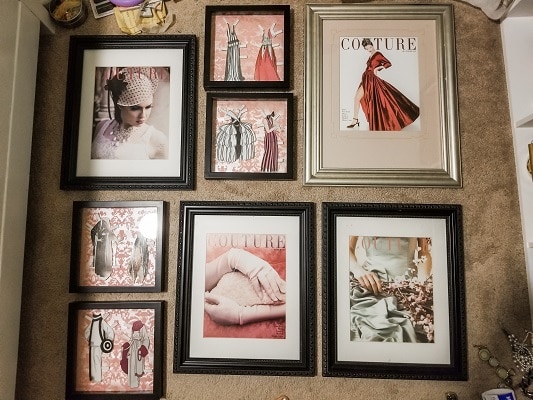 Underneath this gallery wall of fashion I framed vintage patterns and created a small vignette of sewing notions, books and a pattern box.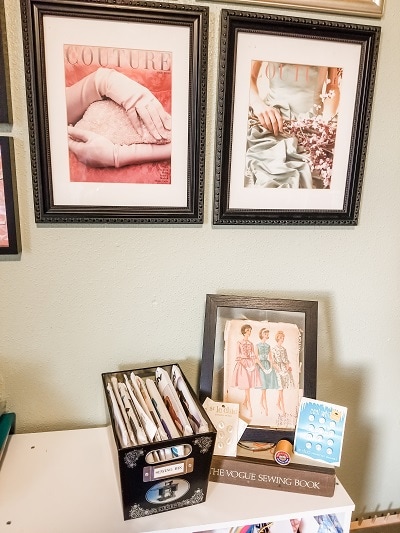 Before You Head Off To Create Your Own Ombre Furniture For A Floral Fashion and Fauna Bedroom
Pin this post to Pinterest to help you remember the ombre formula and ideas for your sewing and fashion décor – hover over any picture to save it to your account. So easy!