Make Your Own Table Decorations
What is black, white, pink and red all over? This Valentine's Day table! I made the decorations for this table – plates from cardboard circles, dressed up napkin rings with wooden cut outs and a centerpiece with printable vintage looking Valentines cards and repurposed Christmas garland. It's easy, cute, and inexpensive. Let's get creating!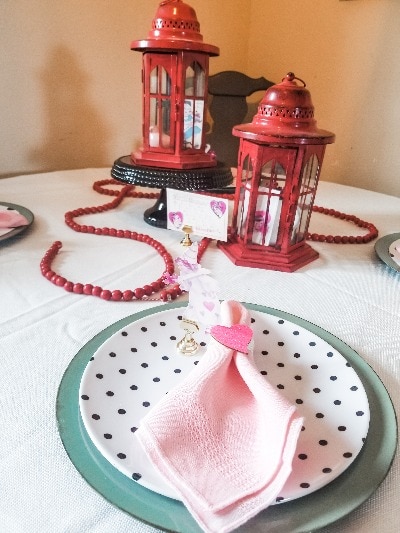 For the centerpiece I used lanterns filled with vintage Valentine's cards, old keys and bottles. Red wood bead garland repurposed from our farmhouse Christmas tree surround the focal piece which are two red lanterns one elevated on a black cake stand. White plates with black polka dots sitting on teal chargers make for a simple, easy pulled together and cute tablescape.
Make Your Own Table Decorations-Plates
I only found 2 white plates with black polka dots at my local thrift store so I cut two circles from cardboard boxes for a matched mismatched set!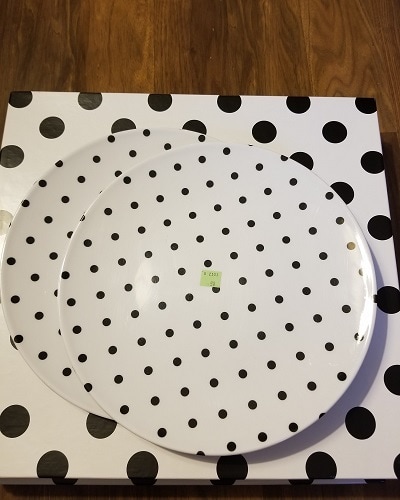 Place your real plate on the back of your cardboard box. (these are two boxes which I received free on a Facebook group)
2. Trace around the plate onto the box.
3. Repeat for each plate you need.
4. Cut out your "plates".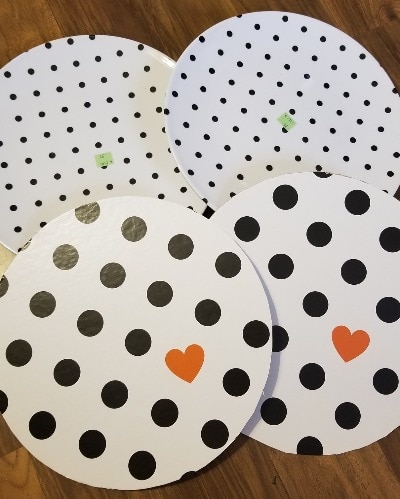 MAKE YOUR OWN TABLE DECORATIONS-napkin rings
I adhered wooden hearts from the Dollar Tree onto napkin rings I already owned with adhesive foam dots.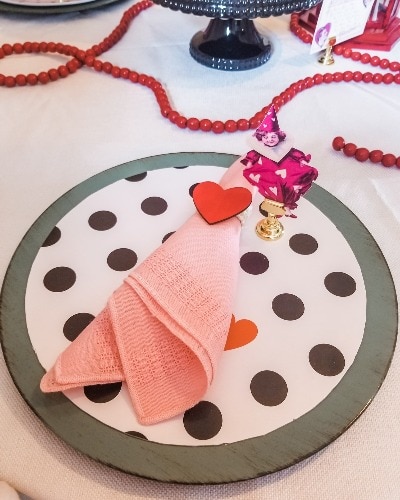 More Decoration ideas
Use this idea to make chargers to place under clear glass plates.
Use a plain cardboard box and cover with scrapbook paper.
Small wooden cut outs come in a variety of shapes, use them to make unique napkin rings for everyday and every season.