How To Make Creative Shelving In A Small Space
In the bedroom design our guest room must serve dual purposes – a guest room and a workspace. I want to show you how to make creative shelving in a small space with this DIY project for the one room challenge. A thrifted drop-leaf table will be repurposed into a wall-mounted desk and a shelf for storage space. This is a great idea for wall space in a room with small square footage for storage solutions. Open shelving does not take up valuable floor space like a piece of furniture or a shelving unit would.
What Is The One Room Challenge?

The One Room Challenge is a biannual interior design event where Featured Designers and Guest participants are tasked with making over a space in eight weeks.
The designers participating are making over everything from a living room to a garage and everything in between in this One Room Challenge. For that reason, make sure you head over – there is so much inspiration!
I have redone my master bedroom for this challenge in the past. And now I am working on the next room – my guest room.
Why I Needed Creative Shelving In A Small Space
This small room needed to be more of a sleep place; it needed to be a mini workspace too. I put wall shelves and a dresser to good use with an Etsy / Twigs & Fluff shipping station and a pricing and packaging station for my antique booth. The dresser, painted pink, will house packing materials, pieces for my ephemera kits, and small items that will go in the booth in the right season.
Creative Shelving In A Small Spaces
I created the bedroom shelving from a drop leaf table. It was a very inexpensive purchase from the best place – the thrift shop! Every table can be repurposed in different ways and their step-by-step tutorials will be a little different. I will walk you through how I used the table leaves for shelves.
Creative Shelving From A Drop Leaf Table Step By Step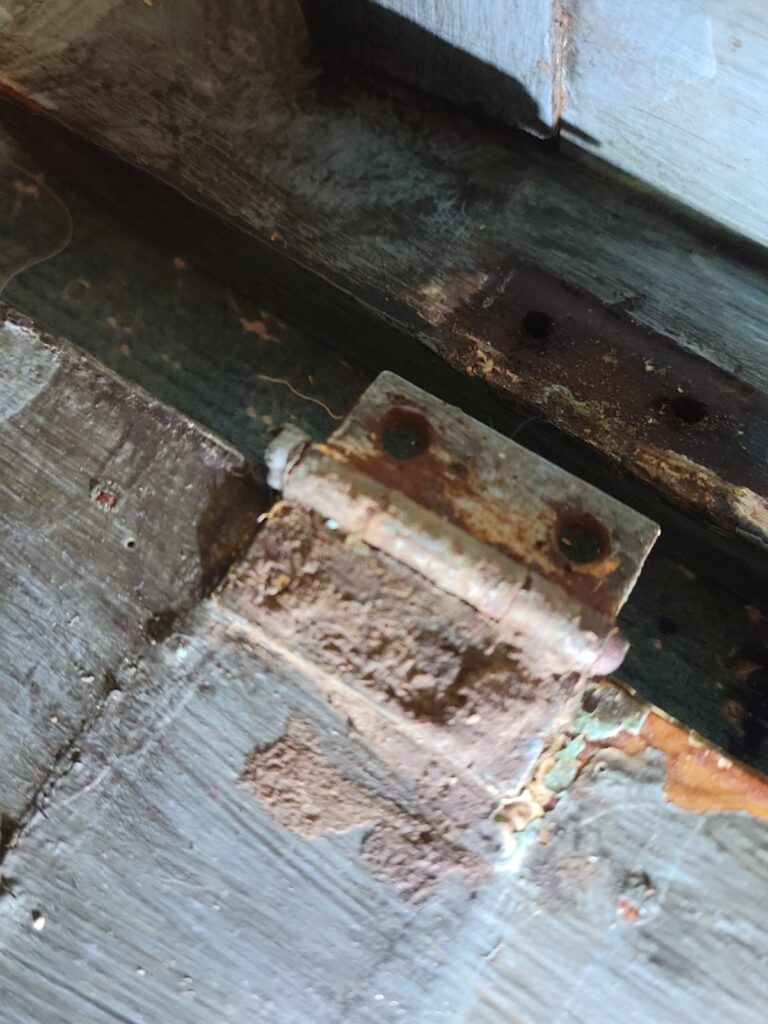 Find an open space on the floor and lay out your table to remove the leaves from your table. This required much effort on my part. The hinges were painted and rusted onto and into the table. And to be honest this was the first time of many that I wanted to light the table on fire and walk away. The good news is I didn't and we still have shelves!
In order to remove the screws attaching the hinges to the table I tried spraying WD-40 on the hinges and letting it soak. That was not successful and the easiest way I found was drilling into the screw and removing each screw piece by piece. This was not an easy way but it certainly worked and was a great way to get it done.
The leaves had a whole lot of paint, several layers in fact. One of the best ways to remove the paint from a project is to use citristrip gel.
1. Wear gloves and goggles for protection.
2. Shake the citristrip well. Pour into a container and apply to your piece with a chip brush.
3. After 30 minutes (up to 24 hours), scrape a small test area to see if the paint is ready for removal. For overnight stripping, after applying, cover the application area with plastic wrap until ready to scrape.
4. Gently scrape in the direction of wood grain with a plastic stripping tool. For stubborn areas, use a green scrubby pad dipped into citristrip.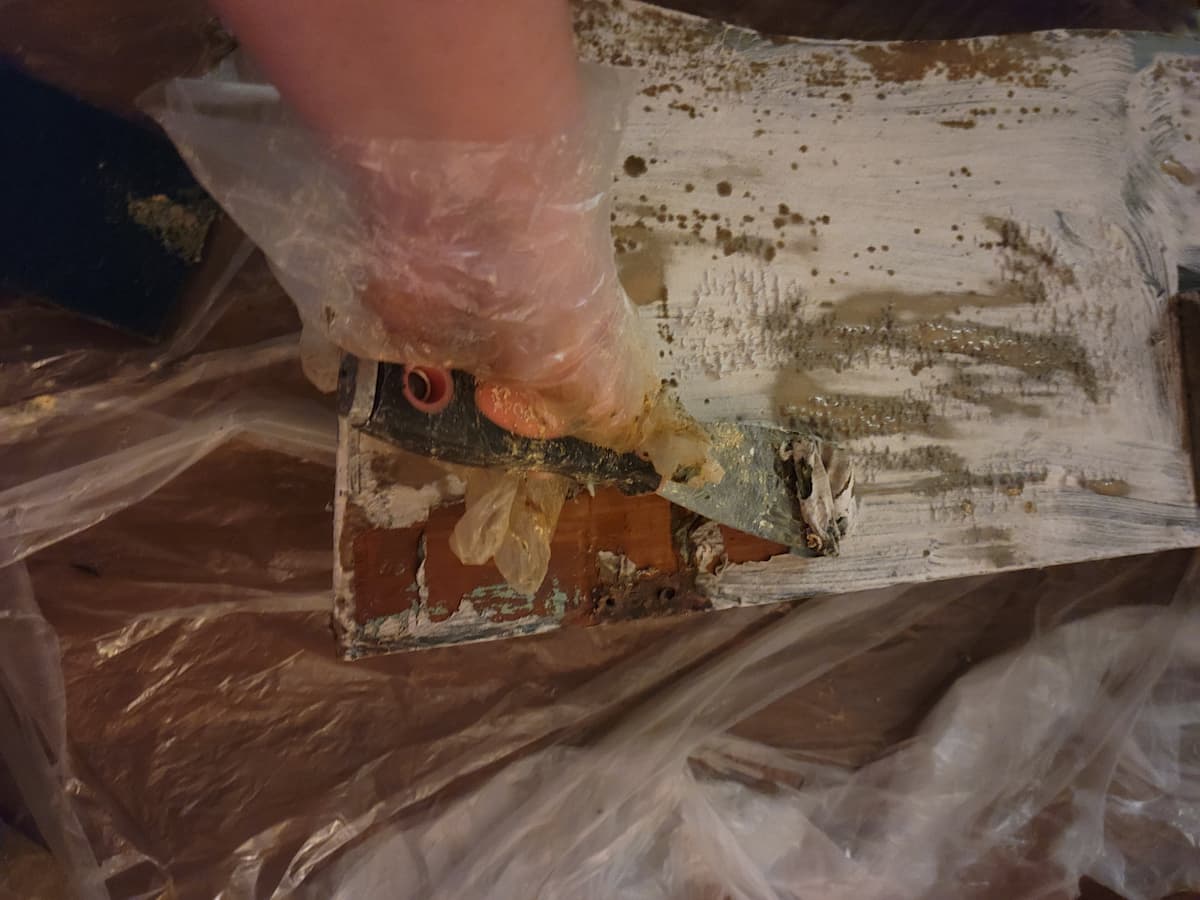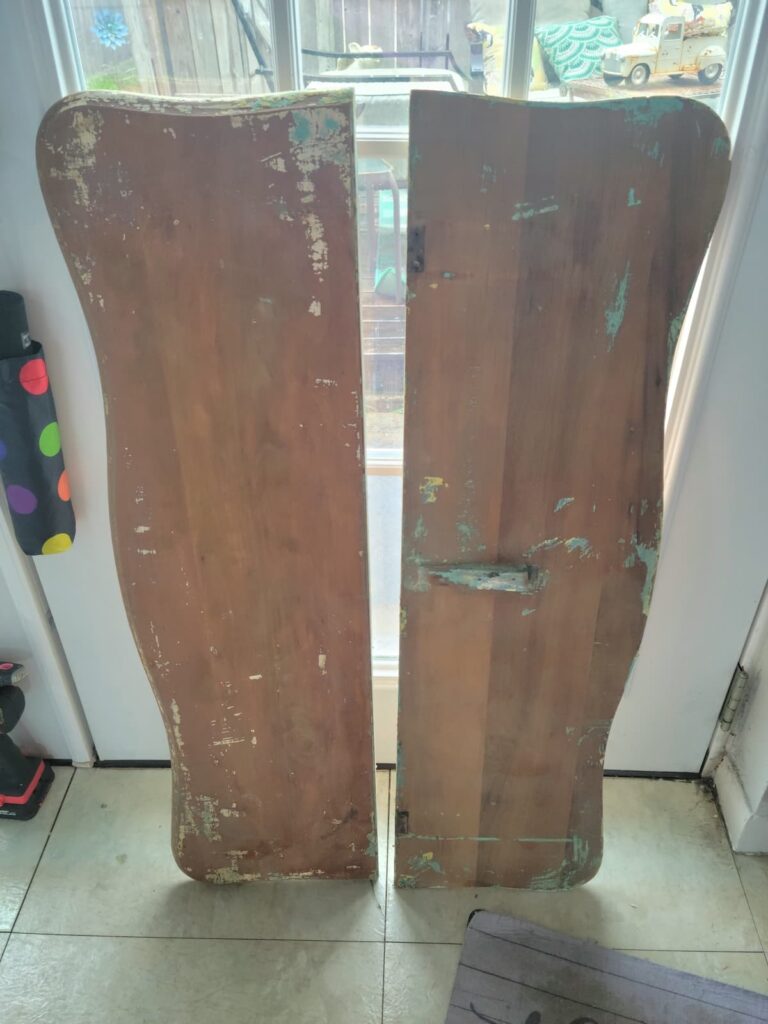 After I had removed all the layers of paint I loved the natural wood color plus the paint chips that were holding on for dear life and they needed to be part of the new story. I am grateful to be able to "fifth sparrow no more" pieces so they can continue to serve and tell their story. I applied one coat of Minwax Polycrylic Top Coat in Clear Ultra Flat to protect the wood.
Installing The Creative Shelving For Extra Storage
Lay your shelf down bottom side up with enough space to work around it. Place your bracket on the shelf and mark with a pen where you need to drill pilot holes.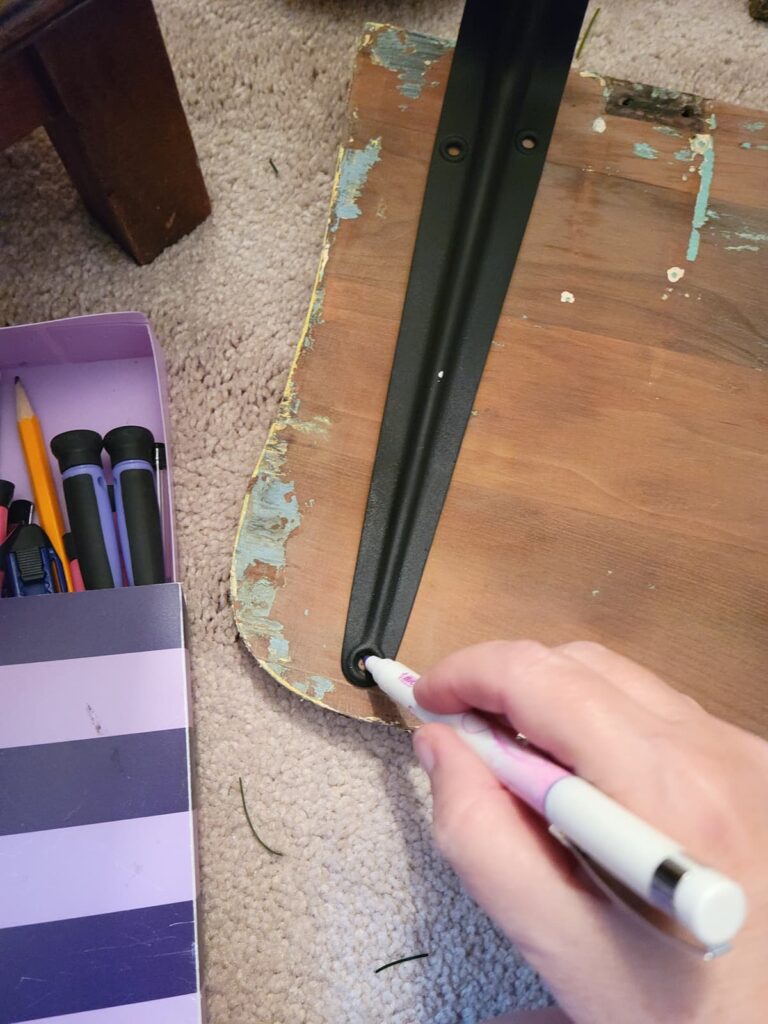 Drill pilot holes and place your bracket back on the shelf. Use wood screws to attach the bracket where you drilled the pilot holes.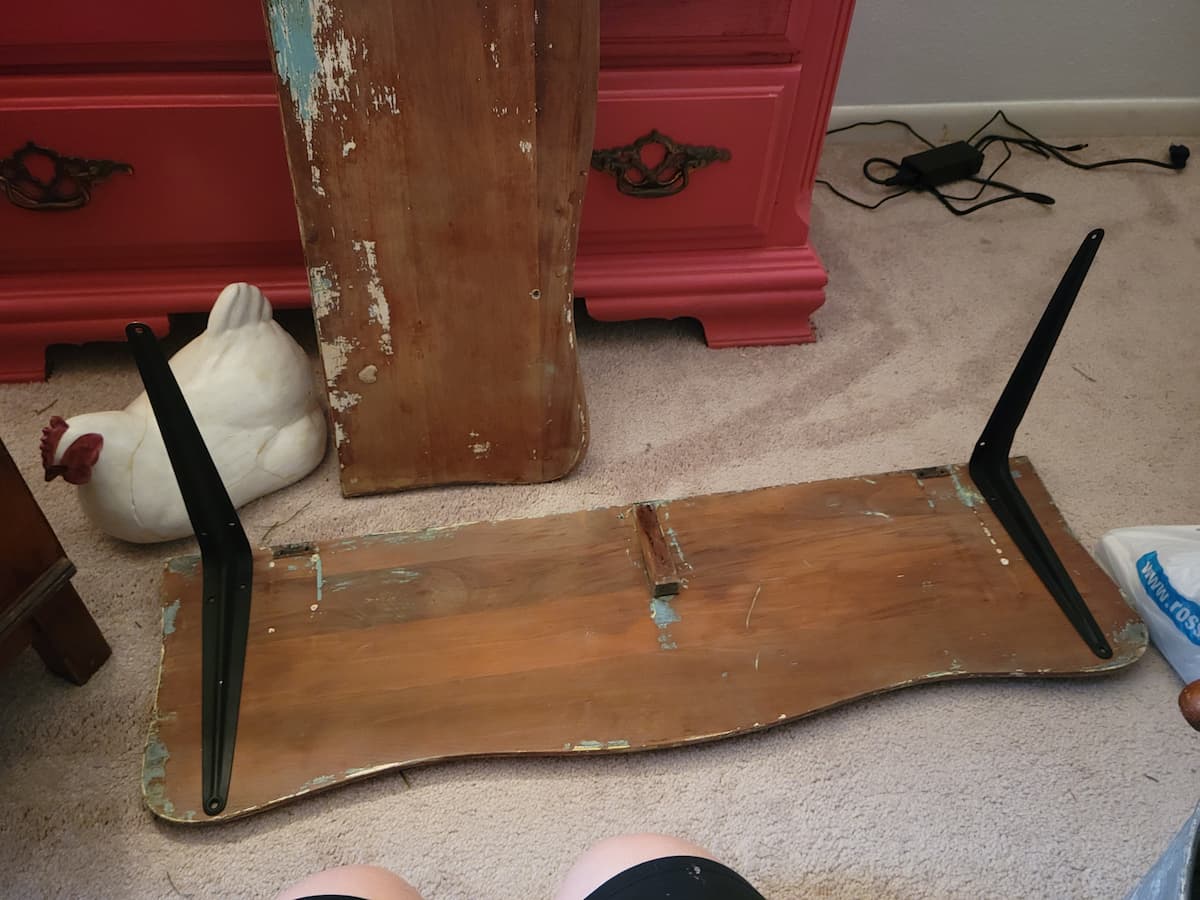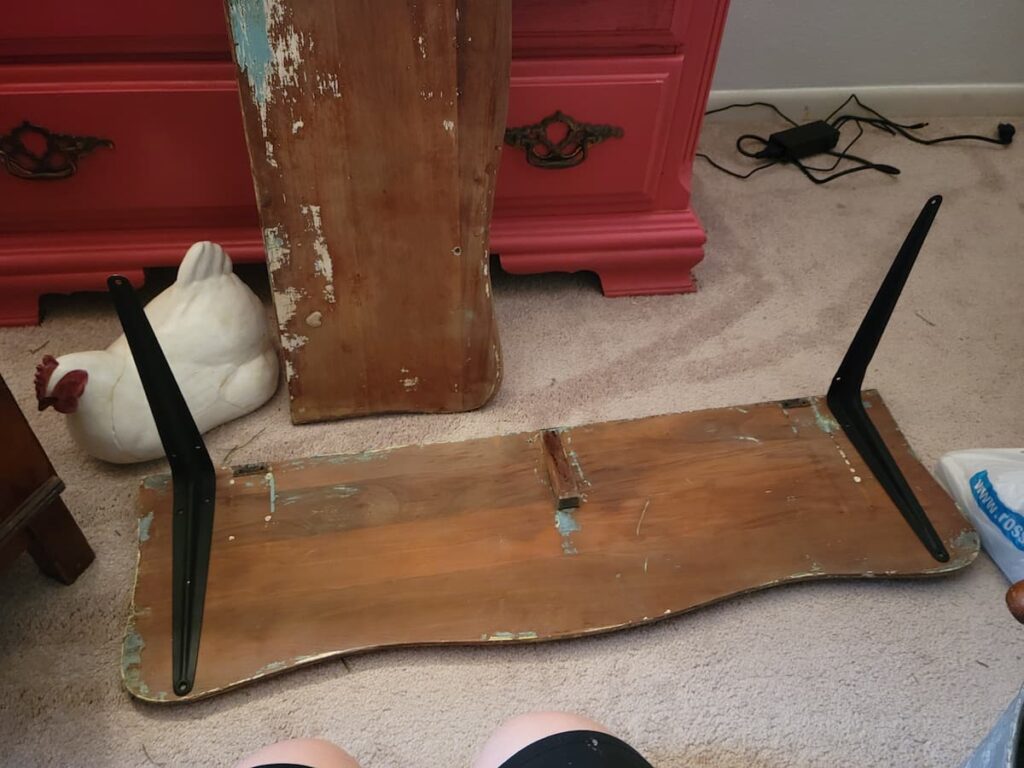 Hold the shelf up to your wall and make sure it is straight with a level (or an eyeball method if you live on the wild side). Mark where your wall anchors will be placed in the bracket screw holes. Remove the shelf and place your wall anchors into the wall. Using screws in the wall anchors attach the shelf brackets to the wall.
Creative Shelving Creates A Counter Height Desk
This area was a great place to install a shelf as a desk because it would have just been an empty corner. I created storage space with easy access for my most used everyday items for shipping. I wanted enough space to snip the corners of the vintage flashcards I create and sell plus be able to package them. In order to do so I minimized the visual clutter by only using two items on the smaller side for supplies.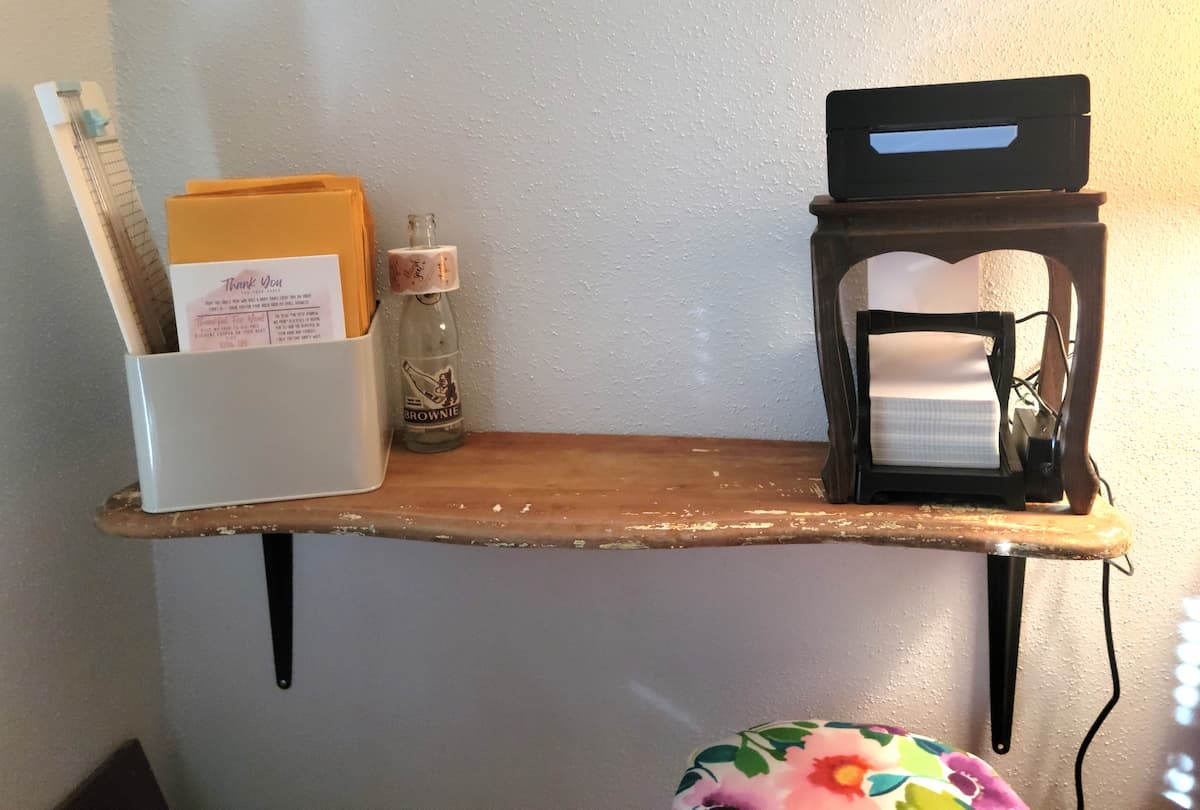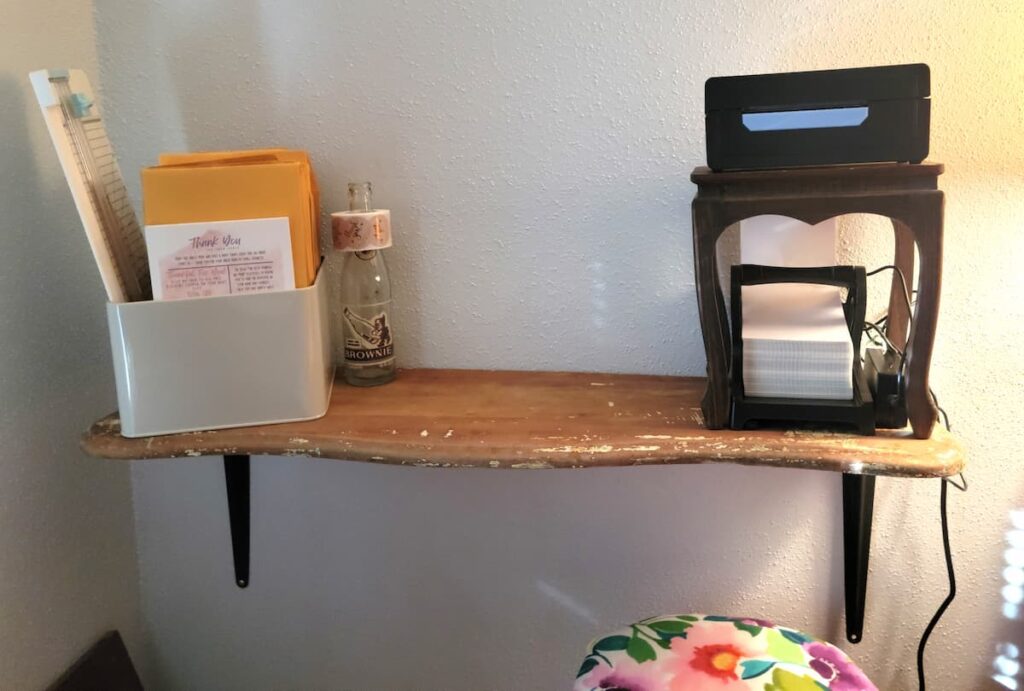 The first is a square metal container that holds envelopes, packing tape, a paper trimmer and my thank you cards. The second is an old Brownie soda bottle found in my family's barn as a sticker dispenser. Along with my label printer, these items don't take up much space and leave room to work.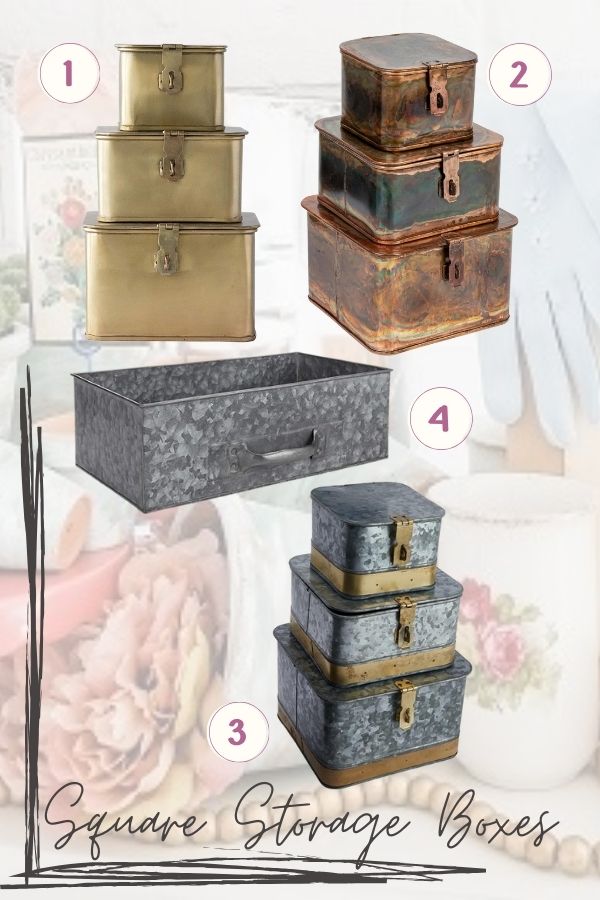 Beautiful Metal Storage, Pretty Enough For Open Storage!
The links above are Amazon affiliate links. This means that, at zero cost to you, I will earn an affiliate commission if you click through the links.
Creative Shelving For So Much Storage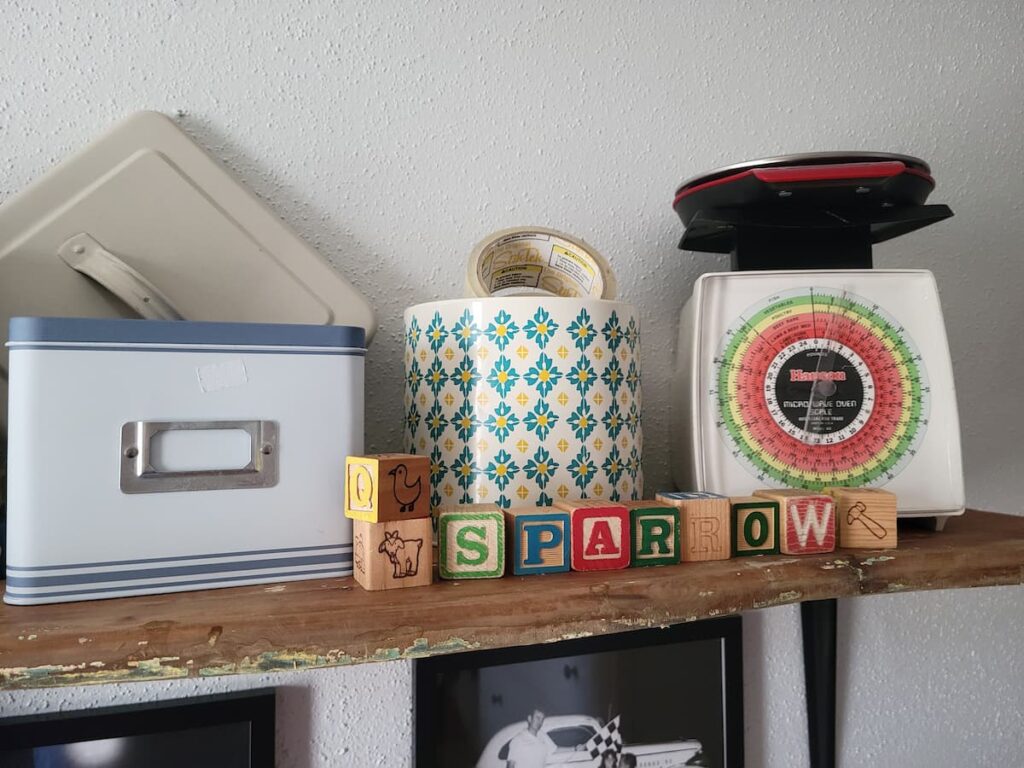 In my small house I have come up with some good storage ideas, and much of it is open storage. This shelf's storage pieces are a perfect example of organizing items in plain view in cute and practical ways. The metal recipe boxes have been the best thing I have found to store my flashcard inventory in. The scale is a vintage find and works perfectly to weigh packages for shipment. Since it's so cute and colorful I can leave it out as a decoration on a daily basis. The metal canister holds extra rolls of tape for my tape gun.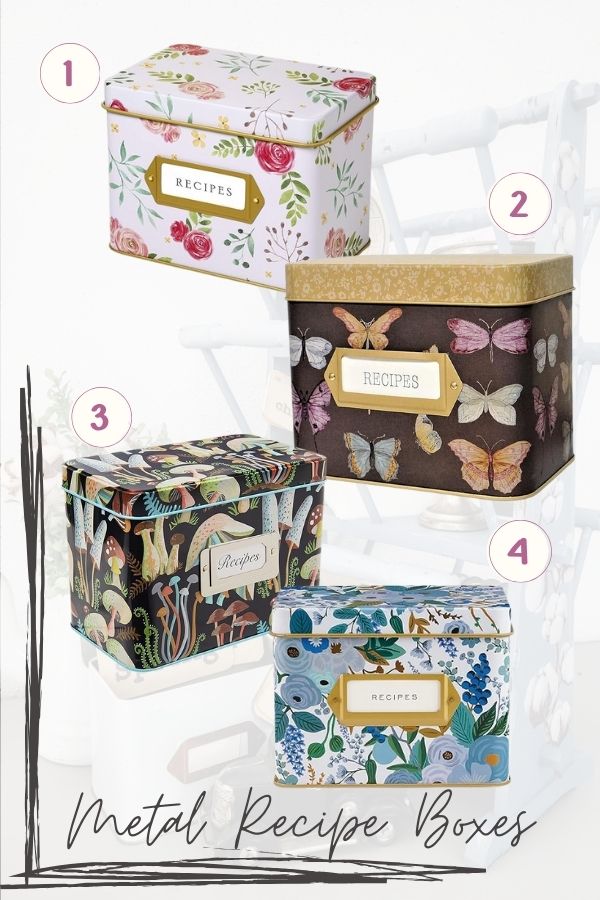 Pretty Recipe Tins – Not Just For Recipes!
The links above are Amazon affiliate links. This means that, at zero cost to you, I will earn an affiliate commission if you click through the links.
Under the shelf I hung up two of the vintage racing photos I have collected in simple picture frames.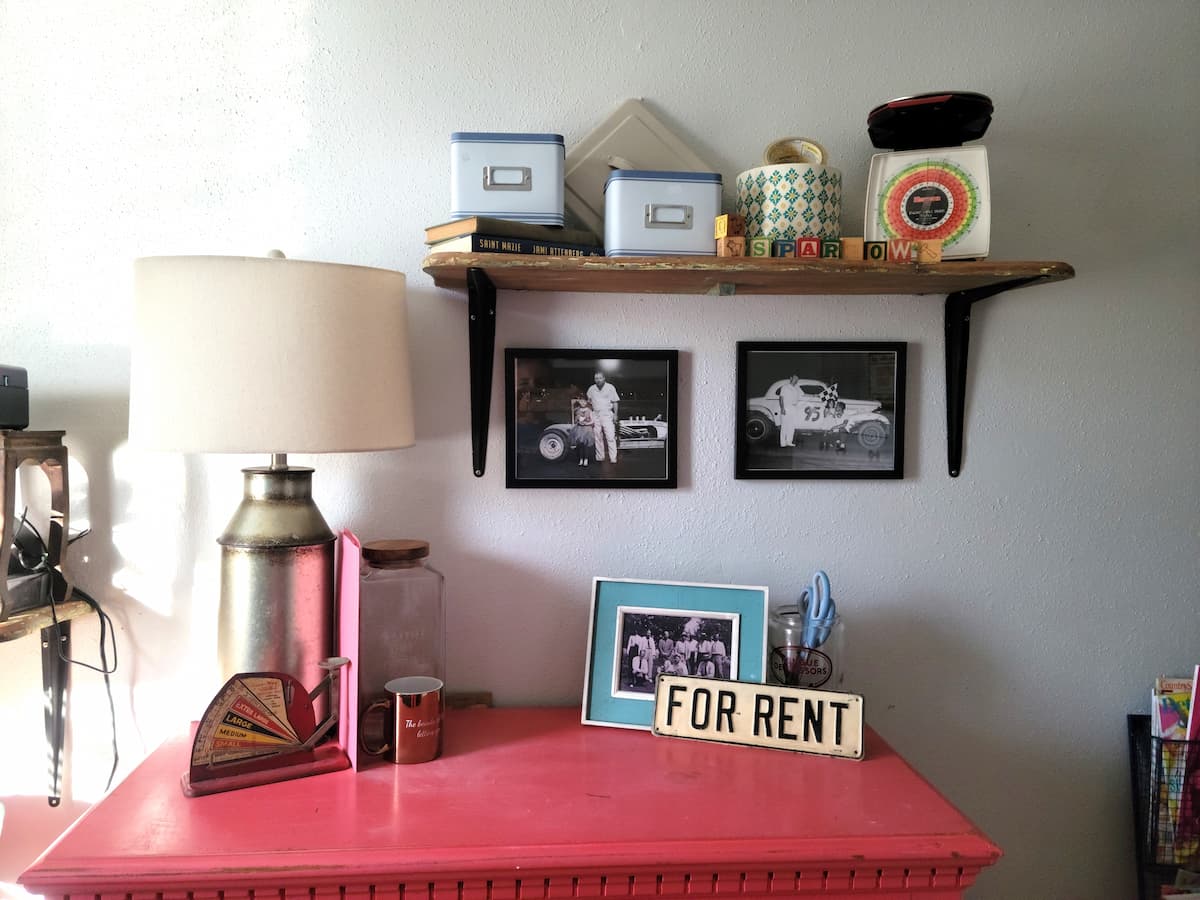 More Small Bedroom Storage Ideas That I'm Using
A Dresser For Storage, Not Just Folded Clothes
In the workspace I am using a dresser for extra space for a storage area of shop items. One of my favorite ways to store the small pieces that I use for repurposing and my ephemera kits is to use plastic bins in the drawers. This helps me keep the drawer space organized and in order to work on a project I just need to grab one of the bins.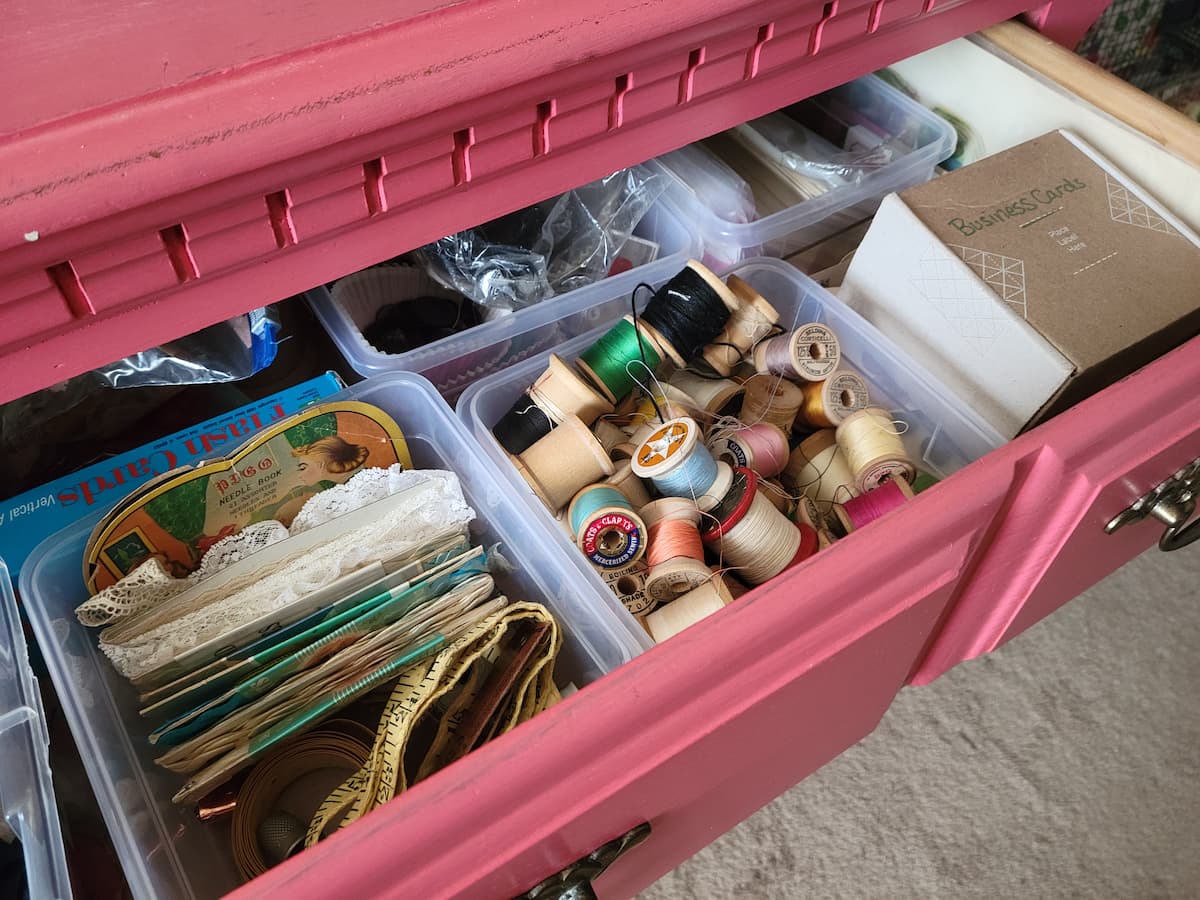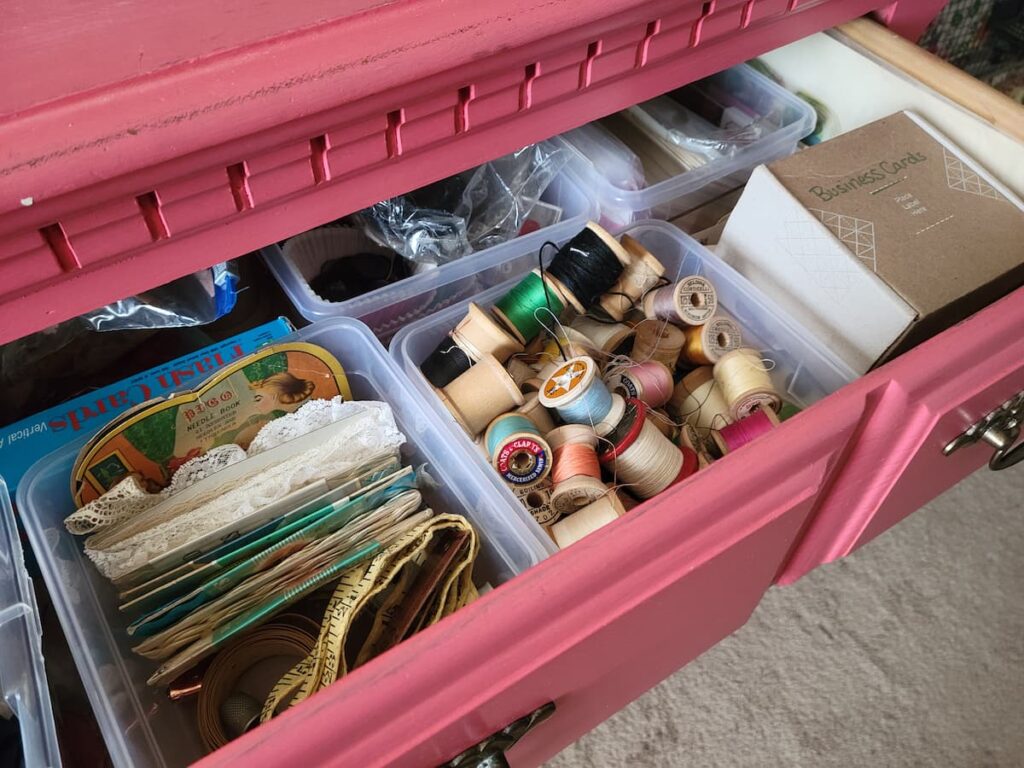 Under-Bed Storage
Under your bed is a good place for storage of out of season clothes, small items for holidays, and things like gift wrap or extra pillows or linens. Bed risers are a great addition if you need more height under your bed frame in order to have plenty of space for those storage boxes.
Underbed Storage Items You'll Need
These bed risers are also great for lifting furniture to paint on! The links above are Amazon affiliate links. This means that, at zero cost to you, I will earn an affiliate commission if you click through the links.
In The Bedroom Closet
In this tiny bedroom the large sized closet space was perfect to store all of my Christmas decorations. The bifold closet doors are barely functional and take up too much room when opened. I replaced these with a tablecloth because it was a great size for this size closet opening.
Inside the closet I placed a shelf unit to hold all of my tubs of decorations. For our needs I left the closet rod in the closet. It was the perfect place to hang coats since I am using the other small closets in our home for tools in one and scrapbooks in the other.
Before You Fly Away To Make Creative Shelving In A Small Space
Pin any of the images to Pinterest so you can make creative shelving for your home – hover over any picture to save the pin to your Pinterest account. So easy!