The Magic Potion To Make A Witches' Cauldron
What is the magic potion to make a witches' cauldron? Use your repurposing powers and flowers, ornaments, eyeballs, crystal beads and sparkle!
The Cauldron
For your cauldron you can use any black ceramic pot. I used a ceramic black planter, tureen, or vase – not sure which – from the thrift store.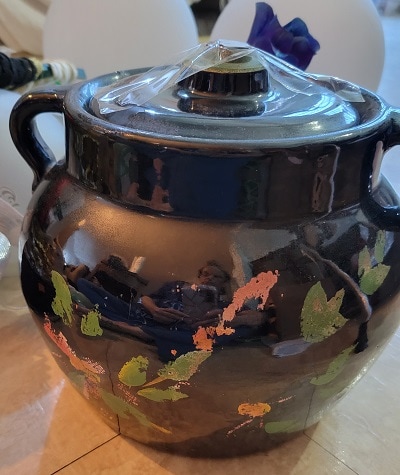 Here are a few ideas for a cauldron that I think would be fabulous!

Your Magic Potion – Supplies I Used
Put The Magic Into The Cauldron
How To Make The Culdron
1st Step
Stuff paper into the bottom of your cauldron
Run a bead of hot glue around rim of cauldron
Stick styrofoam ball onto hot glue
2nd Step
Stick skewers into styrofoam ball at varying heights
Remove the top of your ornament
Put hot glue on the tip of your skewer and slide ornament on
Hold for a few seconds until it cools
Add eyeballs to your ornaments – I did this with this project and now everything gets eyeballs!!
3rd Step
Continue to add ornaments on skewers until cackling with happiness
String beads on bead string, make sure it is long enough to "drip" down the sides of your cauldron
Tie these bubbles (bead strings) onto your skewers on the outer edge
Add in flowers to fill the gaps – if unable to poke them in the styrofoam use a skewer to make a hole.
A Witches' Cauldron Filled With Magic Potion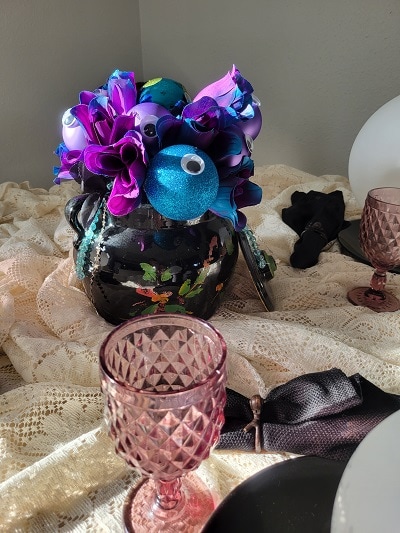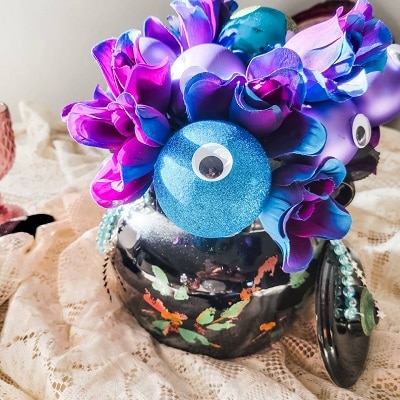 Before You Stir Up The Magic Potion To Make A Witches' Cauldron
Pin this post to Pinterest to help you remember all of the steps to make your own witches' cauldron – hover over any picture or the image below to save it to your account. So easy!