The Best Way To Decorate A Fall Tiered Tray
The best way to decorate a fall tiered tray is with these easy and fun ideas. Putting together the best fall themed tiered tray can be done by finding the perfect size, shapes, and colors. Just like walking through a pumpkin patch you have to find the right tiered tray and decor pieces. The perfect size for your space and the right seasonal decor and colors for your theme. These tips and tricks for tiered tray decor ideas will help you make a tiered tray pleasing to the eye and be fun to create.
The Best Way To Decorate A Fall Tiered Tray Is To Make Multiple Vignettes
A great way to decorate a tiered tray is to decorate the levels separately but in relation to each other. Let's walk through that!
What's A Vignette?
A vignette (in the decorating world) is a small, carefully chosen display made up of a group of objects. That grouping is displayed on a shelf, a table, or elsewhere in the home. You may be creating vignettes in your home decor and not even realize it!
Make The Levels Of Your Tiered Tray WORK TOGEther
You can make your tiered tray pleasing to the eye by repeating colors and textures throughout. A perfect way to do this is by placing a color in a zig zag pattern on the tray. For example, use the color brown in an amber bottle on the right side of the top tier. Then add pine cones on the left of the middle tier and a brown book on the bottom tray on the right. Let's take a closer look at this on different tiered trays.
The Best Way To Decorate A Fall Tiered Tray Is With Repeating Colors
Pumpkin Spice and Amber Tiered Tray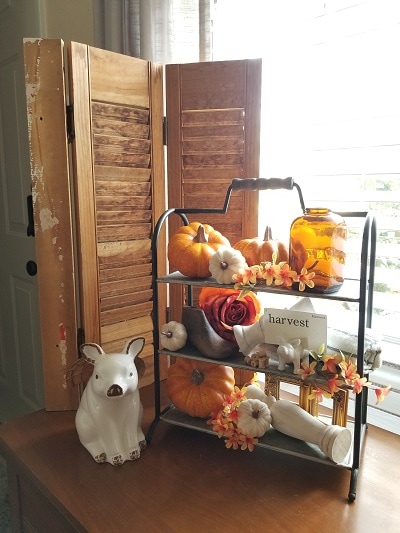 In this tiered tray for the fall season the colors white, brown and orange are repeated throughout the tiered tray in vignettes. To scatter the color white in a zig zag pattern through the tiered tray I used small white pumpkins, candlesticks and a pig place card holder with a Fall and Autumn Fun Flashcard. The orange pumpkins and flowers are on each tray and the color brown in the amber bottle as well as the shoe and mini frames also help the eye move throughout and make it pleasing to look at.
The Fall and Autumn Fun Vintage Inspired Flashcards include the words: fall, pumpkin, pie, autumn, leaf, harvest, hayride, scarecrow, thankful, sunflower, and owl.
A BOOtiful Tray For Your Halloween Decor
This monster themed tiered tray makes for one adorable fall tray. The best part is you can make these monstrous little cuties from craft supplies and Christmas ornaments with the whole family.
The colors teal, black and white through the tray to keep everything happy and cohesive. Fun additions to the tiered tray include:
Black and White
My favorite addition to the tiered tray is the candy bucket using the flashcards from Twigs & Fluff. I used the Hocus Pocus set and the Summer at the Shore set.
A black and white bingo card
Black bead garland created from necklaces from the dollar store's party aisle. You can also create this wood bead garland from this toy for your monster tray!
Vintage yarn and thread spools in black
Teal
Clearance wood letters from Hobby Lobby spelling BOO
Monsters and a teal velvet decorative mini pumpkin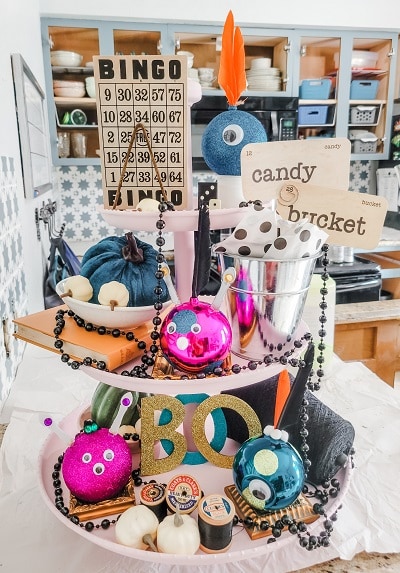 The Hocus Pocus Halloween Vintage Inspired Flash Cards includes the words: black cat, witch, spooky, trick or treat, Halloween, boo, bat, spider, costume, candy, and ghost.
Choose A Theme and Color Scheme To To Decorate A Fall Tiered Tray
Pumpkins and Pastel Seasonal Vibes
This tiered tray served as a table centerpiece in our dining room. The theme for the fall decorations on this farmhouse style tray were pastels and pumpkins. The small berry sprigs are a great addition to sprinkle the color pink through the fall tray. I bought these on spring clearance and use them year round in fall decorating and Christmas too. That's one of the reasons I shop year round for my holiday décor because you never know when you'll find decor that will add a seasonal touch to your home! Small wooden crates from the dollar tree are used to lift items and create height. Pastel fall decorations like minty green pumpkins and small white velvet pumpkins are perfect for this tray.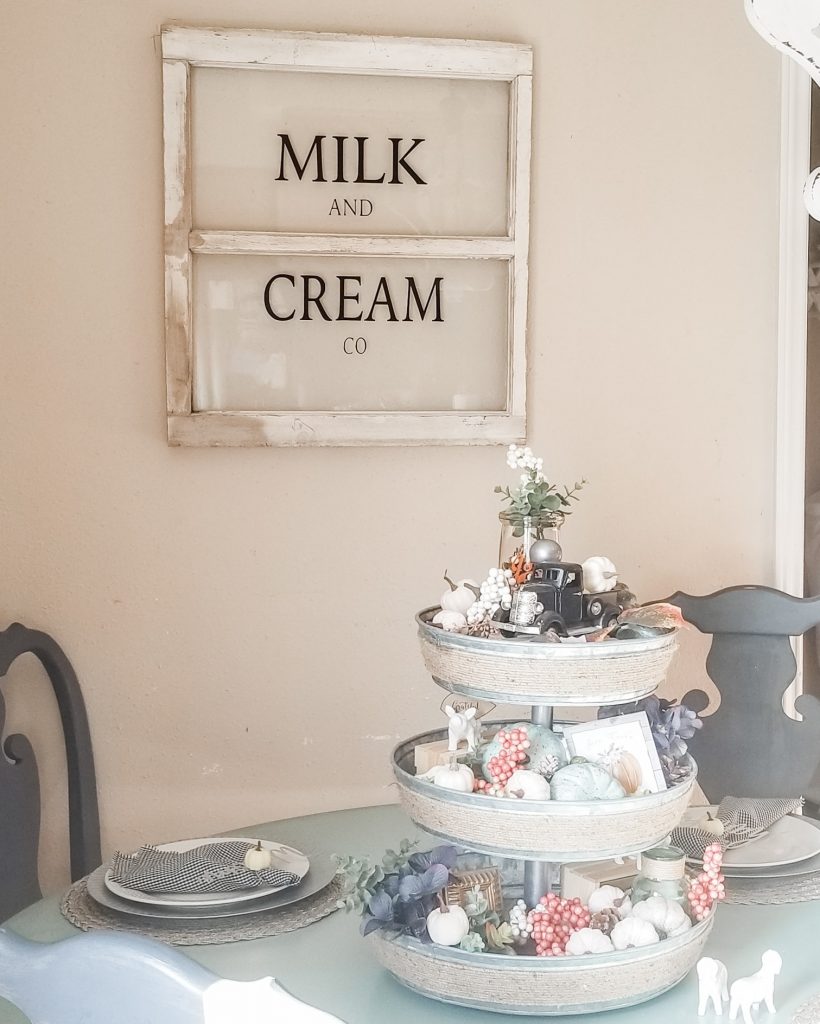 Fall In Love With Apples
Fall decorating is not just pumpkin decor. A happy fall is leaves changing colors, chrysanthemums, fall festivals, apples and more.
For an apple themed tier tray you can choose a specific theme or do an "all the things" apple theme! Here are some ideas for apple themes –
Apples in The Kitchen – baking supplies, kitchen decor like tea towels and measuring cups, fall signs that look like recipe cards, and apples of course!
Picking Apples / Apple Orchard – use bushel baskets, a toy tractor, small signs that read pick your own apples, and apples of course!
School Theme with Apples – a stack of books, vintage school photos, teacher bell, chalkboards, and apples of course!
Fall is my favorite time of year and I can guarantee you apple cider has filled many coffee cups in the chilly weather we get in Texas. To celebrate that love I chose apples to be part of my fall decorations last year. I decorated my pink tiered tray on my kitchen counter with a sweet vintage apple theme.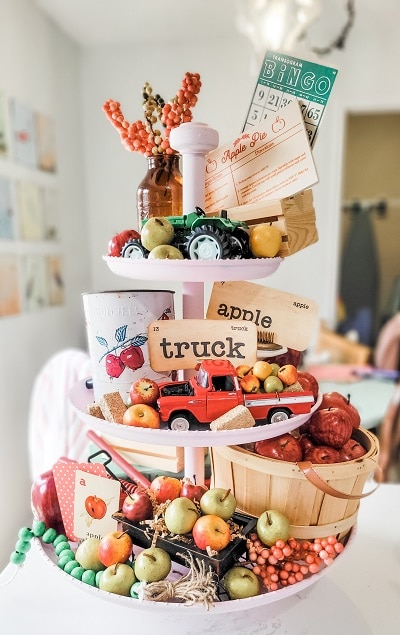 A wagon and bushel basket are filled with apples on the bottom tier.
On the middle tray flashcards act as mini signs and read apple truck. An old sifter completes the larger pieces on this tier and apples fill in the empty space.
The top tray holds a toy tractor along with a wood cutout recipe card, bingo card and an amber bottle.
Each of these pieces was a great find at local thrift stores.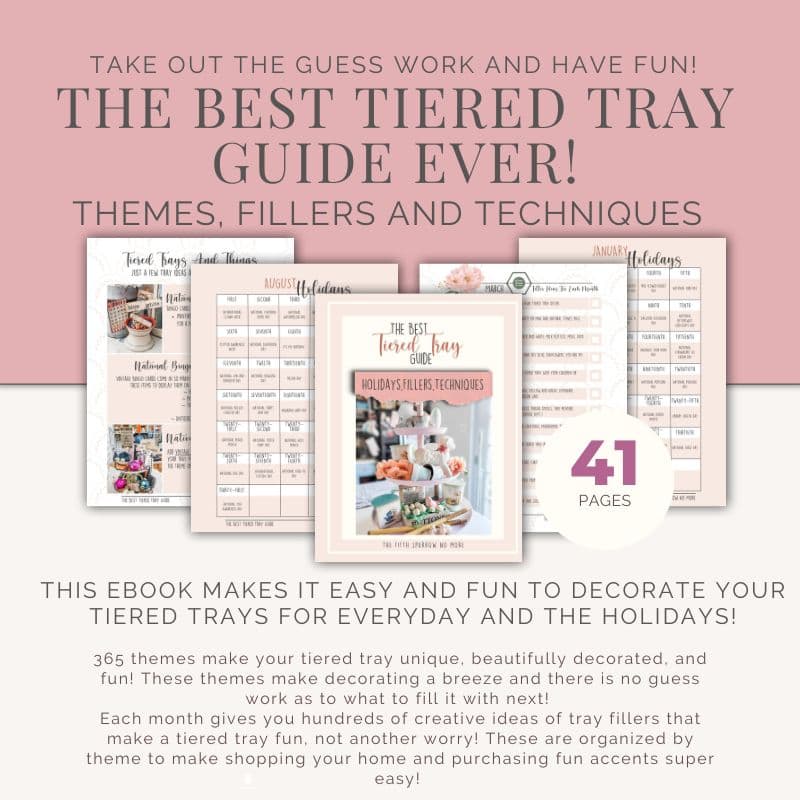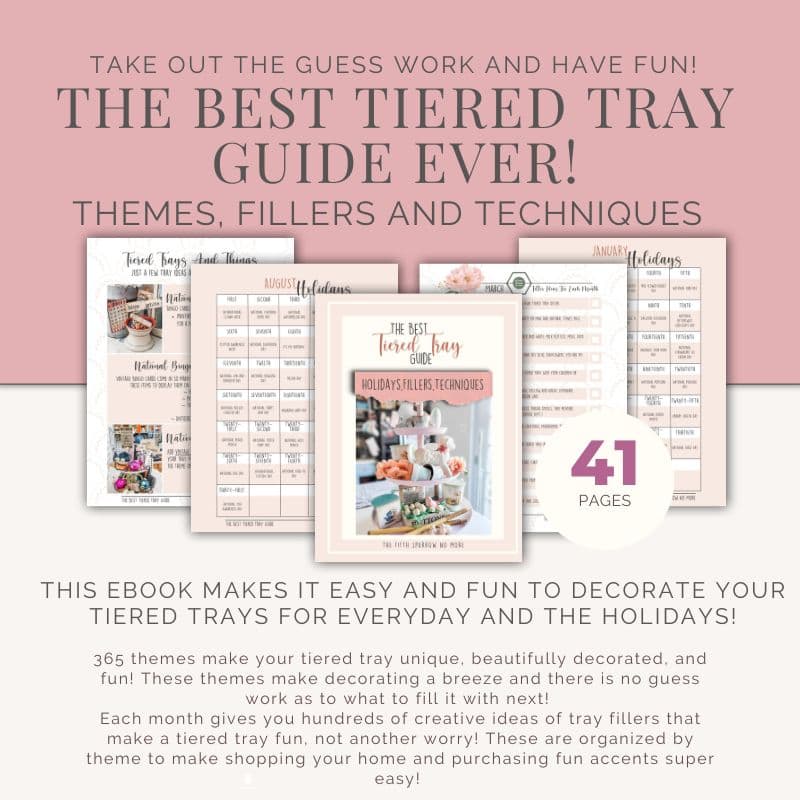 Get The Best Tiered Tray Guide
The best guide ever – 365 tiered tray themes, hundreds of filler ideas, and pictures to share placement techniques, DIYs and more.
Items To Look For To Decorate A Fall Tiered Tray
One of my favorite ways to give my tiered trays a whole new look is with a thrift shopping trip. I look for these items to keep on hand to style my tiered trays –
small wooden signs – Hobby Lobby has a great selection of fall signs (or signs with sayings for any holiday decor) and check out this post on how to make your own
cupcake stands – I have linked up some cute ones I like in Feather Your Nest
small floral sprays to make flower arrangements for your trays
small objects that fit your home décor (I'm always on the lookout for birds, farm animals, and country décor)
small to medium jars, vases, pitchers and bottles
small boxes and books
Vintage Flashcards – the ones in Twigs & Fluff are perfect
Get your copy of The Thrift Store Shopping Guide, includes my go-to list for tiered trays.
How Is The Best Way To Decorate A Fall Tiered Tray Without A Tiered Tray?
Stack cake stands to create a faux tiered tray! My favorite tiered trays are listed below as well as in Feather Your Nest. This list on Feather Your Nest includes trays where the base unscrews for easy storage – can I get a hallelujah from the back?! Another great idea for easy storage is to install shelves high up in a closet or storage space. Place your trays on these shelves to keep them accessible but not at eye level where you want to hang clothes or keep items you access on a daily basis.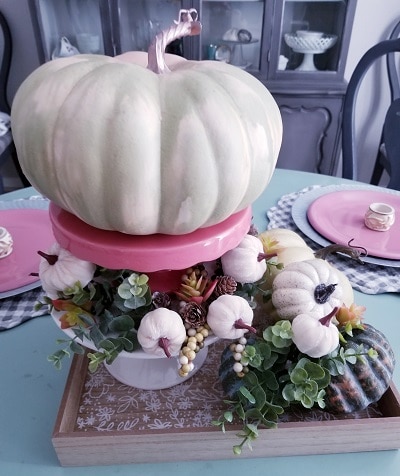 Back to this pair of cake stands that are stacked to create a two tier tray. Sprigs of eucalyptus, succulents and pinecones created a beautiful fall display for this tiered tray. I placed a large pumpkin on top and small arrangements of the eucalyptus sprigs, succulents and pinecones on the bottom tray (cake stand). The cake stand stack sits on a tray where more foam pumpkins are arranged with eucalyptus sprigs and succulents.
Another idea for a fall centerpiece can be found here and see how I am painting all my pumpkin stems here.
Rectangle Tiered Trays To Feather Your Nest
The Fifth Sparrow No More is a participant in the Amazon Services LLC Associates Program, an affiliate advertising program designed to provide a means for sites to earn advertising fees by advertising and linking to Amazon.com.
Round Tiered Trays
The Fifth Sparrow No More is a participant in the Amazon Services LLC Associates Program, an affiliate advertising program designed to provide a means for sites to earn advertising fees by advertising and linking to Amazon.com.
Before You Fly Away To Use The Best Ways To Decorate A Fall Tiered Tray
Pin any of the images to Pinterest so you can decorate a fall tiered tray – hover over any picture to save the pin to your Pinterest account. So easy!