Repurpose A Wooden Hanger To Create A Unique Box Handle
I cannot wait to show you how to repurpose a wooden hanger to create a unique box handle. This project was incredible simple and takes a decorative or organizational box up a seriously cute and unique notch.
What You'll Need To Create Your Wooden Hanger Handle On Your Box
You will, of course, need a wooden hanger and a box. Remember you can trim the end of the hanger to fit your box but you cannot make them grow! So plan accordingly when thrifting your finds.
I used a wood hanger found at an estate sale, I used the other wood hangers purchased on a ribbon and award wall for my daughter. They are being used as fun photo flips of her goat shows!
I used this wooden box that was free to me. I think it might have been for wine? The lid was "fifth sparrow-d no more" into a wooden tag at Christmas. And because we see value in everything around I saved the box for the perfect project!
Just a few more supplies I used
Steps To Repurpose A Wooden Hanger Into A Handle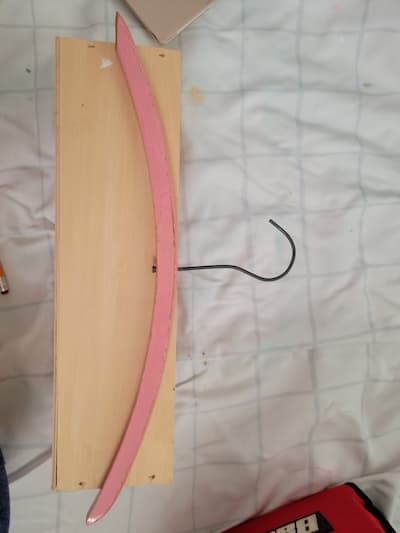 Measure Hanger
I laid the hanger on the box and marked where the end of the box was. I subtracted the width of the box sides and made a mark. This is where I cut it in the next step.
Cut Hanger
I used a miter box for my cuts but use what cutting device is available to you with the proper safety. I placed my hanger in the miter box and cut on the marks I made in the previous step.
Sand Ends of Hanger
After cutting your hanger it might need to be sanded to get a snug fit.
The Box Gets Some Paint and Transfers
Paint the wooden box with your choice paint.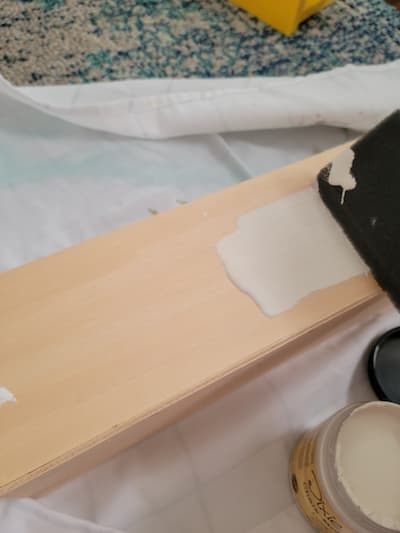 Decide which transfer to use and with the backing still on cut around the piece(s) you will use on your project.
Using the stick included with the transfer, remove the backing and rub on the box.
Attach The Wooden Hanger To Create A Unique Box Handle
Place your hanger in the box and drill pilot holes through the box into the hanger. Then screw the box and hanger together.
The Finished Project When You Repurpose A Wooden Hanger To Create A Unique Box Handle
This project was so easy and came together so easily, I can see myself making more of these boxes!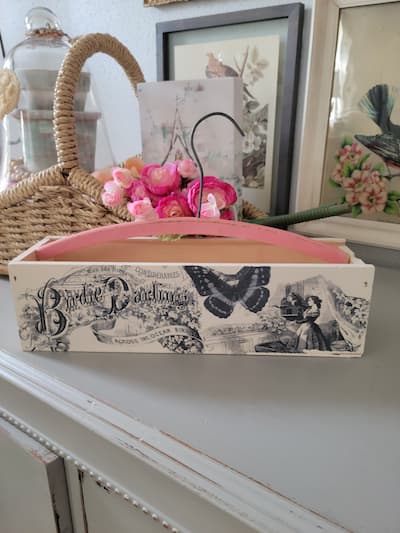 My IBC Friends And Their Projects
I have joined the International Bloggers Club (IBC)! The IBC is a group from all over the world who challenge each other every month to make something using a common theme. This month's theme is Hang Her Up. Obviously my brain is tired because I saw hanger, not hang her! 😉
Below you'll find my friends' amazing ideas on hanging art pieces!
Unique Creations By Anita – She created a piece of wall art that stands out, literally!
Birdz of A Feather – This isn't hot air, Sara's plant display is t"air"bly wonderful!
Tea and Forget Me Nots – You need to make time for this project!
A Crafty Mix – it crossed my mind that this projects looks like the work we saw in galleries in Oklahoma!
A Fifth Sparrow No More (That's Me!) – Hanger not hang her! I repurposed a wooden hanger to create a unique box handle.
Before You Fly Away To Repurpose A Wooden Hanger To Create A Unique Box Handle
Pin any of the images to Pinterest so you can "fifth sparrow no more" a hanger and a wooden box – hover over any picture to save the pin to your Pinterest account. So easy!