Guest Bedroom Makeover Plans For The One Room Challenge
These are the guest bedroom makeover plans for the One Room Challenge for the fall of 2023. I want this entire room to be a special place for my Dad when he comes to visit. I honestly would not be where I am without him. He and my mama have loved us well this past couple of years.
What Is The One Room Challenge?

The One Room Challenge is a biannual design event where participants are tasked with making over a space in eight weeks.
The home decor designers participating are making over everything from a powder room to a living room, a dining room to a family room and everything in between in this One Room Challenge. It is a good idea to head over – there is so much inspiration!
I have made over my master bedroom with home office for this challenge the last time I participated. And now I am working on the next room – my guest room.
Guest Room Makeover – The Plan
I am going to call this blog post the preview attraction! I shared the mood board for the guest room makeover this past week. That post walked you through my thought process of decorating a small guest bedroom.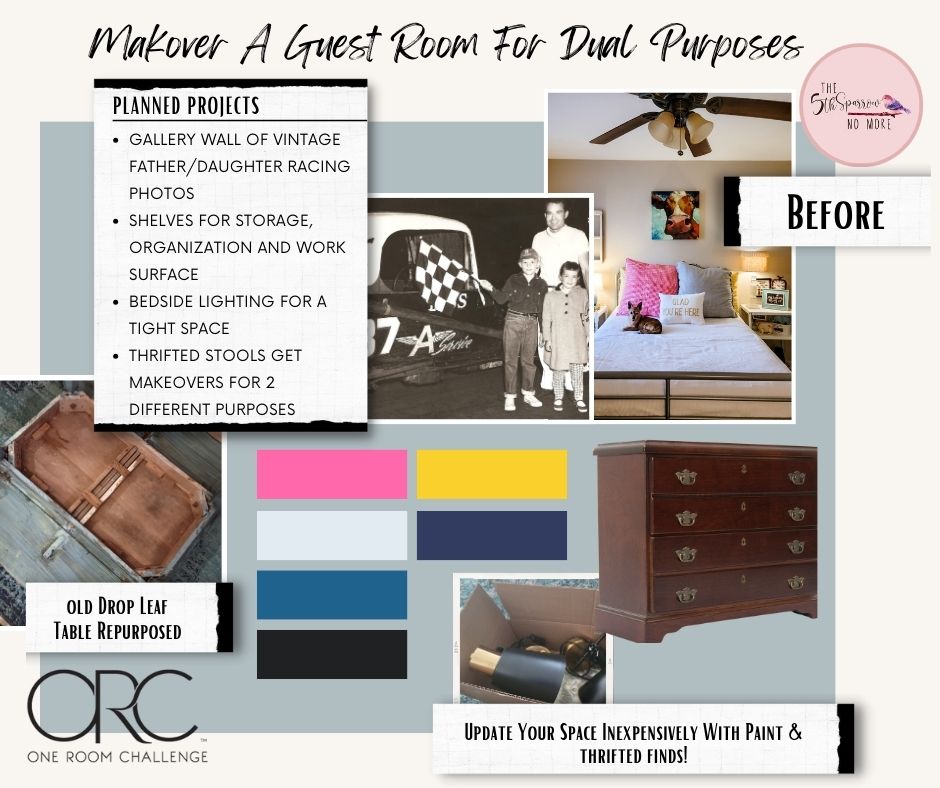 This week I want to share my guest bedroom ideas and the plans to make each of those happen. I cannot wait for y'all to see the end result!
The Color Palette For The Guest Room Makeover Plan
The colors I am using in the room are pink, the paint color for the walls Site White, a mid range blue, navy blue, black and yellow.
The cozy bedding for the queen bed is a navy blue set that I got a great deal on. Total cost was free! It had never been used at its previous home. Their older son didn't like it and in the donation pile it went. I picked it up at a local single mom's closet event that they had donated it to. It would be perfect in this room. The one large window in the room will have have curtains with white and navy blue stripes.
The walls will get a fresh coat of paint. The Site White walls are a great way to help this small room feel bigger. The paint has a blue undertone to it. It's the perfect shade to make the room feel brighter and relaxing at the same time.
You can see in this picture what we started with. The walls were an odd shade of dark beige. Not a good look, trust me!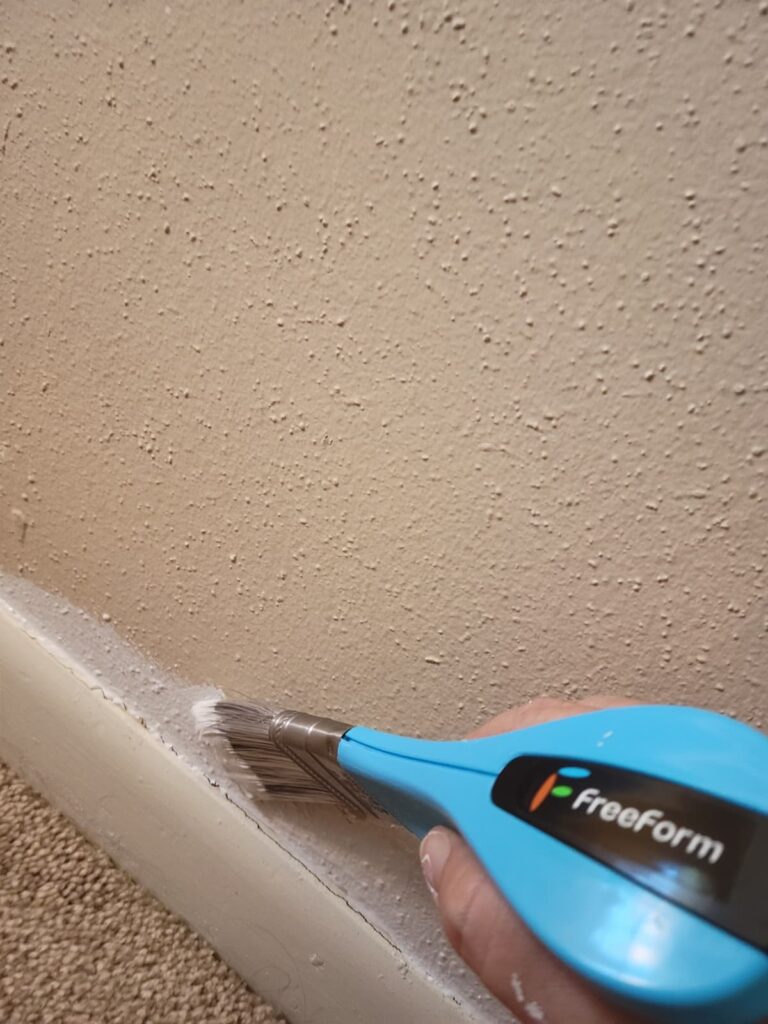 One side of the room will be a mini workspace with an Etsy shipping station and a pricing and packaging station for my antique booth. The other half is a proper guest room. In the workspace area I am using a dresser painted pink. It will house packing materials, pieces for my ephemera kits, and small items that will go in the booth in the right season.
The mid range blue, yellow and black are accent colors. These colors will be in artwork, throw pillows (or are they called accent pillows, what is the difference between the two?), curtain rods, lighting and the tablecloth turned curtain for the closet doors. The closet space is filled with Christmas decor and needs to be hidden away. The bifold doors were ugly and took up too much room in the small space when opened. Curtain to the rescue.
Projects In The Design Plans For The Guest Bedroom Makeover
Lighting
A new smaller ceiling fan from Home Depot, which is the proper size for the room, will replace the big ugly brown one.
Sconces will be used on either side of the bed. There was little room for a lamp on the nightstand on one side and no room for one the other. These sconces were purchased at a garage sale and will be painted before going in the room.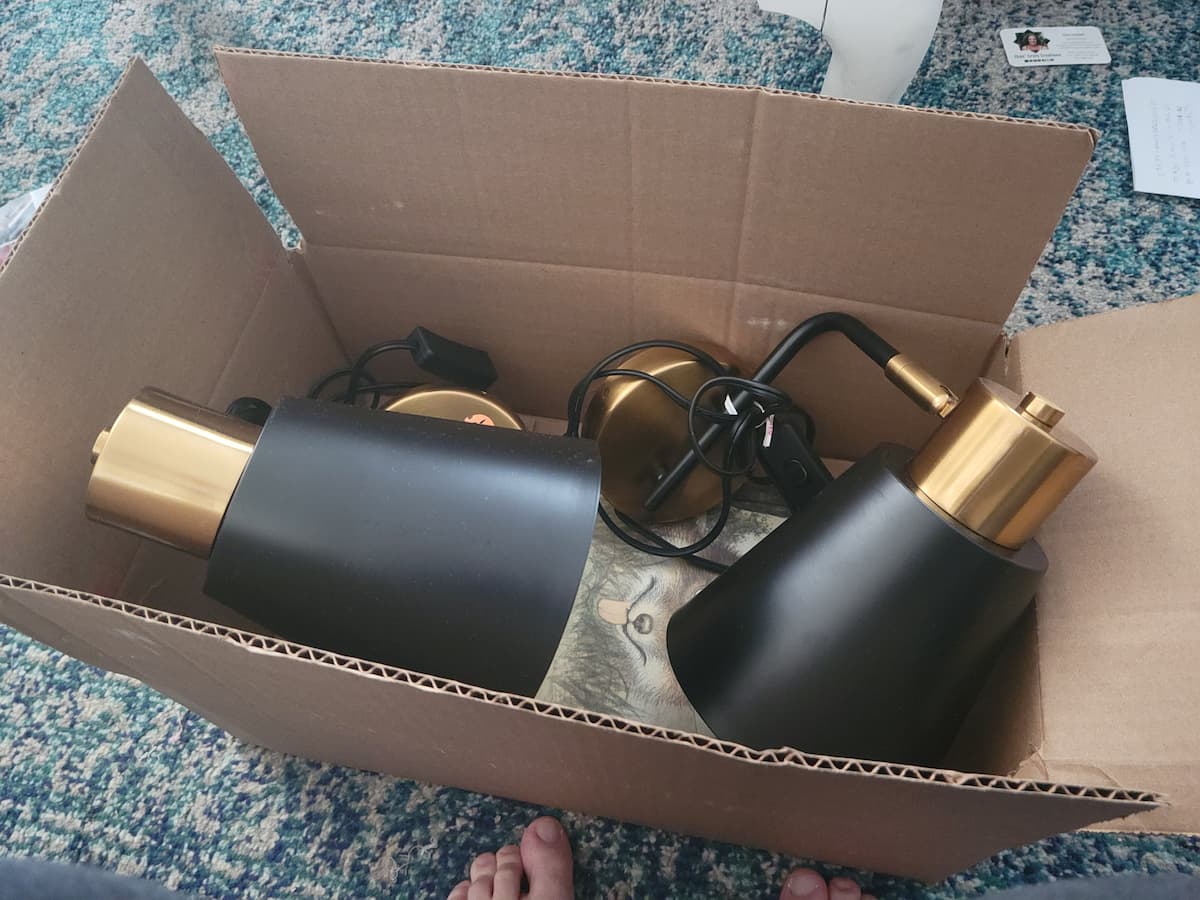 You Can Find These Sconces On Amazon
The links above are affiliate links. This means that, at zero cost to you, I will earn an affiliate commission if you click through the links.
Night Stand Project
The first thing I did when starting this makeover was to rearrange the existing furniture to add in pieces for my workspace. When I moved the bedframe to its new wall it left just enough room on the sides of the bed for small nightstands. For this project I will use a stool and a wooden game board to create a bedside table that fits just right.
For The Workspace
I will use a thrift shop found drop leaf table to create wall shelves for the area. Full disclosure, I wanted to light the table on fire a few times throughout this project. But I persevered because I knew they would be a great addition to the room.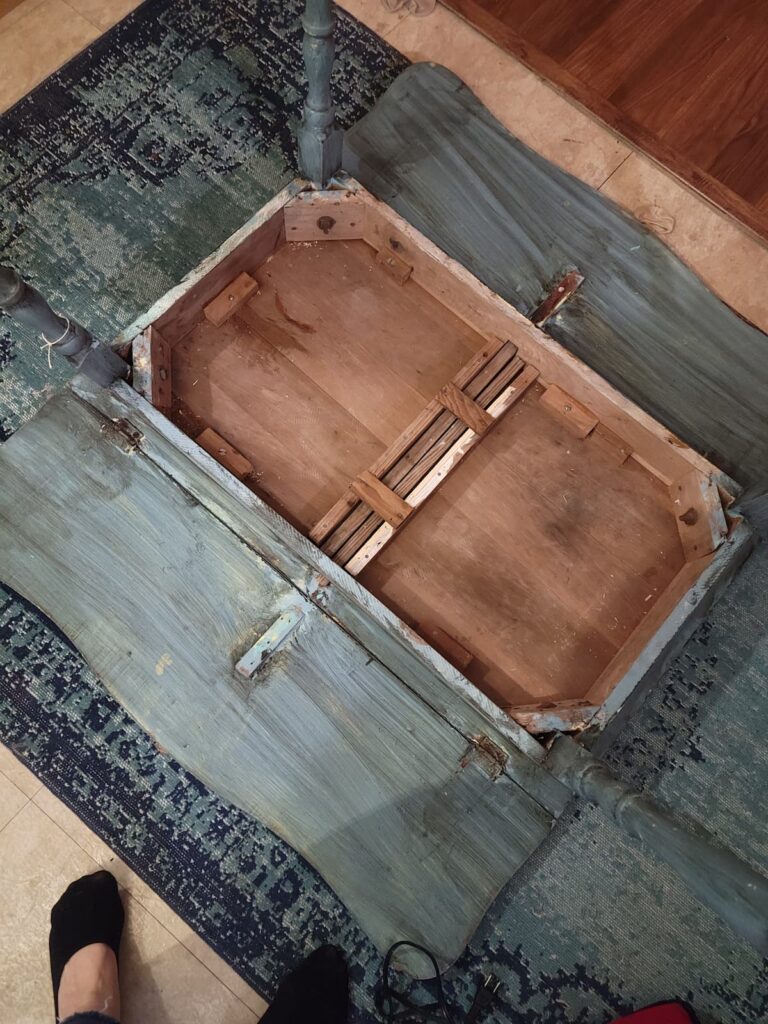 My Own Personal Touch To The Guest Bedroom Makeover Plans For The One Room Challenge
This is a spare room for house guests, yes, but ultimately it is for my Dad. He is my most frequent guest and I wanted to give it a vintage car room feel because his favorite thing to do is work with old cars.
The different ways I am incorporating this into the room is by using vintage car artwork, photos and toys throughout the room. A gallery wall will be created from old black and white photos of racing daddies with their little girl. This post shows you the easy way I hang pictures for a gallery wall.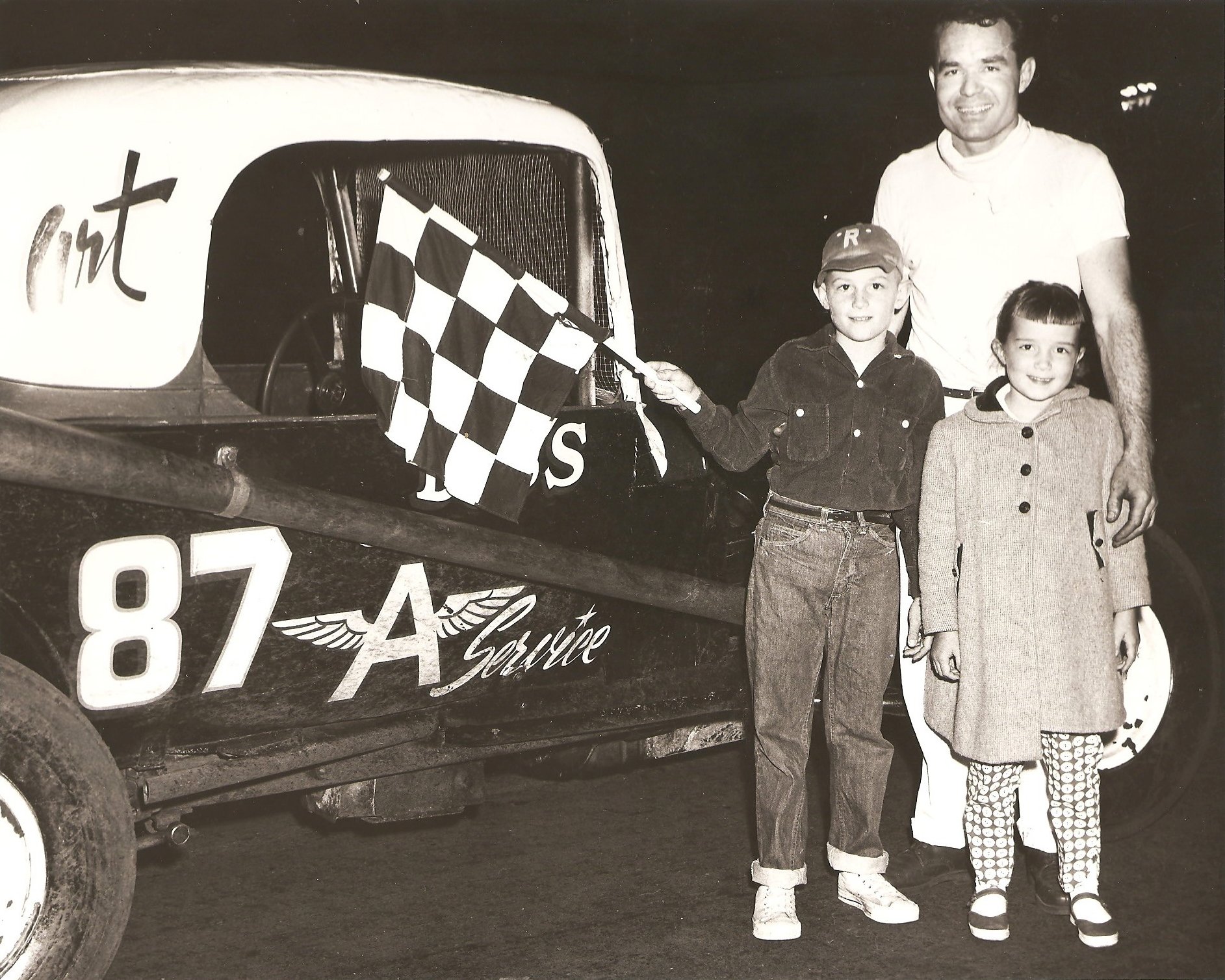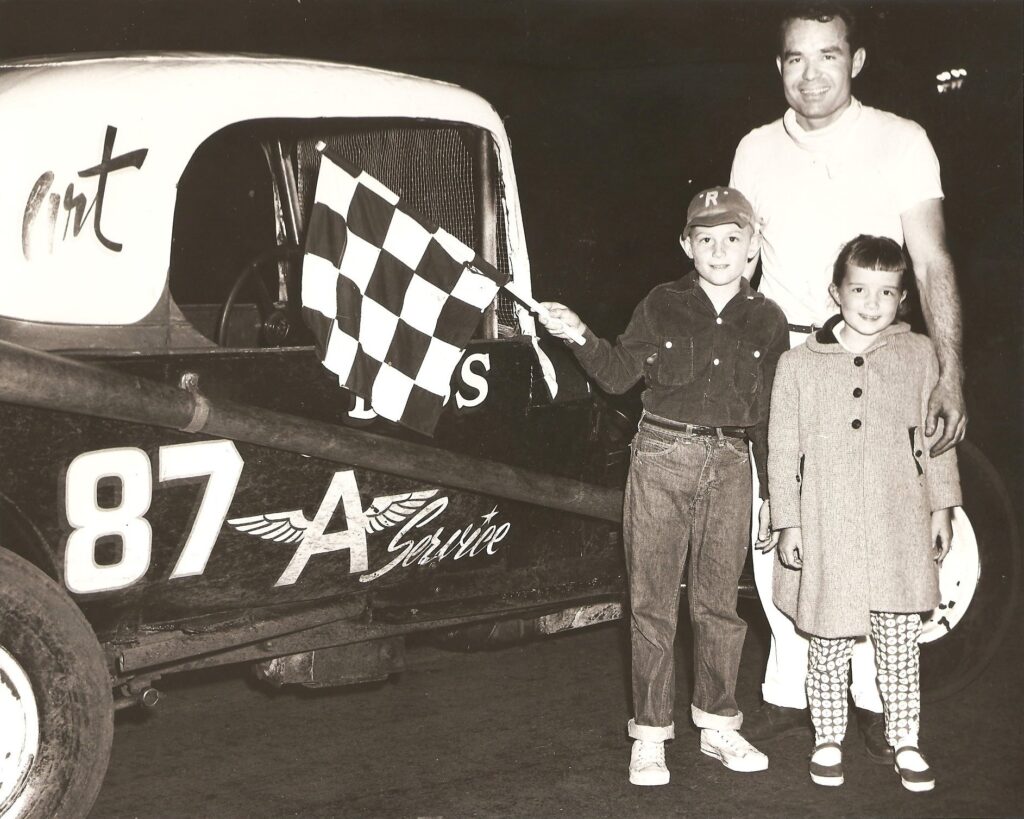 I am also making a fun round sign that reads "Today I Will Be Happier Than A Bird With A French Fry" for my work space. I am hoping it will inspire my guests to have a great day and be happier than they can imagine!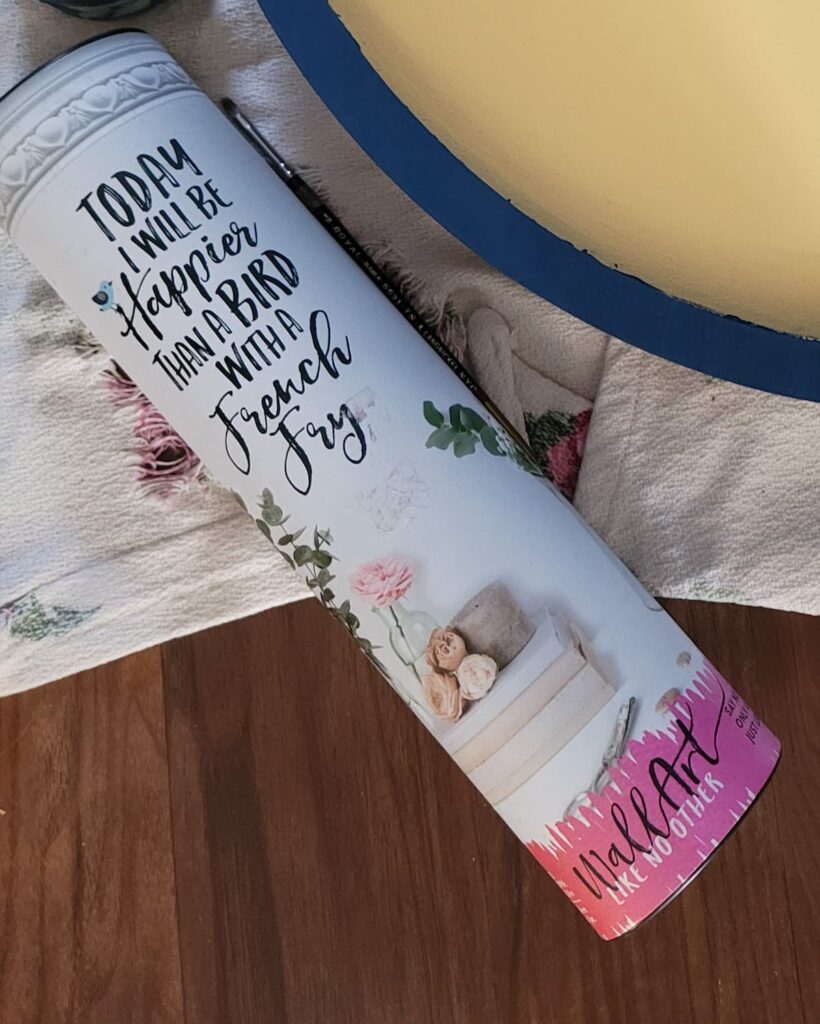 Before You Fly Away, Pin These Guest Bedroom Makeover Plans For The One Room Challenge So You Can Follow Along
Pin any of the images to Pinterest so you can follow along with this guest room makeover – hover over any picture to save the pin to your Pinterest account. So easy!