Pawhuska Oklahoma Is One Visit We Will Remember For So Many Reasons
Our pioneer road trip through Oklahoma continues (see Ponca City here and Bartlesville here) with THE Pioneer Woman visit of a lifetime in Pawhuska. Our trip to Pawhuska, Oklahoma is one visit we will remember for so many reasons! Not only because I am a big fan of Ree Drummond and we had a good time seeing all the Pioneer Woman places but because the small town and surrounding area is a beautiful place full of rich history.
Pawhuska was established in 1872 and is the heart of Osage County. The town was named after the Osage chief Paw-Hiu-Skah, which means "White Hair". It's an excellent place to learn about Osage history, hear cowboy tales (you can decide if they are tall), and see the breathtaking views of nature that surround Pawhuska.
Pawhuska, Oklahoma Is One Visit We Will Remember For So Many Reasons
Reason We Will Remember #1 Pioneer Woman Mercantile in Pawhuska
We started our day bright and early. Amory and I drove into historic downtown Pawhuska to have breakfast at the famous Pioneer Woman Mercantile. The Cowboy Coffee had us feeling colors and the food was yummy! We devoured the biscuits and jam before I remembered y'all might want to see a picture.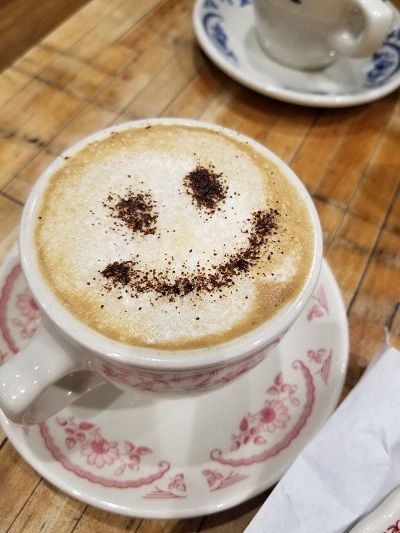 The historic building that houses this bakery and coffee shop, restaurant and general store was built in 1903. The Merc is full of unique items that just "make Ree smile". We couldn't resist purchasing goat plates because, well goats, and they make us smile too! See those goat plates here on this table – we love them!
I also had to get the "old school swear words" pens, pencils and planners. For this girl, who says Ships and Gravy as a swear word, these were perfect!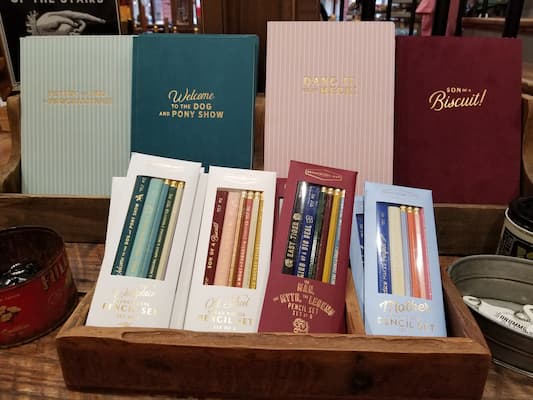 Reason We Will Remember #2 The Pioneer Woman Lodge in Pawhuska, Oklahoma
Visiting The Lodge and taking the tour was one of the top things on our list. I mean who does not want to see where Ree Drummond films her Food Network show The Pioneer Woman? Details about lodge tours are in my guide linked at the bottom of the post!
We received directions from our waitress that was our ticket to the LODGE. After following directions that included "turn at this stop sign but a cow might have knocked it over but it's the last road on the left" (she writes directions like I do!), we arrived. The Lodge is set high on a hill overlooking the Drummond Ranch and if it hadn't been an awful dreary day we could have seen for miles.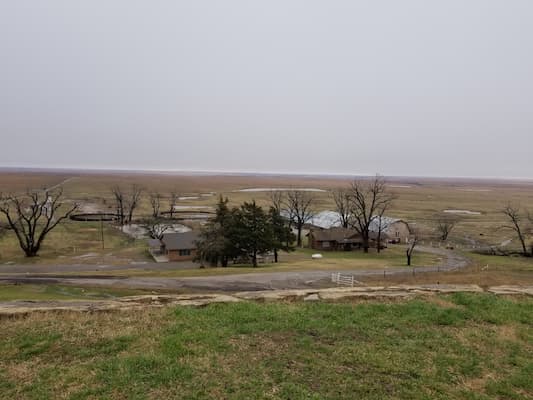 A special thanks to the lodge hostess for answering our gazillion and 2 questions, heehee.
In the lodge the guest rooms were filled with Ree's new clothing line from Walmart for their photo shoot. I honestly don't know if we were supposed to give ourselves a sneak peek! But we did!
And oh my goodness all of the Pioneer Woman dishes, they were shelves and shelves of them. I would love to have all of those at my disposal.
And sure enough, Ree does leave plastic snakes all over to scare Ladd. The snakes were even in the ice cream drawer!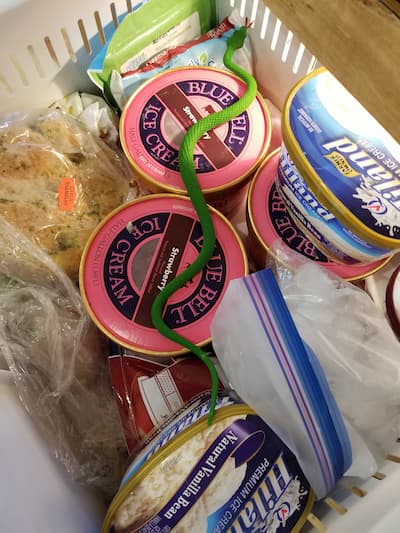 After touching ALL THE THINGS, leaving a note in the spice drawer for Ree (thanks for keeping it spicy!) we piled back into the car to drive Main Street back into town to look through the shops.
Reason We Will Remember #3 Shopping in Downtown Pawhuska
The downtown buildings in historic Pawhuska were filled with yummy restaurants (more on that below) and shops galore.
If you did not get your fill of Pioneer Woman in The Mercantile you must visit The Pioneer Woman Collection on Kihekah Avenue. It is located very close to The Boarding House, Ree and Ladd's boutique cowboy hotel. This one-stop shop for all things Pioneer Woman is a great place to stock up on PW dishes for your dining room, Ree's clothing line, and kitchen wares from potholders to mixers.
The Buckin' Flamingo is a gift shop full of metal yard art, a huge collection of turquoise jewelry, pottery and artwork made by Native Americans.
Sisters Attic had many vendors who offered vintage goods, locally made salsas, rubs and marinades, and clothing.
Reason We Will Remember #4 Restaurants in Downtown Pawhuska
There are many yummy options to eat at when you've shopped until you've dropped and need to recharge for exploring more of the best things Pawhuska has to offer which are its history, outdoor activities and buffalo.
P-Town Pizza – delicious salads, pizzas and desserts
Charlie's Sweet Shop – located just downstairs from P-Town Pizza, you can get ice cream, candy and other sweet treats to satisfy the sweet tooth
The Mercantile – open from 7 am to 7 pm offers Ree approved breakfast, lunch and dinner. The seating capacity is limited, plan ahead to make sure you get a table.
The Bakery, located upstairs in the Merc, offers everything from cookies to pie. Make sure to get a coffee to enjoy with it!
Reason We Will Remember #5 History in Downtown Pawhuska
Ben Johnson Cowboy Museum
Pawhuska is home to the world's best cowboys and cowgirls. You must visit the Ben Johnson Cowboy Museum to see for yourself. Pawhuska is the birthplace and home of Ben "Son" Johnson, the World's Greatest Cowboy. He is the only man to have ever won an Academy Award and a Rodeo World Championship. The museum is dedicated to not only him but other equine sport world champions and has exhibits on western life.
The Immaculate Conception Church
The Immaculate Conception Catholic Church is known for its unusual stained glass windows. They were designed by the Bavarian Art Glass Company of Munich. These were placed in the church by special permission of the pope. The windows show Columbus arriving in the New World and being met by Indians. The other shows the arrival of Father Shoemaker to meet the Osage tribe in Kansas, before the tribe was moved to the Indian Territory (now Oklahoma). Tours of The Immaculate Conception Church can be arranged through the church at 2 pm on Thursdays and Fridays.
Osage Nation Museum
Osage Nation Museum is the oldest tribally-owned museum in the United States. The museum shares the story of the Osage people with historical artifacts, art, photographs and objects. It has exhibits that differ throughout the year along with a permanent exhibit. The Osage Tribal Museum opened in 1938 with the permanent collection of John L. Bird, a trader who began collecting Osage material around 1883. This collection has expanded throughout the years.
Constantine Theater
Pawhuska's Constantine Theater is listed on the National Register of Historic Places. The building first functioned as The Hotel Pawhuska in the 1880s. In 1911, C.C. Constantine transformed the site into a premier opera house, remodeling the stage in Greek Revival Style. It was refurbished in 1986, and is one of the best places in town to see live music, plays, classic films, musicals and comedians.
Osage County Historical Society Museum
The Osage County Historical Society Museum, located in the historic Santa Fe Railroad depot, offers more details of this area's culture and history. We also visited the Pioneer Woman Museum and the Woolaroc Museum & Wildlife Preserve on our trip. To continue learning of the history and Native American culture was fascinating.
The Osage County Historical Society Museum has five main areas within their exhibit hall:
Boy Scouts
Western Life
Pioneer Life
Early-Day Oil Industry
Indian Life.
There is also a restored one-room schoolhouse to understand what life was like during the years surrounding Oklahoma statehood.
Reason We Will Remember #6 The Buffalo In Pawhuska!
tallgrass prairie preserve
On the way back to explore Osage Hills State Park, where our cabin was, we stopped at the Joseph H. Williams Tallgrass Prairie Preserve. It is the largest protected area of tallgrass prairie on Earth, spanning almost 40,000 acres. You will be able to spot free-ranging bison, as well as many other animals and birds in their natural habitat. The complete drive is approximately a 15 mile loop. If the bison herd is close, stop and roll down the windows. Be quiet and you will hear them crunching the grass as they chew and "talk" to each other.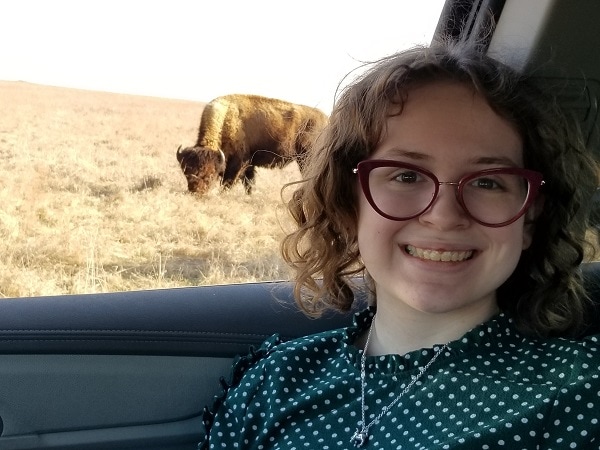 Contrary to the song "Home on the Range," buffalo do not roam in the American West. Instead, they're native to South Asia (water buffalo) and Africa (Cape buffalo). Bison are found in North America and parts of Europe.
A hump. Bison have one at the shoulders while buffalo don't. The hump allows the bison's head to function as a plow, sweeping away drifts of snow in the winter.
The horns. Buffalo tend to have large horns—some have reached more than 6 feet — with very pronounced arcs. The horns of bison, however, are much shorter and sharper.
A beard. Bison are the hipsters of the two animals, sporting thick beards. Buffalo are beardless.
Want more bison? Visit Old West Buffalo Company
The Old West Buffalo Company is just outside of Pawhuska and a truly unique experience. You will be surrounded by buffalo as you feed them from a hay wagon and relive the epic story of buffalo in the Old West!
And yes these are bison – buffalo remains commonly used when referring to American bison, this is often attributed to confused explorers.
Reason We Will Remember #7 The Beauty Of Nature in Pawhuska
Osage Hills State Park
Osage Hills State Park is filled with trails to explore and activities to enjoy. They do have boats to rent for fishing, a swimming pool for hot days and more. Amory and I enjoyed hiking through the woods and seeing the natural beauty of Oklahoma.
Amory and I stayed at the park in one of the native stone cabins, built by the Civilian Conservation Corps in the 1930's. It was perfect for us – it had central heat and air (and we needed both during the week we were there!), a fireplace, a fully stocked small kitchen and allows pets which meant Taquito got to come and explore Oklahoma too!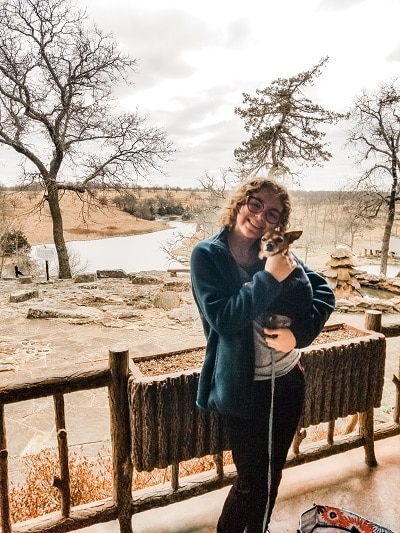 RV spots, tent sites and canvas wall tents pitched on a wooden platforms are also available to rent at Osage Hills State Park.
If you are just visiting for the day to explore the park, picnic tables are available for a picnic after hiking the rocky, hilly trails where you will see lush forests, rocky bluffs and serene waters.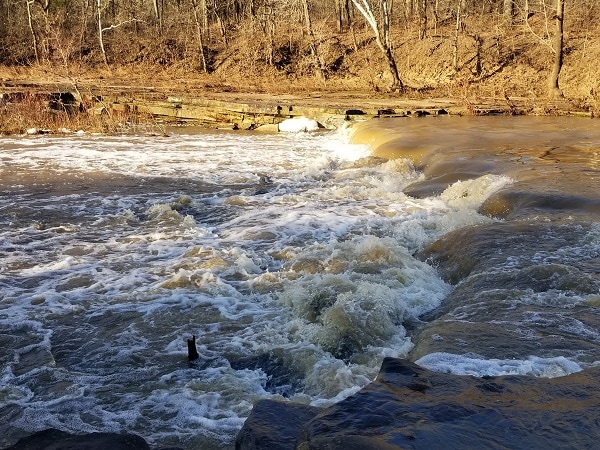 Pawhuska, Oklahoma Is One Visit We Will Remember For So Many Reasons
During my marriage we really did not travel, my ex-husband liked to stay home and keep us home. A few trips were made in the 21 years I was married – I can count them on one hand and have fingers left over. Now that Amory and I are free, our plans are to see ALL THE THINGS!
Because of this the number one reason we loved our trip to Pawhuska, Ponca City and Bartlesville is because it was our first big trip together. One we planned, went on and loved. We made memories to last a lifetime and realized we were brave enough and could accomplish big things!
Get your travel guide to plan your own pioneer road trip with all the sites we visited in Ponca City, Pawhuska, Bartlesville and Dewey City here. You will find everything you need – links, addresses and phone numbers – to make your own visit to Oklahoma so easy to plan!
Before you Fly Away To Plan Your Own Pioneer Road Trip To Oklahoma
Pawhuska, Oklahoma is one visit we will remember for so many reasons. Pin any of the images to Pinterest so you can visit Pawhuska and find what your reasons are for remembering this beautiful town in Oklahoma! Plus get the travel guide with even more ideas to do when visiting Pawhuska – hover over any picture to save the pin to your Pinterest account. So easy!