An Update To A Half Bath With Vintage Touches
Today I'm going to show you how I updated my half bath with three easy changes – a vanity, peel and stick flooring and paint. I completed the makeover with vintage beach and beauty pageant décor. Let's start from the ground up!
The Half Bath Before
The half bath before was fantastically beige and boring much like the rest of the house when we moved in. I believe the previous home owner put in a bulk order of beige and brown faux granite, eggshell paint, and flooring at the hardware store and said good enough!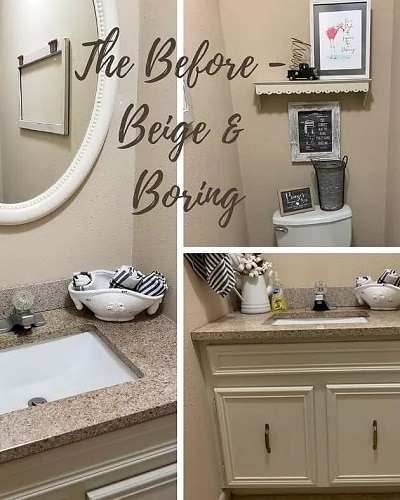 We started with a weird tan wall color, a brown counter top on a faux vanity, and gross linoleum. The vanity was not in fact a vanity, it was only a piece of wood with doors attached to the walls. Who created that and why? So it all had to go!
My Inspiration For The Half Bath Update
The Pageant of Pulchritude, or a picture from it, was the jumping off point for my budget bathroom update. I used this leg show in my bathroom to inspire its 1920's beachy vibe.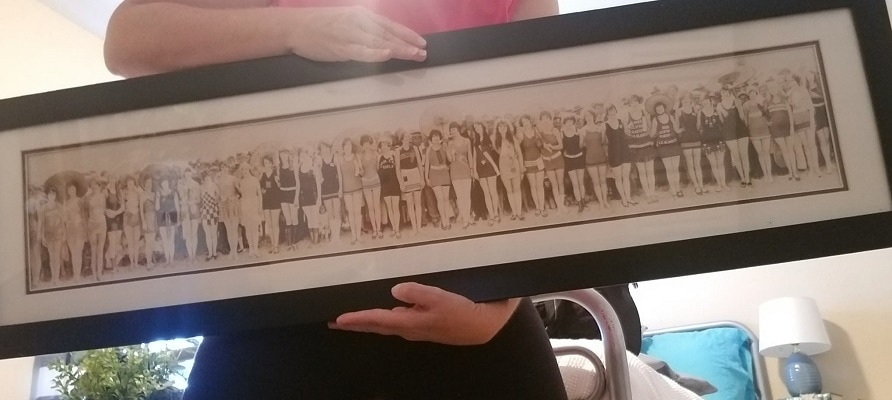 Let me define pulchritude.
pul·chri·tude/ˈpəlkrəˌt(y)o͞od/noun 1. beauty: literary "the irresistible pulchritude of her friend" See, it means beauty, plain and simple.
And the Pageant of Pulchritude, or a picture from it, was the jumping off point for my budget half bath update. Galveston, Texas hosted its first Pageant of Pulchritude in 1920, admitting the first international contestants in 1926. It eventually became The Miss Universe Pageant. However, in the 1920's Galveston was quite a fast paced town with nightclubs and casinos lining its streets. Even with its reputation the Pageant of Pulchritude was known as the "the leg show on the sea wall"! Can you imagine?! How scandalous!
The First Update In The Half Bath – Flooring
I chose the Radiance Peel and Stick Tile from Wall Pops to cover the existing linoleum.
Clean The Floors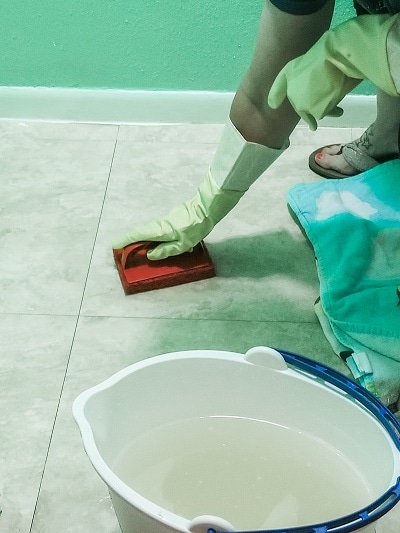 Mix the TSP according to package directions and give your floor a really good scrub.
Measure and Cut Tiles
Use the contour gage to trace around curved surfaces. Use your box cutter to cut these tiles. Use the method below for straight cuts!
Finish The Peel and Stick Tiles
Using the kitchen/bathroom caulk run a bead along bottom of baseboards and around toilet. Smooth with a wet finger.
Half Bath Update – The Vanity
Considering there wasn't even a real vanity here before, just two doors attached to the wall, a vanity was a necessary purchase! I chose a navy vanity to play off the beachy vibes. And I loved the contrast of the mint green, gold and a touch of pink with the navy. My vanity was bought on clearance and no longer available but here are similar options.
Above The Vanity – An Update To An Old Mirror
I wanted a tall mirror to fill in the space above the vanity that went all the way to the ceiling. This meant big bucks! But a can a spray paint and a thrifted mirror was the answer to that problem!
I removed the mirror from the black frame by unscrewing about a gazillion and three tiny screws. No joke – the mirror manufacturer was very insistent that this stay in one piece and if you wanted to separate it you needed to work for it!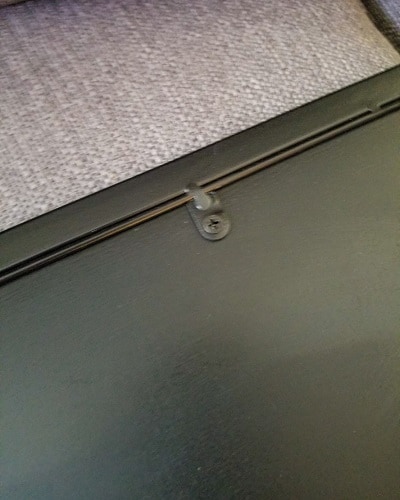 Using this gold spray paint, which I like because it's not too shiny or too dull, I sprayed the mirror frame and handles of the vanity. The handles came gold but I didn't like the shade of gold!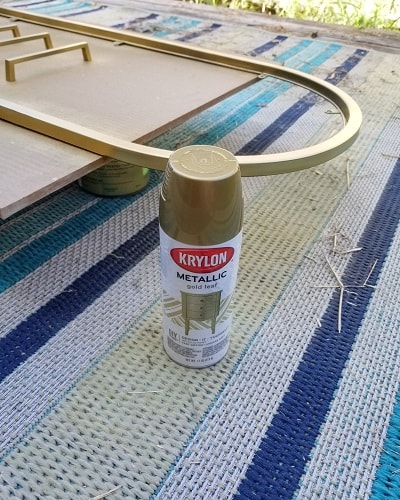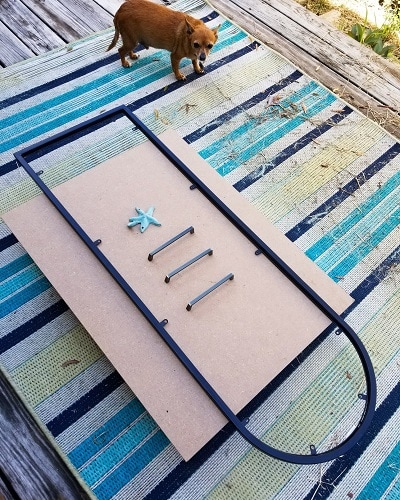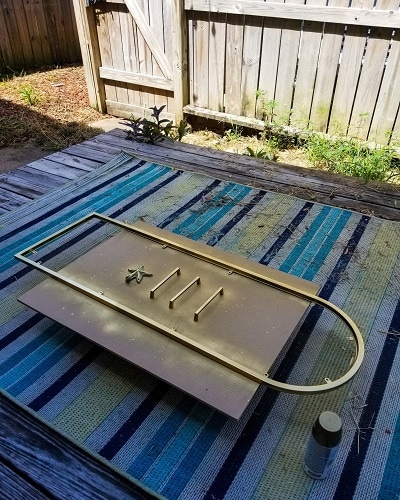 And done! Look how it fills the space perfectly!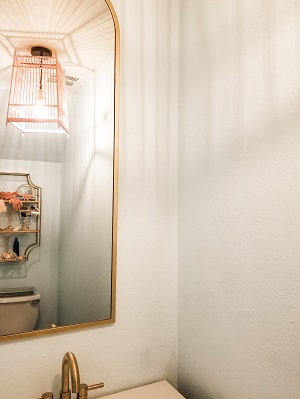 The Vintage Touches of The Half Bath Update
From the mirror above you can see a little bit of the vintage I added to this half bath! An antique bird cage made into a chandelier, a curvy shelf, and more pageant pictures …
A Birdcage Becomes A Chandelier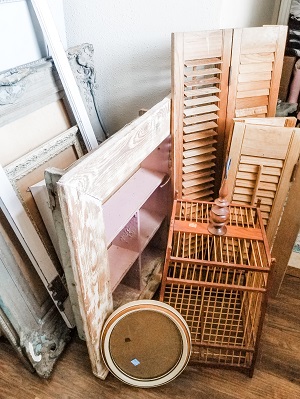 I know that I have shown you this pile of "fifth sparrow no mores" before! I've made this shutter hanger, I've repurposed frames into a multitude of things – coffee table trays and chalkboards, and now I've created this bird cage chandelier!
I simply used the hole that was already there for the hanger and threaded a pendant light kit cord through the hole. A zip tie was wrapped around the cord of the light kit on either side of the opening in the bird cage to keep the bird cage in place.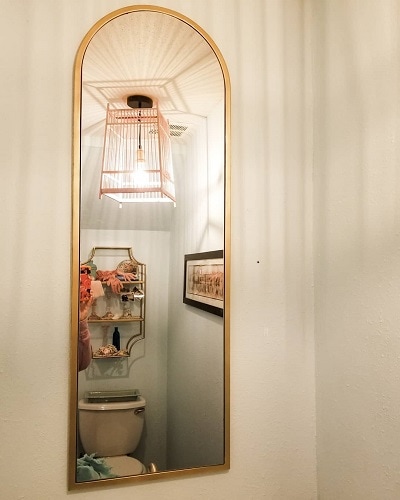 A Shelf To Hold All The Vintage Touches in The Half Bath Update
These shelves include beachy items like seashells and pictures of the sea (displayed in a vintage talc dispenser) along with a ladies gloves and evening bag. I love to use ladies gloves in my decorating – they are so feminine and beautifully made! I used them here and here in my spring decorating too!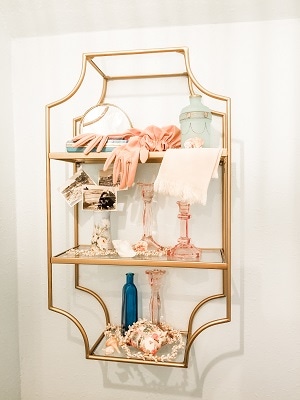 And One Last Pageant Piece To Complete The Vintage Touches In The Half Bath Update
One of my fondest memories growing up is watching Miss America with my mom. We would decide early on who our favorite was, who we thought was going to win and which was our favorite evening dress or national costume.
When I found this magazine page in a thrift store I knew it had to come home with me! I paired it with this frame I found on Varagesale (have you visited this online garage sale in your community yet?) and created a gallery wall with antique hand mirrors.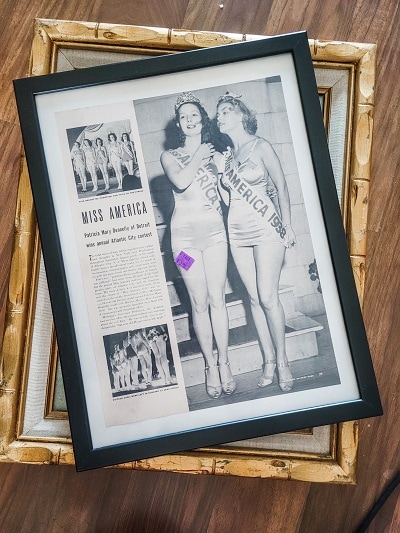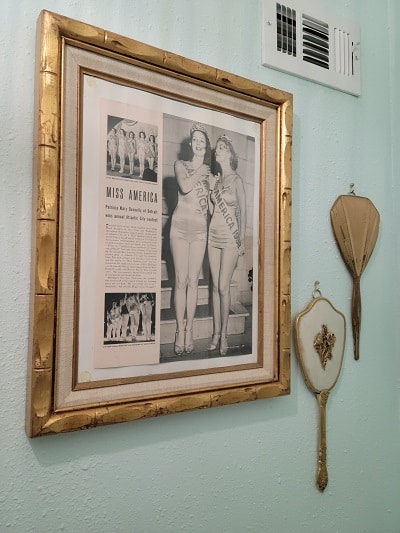 Make Sure To Pin These Ideas For A Half Bath Update and The Vintage Touches Too!