Easily Decorate A Miniature Wood House For Halloween And Christmas
When thrifting do you come across an abundance of Halloween, Fall and Christmas vests and sweaters? Their popularity has suffered a bit in the fashion world, only coming out for ugly sweater parties. I wanted these holiday sweaters to have a use again so I "fifth sparrow no more-d" them. I used holiday sweaters to easily decorate a miniature wood house for Halloween and Christmas. Create your own two sided holiday houses and make a village (there are plenty of sweaters and vests to repurpose!) of your own imagination. For Halloween make cute and spooky houses. On the reverse side decorate a side as sweet and fun gingerbread houses!
An Idea List for Miniature House Decorations for Two Seasons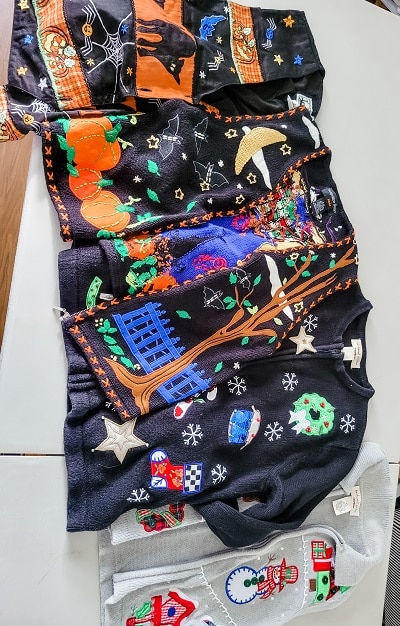 Repurpose sweaters and vests of course!

Find ones with pieces on them that can be removed that are appropriately sized for your house base
Look for buttons on the vests – fun pumpkins, stars and Christmas shapes like snowmen, gingerbread, stockings and trees are a few I saw
Check for beads, sequins and sparkles that can be removed and used on your miniature houses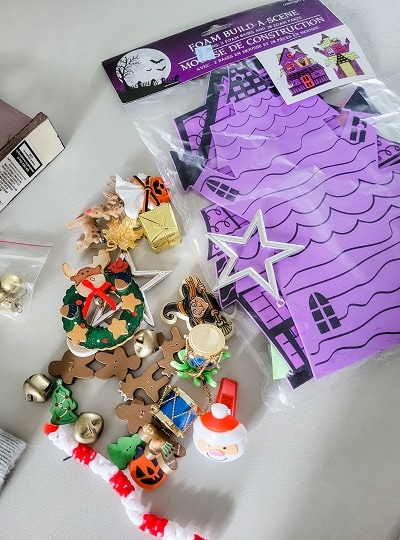 Visit the craft section, toys, and jewelry department of your favorite thrift stores too!

Remove the findings from fun earrings and pins to add to your houses
Buttons, bells, and beads are a festive touch
Small wooden holiday pieces and picks can be used too! The drum in the picture above is a a small ornament.
A grab bag of holiday toys can be handy – in this one were erasers, a Santa whistle and a candy cane from beads and a pipe cleaner
I also purchased a foam kit that had ghosts, bats and others spooky bits in it
Create Your Miniature Houses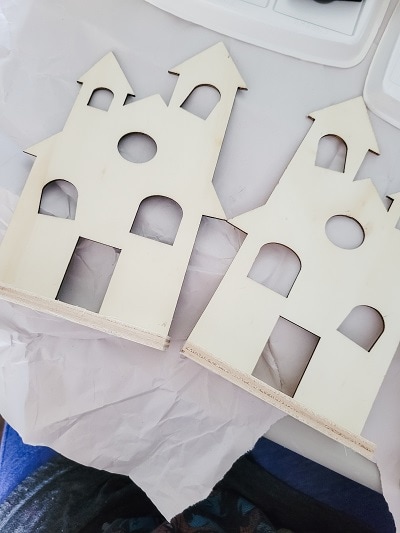 I used these wooden houses that are available in the Dollar Tree's Halloween section. I painted the spooky side with Folk Art's metallic black paint. I chose nutmeg brown for the gingerbread size of the two sided house.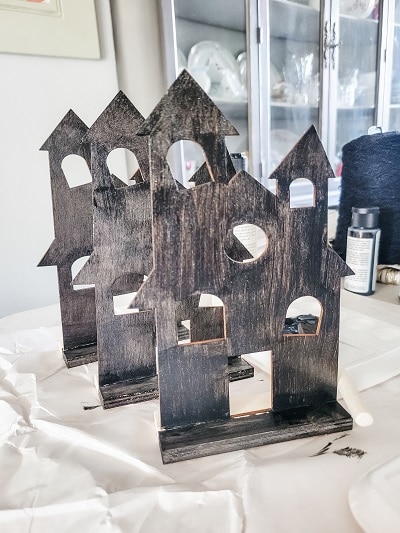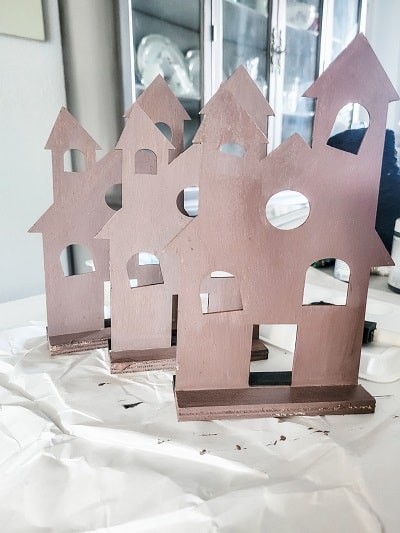 After painting I started cutting out all the pieces from my sweaters and vests. Spiders and spider webs, clouds and fences, pumpkin buttons and bats were cut out of the Halloween vests. I cut out bird houses, wreaths, trees and presents, used beads and sequins, removed a fabulous star from a zipper pull and buttons from the Christmas sweaters.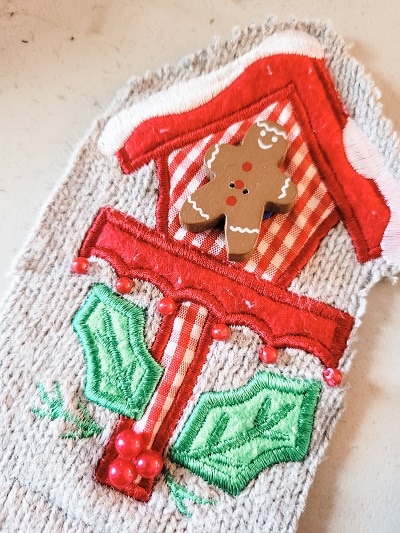 Adding Decorations To Your Two Season Miniature Houses
Honestly this part I just moved my pieces around until I was happy! I made sure if the decorations could be seen from the both sides I put a piece in that area on each side. I did this with the clouds that I removed from a Halloween sweater vest. I glued the clouds back to back at the top of the houses. On the spooky side bats were added to the clouds and on the gingerbread side a Rudolph pin was added.
The important thing is have fun. Gather the kids to make their own two sided holiday houses and make a village of Halloween cute and spooky houses and for Christmas sweet and fun gingerbread houses! Visit Twigs & Fluff to purchase flashcards to use in your village!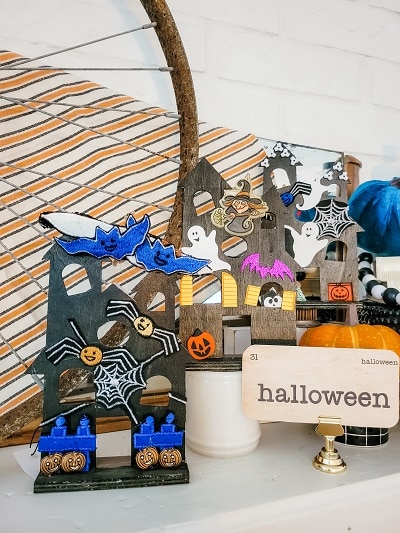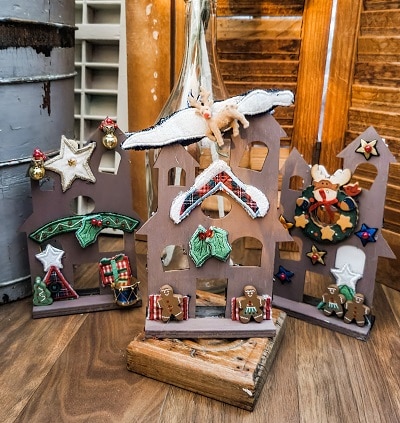 Watch This To See How To Use Holiday Sweaters To Decorate Miniature Houses In More Detail!
For More Repurposing Halloween Ideas
Repurpose a mop and bucket to make this cute fellow to add to your Halloween display!
These guys are just hanging around, repurpose a Christmas tree to create these!