Upcycle Old Hymnals On This Creative Pallet Project
I am sharing how to upcycle old hymnals on this creative pallet project. By using craft store pallets you can create a rustic wood project and make a piece of art that uses sheet music from hymnals and a DIY wooden chippy church.
A Chippy Church For The Hymnal Pallet Decor
We are bringing back the great idea of using popsicle sticks to craft and create. Creating the small chippy church takes me back a long time to Sunday School as a child. When, at Christmas time, we would create the popsicle stick nativity and some sweet unsuspecting family member would receive it with great joy (and a great acting ability) and put it on their Christmas tree.
This easy project can be used in many creative ways – not just for a church. Change up the way you paint it and create a gingerbread house at Christmas or spooky houses for Halloween decorations.
Craft Supplies To Create The Church
Tools you'll need
The below are affiliate links. I make a small commission at no cost to you when you click on the link and purchase.
Step By Step To Create The Chippy Church
Step 1
Mix Burnt Umber and water to create a stain. Stain one popsicle stick and three tongue depressor sticks for each church. The easiest way to do this is with a paper towel or lint free cloth (like a t-shirt).
Step 2
When these pieces of wood dry, flip them over in order to attach them together. Using a piece of the unstained popsicle stick attach the three tongue depressors together with hot glue or wood glue.
Step 3
Flip back over and dab on the petroleum jelly or wax (use Big mama's butta from Dixie Belle or a furniture wax) to the stained side with a small paint brush. Only put it where you do not want paint to stick.
Step 4
Paint the church and let almost completely dry. A metal scraper is a great tool for scraping off the paint. Lay it flat against your piece and push along the top of your piece. This is a great way and an easy way to remove the paint where the wax was and create the chippy finish.
Step 5
Cut the bottom of the tongue depressors flat and the top into a steeple. Cut the bottom of the popsicle stick flat and attach to the church as the door.
Purchase Hymn Music Sheets
All sheets of music are from hymnals dating from the 1930s – 1940s
Vintage sheet music rolled into scrolls or in flat stacks are a perfect décor piece for events, holidays and everyday decorating or for crafting and creating.
Attach Hymn Music To The Pallet Wood Project
I first sanded the pallet planks. Even though these small wooden pallets are from the craft store (mine were actually free pallets because a friend cleaned out her craft closet – but I have linked them here) they were very rough. I suggest using gloves for a very good reason! There were lots of splinters, ask me how I know!
I then painted the pallet slats with white paint. You don't have to do this but I wanted a rustic home decor piece and preferred the white to the color of the new wood.
Using Mod Podge I placed hymn pages on the project in different ways, angling them over the surface of the entire project.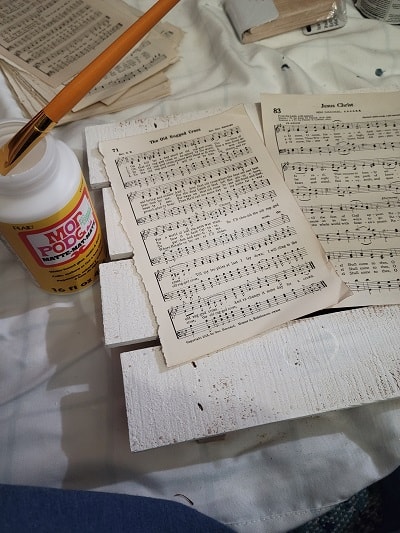 After this dried I trimmed the pages with an X-acto knife in between each pallet board. It is a good idea to sand any rough spots on the edges or where the paper wasn't cut close enough to the board.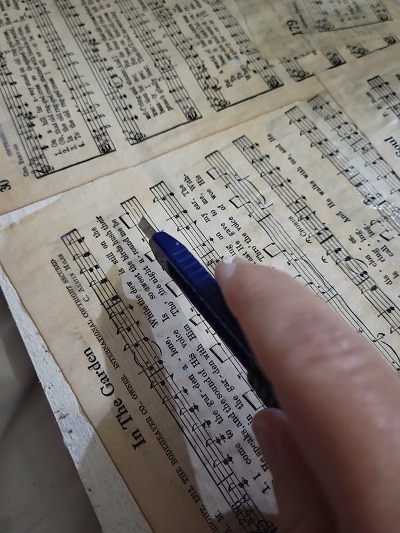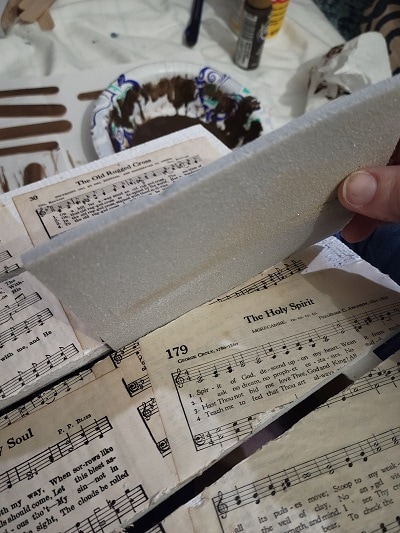 Shop For Creative Pallet Project Supplies
The above links are affiliate links. I make a small commission at no cost to you when you click on the above pictures and amke a purchase.
Repurpose Pallets and Hymnals by Creating Vintage Look Pallet Signs
Let's finish the project to upcycle old hymnals on this creative pallet project! Using hot glue attach your chippy wooden church to the wood pallet. Place the popsicle stick that you used to hold the tongue depressors together in between the pallet slats. This way your church sits flat on your pallet wall art.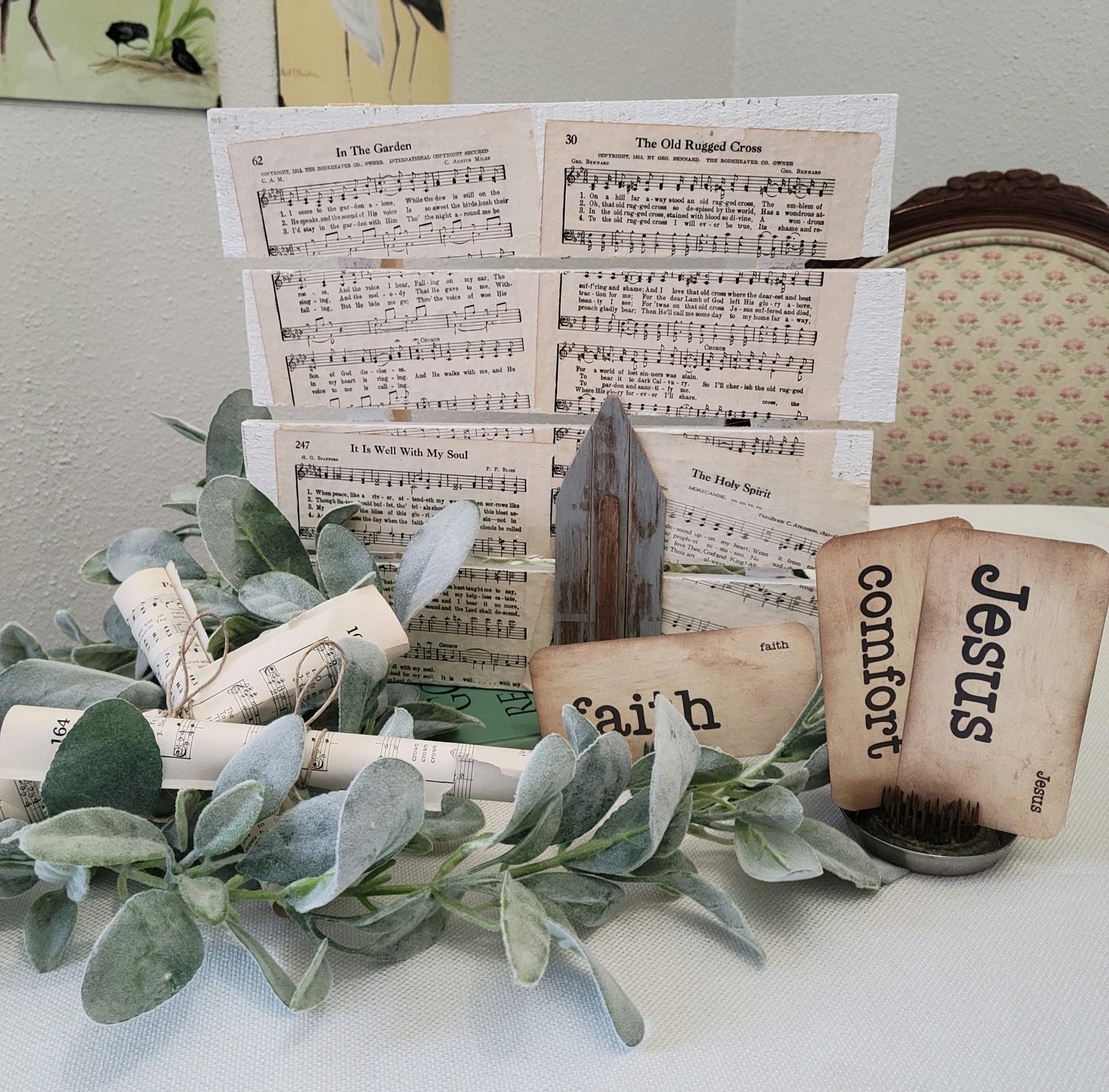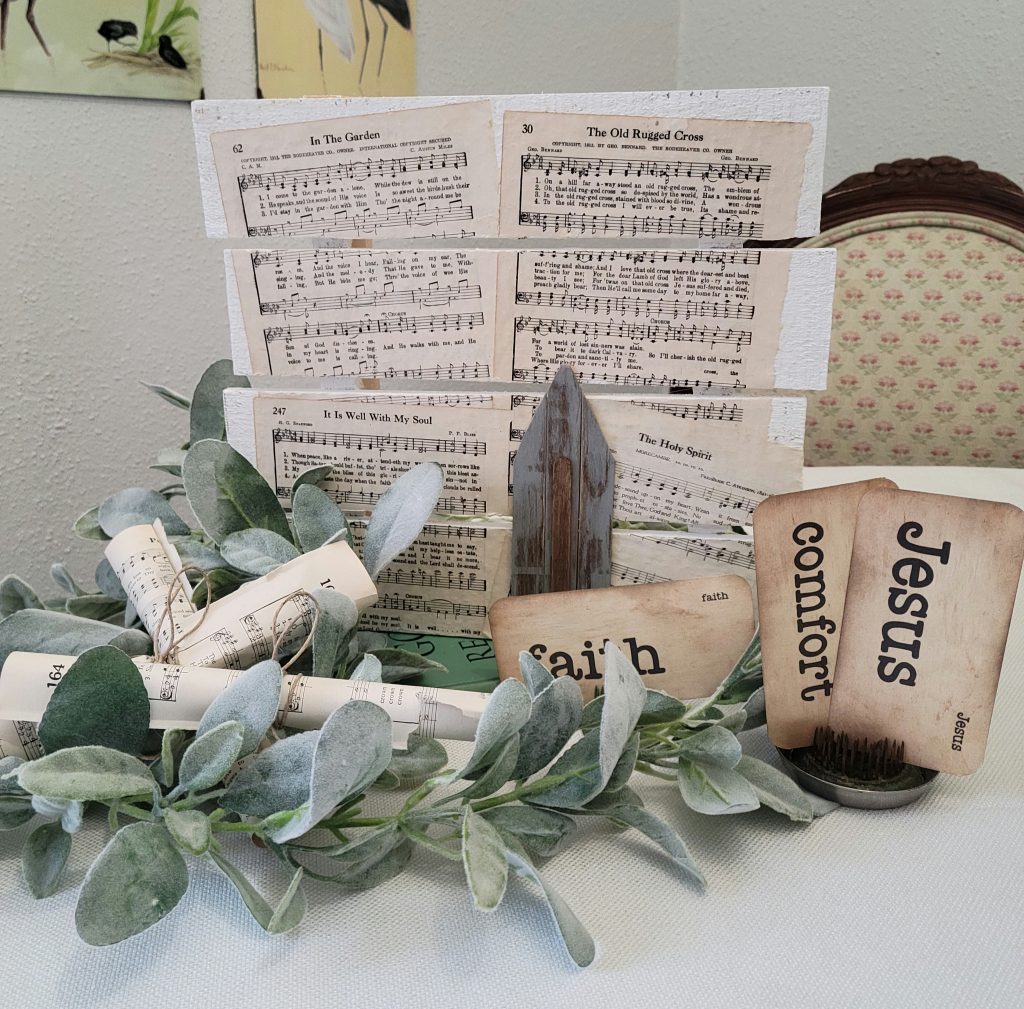 Don't want to make it?
Buy The Pallet Artwork Hand Made Just For You!
Calling all farmhouse décor lovers! This wood pallet and old hymn art is a rustic farmhouse style decor piece that features sheet music from hymnals and a wooden chippy church.
Before You Fly Away To Upcycle Old Hymnals On This Creative Pallet Project
Pin any of the images to Pinterest so you can repurpose hymn music sheets and old pallets – hover over any picture to save the pin to your Pinterest account. So easy!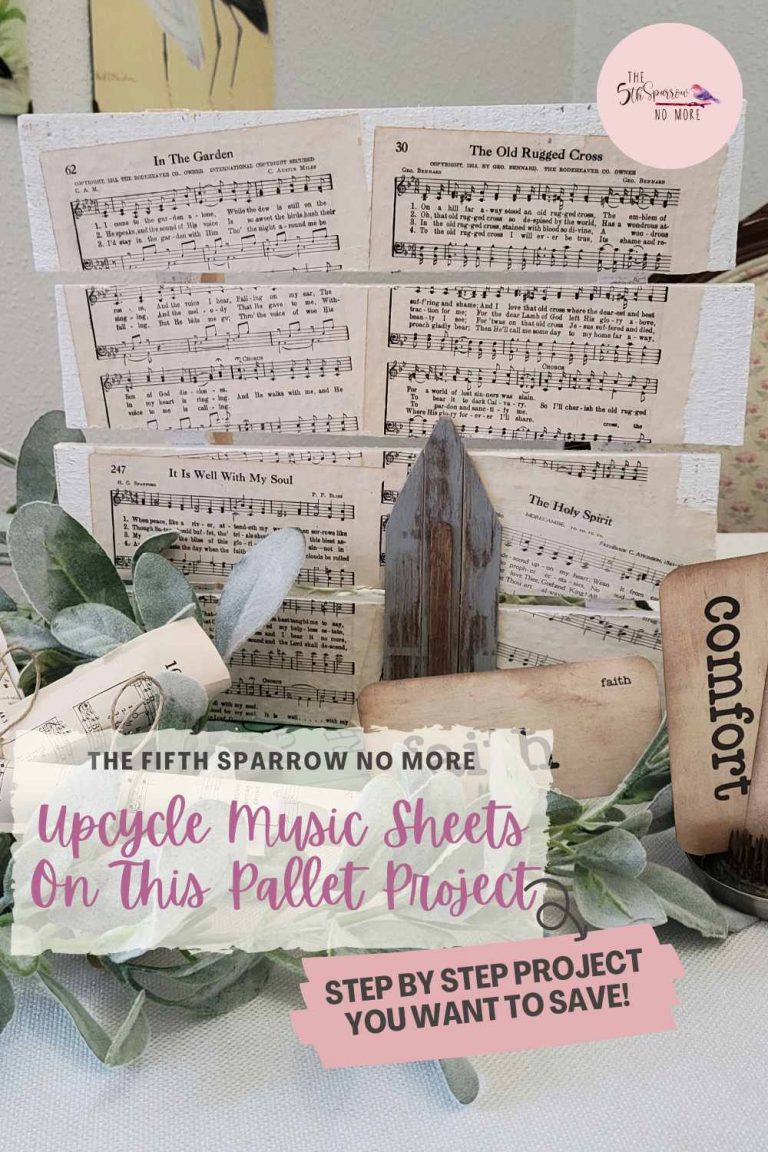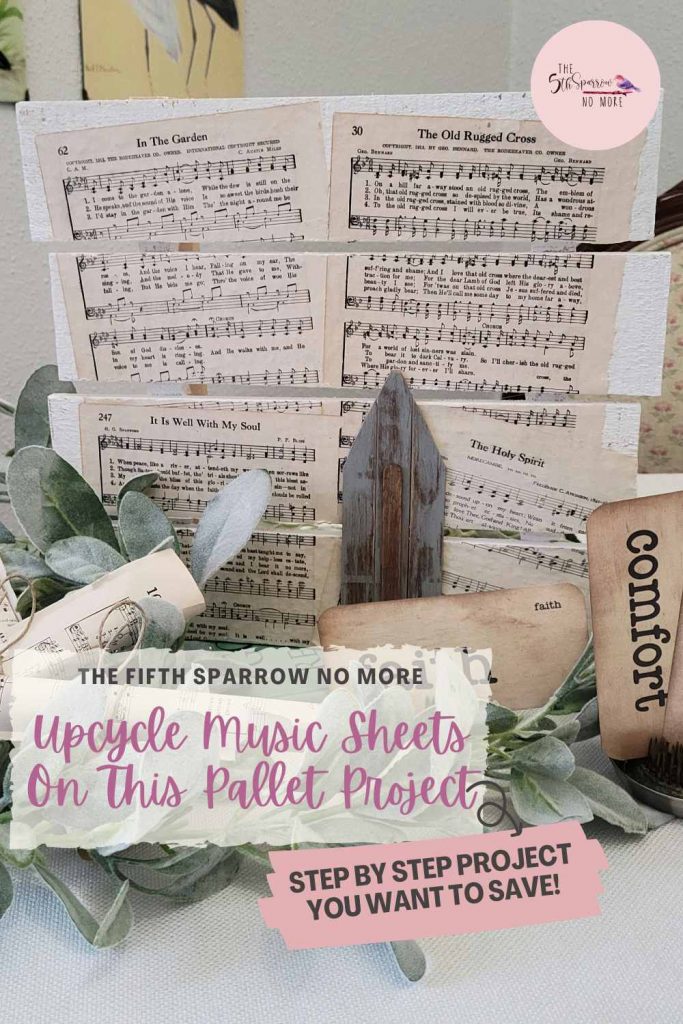 More DIY Projects Using Easy Pallet Ideas From My Friends In The IBC
I have joined the International Bloggers Club (IBC)! The IBC is a group from all over the world who challenge each other every month to make something using a common theme. This month's theme is Pallet Parade. You will love the DIY pallet projects that each member made!
Below you'll find my friends' amazing ideas using pieces of pallets, pallet scraps and old pallets to put scrap wood to good use!
Unique Creations By Anita – She had an awesome idea and created a wall art piece gets all the heart eyes!
Birdz of A Feather – This fun pallet project is a unique piece full of different colors!
Tea and Forget Me Nots – This wooden shelf idea is a great addition for an outdoor space or a storage area!
A Crafty Mix – picture frames for a fairy garden with handmade pieces – what a unique idea!
A Fifth Sparrow No More (That's Me!) – Upcycled old hymnals on this pallet art decor!
Songbird – A compost bin created from old pallets
Saved From Salvage – created this pallet wall art that would be adorable for pictures, cards, recipes …