Easy Bedroom Decorating Ideas On A Small Budget
In the first week of the One Room Challenge, I'll be sharing before pictures of my guest room and an inspiration board. This will help you invision the new look I am planning for this bedroom makeover. In this post I'll be sharing a few easy bedroom decorating ideas on a small budget. All because I do not have a small fortune to spend! One of the biggest challenges was to create a dual purpose space. One that had a half bedroom feel and half office in a smaller, not larger room.
What Is The One Room Challenge?

The One Room Challenge is a biannual design event where Featured Interior Designers and Guest participants are tasked with making over a space in eight weeks.
The designers participating are making over everything from pantries to garages and everything in between in this One Room Challenge. I encourage you to head over – there is so much inspiration!
I have made my master bedroom into my dream bedroom for this challenge in the past. And now I am working on the next room – my guest room.
Why The Guest Bedroom Is Getting A Makeover On A Small Budget
When we moved into our new home it was covered in a monochromatic color scheme in different shades of brown. The paint colors were brown, the countertops were brown, the ceiling fans were brown, the floor was brown, all the things were brown.
The good news is all of that can be changed but I am taking the long way to do that. I have found an easy way to change it up, but it takes time. The best place to start was with paint. Then adding furniture pieces from the thrift store, a flea market or two, and estate sales to make our house feel like a home. I'm finding affordable ways to update our smaller bedrooms, bathrooms, kitchen and living space.
I want this guest bedroom to be a special place for my Dad when he comes to visit. I honestly would not be where I am without him. He and my mama have loved us well and poured into me when I have had nothing left. Dad has made an appearance on the blog a few times – he refers to himself as the hillbilly hand model. HAHAHA!
So far the bedroom has been a farmhouse theme and now I want to be just for Dad with decor made just for him.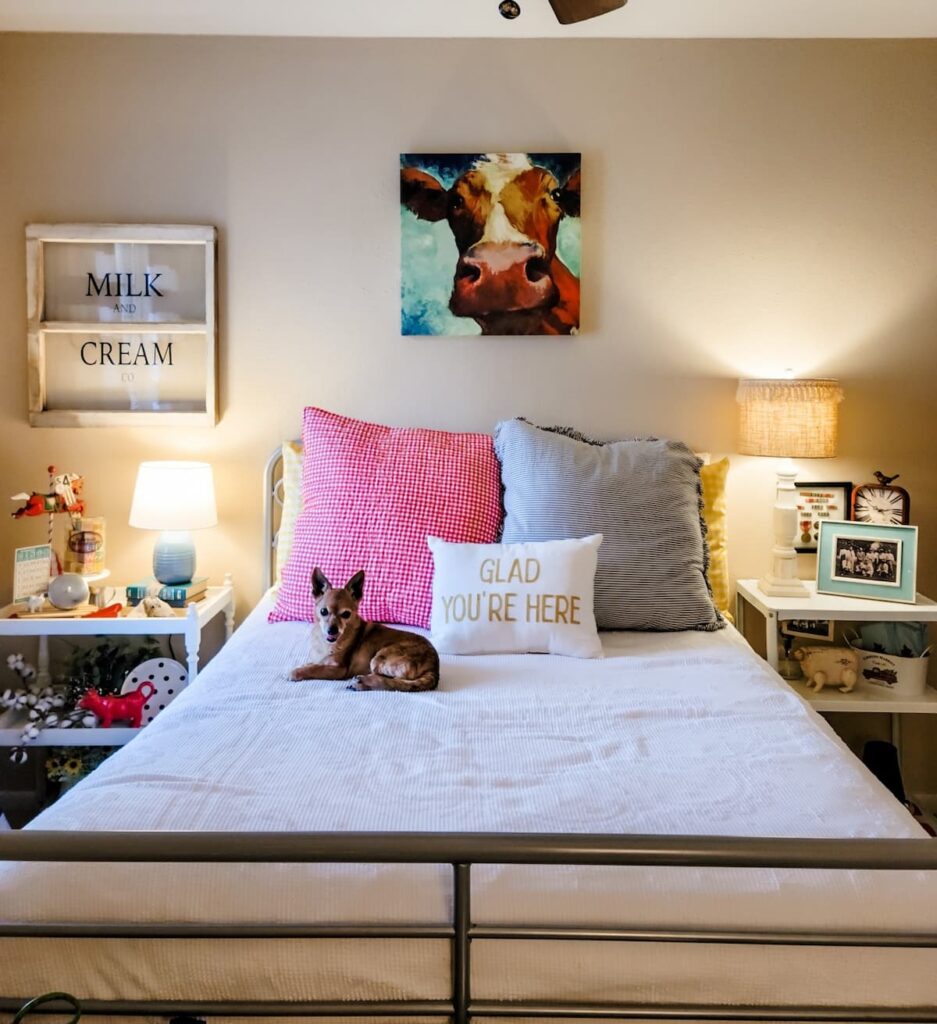 Best Ways To Decorate A Bedroom On A Small Budget
Storage Ideas
In the bedroom design our guest room must serve dual purposes – a guest room and a home office. One of the first DIY projects for this one room challenge will be to create a wall-mounted desk and a shelf for storage space from a thrifted drop-leaf table. A great idea for a bare wall in a room with small square footage is to use shelves as storage solutions. They do not take up valuable floor space like a bookcase would.
Behind the bedroom door in our guest room is valuable vertical space. During the makeover I plan to install hooks in order to use this often wasted space.
In limited space another great idea is to use under bed storage with the use of storage boxes. As storage solutions go, under the bed is a great place for out of season clothes, small items for holidays, and things like gift wrap or extra linens. Bed risers are a great addition if you need more height to your bed to have extra space for those storage boxes.
Underbed Storage Items You'll Need
These are affiliate links to Amazon for the items, I make a small commission at no cost to you. The bed risers are also great for lifting furniture to paint on!
Lighting
On a budget and only have a small area next to your bed? In this makeover I will be using a stool and a thrifted find to create a bedside table that fits in a tight space between the wall and the bed. Above the side tables I will be "fifth sparrow-ing no more" a pair of sconces found at a garage sale. Forget the cute lamp, bedside lamps won't fit on these tables so we are going to the wall with the lighting.
Top Tips For Bedroom Furniture On A Budget
The easiest way to stay on budget and furnish a bedroom (or in this case a guest room) is to use what you already have or go thrift shopping.
When using furniture you already own, paint it to make the pieces match, remove outdated wood appliques, and update hardware for a brand new look.
In my guest room makeover I used all of the furniture I already owned and only added small bedroom decor to give it its personality and make it a great place for Dad's visits, not just a sleep space.
Easy Bedroom Decor Ideas On A Budget
Wall Art For A Small Bedroom Space
An inexpensive option is to use wall art as your focal point in the room. Adding a large mirror can reflect lots of natural light. A great option and the cheapest way to add art is to print your own artwork. The Library of Congress has a great collection of photos, prints and old advertisements to download and print for free.
More Free Resources For Images –
Three more options similar to the National Gallery of Art are
In this guest room makeover I will create a gallery wall of black and white photos that are all the same theme. I am using thrifted frames that I will paint the same color to give this gallery wall a cohesive look.
Small Bedroom Ideas For Decor On A Budget
The easiest way to have a big impact in the small bedroom decor in your room is to have a theme, know your color palette, and a shopping list of items you need. It is so easy to get distracted!
Get Your Thrift Store Shopping Guide
In the Thrift Store Shopping Guide you'll find a list of more than fifty items you want to look for in thrift stores, a holiday on a budget section, a place for your shopping list, and three pages full of decorating ideas!
The guest room will have a vintage car theme and the color palette will be shades of blue, yellow, pink and black. I have purchased a few items from estate sales I am excited to add to the room.
In our guest bedroom I will remove the bifold closet doors, they are barely functional and eat up extra space when opened. I will replace this with window treatments for some color and an easier time when opening and closing. I am adding curtains to my shopping list.
Throw pillows are a special touch on a bed and I would like to add them but they can be so expensive. I am adding tea towels, tablecloths, and fabric to my thrifty shopping list in order to make my own.
Easy Ideas To Get Rid Of That Small Room Feel On A Small Budget
A great opportunity to make your small space feel bigger is in a paint can! A great way to get a bigger room look is to use light colors for your wall colors. My plan is to cover the boring brown with what I have painted the majority of my walls with – Site White by Sherwin Williams. It does a great job of lightening things without being boring because it has a very light blue undertone.
The Inspiration Board For The One Room Challenge
This is my plan for the guest bedroom on a budget. I cannot wait to show you the simple bedroom projects along the way, all done on a budget of course. I hope the small bedroom ideas I share each week will inspire you to create a beautiful bedroom of your own.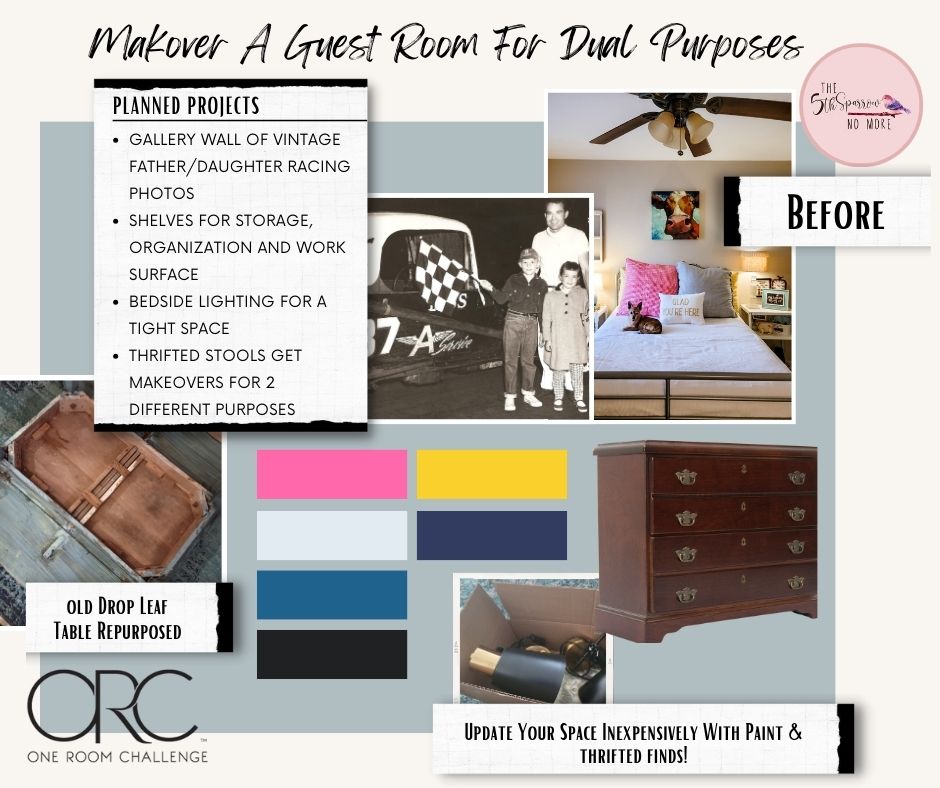 Before You Fly Away To Use These Easy Bedroom Decorating Ideas On A Small Budget
Pin any of the images to Pinterest so you can create a small bedroom on a budget you love – hover over any picture to save the pin to your Pinterest account. So easy!