Easy And Budget Friendly Candyland Christmas Decorations
It has come time to decorate our church for Christmas time. For this holiday season the Santa photo spot will be decorated with easy and budget friendly candyland Christmas decorations !
DIY sweet decorations in a candy land theme were created from dollar store supplies, a shopping trip to the Goodwill, Amazon (of course) and the craft store. We had a lot of fun creating this area in the church for a Merry Christmas for all! The best part is that it was easy and inexpensive to create a candyland theme in this area of church. One of my favorite things about this is that you can use these ideas in your home, for party decorations or change up the colors and use it for other holidays!
Candy For Your Candyland Theme, Step By Step Instructions
How To Make Candy Balls (Two Easy Ways)
To make large candy balls we wrapped paper lanterns in cellophane wrap and used rubber bands to gather the ends.
The small candy balls take me back to childhood memories. They remind me of sixlets which I haven't had in forever! Take five of these balls which come in the bright colors of yellow, blue, red and green and wrap in clear cellophane and gather the ends with rubber bands.
*Tip – use scotch tape on where cellophane wrap overlaps if needed.*
Candy Bars – An X-tra Large Version For The CandyLand Theme
This Is An Easy And Budget Friendly Candyland Christmas Decoration!
I used cardboard fabric bolts as my base for the candy bars. You can ask for these at any fabric store before they discard them.
Wrap each end in the silver (or gold) metallic foil wrapping paper.
Cut wrapping paper to wrap around the candy bar and secure with tape.
Favorite Posts About More Sweet Treats
Popcorn and Candy Garland For Candyland Themed Christmas
Tape a length of your clear cellophane to the ground of a well ventilated area. Place straws down on cellophane leaving space in between. Squirt spray foam on top of straws. Let the spray foam dry really well – I let mine dry for two days.

*Spray foam is sticky and messy! Don't touch while still wet!*

After this dries you will use it to make your popcorn and candy garland. The straw should be stuck to the back of the spray foam "popcorn". If not, use hot glue to attach. Snip the straws off evenly with the ends of your "popcorn".
Using your hot glue gun create a hole in your red ornaments opposite of the top. Pull the hanger off the red ornament. Repeat this for all of your ornaments.
Using twine and a large needle string a "popcorn" through the straw and then your "candy" through the hole created with a hot glue gun through the top part of the ornament where the hanger was.
Rock Candy Ornaments For The Candyland Christmas Tree
Candy Sprays For The Candy Themed Christmas Tree
An Easy And Budget Friendly Alternative To Christmas Tree Picks
Have you priced Christmas picks for your tree? In order to fill the candy tree with lots of fun sprays, ribbon, ornaments and more you would have to say Goodnight Irene to your budget!
But I have an easy diy idea for candy picks using floral wire and bingo chips! The bingo chips have now become white peppermint candy pieces!
Using the markings on the parchment paper, space eight of these small pieces out. Have floral wire and bingo chips ready to adhere to these while hot glue is still hot.
Put a dot of hot glue on each bingo chip and work carefully to lay your floral wire on top. Immediately place another bingo chip on top. This creates a floral wire sandwich, of sorts!
To insert in the candy themed Christmas tree twist three of these together at the end and stick deep into the tree.
What You'll Need To Make Candyland Theme Decorations
All The Supplies You'll Need To Make Easy And Budget Friendly Candyland Christmas Decorations
From the Dollar Tree
From Amazon
From The Craft Store and Hardware Store –

Cardboard Fabric Bolts – ask your local sewing shop or big box fabric store if you could have these before they throw them away) (Candy Bars)

For Backdrop (this is a great tutorial and use the mesh behind to wire your candies to!)
For The Tree Topper
A Quick View of The Candyland Theme Christmas
The candy balls, candy bars and the popcorn and candy garland were attached with wire through the tablecloths to the mesh fencing behind.
This is the perfect spot for pictures with Santa or a photo op with the family!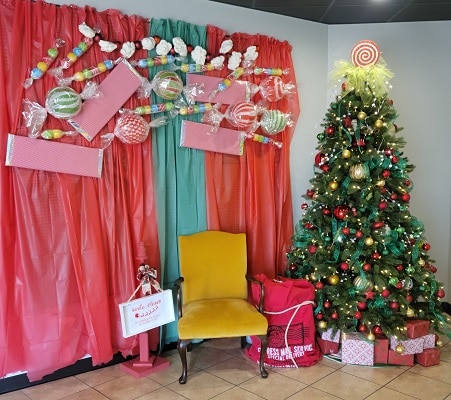 The themed Christmas tree is decorated with red, green and gold ornaments. Green ribbon poofs and the white peppermint candy sprays are placed throughout. A topper was created with green tulle and a wooden candy cane lollipop ornament. I used a large lollipop stick adhered with hot glue to the back to insert into the top of the Christmas tree.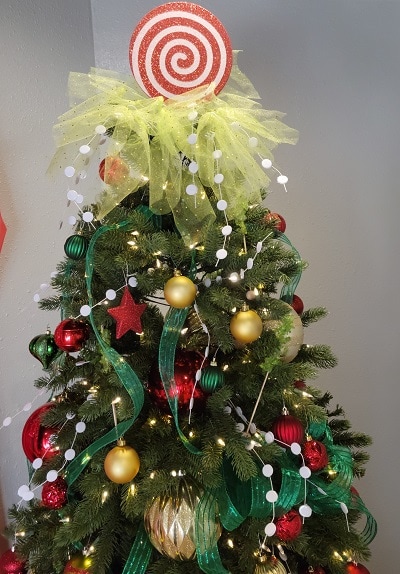 The rock candy is wired into the tree along with gumball machines created with upside down flower pots painted with red spray paint, wood beads covered in seed beads of different colors, and attached together.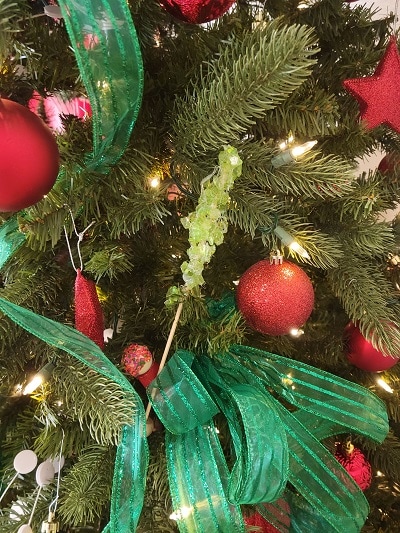 Before You Fly Away To Create Easy And Budget Friendly Candyland Christmas Decorations
Pin any of the images to Pinterest so you can make a candyland for your Christmas décor – hover over any picture to save the pin to your Pinterest account. So easy!