A Vintage School Desk Easily Repurposed For Your Plants
Do you dumpster dive? Are you roadside treasure collector? An embarrassment to teenagers, yours and their friends in the car? Well next time you see a vintage school desk on the side of the road hit the brakes! I want to show you how a vintage school desk is easily repurposed for your plants by combining it with a soda crate and using Rust-Oleum spray paint.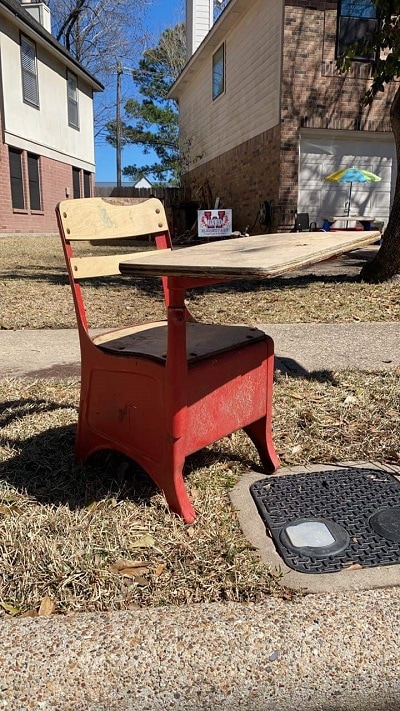 This is the roadside vintage school desk I came to a screeching (literally) halt for! Isn't she the cutest thing? Can you imagine the learning, the pranks, the naps taken at this desk? I just love the stories that come with vintage pieces. Now what to do with it?!?
Vintage Desk Repurposed As A Planter – The Steps
The Process – Vintage School Desk Easily Repurposed For Plants
Step One – Scrape Paint
Remove desk of school desk
Using a wire brush, scrape all loose paint
Use sand paper to smooth rough spots
Step Two – Cleaning
Wipe down with a dry cloth
Using Krud Cutter scrub away all dirt
Hose off all cleaner
Let dry in sunshine 🙂
Step Three – Covering and Spraying
Cover wood parts with paper and tape
Using light even strokes spray with the Rust-Oleum spray paint of your color choice
Let dry for twenty four hours
Step Four – Attach Soda Crate
Lay your soda crate on desk arms and mark the holes in the desk arm
Drill holes in the soda crate (this is a pilot hole, read more about that here
Attach soda crate to desk arms with original screws
Watch the transformation here!!
A Vintage School Desk Easily Repurposed – Display On Your Porch or Patio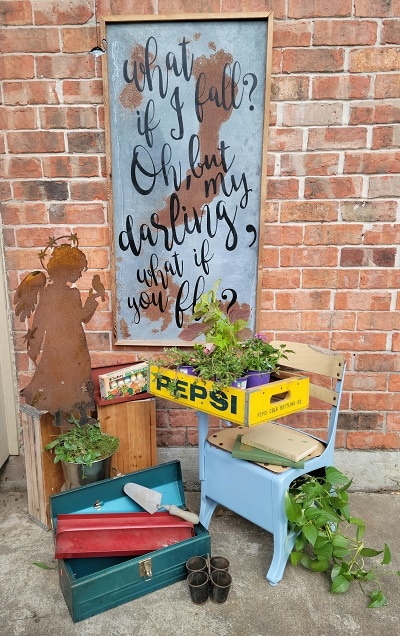 Country Living has a great list of vintage gardening implements here that you can use on your porch or patio with your vintage school desk planter.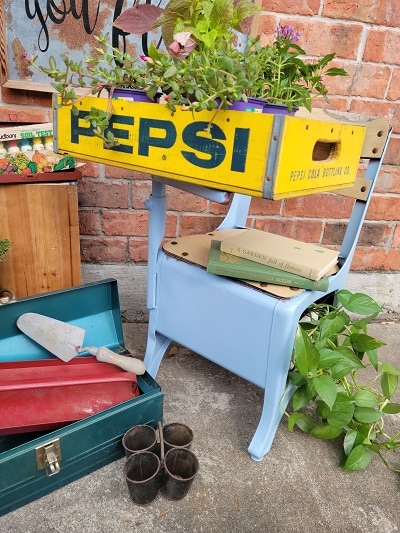 I used some vintage gardening pieces as well as some vintage items I love!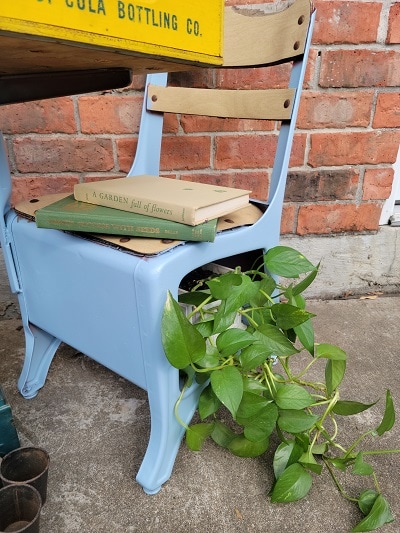 Before You Run Off To "Fifth Sparrow No More" A Vintage School Desk …
Pin this post to Pinterest to help you remember all of the steps and ideas – hover over any picture or the image below to save it to your account. So easy! And to make it super easy to find all of the things to make your porch display pretty while thrift shopping, I created the Thrift Store Shopping Guide. It has lists of items to look for, more ideas how to use them, and printable lists to fill in and keep you organized and on track!