The Best Things To Do In Wonderful Grapevine Texas
This trip took us to north Texas to the city of Grapevine. In this post we'll share the best things to do in wonderful Grapevine Texas. It is full of historic sites, our favorite things like shopping and animals, and a vintage train. This is a popular destination for seasonal events, wine tasting, and the art galleries and boutiques located in its historic downtown area. Come along as I play tour guide and share everything this big Texas small town has to offer.
Grapevine is the oldest settlement in Tarrant County. It was settled in 1844 when it was the Republic of Texas, a year before Texas was annexed by the United States of America. Historic Main Street, the Grapevine Vintage Railroad, Nash Farm, the Settlement to City Museum and more remind and teach locals and visitors about the history and heritage of this wonderful small city.
The Vintage Railroad Is On The List Of The Best Things To Do In Wonderful Grapevine Texas
The Grapevine Vintage Railroad is just one of the many tourist attractions for the entire family. Guests can travel along the historic Cotton Belt Route on authentic 1920's-era train coaches. And before we go further I want to mention that yes, the train cars are air conditioned!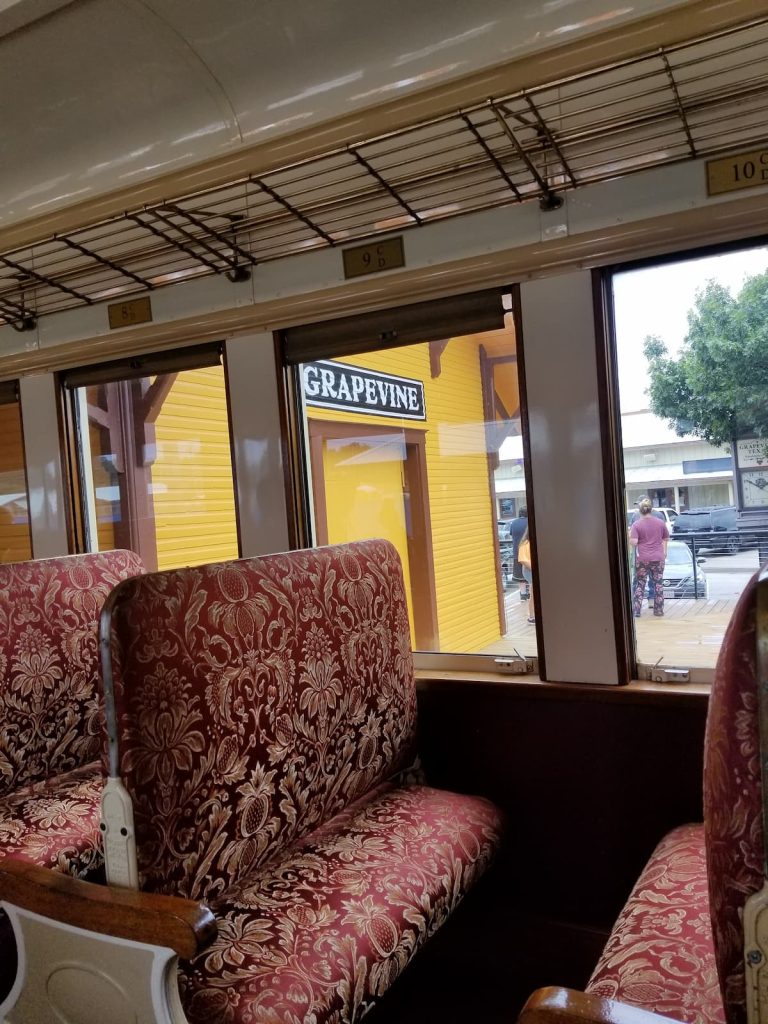 Check their website for an updated and current train schedule to find the best trip for the whole family, for a girls trip, or a couples getaway.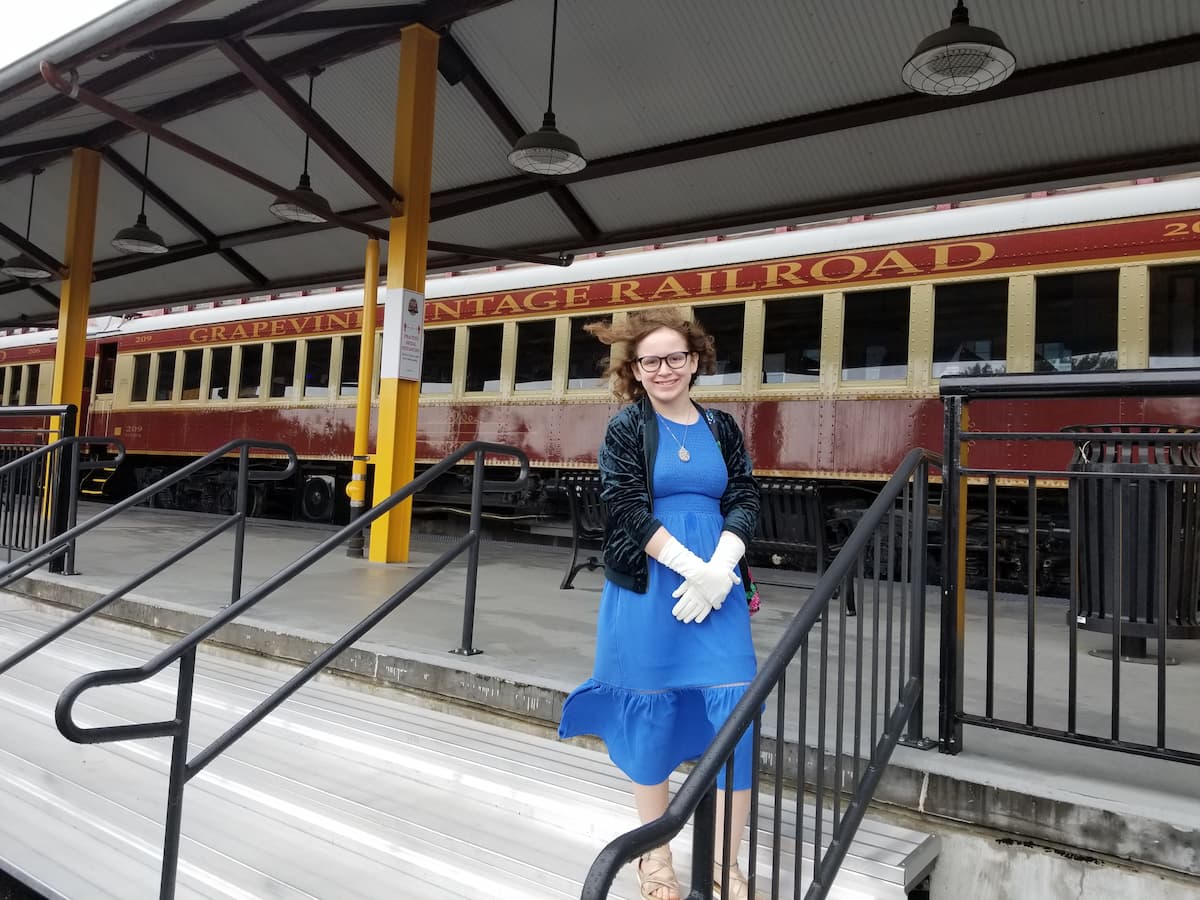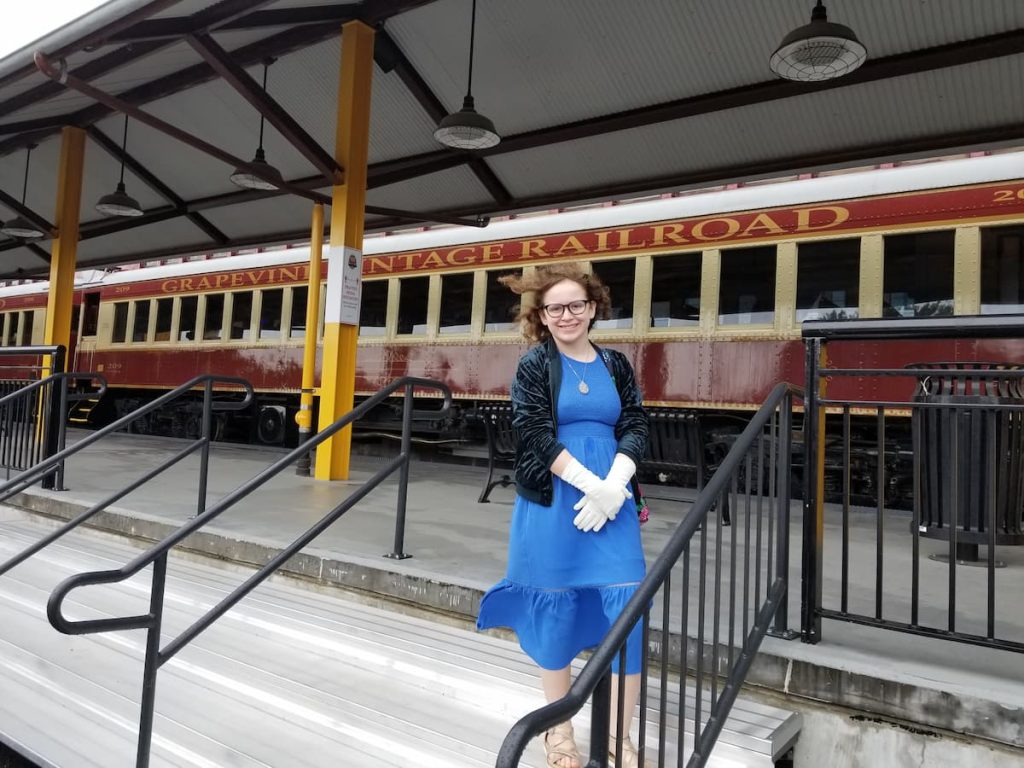 These are a few of the the train trips that the Grapevine Vintage Tour offers –
The Cotton Belt Route leaves Grapevine TX and makes a stop in the Fort Worth Stockyards before returning
The Grapevine Bear Creek Short Line is perfect for young kids. It explores surrounding areas and returns to the station.
Special events include

Summer Wine Train (themes in the past have been Disco and Jazz Wine Trains) and the Christmas Wine Train
Day Out With Thomas The Train
Trick 'R Treat Train
The North Pole Express
Visiting Downtown Is On The List Of The Best Things To Do In Wonderful Grapevine Texas
Historic downtown Grapevine has it all – shopping of course but also art galleries, winery tasting rooms, restaurants, the clock tower, and more all within a great walkable Main Street.
Art and Entertainment In Grapevine
Adjacent to the railroad depot is the Vetro Glassblowing Studio. Side note, this is a great place to visit while waiting for your train departure! Vetro (Italian for "glass") is full of a stunning and extensive variety of professionally crafted glass art, ranging from hand-made sculptures to small glass art gifts. The gallery also holds classes to create your own glass works of art.
The Palace Arts Center is home to the Palace Theatre and The Lancaster Theatre. Whether you want to hear live music or see a classic movie the Palace Theatre is the place to go. Check their website for an updated schedule of all their events.
Visit For More About Palace Arts Center
When visiting the Giddens Gallery of Fine Art you will see more than 20 prominent artists which includes artists that are internationally known and acclaimed as well as up-and-coming artists.
Grapevine Glockenspiel Clock Tower
This Clock Tower is located on the corner of Main and Hudgins streets in the Historic District. Glockenspiel clocks use moving figurines that, at different times of the day, reenact a play or skit that is important to the town's history.
At this clock tower in Grapevine the would-be train robbers duel it out over their plans to rob the train of its $60,000. The problem is that Nat and Willy are not on the same team and learn that crime doesn't pay!
A great time to see this cool event is at 10 a.m., noon, 2 p.m., 4 p.m. and 6 p.m. and 8 p.m. each day.
Visiting The City Museums Is On The List Of The Best Things To Do In Wonderful Grapevine Texas
Settlement To City Museum
This museum is a collection of 19th century structures of early Grapevine. The buildings in the complex are the printing press at the Keeling House, Donald Schoolhouse and the Cotton Ginners Museum.
The Cotton Ginners Museum was fascinating. We learned quite a bit about cotton gins, the growing and production of cotton and history makers who invented the machinery that modernized the cotton industry.
The Donald Schoolhouse, a 1900 school building, shows us the history and progression of education as it developed on the Grape Vine Prairie – beginning in a log cabin and growing into today's modern school district.
Keeling House is an 1888 historic home whose exhibits show us how Grapevine developed from a pioneer settlement into the city it is today. It also features an 1881 printing press which made us pause and think about how much things have changed. We have come so far from placing letters one by one in a press to create printed materials to typing letters one by one on a computer and instantly being able to print.
Nash Farm
Amory and I spent quite a bit of time wandering (read self guided tour) the Nash Farm which includes a historic farmhouse, built in 1869, the barn and other historic structures. This popular destination shares more about early 19th century farm life with this working farm and special annual events throughout the year.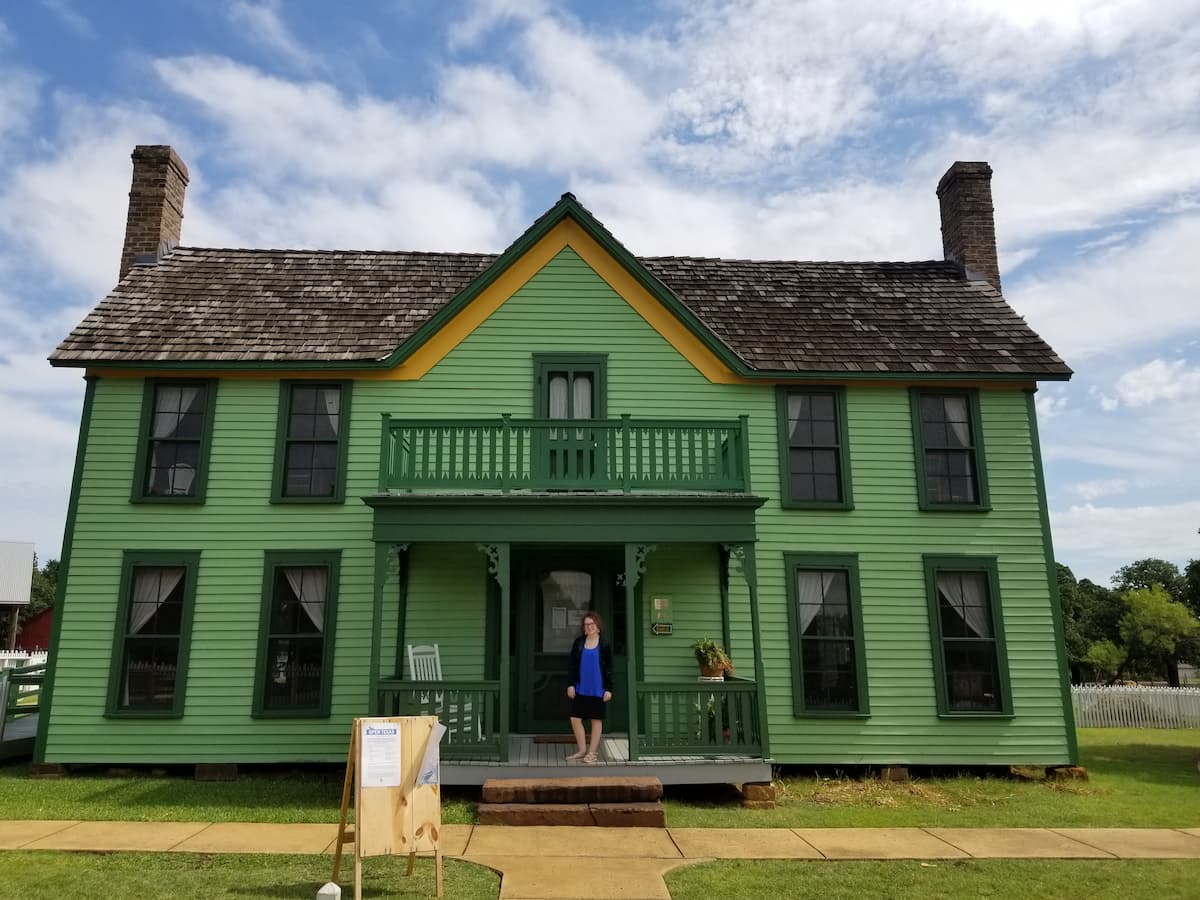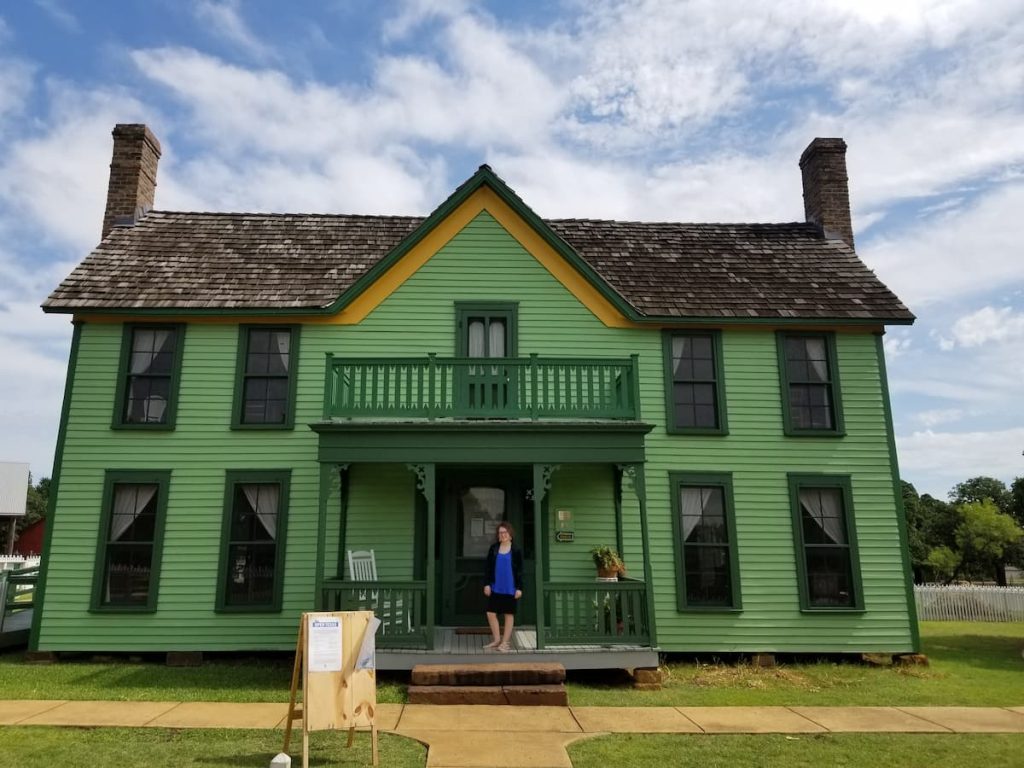 The farm raises livestock including Gulf Coast Sheep, turkeys and chickens and grows heirloom field crops and produce. We especially loved the goats who were curious and seemed to pop up around every corner.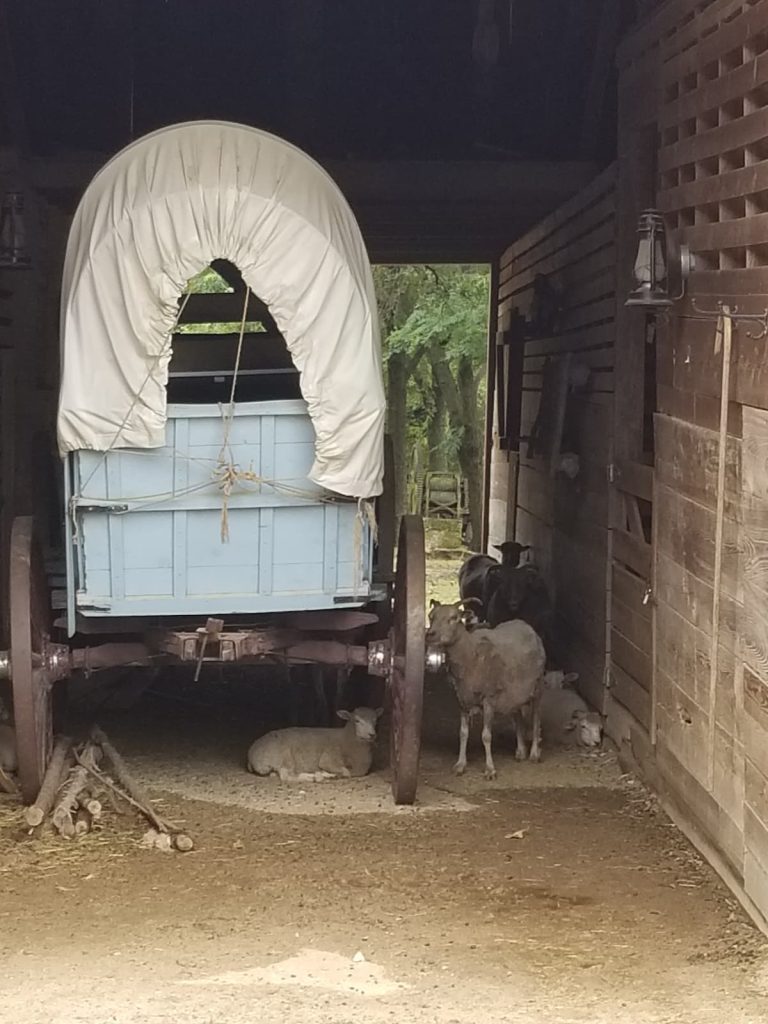 The Nash Family was part of a migration of farmers from the Upper South (Missouri, Kentucky and Tennessee) who settled on the Grape Vine Prairie in the years prior to the Civil War. Thomas Jefferson Nash purchased 110 acres of farmland in Grapevine in 1859. Today, 5.2-acres of the original Nash Farm, including the house Thomas built, his barn and the family cemetery, still stands in the heart of historic Grapevine.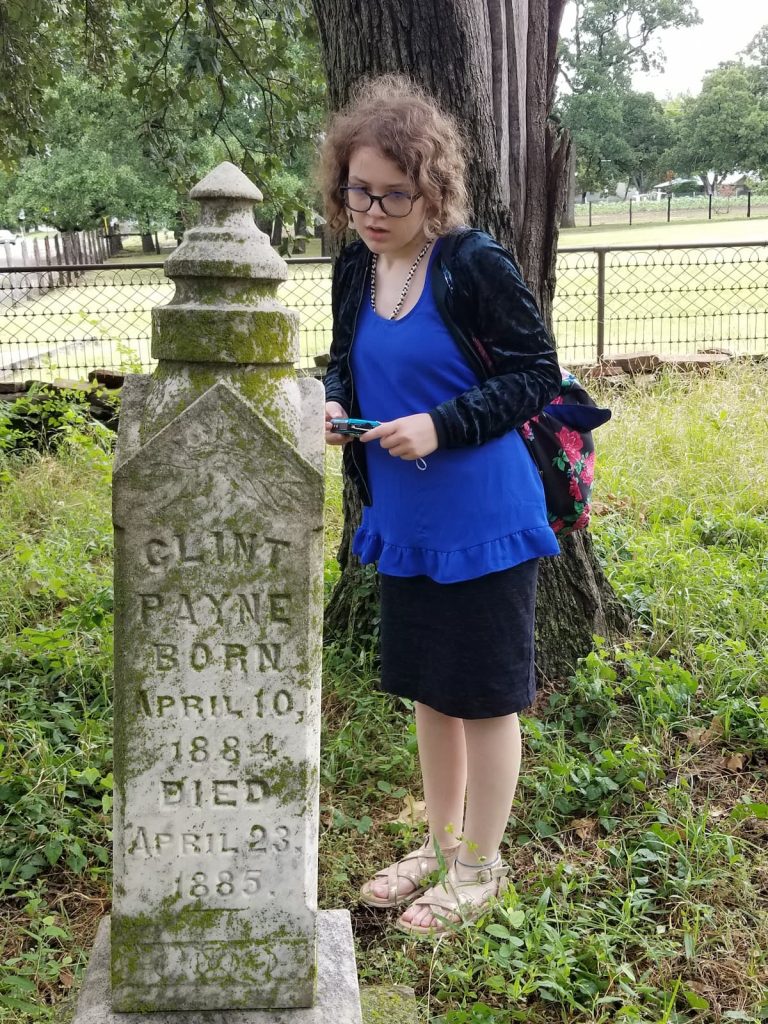 Nash Farm has picnic tables for you to enjoy the peaceful surroundings of this special place.
Grapevine Historical Museum
The museum is housed in a building that replicates the appearance of the Grapevine Ice Company building originally built in 1940. The exhibits in this museum share the story of people, places and even dinosaurs that are the heart of Grapevine.
In the museum you are led through exhibits about frontier home life, displays of when Grapevine was a community of cotton and cantaloupe farmers, memories of Grapevine's residents about mid-century small-town life, and much more.
Find the joy in the journey! Share in the fun on these trips where I give you places to visit and more details about the area.
Enjoying Outdoor Activities Is On The List Of The Best Things To Do In Wonderful Grapevine Texas
Grapevine Botanical Gardens
The gardens are located in Heritage Park. And this was seriously one of the best things we did on our trip to Grapevine. This is a beautiful park with trails, streams, ponds, sitting areas and hundreds of different plants.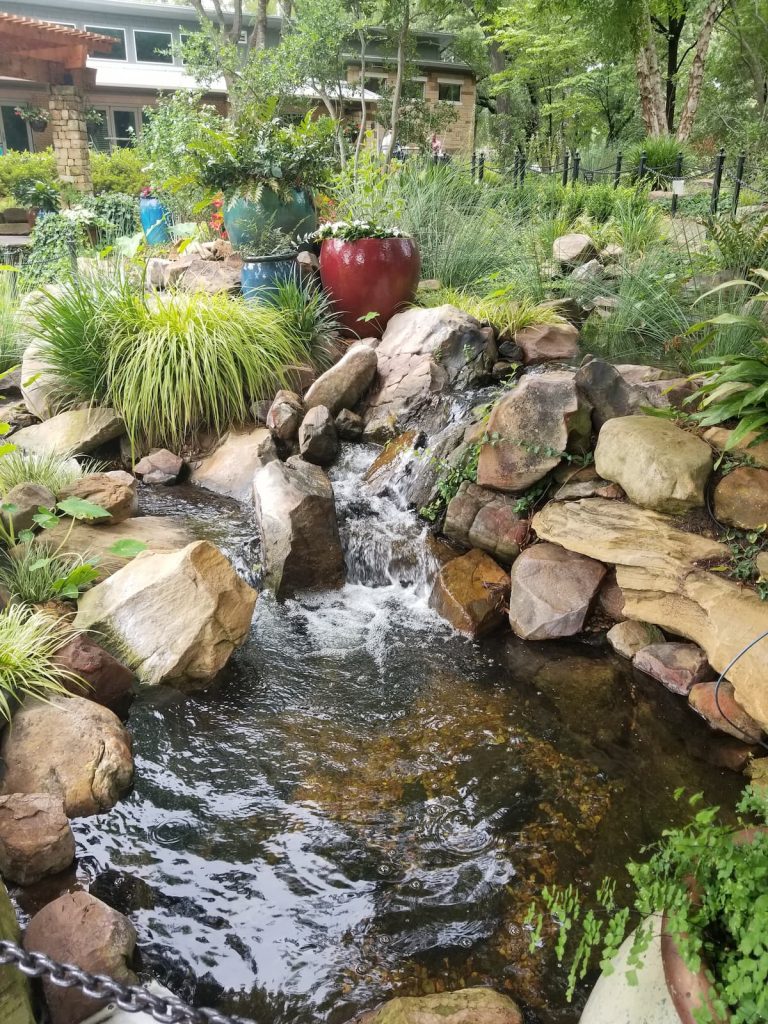 There were sculptures and statues sprinkled throughout the park. Our favorite was "Transition To Beauty". Butterflies have a lot of meaning for us, our story certainly includes a complete transformation. From ugliness to a complete mess, then cocooned by healing and those who loved us and born into a beautiful new life.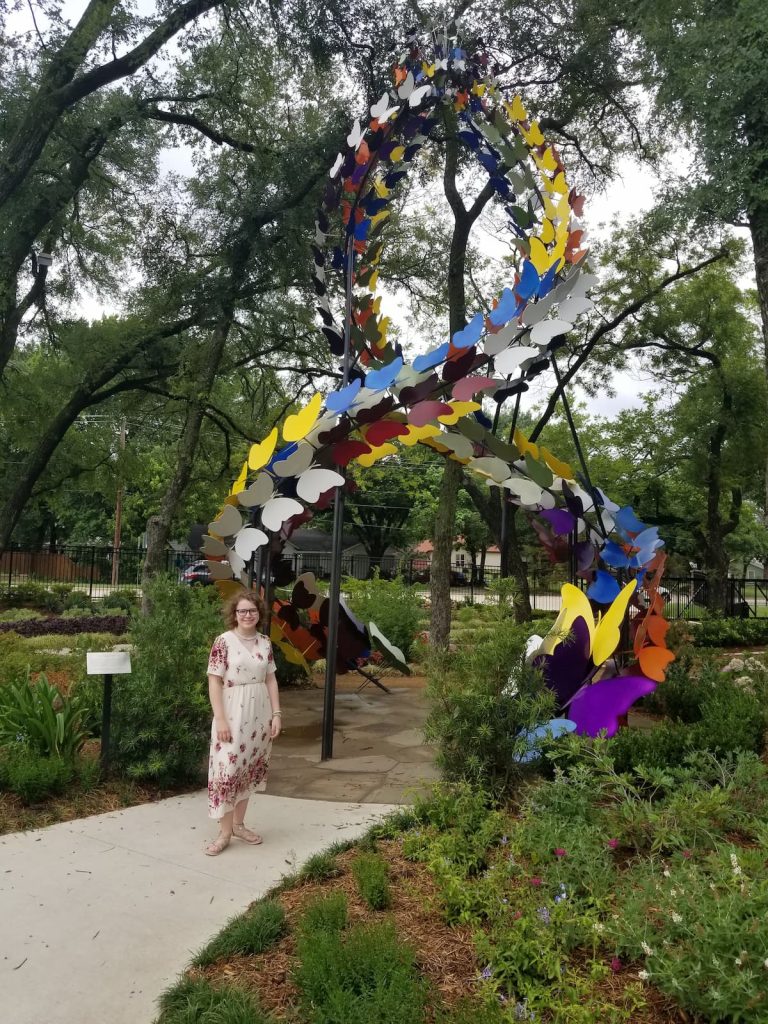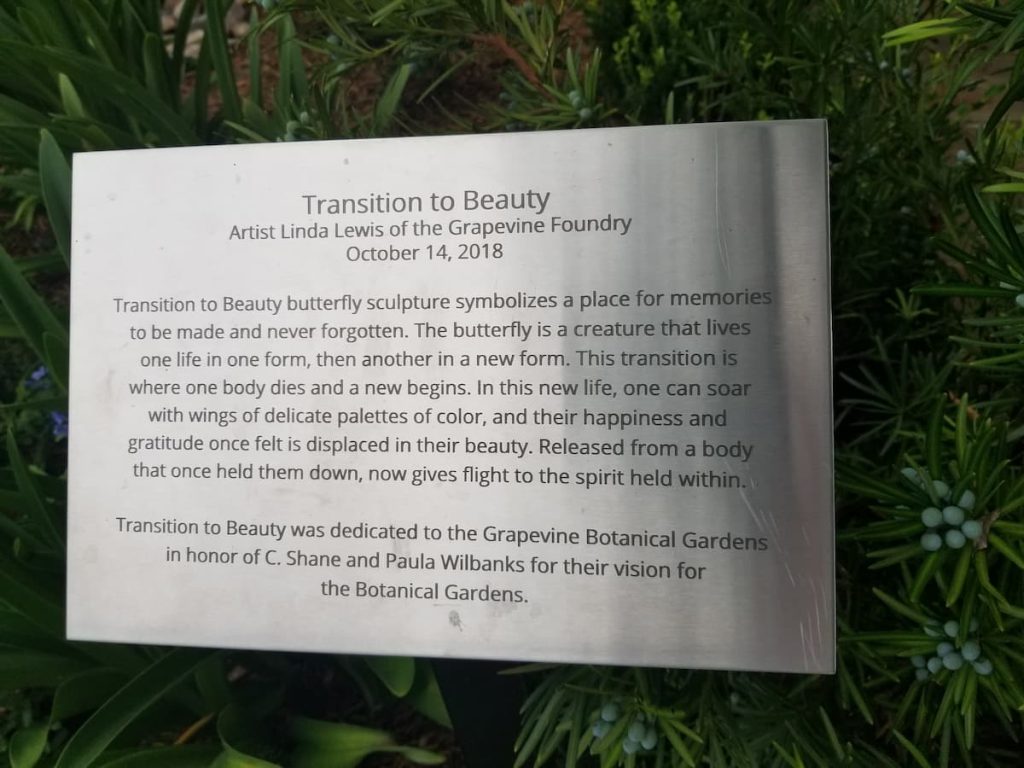 Our suggestion is to find a park bench in the beautiful and serene surroundings and soak in the peace and connect with nature.
Lake Grapevine
If outdoors for you needs to be more than a glass of wine on a patio and you want more action in your outdoor recreation than Lake Grapevine is the best place for you.
Meadowmere Park, a local favorite, with its sparkling water, sandy beaches, and grassy areas dotted with picnic areas is the perfect place for family fun. It is a popular destination for all kinds of water sports. Fun things to do on Lake Grapevine at the park include renting kayaks and stand up paddle boards from DFW Surf, playing at WhoaZone, the largest floating aqua park obstacle course in Texas and designated swimming areas.
Great Wolf Lodge
Not exactly outdoors but if you're someone who likes the outdoor activities but wants it conveniently temperature controlled you must visit Great Wolf Lodge. The resort has it all: a 80,000-square-foot indoor water park kept at a perfect 84 degrees year-round, fun attractions for every age and all skill levels, dining options for everyone, and more.
You can choose to stay at the resort or purchase a day pass. Either way you get easy access to all of the water slides, water play areas and my favorite – the lazy river.
Visiting All The Animals Is On The List Of The Best Things To Do In Wonderful Grapevine Texas
Sea Life Grapevine Aquarium
Sea Life Aquarium is located at Grapevine Mills Mall. If you have read any of our other travel adventures then you know Amory loves her animals and we must include visiting them on our trips.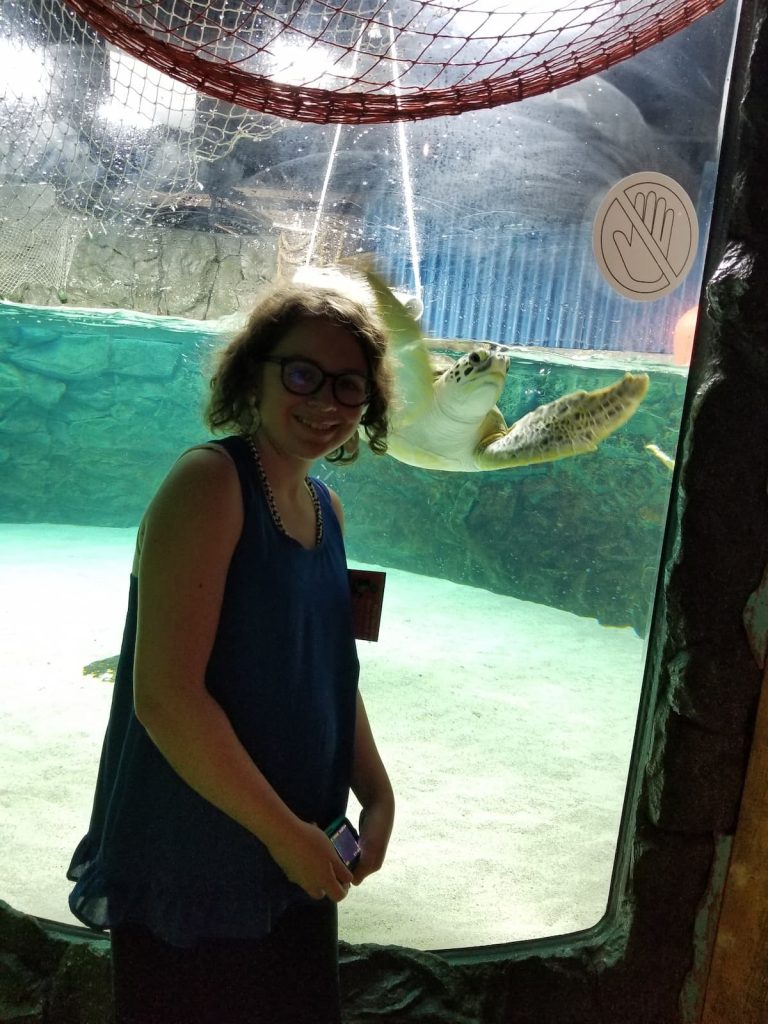 We loved walking through the aquarium and enjoyed the viewing bubbles, the clear descriptions of the sea life we were seeing and learning about the sea turtles.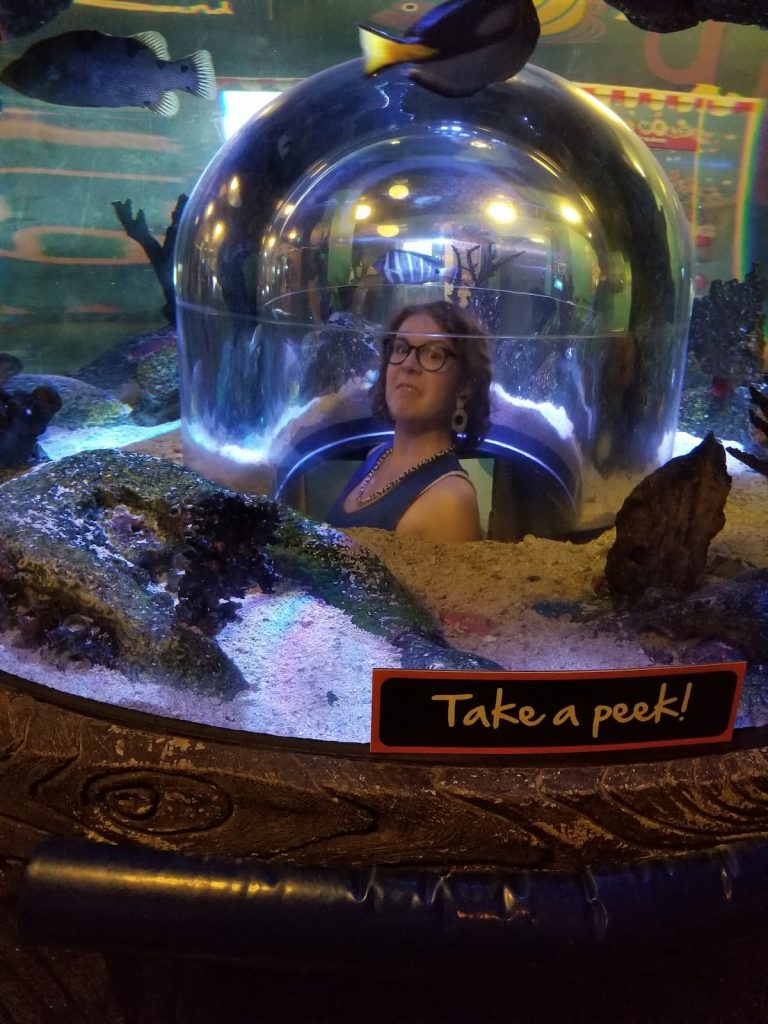 The aquarium is home to the sea turtle rescue center. We learned about the threats turtles face in the wild and how they are rescuing, rehabilitating and releasing sea turtles. Don't miss the working turtle hospital – it's a must see!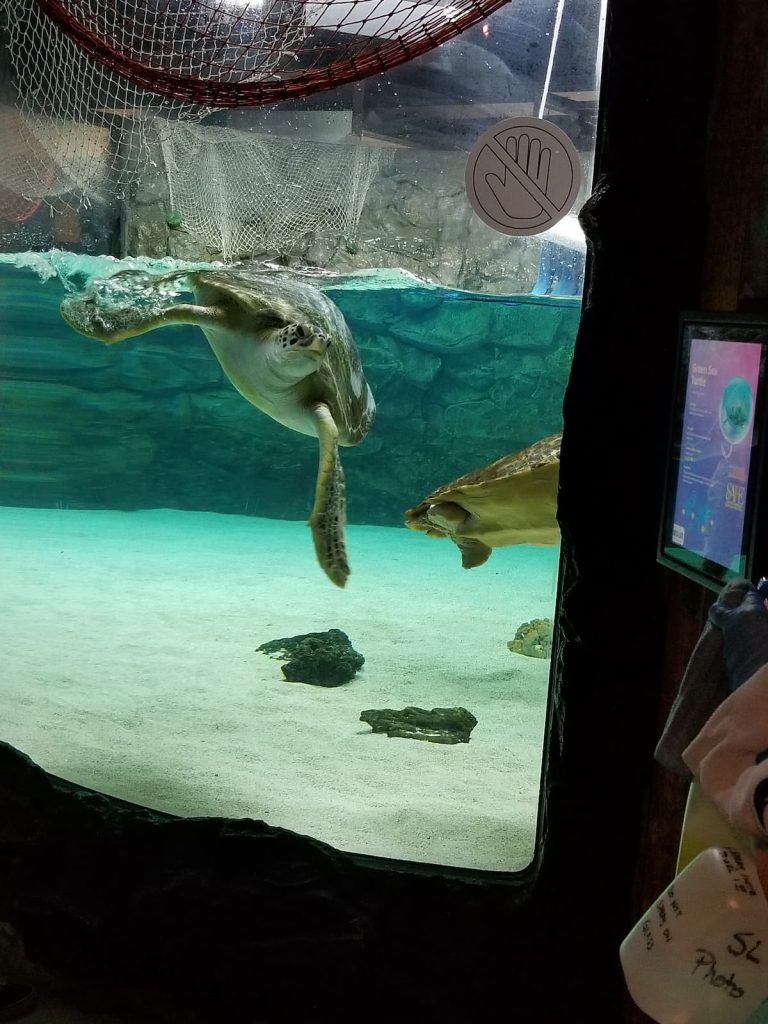 Also located at Grapevine Mills Mall is Peppa Pig World of Play and The Legoland Discovery Center, both of these being a top attraction in their own right! You can purchase a ticket to all three attractions at a discounted price. This makes it easy to visit all of these sites while at the mall!
Fort Worth Zoo
Just thirty short minutes from Grapevine is the Fort Worth Zoo. Amory and I have been to a lot of zoos and right now we are putting this one at the top of our list. It was well laid out, had wide sidewalks, was shady (in Texas this is a must), and the variety of animals and landscapes were amazing.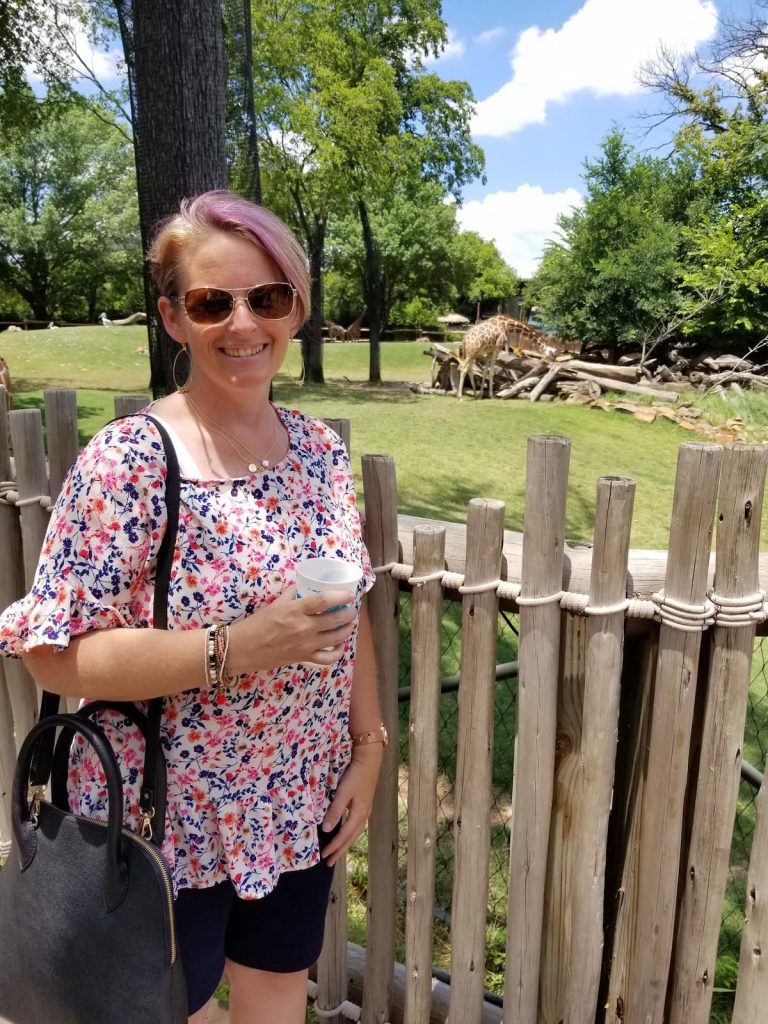 The paved sidewalks all around the zoo make it easy to see all of the habitats, but if you're tired of walking, hop aboard the Yellow Rose Express for a ride to and from Safari Depot.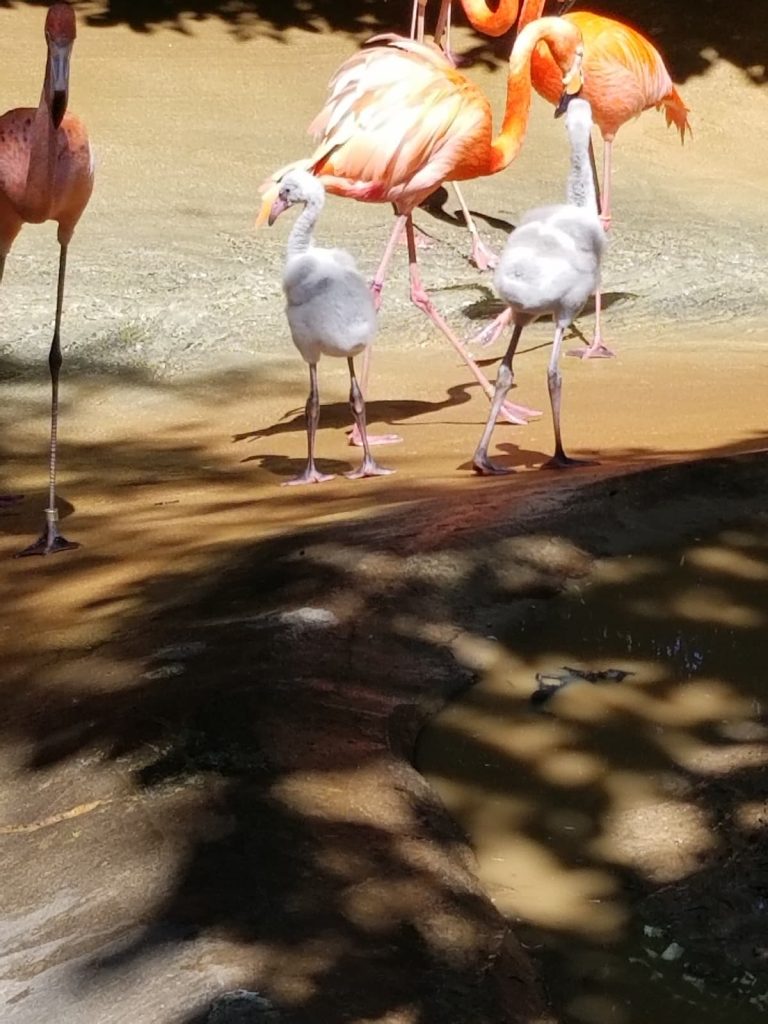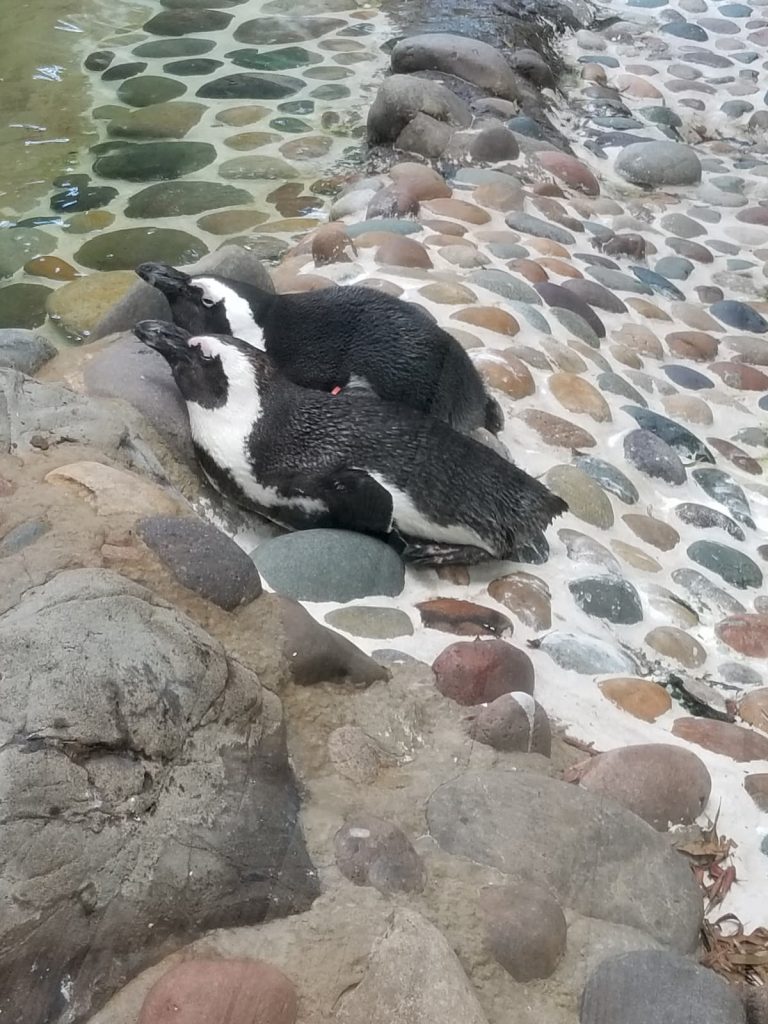 Penguins, flamingos and sting rays oh my! The zoo houses a total of 542 species, 68 of which are classified as either endangered or threatened on the state and federal levels, and 112 species are on the Association of Zoos and Aquariums (AZA) Species Survival Plan. Which means there are a lot of animals to visit in this 64 acre zoo!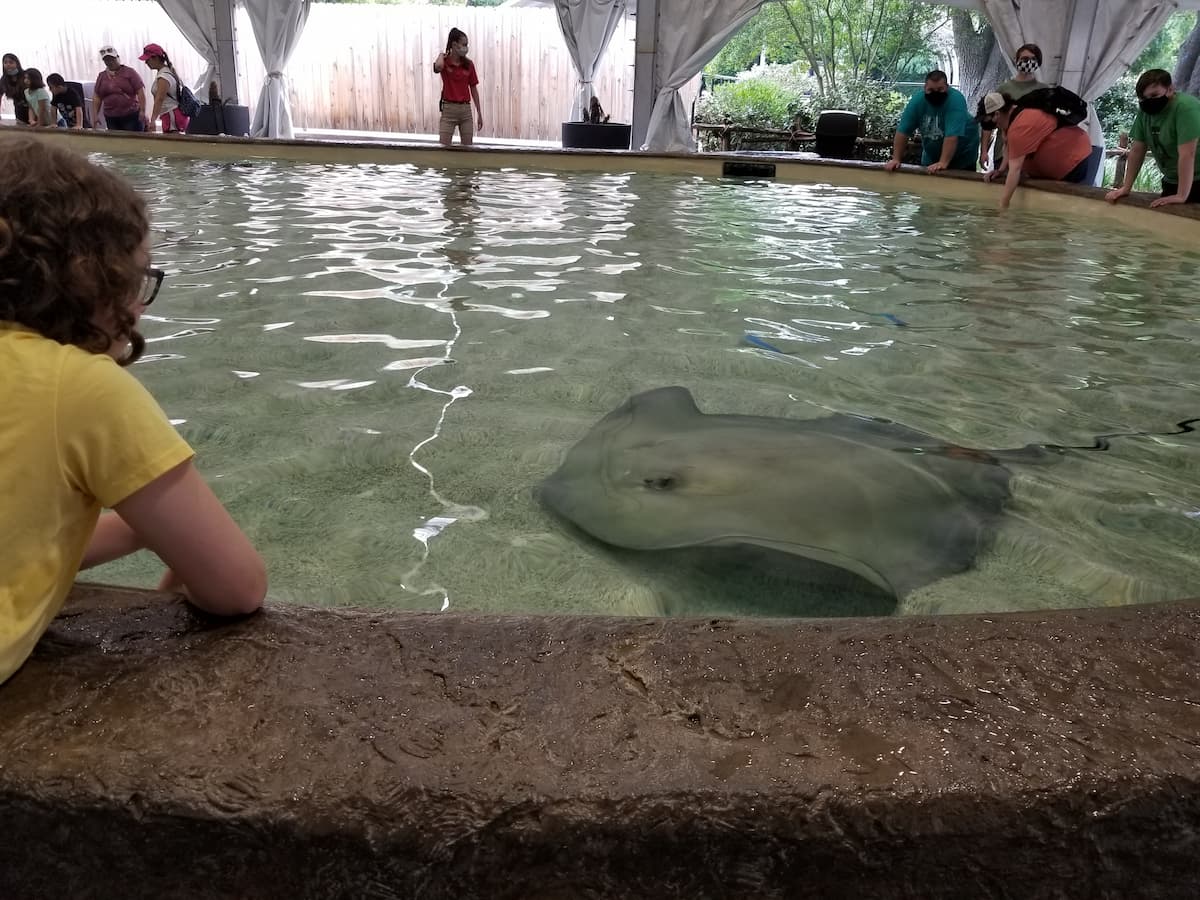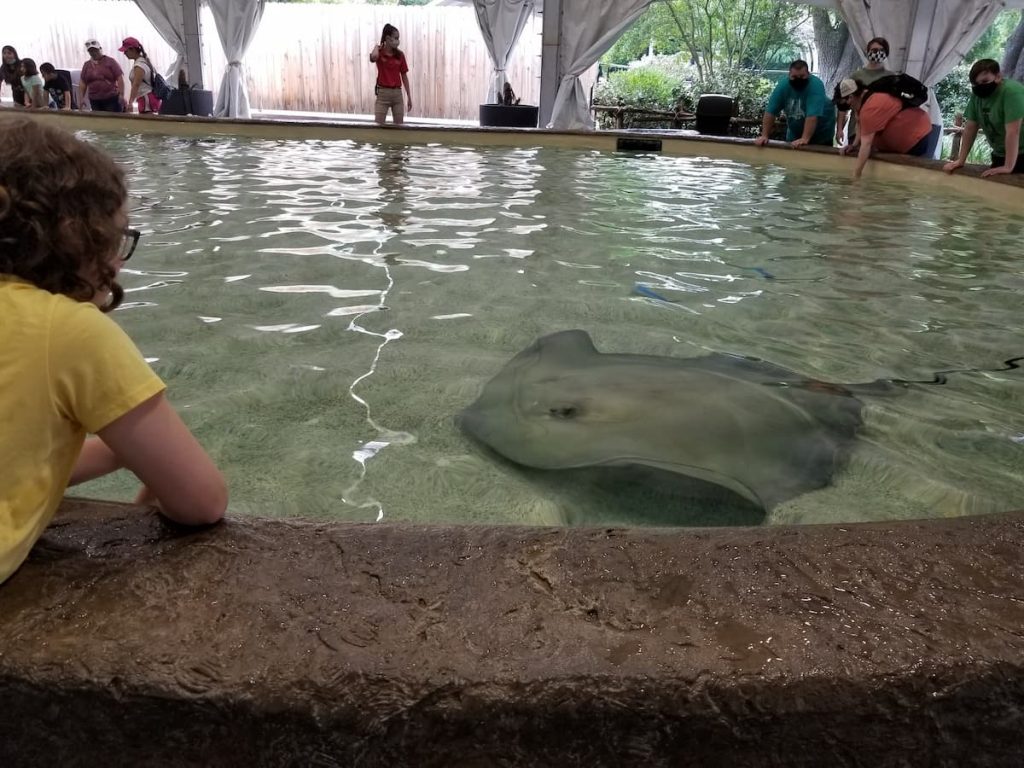 One More Grapevine Texas Nugget
Grapevine is the Christmas capital of Texas. Yes, you read that right – the capital!
The Gaylord Texan Resort, a convention center and hotel, transforms into a winter wonderland. The walk thru exhibit, called "Ice!", is a story-driven holiday showplace complete with larger-than-life ice sculptures, thrilling frozen slides, and awe-inspiring tunnels.
Are you a fan of the Christmas Hallmark movies? Me too! Then you'll love downtown Grapevine transformed into a magical Christmas experience. The season includes 40 days of unique and traditional Christmas events, millions of lights, enormous decorations, animated characters and much more.
Before You Fly Away To Plan Your Trip With The Best Things To Do In Wonderful Grapevine Texas
Pin any of the images to Pinterest so you can plan your trip to Grapevine Texas – hover over any picture to save the pin to your Pinterest account. So easy!