Thrift Store Lamp Makeover
Thrift shops are are the best place to find lamps. Because have you priced lamps lately? Lawdemercy … yes please I'll take out a small loan so I can read in the evenings. So when I saw this brown and bronze urn style lamp at my local Goodwill I knew there was potential and we had the perfect lamp for a makeover. Join me as I walk you through a thrift store lamp makeover – you can use these techniques to update almost any thrifted lamp!
The before of our lamp makeover, the thrifted lamp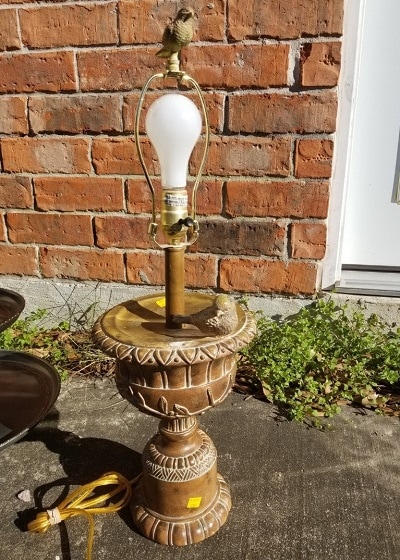 I couldn't pass up this urn style lamp with sparrows I found at Goodwill Houston. I saw past its brown and bronze color and the one bird that had broken off and knew it had potential. Looking up lamps online that were similar to it I found they were priced in the hundreds of dollars range!
Get The Ultimate Guide To Thrifting!
You'll find a list of more than fifty items you want to look for in thrift stores, a shopping list for tiered trays, a holiday on a budget tips and tricks section, and pages of decorating ideas for your thrifty finds!
Thrift Store Lamp Makeover, Step 1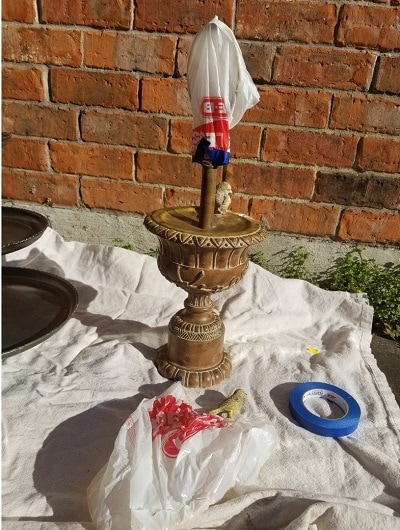 Tape and cover (I used plastic grocery bags) all the electrical parts. Tape off any hardware you don't want painted as well.
Thrift Store Lamp Makeover, Step 2
Spray paint a base color all over your lamp base. Several thin coats are best to avoid runs. I used a creamy white color because I was going to add in my my accent colors in the next step.
Thrift Store Lamp Makeover, Step 3
This is a video to show you the basic way to add the accent color. This was from a table riser that I created but the technique is the same!
Dry brush accent paint onto your piece
Mist lightly with water
Blend using a paper towel or lint free rag.
The Finished Lamp from the Thrift Store Makeover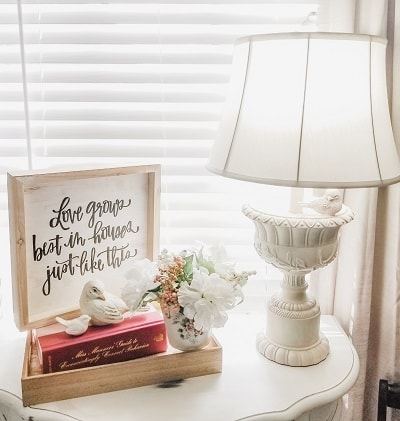 It's easy to make over a lamp from the thrift store and I hope that you can use this as inspiration to "Fifth Sparrow No More" an outdated lamp. Remember, lampshades need love too! They are the jewelry, the hat, the cherry on top! I did a makeover on a lampshade – you can see that post here.
Before You Fly Away To Makeover A Lamp From The Thrift Store
Pin any of the images to Pinterest so you can "fifth sparrow no more" the lamp you find thrifting – hover over any picture to save the pin to your Pinterest account. So easy!