I Set Up A Booth In A Retail Store!
I am excited to share that I set up a booth in a retail store! The Fifth Sparrow No More now has a small spot in a local store called Gemma's. God has given me Fifth Sparrow No More for me to help you find the beautiful in yourself and your home. This retail space is the next step in God's plan for the future!
The Booth Space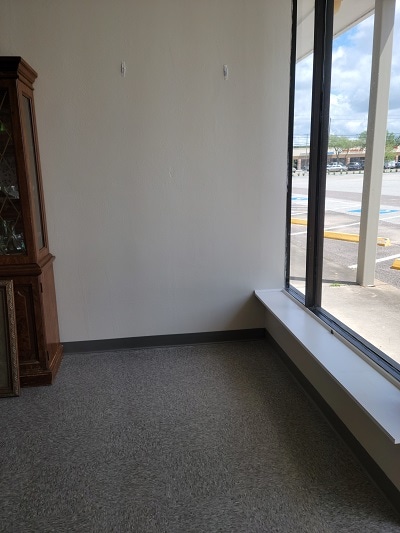 I was given this space right in the front window to set up. I knew right away I would need to utilize the back wall and the ledge in the window.
Shelf Makeover
In true fifth sparrow no more fashion I received this shelf for free and decided it would be perfect centered on the back wall. On either side of these would be two shutters to display prints that I have for sale or other hanging items. This is what the shelf looked like when I got it.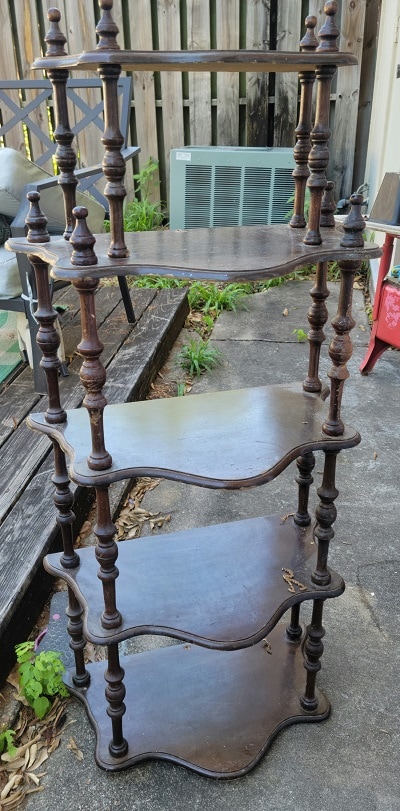 I cleaned it thoroughly and took it all apart. I took it apart because I wanted the spindles to stay the wood color and the shelves to be painted white. At this point I was wondering what I was thinking!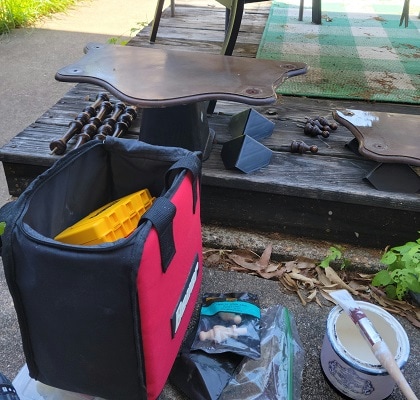 I laid everything out so I would know which spindles and finials went to each shelf. It was quite confusing and when I put it back together I referred to the before picture a lot!
The Prep Work Behind The Booth
Price Tags
I created all my price tags for my booth ahead of time. I did this by
Taking inventory of items and typing them into an excel spreadsheet

Columns were vendor number, name of item, description of item, what I paid for it and what I'm selling it for (this will come in handy too at tax time!)
I saved this as an excel spreadsheet and a csv file
I went to the Avery label website, found the labels I was using and was able to do a mail merge with the csv file onto the labels

If there was not a good spot to adhere the stickers on an item then I used playing cards cut in half with a hole punched and used twine to tie the tag onto the item.
Ready To Move In?
Pack items in groupings – I like to pack up milk crates or boxes with 'like items'
Map out the booth space at home – you may want to set it up at home first
Do you have staging pieces or places for your things to sit on? I used my pink desk for the middle of the booth, I will utilize the window ledge and the shelf and shutters I am doing a make over on.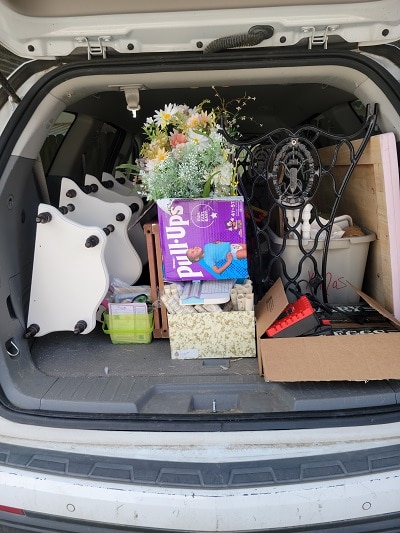 Let's Set Up A Booth!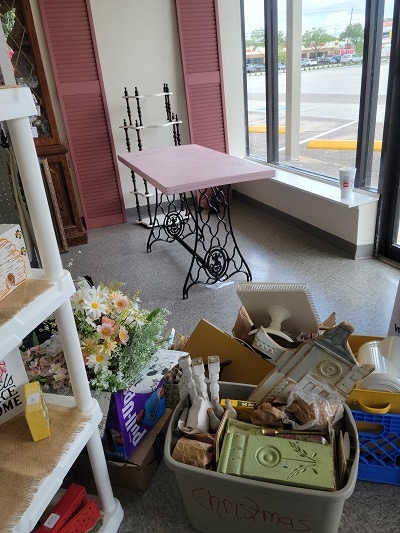 I set up big pieces of furniture first – raising the shelf to hang on the wall. This way I could set up my smalls that were separated by style and color.
Booth Display In the Window
I wanted to do glass items in the window, I thought they would catch the light and sparkle. And we all need little sparkle!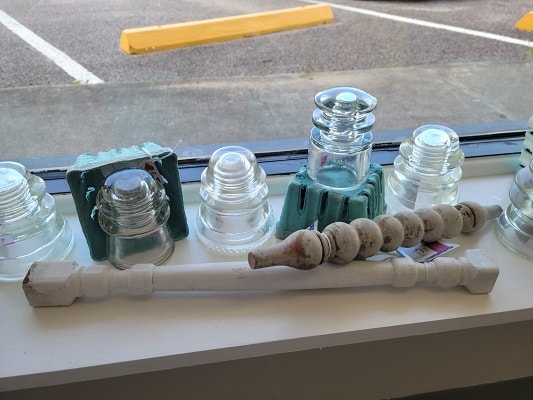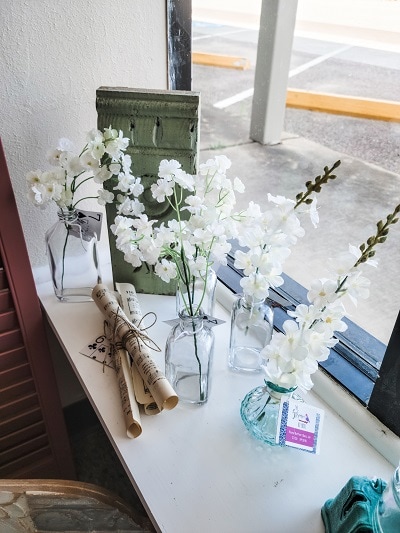 Booth Display On The Wall Shelf
I set up each shelf paying attention to color or theme. I am hoping to help shoppers find the beautiful in their homes by giving them ideas for vignettes and displays.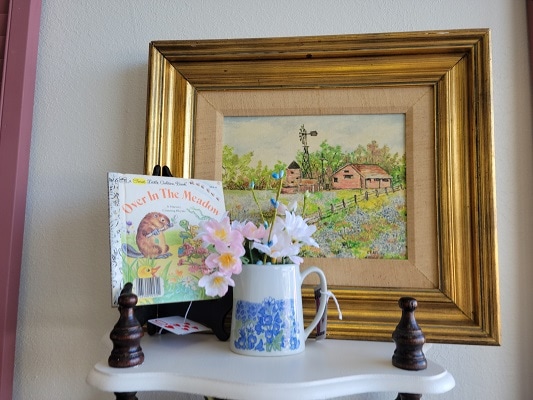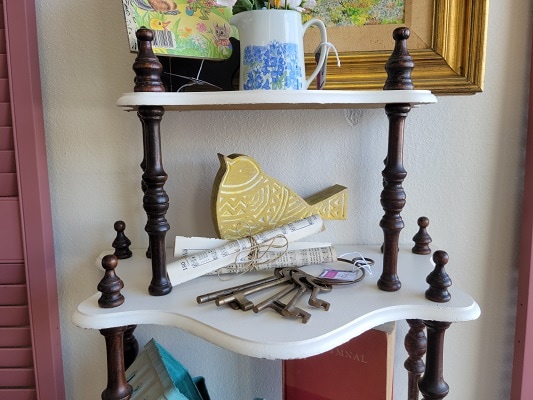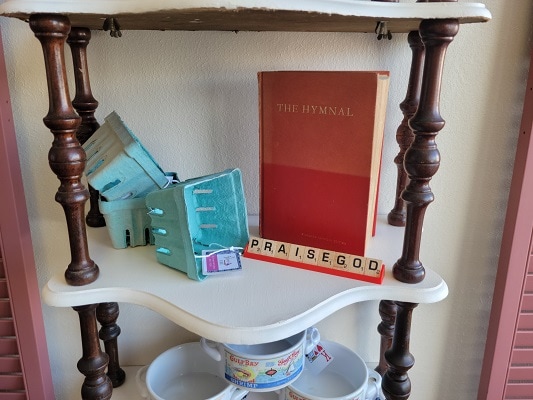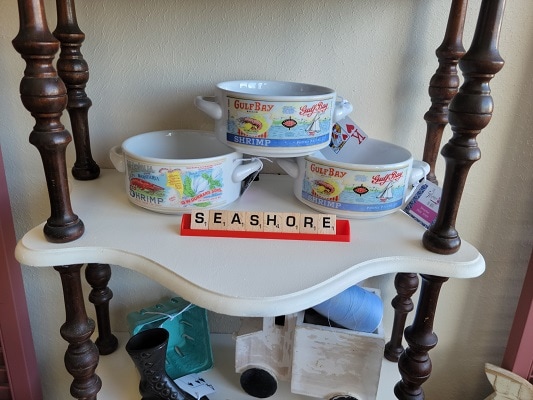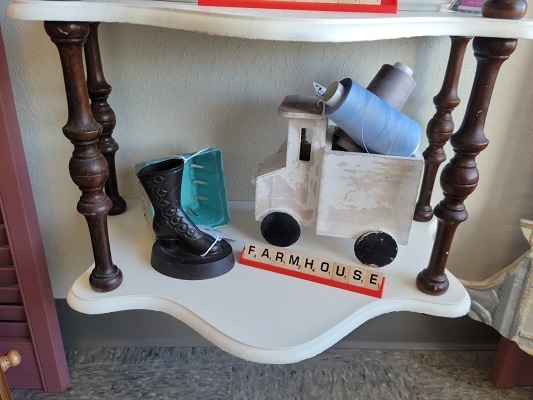 Booth Display Under The Table
When setting up a booth I found you must utilize every square inch of your space! Under the pink table I placed my my bright farmhouse pieces so the shopper's eye would be drawn to look down.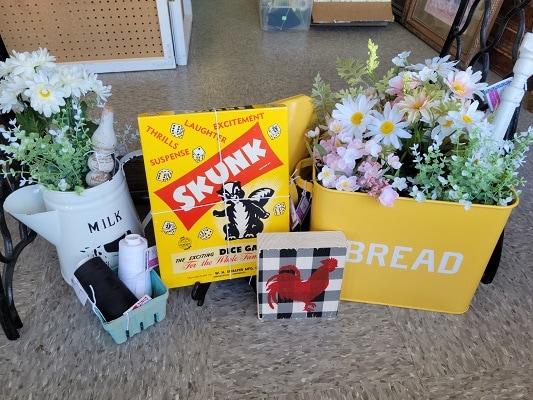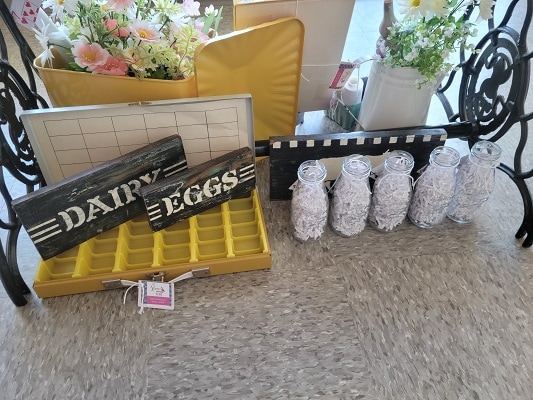 Booth Display on The table
On the table I placed shabby chic, vintage pieces in pastels and whites. I did not want to compete with the pink of the table and wanted everything to play together nicely.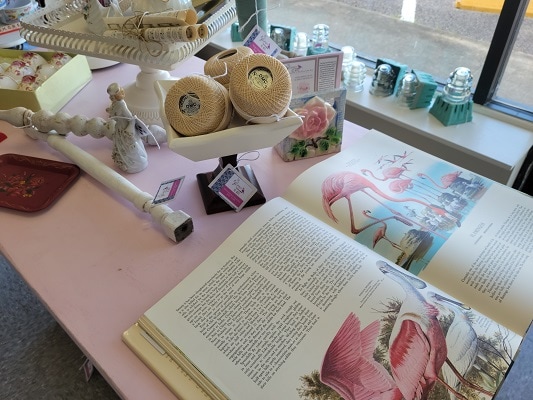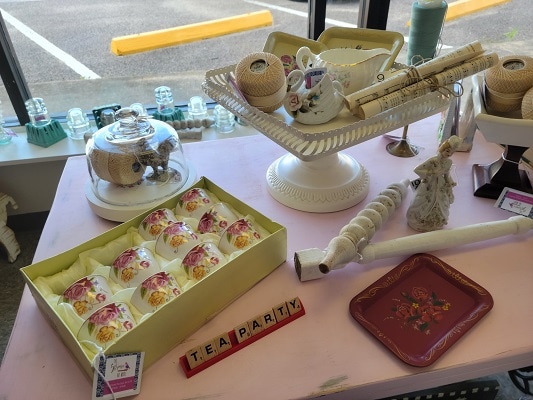 Thank You For Visiting My Booth In A Retail Store!
I hope this inspires you – even if you are not setting up a booth, that it will inspire you to create vignettes and displays in your home with these ideas! Pin this post to Pinterest to help you set up a booth or your own home – hover over any picture to save it to your account. So easy!