Easy Ways To Decorate With Apothecary Jars
This post is full of great ideas and easy ways to decorate with apothecary jars for any time of the year. Glass apothecary jars are one of the most versatile home decor item because they can be used in any room and just by filling them with a variety of things they can be used for everyday decor or seasonal decor. Let's take a closer look at all the ways to use them in your home.
What Is An Apothecary Jar?
Apothecary jars are wide mouthed glass jars in numerous shapes with different types of lids and pedestal bases. These beautiful jars come in different shapes and sizes. They are perfect for storage in the bathroom or craft room, as a focal point in a centerpiece on the dining room table, in the living room, on the kitchen countertop and more. You can find these in a thrift store, at a décor and craft store like Hobby Lobby or create diy apothecary jars from mason jars, glass candlesticks and a drawer pull from the dollar store.
Favorite Apothecary Jar Finds
The above links are Amazon affiliate links. I make a commission when you click on the links and purchase.
The History Of The Apothecary Jar
Apothecary comes from the Latin word "apotheca" meaning storehouse and in medieval times an apothecary could provide any luxury item the customer wanted to purchase. From the 16th century, the apothecary started to resemble the modern idea of a pharmacist. The early apothecary jars were for storage but also for display of expensive and valuable items so they were created to impress.
From the 18th Century glass blowers decorated apothecary jars using cold-painted application. This technique is where motifs are painted onto the glass and protected by a thin layer of varnish. This laborious technique was not suitable for larger scale production that came into effect in the late 19th and early 20th Century. Up until the late 19th century, apothecary containers were functional products made by skilled glassblowers along with other products such as windows, glass vases and drinking vessels.
In the latter part of the 19th century large companies would have mass produced big volumes for use in pharmacies in big cities. These apothecary jars would have been in use until after the second world war when plastic and modern dispensaries would have made these beautiful glass apothecary jars and bottles obsolete.
Easy Ways To Decorate With Apothecary Jars In Every Room Of The House
Apothecary Jars In The Bathroom
A great way to use one apothecary jar (or multiples) is for pretty storage in your bathroom. This is especially helpful for a guest bathroom for sundries that might have been forgotten when coming to visit.
Displaying cotton balls, hair accessories, decorative soap and bath salts, small bottles of bath products, makeup brushes and q-tips in glass is a perfect way for your guests to find everything they need without having to ask.
Not Much Space?
These stacked apothecary jars are one of my favorite ways to save space on counters and shelves. The above links are Amazon affiliate links. I make a commission when you click on the links and purchase.
Decorating The Easy Way In The Living Room
Oh let me count the different ways to use these glass things in your family room, den or living room.
On top of your china cabinet (yours might be in the dining room) –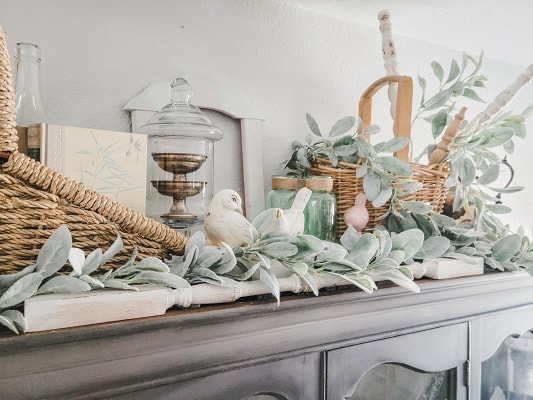 In a tray on the coffee table or displayed on a side table, side board (that also might be in your dining room!) or shelves.
Use Apothecary Jars In Your Dining Room
Apothecary jars are great decorations to use in for centerpieces for your dining table, for a buffet, a beverage station like a hot cocoa bar or in your hutch as decor. These come in many sizes from large jars to miniatures.
When creating a tablescape the 1-2-3 Formulas To A Beautiful Table is a great way, an easy way to create a table that wows friends and family. In the formula the first two steps are entertain and contain. These are your statement pieces – the big wow! This can be anything and one simple look is to use an apothecary jar or a grouping of large apothecary jars paired with other pieces.
Download your free 1-2-3 Formulas To A Beautiful Table
Shop your home for bowls, plates, glass jars and more to create a beverage station. Apothecary jars are great and can make a statement with different colors of marshmallows, cookie bits, or holiday candy like candy canes inside for a hot cocoa bar. For an apple cider bar in the fall a vase filler idea is, of course, apples! You can also use the apothecary jars for toppings like cinnamon sticks, caramel squares, fresh orange slices or apple chips.
Easy Ways To Decorate In The Kitchen With Apothecary Jars
A few ideas to gather and organize beautifully on your kitchen countertop with these jars:
– Use them for coffee beans, ground coffee, and sugar in your coffee bar.
– This is a wonderful way to display beans, rice, and pasta and make your kitchen look uber fancy without much money!
– Make a baking station and use smaller apothecary jars to display your flour, sugar, baking powder and baking soda. I did this in my kitchen with these blue jars from Pioneer Woman.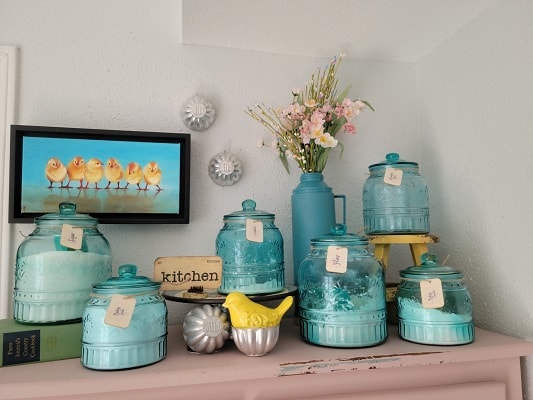 Easy Ways To Decorate With Apothecary Jars For Every Festive Season
In The Spring
Spring is a time of new beginnings, fresh starts and pastel colors. An apothecary jar of Easter eggs, whether they are from your craft supplies, plastic bags of candy or those you've decorated with the family is a simple idea that makes a beautiful statement.
Using apothecary jars without its lid can serve as a glass vase. Fill this with either fresh flowers or silk flowers for a gorgeous spring centerpiece at this time of year (looks great in the summer too).
For The Winter Season
An apothecary jar is the perfect vessel to create a winter scene for the Christmas season. This is an easy craft that won't take a long time to create. It's quick, easy and so much fun to express your creativity with fake snow, bottle brush Christmas trees, fairy lights, small Christmas village houses, ornaments, and animals.
The best part is that filled apothecary jars make great gift ideas for Christmas. Here is a few gift sets to put inside –
Sundae party in a jar – add ice cream cones, hot fudge, caramel sauce, sprinkles, and other ice cream fixings to the jar
Cookie Time – store-bought cookies (or a cookie mix), tubes of colored frosting, small candies, and other cookie decorating supplies.
Pampering Pedicure – nail polish, toe spacers, moisturizing lotions, cuticle sticks, Nail polish remover and other tools for a spa day at home.
Crazy Cocoa – Hot chocolate mix, cups, toppings, and create a tag with the hot chocolate flashcard from the Winter Fun set.
Movie Night In – Packets of microwave popcorn, boxes of movie candy, and a snuggly blanket.
Fall Apothecary Jars
There are so many options for fall! Decorate for Halloween, to celebrate fall, or as a centerpiece for the Thanksgiving table.
For the not so spooky season there are so many options. For a fun and different look pour Halloween candy in colored layers to mimic candy corn.
Place an empty toilet paper or paper tower roll in the center of your apothecary jar – this saves space so you don't have to use so much candy.
Pour yellow m&m's into the bottom of your jar.
Next pour in orange reese's pieces as the next layer.
For your last layer use a white candy like white chocolate covered almonds or raisins.
To celebrate the fall fill with orange and red leaves, mini pumpkins and natural elements like pine cones. At no additional cost you can pick up the leaves and pinecones for free in your own yard or on a hike with your family.
An Apothecary Jar For Summer
Create a beach theme and fill the jar with seashells, sand, driftwood, or sea glass.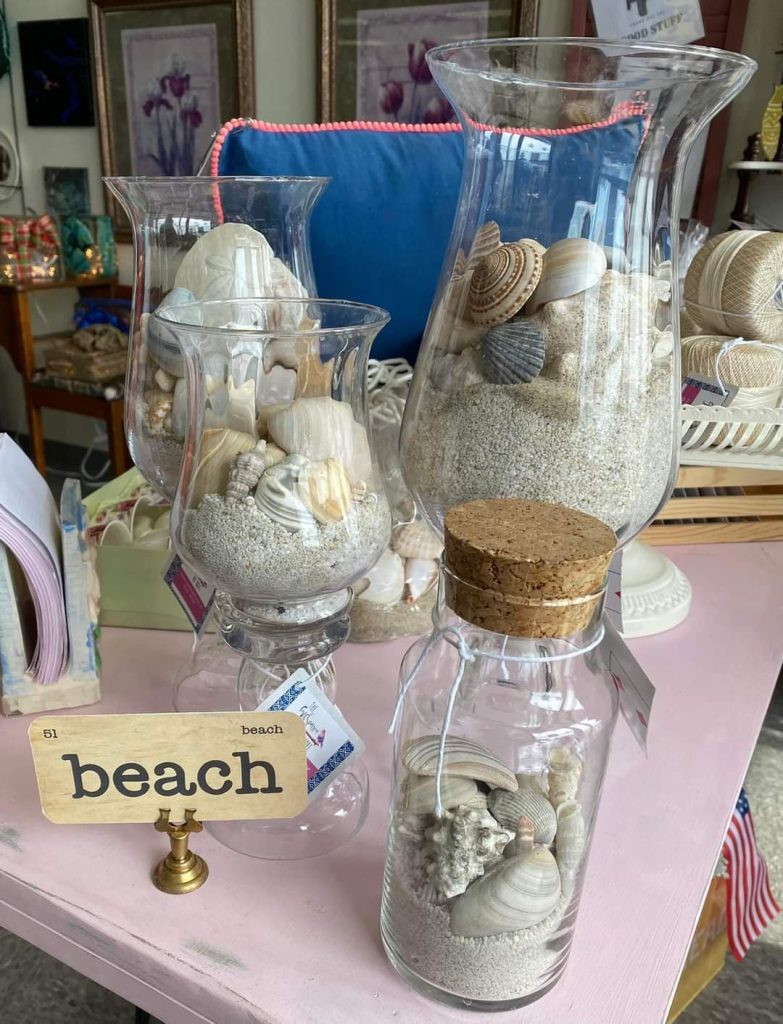 Place candle holders in the bottom of your jars and while holding it in place fill the jar with sand to the top of the candle holder. Place a candle on the holder for a beautiful addition to a summer table or outdoor space.
Embrace the color of sunshine and fill it with faux lemons. Decorate with red, white and blue fillers.
Before You Fly Away To Use These Easy Ways To Decorate With Apothecary Jars
Pin any of the images to Pinterest so you can decorate with apothecary jars in your home – hover over any picture to save the pin to your Pinterest account. So easy!