Naaman was a commander of the King of Aram's army. Naaman teaches us about coming clean, about washing himself of the nastiness that covered him. But pride and arrogance almost stole the gift of his knowing God. You can read his story in 2 Kings Chapter 5.
Naaman Had Issues
I imagine Naaman being someone like Gaston – I know I reference Beauty and the Beast a lot, but I will not apologize for this.
girls in the village sighing and batting eyelashes
posters on papyrus in the market
mamas at dinner tables saying to their sons "you know that Naaman" … and then a list of accomplishments that have grown like fish stories
But Naaman had issues that were more than skin deep (much like Gaston)
He was arrogant or full of himself
He only wanted the best, in dealing with people or with things
Wanted things his way
But the biggest issue was that Naaman suffered from leprosy.
WAIT! WHAT? No, really wait a minute. An accomplished commander in the King's army had the world's worst disease? A disease that ostracized you, stripped you of family, friends and possessions? That disease? Yes, Naaman had that disease. And no one knew. Well, very few knew of his horrible disease that was eating away at him.
Naaman kept his issues – all his gross, rotting, nastiness hidden away. Under a thick layer of armor perhaps, a holier than thou attitude maybe, or just by keeping everyone at arm's length (thank goodness, I have heard that leprosy is smelly business).
But his wife's servant girl, who was brought back from Israel on raids, cared enough to share what would heal him. Her God would heal him and all his nastiness (all of it, not just the skin deep issues) through a prophet. 2 Kings 5:3
Naaman's Issues Almost Keep Him From Coming Clean
He only wanted to deal with whom he deemed important and what made him look important. He left Aram told to see a prophet and instead makes a plan to see the king with all his riches. But the king and money won't heal – God will through a prophet named Elisha.

A young girl in Naaman's household who serves his wife wants Naaman to go to a prophet in Israel She said to her mistress, "If only my master would see the prophet who is in Samaria! He would cure him of his leprosy." 2 Kings 5:3
Naaman went to king of Aram and shared the news of what would cure him. He gathered all the things to make him look good and guarantee a healing. And He headed to the king of Israel. "By all means, go," the king of Aram replied. "I will send a letter to the king of Israel." So Naaman left, taking with him ten talents of silver, six thousand shekels of gold and ten sets of clothing. 2 Kings 5:5

He appeared to be full of himself, wanted to see the prophet only and have a "magic wand" cleansing

Elisha sent a messenger out to communicate with Naaman. This made Naaman angry because he was very important and he expected the prophet not a lowly messenger Elisha sent a messenger to say to him, "Go, wash yourself seven times in the Jordan, and your flesh will be restored and you will be cleansed." But Naaman went away angry and said, "I thought that he would surely come out to me and stand and call on the name of the LORD his God, wave his hand over the spot and cure me of my leprosy. 2 Kings 5: 10-11

Naaman wanted things his way

When Elisha sent his messenger to tell Naaman to wash in the Jordan he was appalled. He did not want to get in THAT water when he could have done the same thing at home in his rivers. Are not Abana and Pharpar, the rivers of Damascus, better than all the waters of Israel? Couldn't I wash in them and be cleansed?" So he turned and went off in a rage. 2 Kings 5:12
As you remember Elisha brought like half the national treasury of Aram (just joking but for real, the security detail must have been huge) with him to guarantee his healing and wanted to pay. Then Naaman and all his attendants went back to the man of God. He stood before him and said, "Now I know that there is no God in all the world except in Israel. So please accept a gift from your servant." The prophet answered, "As surely as the LORD lives, whom I serve, I will not accept a thing." And even though Naaman urged him, he refused. 2 Kings 5:16
And one last thing, Naaman wanted to be healed with a wave of the hand. He did not want to expose the nastiness to those servants around him. He did not want to show his true self. But Naaman went away angry and said, "I thought that he would surely come out to me and stand and call on the name of the LORD his God, wave his hand over the spot and cure me of my leprosy. 2 Kings 5:11
Naaman Is Coming Clean
Wiser words have never been spoken than those of Naaman's servants.
After Naaman shows his true colors of being prideful, arrogant, and having the manners of a toddler by wanting things his way and storming off when he didn't get them this is what his servants say,
Naaman's servants went to him and said, "My father, if the prophet had told you to do some great thing, would you not have done it? How much more, then, when he tells you, 'Wash and be cleansed'!" 2 Kings 5:13
Naaman's servants are telling Naaman that this prophet of God has told you to do a simple thing, not something difficult. "Wash and be cleansed."
So he went down and dipped himself in the Jordan seven times, as the man of God had told him, and his flesh was restored and became clean like that of a young boy. 2 Kings 5:14
Wash and Be Cleaned
This is all, this is it, Wash and be clean. Let Jesus wash away all your nastiness, let it be in your past and forgiven with baptism. No matter what your sins are, what your nastiness is start fresh, with a new skin, with a relationship with Him.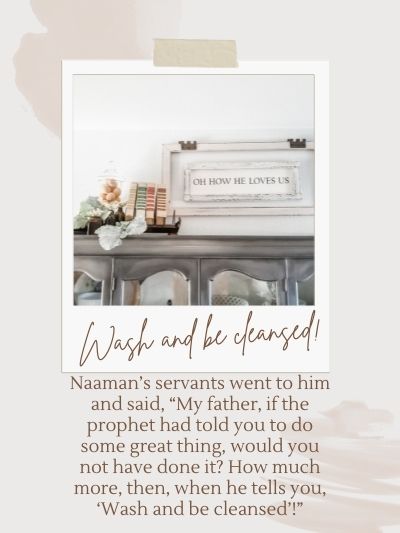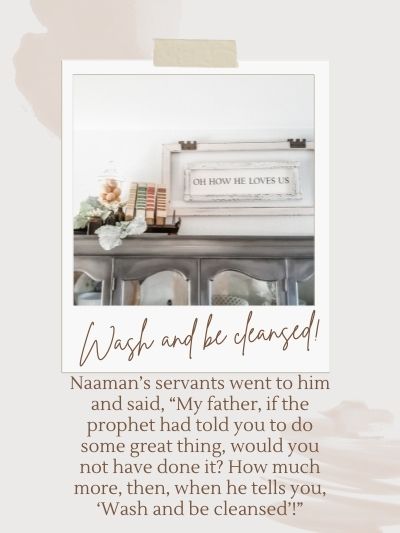 Wash away all my iniquity and cleanse me from my sin. Psalm 51:2
If we confess our sins, he is faithful and just to forgive us our sins and to cleanse us from all unrighteousness. 1 John 1:9