A Simple Way To Display A Poster
Do you want a simple way to display a poster? Use a pallet with furniture nails! Then give the pallet personality with paint – I used Dixie Belle's Terra Clay Paint!
Give Your Pallet Personality
I used Dixie Belle's Terra Clay paint to give this pallet a farmhouse rustic feel. The brand new Terra Clay Paint is thick and would be great for painting your pieces you would like to look distressed. It was perfect for this rough wood pallet. I found my pallet at Hobby Lobby but I could not find it online to give you a link but this one on Amazon is similar.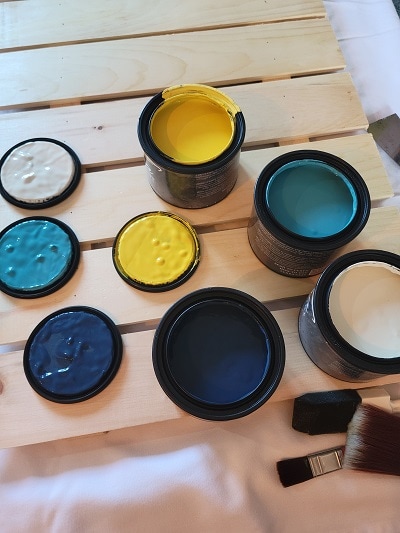 These are the colors of Terra Clay Paint I got to play with:
Blue Moon
Cerulean Blue
Prairie Dawn
Daffodil
Terra Clay Paint Tips & Tricks
The Terra Clay Paint comes in 18 colors as well as Terra Clean and a sealers – Terra Wax or Terra Seal Matte. No release dates as of July 2nd, 2022!
It's matte (like chalk paint) but is much thicker and has texture when applied. Great for a distressed look!
Dixie Belle Paint recommends a natural bristle brush, spatulas, brushes, and other tools.
A Simple Way To Display A Poster – Paint The Pallet
First Step
Cleaned by simply wiping down with a cloth
Using Daffodil I painted two coats
Texture is achieved by painting in two directions
Let dry until just barely tacky
Distressing With Color
Choose an area to distress (best to work in small sections)
Apply your first color with an almost dry brush (I used Blue Moon)
On top of that apply your second color with an almost dry brush (I used Cerulean Blue)
And last dry brush with your third color (I used Prairie Dawn)
Blend these together with a paper towel, if you use a wet paper towel it will reactivate the Daffodil and will be more of a blend instead of a blue distressed spot
Antiquing With Glaze
I used glaze in Van Dyke Brown
Apply with an almost dry chip brush to the edges of your board
Blend with a paper towel or rag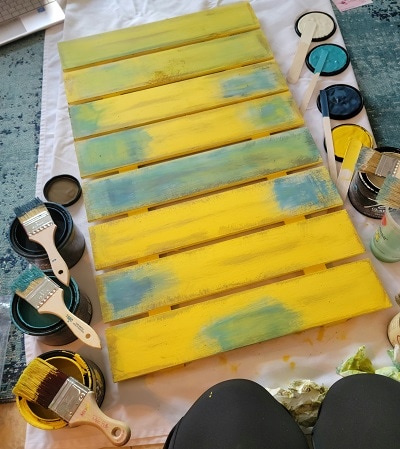 A Simple Way To Display A Poster – Attach With Furniture Nails
After letting your pallet dry for twenty – four hours it's time to finish our poster project!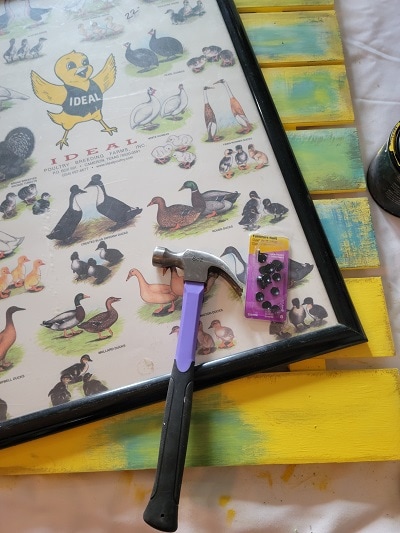 Using black upholstery or furniture nails attach your poster to your pallet. This poster came from a classroom and was being discarded – I called fowl (see what I did there) and it came home with me!
And this pallet is a simple way to display this poster. And so much better that a store bought poster frame!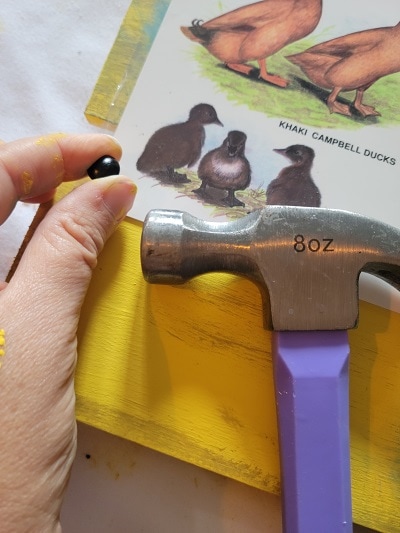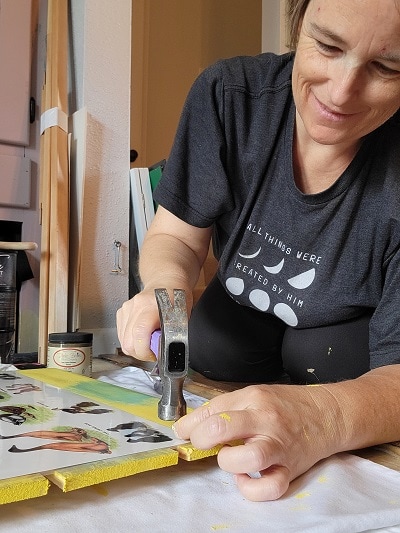 This poster on a pallet is going into my laundry room! I already have a chicken theme with my coop for organizing so it's the right "wing" to do and add these ducks, geese and chicken on a poster!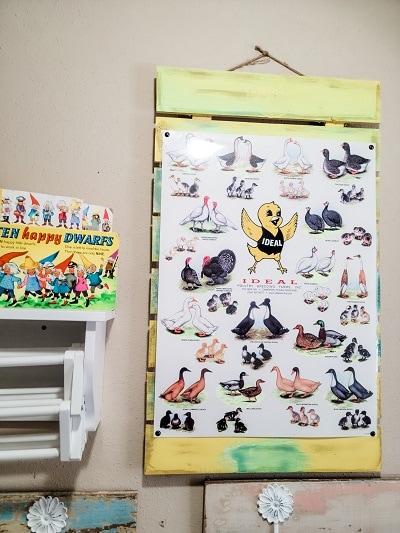 Before You Start The Project To Simply Display A Poster …
Pin this post to Pinterest to help you remember all of the steps – hover over any picture or the image below to save it to your account. So easy!